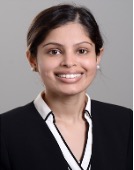 Hometown: Astoria, Queens, NY
Undergraduate School: University at Buffalo, SUNY
Medical School: University at Buffalo, SUNY
Hobbies/Interests: cooking, fashion, interior design, cars, Trader Joe's
Why Stony Brook? I wanted to be part of a program that trained its physicians to be well equipped in all areas of medicine without being too far away from home. Although we're located in Long Island, our patients come from diverse backgrounds ensuring that we get inclusive education. Stony Brook has also provided us with endless support, whether it be from our attendings, seniors, chiefs, or nurses we work with on the floors.