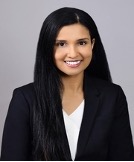 Hometown:   Glastonbury, CT 
Undergraduate School:   University of Connecticut-Storrs 
Medical School:  St. George's University 
Hobbies/Interests:  exploring cities, spending time with family and friends, traveling and photography, binge-watching meme-able Netflix shows, slow jamz/early 90s-00s R&B, being a foodie and feeling the need to be an unsolicited food critic everywhere I go
Why Stony Brook?   Stony Brook was the last interview of my interview trail and it won me over entirely. I was looking for a program that championed viewing the patient from a biopsychosocial lens (e.g. looking at social determinants of health care and access, etc.) alongside the traditional biomedical lens. When Dr. Lane's presentation about the IM program stressed similar values and objectives, I knew I had found the program that was the best fit for me. During the meet & greet, the friendly and approachable manner of the program's residents was almost palpable in real time, which was even more impressive considering the virtual interface of the application cycle. Ever since becoming an intern, I can without a doubt say that my seniors and my co-interns have been some of the kindest, patient, and most supportive people I have had the opportunity to work with so far!