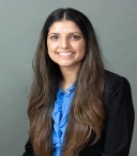 Hometown: Rochester, NY 
Undergraduate School: Boston University 
Medical School: Stony Brook School of Medicine 
Hobbies/Interests: Traveling, Hiking, Trying New Foods, Baking, Paddle Boarding, Listening to Audiobooks  
Why Stony Brook? During my time as a medical student at Stony Brook, it was obvious that the Internal Medicine Program cultivated a sense of community, while providing its residents the  resources and support to also embrace their individuality. Stony Brook offers several opportunities for residents to explore the various fields of medicine, whether it be through electives, research or weekly conferences. The facility and staff are engaging, personable and most importantly, foster a learning environment. Also, the residents have the ability to diagnose and treat diverse disorders while receiving hands on training via the SIM and ultrasound curriculum.