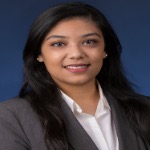 Hometown: Queens, NY  
Undergraduate School: Fordham University - Rose Hill   
Medical School: SUNY Health Sciences University - College of Medicine  
Hobbies/Interests: Drawing, Traveling, Cooking/Baking  
Why Stony Brook? Stony Brook has many of the qualities that I sought in a residency program: a strong academic program with an emphasis on teaching; various clinical and career opportunities; and more importantly, an incredible support system, which was evident from Dr. Lane's presentation on our interview day. There is a genuine care for and interest in residents' lives, and everyone is always looking out for each other. Since starting residency, I've noticed the importance given to creating a positive learning environment for residents. Attendings and seniors take the time to describe and explain their thought processes when caring for patients, helping me develop my own clinical judgement and become a more confident physician. I consider myself incredibly fortunate to be surrounded by co-interns, seniors, and attendings who are kind, intelligent, and supportive. I look forward to working with them everyday!