A message from the Program Director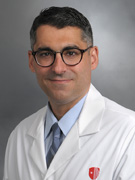 Welcome to the Vascular Surgery Fellowship Program at Stony Brook Medical Center, part of the State University of New York (SUNY) Health System. The Stony Brook Vascular Surgery Fellowship program was established in 1985 and was one of the first accredited programs in the country.
The Stony Brook Vascular and Endovascular Surgery Fellowship is a two-year ACGME-accredited track for board-eligible trainees who have completed their five-year General Surgery Residency. We also have an Integrated Vascular Residency program (0+5), which was established in 2009. Our dedicated and experienced staff strives to make sure that our trainees are exposed to every aspect of vascular surgery and obtain experience in complex open and endovascular procedures. This ensures that each fellow will leave confident and capable to practice and thrive in their chosen path.
The patient care responsibilities are well structured to maximize the fellows' education and training. We have a strong, dedicated support system with ancillary staff members and advanced care providers working alongside our vascular integrated and general surgery residents. The Fellowship Program offers a multitude of clinical and administrative responsibilities to our fellows, in addition to an innovative, hands-on curriculum and multiple research opportunities.
Our weekly multidisciplinary conference ensures that fellows will be well-prepared for their certification examinations, as well as gain knowledge and insight into a variety of cases regarding vascular treatments and operative procedures. Our fellows have protected dedicated time in our accredited Vascular Non-Invasive Laboratory, which prepares them for their RPVI Examination, as well as future clinical encounters. Fellows will also gain valuable patient care experience while training at our Vascular Clinic in Centereach, NY. This will allow them to expand their clinical care in an office setting; a significant skill for establishing their own private practices in the future.
Thank you for visiting our website. If you are interested in training in one of the best and most well-rounded fellowship programs in the country, I strongly encourage you to apply and become part of the Stony Brook family. Please feel free to reach out to me directly if you have any questions.
Dimitrios Virvilis, MD, FSVS, FACS, RPVI
Assistant Professor of Surgery
Program Director of Vascular and Endovascular Surgery
Stony Brook, NY
dimitrios.virvilis@stonybrookmedicine.edu