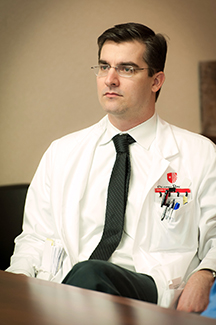 A physician who chooses to train at a Medical School based hospital is making a deliberate choice for an intensely academic atmosphere. At Stony Brook, excellent clinical performance is expected, but is not sufficient. The resident is expected to dedicate himself/herself to academic excellence as evidenced by in depth reading of core textbooks, familiarity with the current and significant past literature of the field, and active participation in seminars and clinical and academic conferences.
didactics
PGY 1, PGY 2
During the first two years, didactic sessions focus on the clinical and neuroscientific basis of psychopathology. Psychopharmacology is also emphasized. Weekly seminars focus on different topics and residents are expected to familiarize themselves with one of the major textbooks of psychiatry and one of the major textbooks of psychopharmacology.
In addition, there are shorter courses on Emergency Psychiatry and Psychotherapy that are given during the summer of the first two years.
Journal Club meets weekly. Residents present papers from the current medical and scientific literature for critique and general discussion.
A PRITE Review Course is organized by the Chief Residents and is offered to all residents for the three months prior to the PRITE examination.
Click here to see the PGY-1 didactic schedule
Click here to see the PGY-2 didactic schedule
PGY 3
Weekly seminars focus on the theory and practice of psychotherapy. Residents are expected to acquire an in depth understanding of supportive, psychodynamic, cognitive, and behavioral psychotherapies. Seminars are also given in the theory of Group, Family and Marital Therapy.
Click here to see the PGY-3 didactic schedule
PGY 4
Senior residents meet weekly for an advanced readings course as well as didactics that focus on preparing them to start their careers.
Click here to see the PGY-4 didactic schedule