University Hospital
As part of Stony Brook University, the Health Sciences Center is located at the geographic midpoint of Long Island's North Shore. The Center, with the 504-bed hospital, 350-bed skilled-nursing veterans' home, a dental center and affiliated faculty practices, treats 28,000 inpatients and over 500,000 outpatients each year. During the 2000-2001 academic year, some 2,450 students at various undergraduate, graduate, and post-graduate levels were enrolled at Health Sciences Center Schools. Graduate and undergraduate students are taught by a single faculty, many of whom are nationally distinguished scholars and researchers. Over half of Stony Brook University's annual nearly $1 billion operating budget is related to the Health Sciences Center, including Stony Brook University Hospital. The Health Sciences Center generates more than half of the $120 million in external support to Stony Brook.
The discoveries made by Stony Brook basic and clinical researchers have improved the quality of life of many Americans. Off-campus clinical facilities and joint programs with other regional institutions enhance the extensive services, expand research opportunities, and extend the outreach of the Health Sciences Center. A central resource to the Health Sciences Center is Stony Brook University Hospital which has been recognized as among the top fifteen teaching hospitals in the country, and is Long Island's only academic tertiary care hospital serving a regional population of over two million.
University Hospital houses a 30 bed Adult General Psychiatry Unit and a 10 bed Child Psychiatry Unit, a dedicated Comprehensive Psychiatric Emergency Program (CPEP) with 6200 patient visits/year, and the Outpatient Department. In addition, the Department provides consultation services to inpatient and outpatient medical/surgical services of the hospital.
Northport Veterans' Administration Medical Center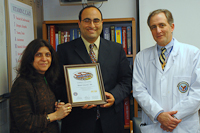 Stony Brook psychiatry resident Malak Iskandar, DO, receives Helping Heroes Award from the Northport VA
The Northport VA Medical Center (VAMC), located on the picturesque North Shore of Long Island, is part of the New York/New Jersey Veterans Integrated Service Network #3. Affiliated with the State University of New York Medical School at Stony Brook, Northport VAMC offers quality medical, surgical, psychiatric, rehabilitative and skilled nursing care to Long Island veterans. With highly qualified and experienced healthcare professionals, state-of-the-art technology, a full range of services, and high ratings with the Joint Commission on Accreditation of Healthcare Organizations, Northport VA Medical Center has earned a reputation of providing superior healthcare to Long Island's veterans.
Psychiatry residents complete rotations in Neurology and part of their Internal Medicine requirement at the Northport VA.
Stony Brook University Counseling Center
The SBU Counseling Center provides short term psychological and psychiatric services to the 22,000 undergraduate and graduate students. A staff of psychiatrists and psychologists provides mental health services. Short-term psychodynamic and cognitive behavioral therapies are emphasized.
Stony Brook University
The University campus lies about 60 miles east of New York City and 60 miles west of Montauk Point, nine miles north of the Long Island Expressway's Exit 62 on Nicolls Road. Stony Brook's campus is set among 1,100 lush, wooded acres.
From campus it's an easy bicycle ride to picturesque villages and harbors of the North Shore or Long Island Sound beaches where spectacular sunsets and some of the best windsurfing on the East Coast can be enjoyed. A short drive will take you to spectacular Atlantic beaches at Fire Island, vineyards of the North Fork, or the elegant resorts of the Hamptons. And, with a Long Island Railroad Station right on the perimeter of the campus, a two-hour train ride will bring you to the heart of one of the most exciting cities in the world — New York City.