Clinical Training Program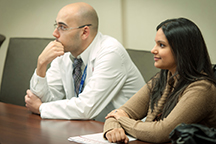 One of features of this residency program is the opportunity to develop close collaborative relationships with faculty members. All clinical work is closely supervised by faculty members. We believe that this is the key to learning during residency training.
PGY 1
We are approved for 25 residents. The distribution of residents among the PG years may change from year to year; however we typically accept six or seven physicians for training in Psychiatry at the PGY 1 level. The first year of residency (internship) consists of four months of Internal Medicine, two months of Neurology, four months of Inpatient Psychiatry and two months of Emergency Psychiatry.
The emphasis in the first year is on the rapid acquisition of the clinical skills that are necessary to successfully complete residency training in psychiatry. Training in medicine and neurology facilitates the resident's ability to assess acutely and chronically ill medical patients, develop a rational differential diagnosis, and learn to treat the variety of medical and neurologic conditions that are typically encountered in a large tertiary care medical center. Training in psychiatry allows the resident to become familiar with the range of psychiatric conditions treated on the inpatient service and the emergency service.
The four months of Internal Medicine are divided between acute inpatient medical services at Stony Brook University Hospital and the Northport Veterans Administration Hospital. Residents are fully integrated members of the medical team with clinical and teaching responsibilities. Residents work six days each week.
The Neurology rotation occurs at the Northport Veterans Administration Medical Center. Because this is such a short (2 months) rotation, residents may not take any vacation time. This rotation consists of both inpatient and outpatient experiences. There is no overnight or home call in the hospital.
The Psychiatry Inpatient rotation is at Stony Brook University Hospital, although occasionally a resident may spend some time at the Northport Veterans Administration Medical Center. The Psychiatric Emergency rotation is at the Stony Brook University Hospital Comprehensive Psychiatric Emergency Program (CPEP) and consists of one month of daytime duty and one month of night float. While on Psychiatry, PGY 1 residents cover one twelve-hour CPEP shift each weekend.
PGY 2
There are six or seven residents. The typical schedule consists of three months of inpatient psychiatry at Stony Brook University Hospital, one month of inpatient psychiatry at the Northport Veterans Administration Medical Center, two months of inpatient Child Psychiatry, two months of Consultation Psychiatry, two months of Emergency Psychiatry, one month of Addiction Psychiatry and one month of Geriatric Psychiatry. The clinical program is designed so that residents can achieve competence in all aspects of hospital-based psychiatry. Residents receive intensive and extensive clinical exposure to a broad range of psychiatric conditions and acute psychiatric treatments.
Residents alternate between a seven hour consult-liaison call and occasional 12 hour CPEP call on weekends.
PGY 3
There are six or seven residents. The focus is on outpatient psychiatry. Residents participate in what is essentially an office-based practice located nearby Stony Brook University Hospital. Plans are to move the Outpatient Clinic to a dedicated building on the South Campus within two years. Residents become adept at diagnostic assessment and treatment planning for ambulatory patients with straightforward and complex psychiatric conditions. The acquisition of assessment for and treatment with psychotherapy is emphasized. Special emphasis is given to combining psychotherapy with psychopharmacologic treatment. In addition to Stony Brook University faculty supervision, each resident is given other outside supervisors to provide individual psychotherapy feedback. Each new PGY 3 resident "inherits" an existing practice of active and stable patients and can add to the patient roster each week as there is an ever-present flow of new referrals to the Outpatient Clinic. As with all of our clinical services, we see a very diverse group of patients. Our residents find the Outpatient year challenging and extremely rewarding. The applicability of this experience to the practice of psychiatry following residency is obvious.
All clinical work is supervised by full-time and voluntary community-based psychiatrists with academic appointments.
There are no weekend or holiday calls. However, there is a 5 hour CPEP weekday evening call coverage which is divided amongst the PGY3s for the year.
PGY 4
There are usually between four and six residents; usually one or two have left to begin Child Psychiatry training. One or two residents may serve as Chief Resident, carrying out administrative responsibilities. Required rotations in the fourth year include Community and Forensic Psychiatry. In addition, residents may use elective time to complete required Scholarly or Research projects. A variety of electives are offered; Main Campus Counseling Center, Outpatient Child Psychiatry, Pain Medicine, the PTSD service at the Northport Veterans Administration Medical Center have been popular electives in recent years. Residents maintain a caseload of patients from the PG 3 year to gain experience treating patients over a longer period of time. PGY 4 residents cover one 7 hour CPEP call each week on a rotating basis. There is ample time for Fellowship and practice opportunity interviews during the fourth year.