Our Residency Programs Train Physician-Scientists to Both Practice and Advance Surgery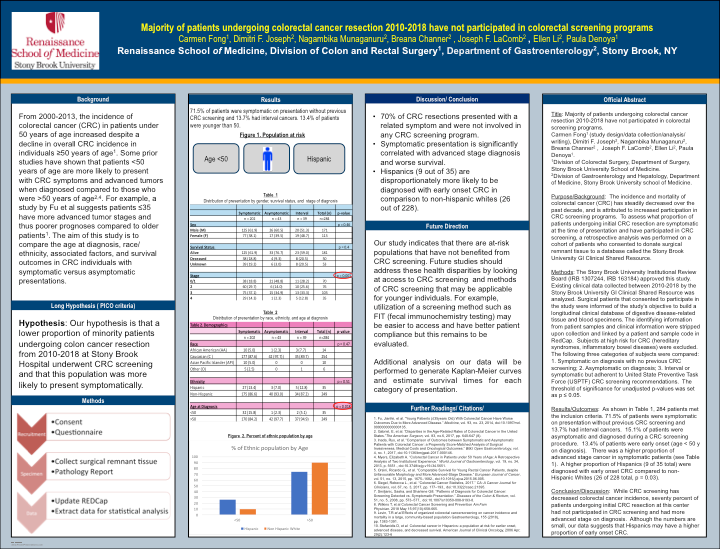 This year's Research Day program took place last Thursday at Stony Brook University's Charles B. Wang Center, and was another great success, as the event continues to grow, with more research presentations and increased attendance.
The morning forum showcased ongoing and completed research projects by way of oral platform presentations, as well as a poster competition by our residents, medical students, and faculty.
Opening the program, Kenneth Kaushansky, MD, MACP, dean of the School of Medicine and senior vice president of health sciences, said:
"I have attended virtually every Research Day since its inception, and I am very pleased to see the quality of research grow and the amount of research grow, together with the new horizons of research on display here today."
Dr. Kaushansky emphasized that Stony Brook Medicine is home to an abundance of leading-edge multidisciplinary research that's advancing healthcare not only in our region but around the world, from neuroscience to surgery and in numerous other disciplines.
Stony Brook Medicine is committed to making research happen, says Mark A. Talamini, MD, MBA, professor and chairman of surgery and chief of surgical services at Stony Brook Medicine.
Dr. Talamini opened his welcome remarks by saying Research Day is about "what we are all here to do — to advance patient care through research and discovery."
Our Research Day celebrates our discoveries, and also demonstrates that as academic surgeons our faculty not only has the job to take care of patients, but to make surgery better. This is what sets us apart from private-practice surgeons.
Research Day demonstrates how we're making surgery better and what sets us apart.
The program included 50 posters presenting study abstracts, plus five oral presentations moderated by faculty discussants, and it attracted over a hundred attendees from Stony Brook Medicine and the University community.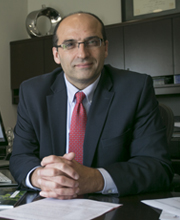 The keynote speaker was Ramin Parsey, MD, PhD, professor and chairman of psychiatry and behavioral health, and director of positron emission tomography (PET) research.
A leader in developing National Institutes of Health (NIH) and industry-sponsored imaging and clinical protocols, Dr. Parsey conducts research in advanced brain imaging data acquisition and analysis. He has had continuous NIH funding for more than a decade.
Dr. Parsey's brain imaging research systematically addresses the problem of treatment resistance, collaborating across disciplines to engage investigators at the boundary of physical and medical sciences to identify biomarkers to predict treatment response.
Among his research achievements, Dr. Parsey has developed an advanced imaging method for the diagnosis of Alzheimer's disease, as well as novel radiotracers for PET imaging of the brain.
Dr. Parsey's address, titled "Lack of Reproducibility and Ending Medical Reversals and an Update on PET Imaging at SBU," was extremely thought-provoking.
Dr. Parsey addressed the issue of research findings that can't be reproduced by other researchers who attempt to reproduce them, and the need to end medical practices that show no benefit to patients. He presented data showing numerous attempts to reproduce published studies that failed.
He argued that aggressive critical thinking in the analysis of data is needed to determine its real value. Correlations, he pointed out, may merely be coincidental and have no causal relationship. He referenced the lampoon "dead salmon study" to further his argument.
Commenting on the purpose of Research Day, A. Laurie W. Shroyer, PhD, MSHA, professor of surgery and vice chair for research, who oversees the event, says: "Research Day shows the commitment of our department to advancing scientific knowledge in order to improve patient care and population health.
"Residents, medical students, and fellows, as well as faculty, utilize their research projects to address important clinical questions that they face each day, fostering their curiosity and building their excitement and enthusiasm for current and future biomedical research.
"By networking at events such as Research Day, they gain new opportunities for collaborative multidisciplinary team projects. Most important, our Research Day lights the pathway for trainees to envision a future career in academics."
Research Day lights the pathway for trainees to envision a future career in academics.
All categorical residents in our general surgery residency program are required to conduct at least one research project each year, and to present their studies at the Research Day program.
All of our residency programs are committed to training physician-scientists who can both practice and advance surgery in their careers after they graduate from Stony Brook.
Established in 2010, Research Day is an opportunity for our residents as well as our faculty and medical students to present their surgical research. The focus of the program is moving the science of surgery forward.
The Research Day program offers continuing medical education (CME) credit; this activity is designated for a maximum of 3.0 AMA PRA Category 1 Credits™.
2019 Research Day Posters
Here are the titles/authors of the posters exhibited at this year's Research Day. Together, they demonstrate the broad range of research activity within the Department of Surgery, and the impressive productivity of our residents and students:
A case report of Guillain-Barre syndrome following thermal burn and subsequent Takotsobu cardiomyopathy | Diep G, Frost M, Jacquez R, Sandoval S.
A comparison of the effects of negative pressure wound therapy (NPWT) and standard surgical dressings (SSD) on outcomes in wounds after resection of a malignancy: a systematic review | Singh G, Hays T, Shekar S, Marquez J, Khan F, Khan S, Dagum A, Bui D.
A proposal for the evaluation of neurological, renal, and respiratory outcomes during extracorporeal life support, a QA initiative | Noubani M, Seifert F, McLarty A.
A review of the diagnosis and management of male breast cancer | Wolchok C, Chow P, Kapenhas E.
An iatrogenic biliary duct injury to a right posterior sectorial duct | Zohourlan, T, Allendorf J, Levine J.
Anal and perianal Paget's Disease: reviewing the literature to create a case series and discover new insights | Basishvili G, Dickler C, Yelika S, Carey E, Fong C, Denoya P.
Analysis of long-term outcomes of ventral hernia repair performed by plastic surgeons and general surgeons: a single institution review | Jou C, Perzia B, Mellia J, Carey E, Kapadia K, Sing G, Marquez J, Khan S.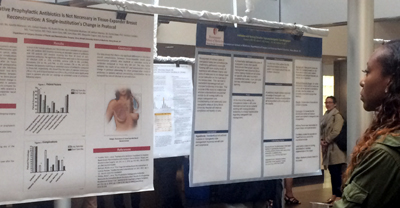 Analysis of NSQIP readmissions after general and vascular surgical intervention at a single institution: our experience | Jasinski P, Shah A, Tassiopoulous A. Oral Presentation.
Analysis of robotic assisted sialolithotomy with sialoendoscopy for management of large submandibular stones | Chao E, Alrassi J, Samara G.
Anastomotic ulcer continues to be a major source of morbidity over the time following gastric bypass | Pyke O, Yang J, cohn T, Yin D, Docimo S, Talamini M, Bates A, Pryor A, Spaniolas K.
Association of inferior vena cava filter placement for patients with venous thromboembolism and a contraindication to anticoagulation with 30-day mortality | Patel R, Skripochnik E, Loh S.
Avoiding the trap of misdiagnosis: valuable teaching points derived from a case of longstanding popliteal artery entrapment syndrome | Wady H, Badar Z, Farooq Z, Shaw P, Kobayashi K.
Barriers to body contour surgery in post-bariatric patients: is cost the only factor? | Kapadia K, Marquez J, Huston T.
Bedside ultrasound assessment of diaphragm function in traumatic rib fractures: an update | O'Hara D, Randazzo S, Ahmad S, Pasternak D, Huang E, Jawa R.
Cancer recurrence and the use of a vacuum assisted closure therapy in a rat model | Kaymakcalan O, Singh G, Uddin Z, Abbas A, Hays T, Bui D, Khan S, Khan F, Dagum A.
Characterization of differences between arterial and venous thrombosis | Singh G, Chuang YC, Joshi I, Lee S, Bannazadeh M, Sikalas N, Labropoulos N.
Chronic femoral artery pseudoaneurysm with associated high output arteriovenous fistula | Harrington A, Kokkosis A, Labropoulos N.
Comparison of males and females presenting for peripheral vascular intervention of superficial femoral artery and popliteal artery in the national VQI database | Jasinski P, Yun J, Labropoulos N, Kim H, Kokkosis A.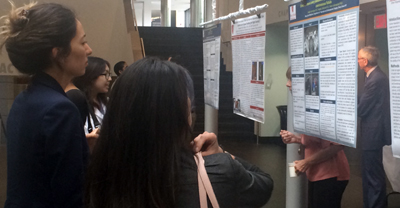 Demographics and outcomes of the acutely intoxicated patient | Fleury M, Ng C, Hakmi H, Jawa R. Oral Presentation.
Development of pneumomediastinum after transcarotid artery revascularization (TCAR).
Case report and literature review | Drakos P, Terrana L.
Do national databases underestimate complications in ventral hernia repair? A single institution's perspective | Perzia B, Jou C, Mellia J, Carey E, Kapadia B, Singh G, Marquez J, Khan S.
Does an educational module on the function and use of nasogastric tubes improve nursing compliance with their management? | Ferrara A, Jasinski P, Wertheim W, Kantor L.
Emergent versus elective ostomies for colon cancer: is there a difference? | Thompson H, Altieri M, Yang J, Sun S, Genua J, Pryor A. Finalist in Outstanding Poster Competition.
Endotunnel: a novel surgical wound protector | Hsi H, Talamini M.
Evaluation of long-term complications and recurrence rates in ventral hernia repair with component separation | Jou C, Mellia J, Perzia B, Carey E, Kapadia K, Singh G, Marquez J, Khan S.
Extra-anatomic aortic bypass via an ascending aorta-descending aorta retrocardiac tunnel during excision of an infected TEVAR graft | Rabenstein A, Bilfinger T, McLarty A.
Incidence of appendectomy after abdominal wall reconstruction | Simon J, Docimo S, Spaniolas K.
Institutional review of stereotactic body radiotherapy (SBRT) with curative-intent chemoradiation in patients with oligometastatic non-small cell lung cancer (NSCLC) | Tembelis M, Alam W, Grossman C.
Is the glass-ceiling higher than we think? Gender disparity trends in physician executive positions and academic plastic surgery | Marquez J, Zaransky S, Ikizoglu M, Singh G, Huston T.
Isolated extra-axillary lymph nodes in a case of invasive ductal carcinoma of the breast: case report and literature review | Wolchok C, Zorn J, Kapenhas E.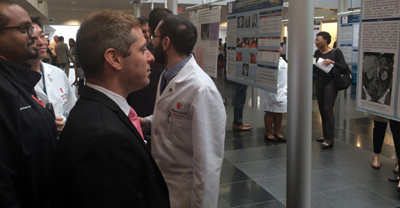 Isolating hip fractures: admission to trauma service improves outcomes | Rubano J, Jacquez R, Paccione M, Shapiro M, McCormack J, Huang E, Vosswinkel J, Jawa R. Finalist in Outstanding Poster Competition.
Large non-infectious granulomatous adenitis in children needs surgical excision for cure | Obeid J, Bongu S, Burjonrappa S.
Management of gastric perforations using natural orifice transluminal endoscopic surgery | Basishvili G.
Majority of patients undergoing colorectal cancer resection 2010-2018 have not participated in colorectal screening programs | Fong C, Joseph DF, Munaganuru N, Channer B, LaComb JF, Li E, Denoya P. Winner of Outstanding Poster Competition.
Mid-term outcomes of thrombolysis for acute lower extremity ischemia at a tertiary care center | Skripochnik E, Bannazadeh M, Jasinski P, Loh S. Finalist in Outstanding Poster Competition.
Natural history of isolated distal deep vein thromboses | Hirai K, Labropoulos N.
Outcome of open inferior vena cava reconstruction | Tzavellas G, Bannazadeh M, Sikalas N, Landau D, Loh S, Bilfinger T, Tassiopoulos A.
Parathyroid hormone level alone is the most accurate predictor of intravenous calcium administration after thyroidectomy | Masson R.
Percutaneous endoscopic gastrostomy replacement with laparoscopic assistance: a case report | Laskowski R, Karim S, Jasinski P, Sbayi S.
Postoperative Prophylactic antibiotics is not necessary in tissue-expander breast reconstruction: a single-institution's change in protocol | Marquez J, Ghosh K, Kapadia K, Ferrier A, Medrano C, Marmor W, Singh G, Vasilakis V, Huston T, Ganz J, Khan S, Dagum A, Bui D.
Prevalence of Delayed Intracranial Hemorrhage in trauma patients on Novel anticoagulant and/or antiplatelet therapy | Lacey R, Jawa R.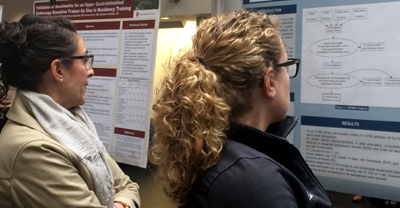 Primary use of endoanchors in patients with hostile aortic neck anatomy offers protection from proximal seal zone complications | Ribner A, Sandowski S, Tzavellas G, Kokkosis A, Tassiopoulos A.
Propensity matched comparison of band to Roux-en-Y gastric bypass (BtoRYGB ) vs primary Roux-en-Y gastric bypass (PRYGB) | Robins F, Tatarian T, Spaniolas K.
The psychiatric impact of medical and other trauma on adult urological procedures | Chen A, Xu Y, Egan J, Feustel P, De E. Finalist in Outstanding Poster Competition.
Quantifying ambulation after routine bariatric surgery to predict post-operative hospital stay and complication rates | Weller R.
Radiographic assessment of abdominal wall musculature post-bariatric surgery | Malino C, Docimo S.
Retrospective evaluation of trauma team activations made via SBUH HEMS | Maloney L, Chan R.
Role of leupeptin in preventing hind limb ischemic tissue injury | Singh G, Gurevich M, Martin I, Khan S, Bui D, Komatsu D, Dagum A. Oral Presentation.
Safety of Bariatric Surgery in patients older than 65 | Goldberg I, Cohn T, Docimo S, Bates A, Spaniolas K, Pryor A. Oral Presentation.
Seimens Artis Pheno System significantly reduces radiation delivery compared to older models during lower extremity procedures | Cheung E, Skripochnik E, Loh S.
Socioeconomic and gender disparities in anal cancer diagnosis and treatment | Celie KB, Jackson C, Agrawal S, Dodhia C, Guzman C, Kaufman T, Hellenthal N, Monie D, Monzon J, Oceguera L.
Systematic review on the prevalence of venous thromboembolism and bleeding in abdominoplasty patients | Perzia B, Marquez J, Vasilakis V, Labropoulos N, Khan S.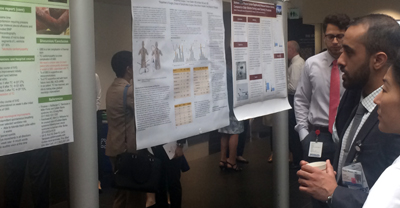 Temporal and spatial profile of fibrin within the mice model of deep vein thrombosis | Singh G, Chuang YC, Joshi I, Lee S, Bannazadeh M, Sikalas N, Labropoulos N.
The association between adoption of an acute care surgery service model and volume of laparoscopic cholecystectomy at a tertiary care center | Yelika S, Kirschen G, Sbayi S, Pryor A.
The safety and efficacy of utilizing negative pressure wound therapy after sarcoma resection | Restle D, Klein G, Khan F, Khan S, Ganz J, Bui D.
Umbilicoplasty techniques: a comparative study of aesthetic outcomes | Nasser A, Brewer B, Douglas B, Reish R, Glickman L.
Using relational coordination survey tool to quantify relationships necessary for catheter care | Sreeramoju P, Connally R, Thompson H, Altieri M, Yang J, Sun S, Genua J, Pryor A.
VA-ECMO outcomes in a single institution; role of diagnosis, age, BMI, and on-going CPR | Rabenstein A, Chiu R, Seifert F, McLarty A.
Validation of benchmarks for an upper gastrointestinal endoscopy simulation trainer for use in residency training | Park J.
Venous thromboembolism versus bleeding events in massive weight loss patients undergoing single body contouring procedures: a systematic review and pooled analysis | Yin C, Marquez J, McAuliffe P, Vasilakis V, Estralla J, Labropoulos.
Next year's Research Day will take place on May 28, 2020, from 8:00 am to noon. This CME event is designated for a maximum of 3.0 AMA PRA Category 1 Credits™. For more information, please call 631-444-1820.