Today Is National Wear Red Day in Support of Women's Heart Health and the Uniqueness of a Woman's Heart
By Allison J. McLarty, MD, of Our Cardiothoracic Surgery Division & the Women's Heart Center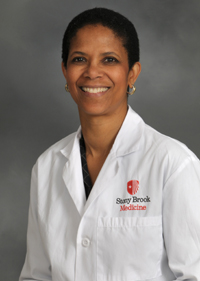 Today is the first day of American Heart Month and the "Wear Red Day" for promoting women's heart health. Now is a good time for women as well as men to learn about heart disease in women.
Here's the dilemma: Fifty percent of women experience atypical symptoms of "ischemic" heart disease, which is caused by inadequate blood supply (circulation) bringing oxygen to the heart.
The potentially deadly problem is due to blockage in the heart's arteries. That's why it's called ischemic. This medical term means decrease in blood supply. The coronary arteries feed the heart oxygen that it needs to keep working — to keep us alive.
The unfortunate reality is, fewer women than men with ischemic heart disease are referred for diagnostic testing or therapeutic intervention such as angioplasty (stenting) or bypass surgery. And even after such intervention, the outcomes for women are worse than that of men.
Why does it matter so much? Because heart disease is the number one killer of men and women in the United States.
Almost half a million American women have heart attacks each year. Of those, 42% of them die within one year. So about 250,000 women in this country die from heart attacks each year, six times as many as from breast cancer!
This counts as a national crisis which is why the American Heart Association (AHA) and the Centers for Disease Control and Prevention (CDC) over the last decade have made women's heart health a priority with national programs to educate women, as well as their health providers and families, about the unique nature of a woman's heart.
A great example is the Go Red for Women campaign by the AHA which we celebrate in the month of February.
The Go Red for Women campaign is designed to serve as a catalyst for change to improve the lives of women.
It used to be thought in the 1970s that ischemic heart disease (also known as coronary artery disease) was a man's disease only, like prostate cancer. This was in part because most women develop ischemic heart disease a decade or two later in life, after menopause, when the protective effect of naturally produced estrogen is lost.
Women, therefore, tend to be older with more co-existing medical problems like hypertension, diabetes, and obesity attending their heart disease, compared to men.
Additionally, in early clinical trials of stress testing as diagnostic for ischemic heart disease, women presenting with both signs/symptoms of reduced blood flow and positive stress test had normal coronary arteries seen on angiogram — leading to the conclusion that stress testing was "unreliable" in women, coronary artery disease was uncommon in women and symptoms were from other sources, often labelled "stress" or "anxiety."
The problem was that as treatment for heart disease improved over the next few decades and the cardiovascular death rate decreased, it did not do so for women. Finally, medicine "wised" up and the important WISE trial (Women's Ischemia Syndrome Evaluation) was performed in the early 2000s.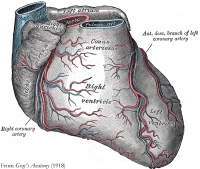 To understand ischemic heart disease and the importance of this study, it's important to understand that the heart is a muscle and needs blood to bring it oxygen like any other muscle in the body.
The arteries feeding the heart muscle are known as coronary arteries. These arteries branch, like the branches of a tree, ending in little "twigs" known as capillaries. The larger arteries sit on the surface of the heart, and these are seen on angiograms and treated with angioplasty with stents or bypass surgery in the event of significant blockages. This has long been the principal way to diagnose and treat coronary artery disease.
The WISE trial showed for the first time the importance of the smaller vessels — the "microvascular coronary arteries" — which had been mostly ignored. These tiny blood vessels can spasm or inadequately relax, and cause significant obstruction to blood flow to the tissues of the heart, thus causing chest pain or heart attacks.
And wouldn't you know it, this form of heart disease is more common in women than men. Which helps explain the difference in symptoms, testing results, and treatment results in many women compared to men.
Unfortunately, optimal treatment for this form of ischemic heart disease is still poorly understood. The mainstay of therapy includes currently available medicines for heart disease and a strong push for risk reduction.
So, how should women and those who care about them best care for their hearts?
Risk Factor Reduction Is Critical
Aging and family history of early heart disease are risk factors that we cannot change. But other traditional risk factors such as cigarette smoking, uncontrolled hypertension, uncontrolled diabetes, elevated cholesterol, obesity, and a sedentary lifestyle are very much in our hands.
We have power to make changes — to reduce risk factors — that will impact the incidence and course of heart disease and save our lives.
Armed with this knowledge, it behooves us to take control of our health and ensure that we are proactive in decreasing our individual risk of heart disease.
We have power to reduce risk factors that will impact the incidence and course of heart disease and save our lives.
It is also important to be aware of the impact of emerging non-traditional risk factors that we are beginning to understand, such as the inflammation of certain autoimmune disease, hypertensive disorders of pregnancy, gestational diabetes, and depression.
And finally, women should be aware of the symptoms, both classic and atypical, that might herald ischemic heart disease.
Thus, traditional symptoms include chest pain/pressure radiating up the left jaw and down the left arm, intense nausea, dizziness, associated cold sweat.
Atypical symptoms might include persistent heartburn, back pain, atypical chest pain, fatigue/weakness, or palpitations.
Seeking timely medical advice, and discussing the full spectrum of ischemic heart disease with their heart doctor, including the role of both epicardial and microvascular coronary disease, will allow women to be partners in their own heart health and their own greatest advocate.
The Women's Heart Center of the Stony Brook Heart Institute offers a comprehensive approach to addressing gender-based differences in cardiac health and heart disease through treatment, education, and research designed specifically for women. Our university-based center is the first of its kind in the Long Island and New York City area. We provide a wide range of services especially for women. We focus on risk assessment, evaluation, and risk management. Plus, a full range of care for the hearts of women.
Learn more about what's good for everyone's heart from the CDC. See Stony Brook Heart Institute's FAQs about women's heart matters. For consultations with our heart specialists, please call 631-44-HEART (444-3278).