When Advanced Multidisciplinary Surgery Is Needed, Stony Brook Medicine Is the Answer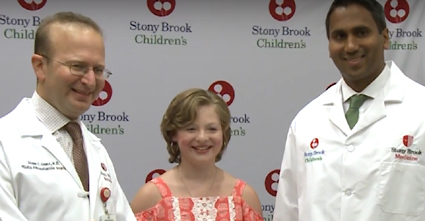 Delaney Unger has always met the world with a smile. And the talented young dancer is known for her energy and drive. So it was a shock when Delaney was diagnosed with a rare type of bone cancer.
For a while, it looked like 12-year-old Delaney might never dance again. But now she's dancing and pursuing her dreams, thanks to a surgical procedure at Stony Brook Children's Hospital that transformed her ankle into a knee and preserved her mobility.
Delaney was diagnosed with osteosarcoma, a rare type of bone cancer, in her left leg just above the knee. While still reeling from the diagnosis, she and her parents Noah and Melissa had to decide on treatment options.
Delaney herself, with support from her parents and physicians, chose to undergo a 13-hour rotationplasty surgery, which took place in April 2017. First the bottom of her thigh bone, knee, and part of her lower leg were surgically removed.
Then her lower leg, rotated 180 degrees with its foot facing backward, was attached to her thigh bone. Her ankle joint was placed in the position of the knee to create a natural, functioning knee joint.
Delaney received a prosthesis which fits over the backwards foot and extends up the thigh. This allowed her to have motor power to walk, jump, dance and play. The toes provide important sensory feedback to the brain.
First performed in 1930 and subsequently modified in the 1990s,
rotationplasty surgery converts the knee into a hip and the ankle into a knee.
Her surgery required a multidisciplinary team effort involving Jason C. Ganz, MD, of our Plastic and Reconstructive Surgery Division, and two orthopedic specialists Fazel A. Khan, MD, and Nicholas Divaris, MD.
Dr. Ganz, whose expertise includes limb reattachment, explains there was careful pre-surgical planning, to ensure that Delaney's incisions would heal properly after the surgery and that her ankle would function well in its new role as her knee.
"At this point, it's incredibly rewarding to see her as a normal kid again," says Dr. Ganz.
Speaking about her recovery, Delaney says, "Having a backwards foot is definitely different, but now it feels normal." She danced in a recital earlier this year, performing lyrical, hip hop, and jazz dance routines.
"What Delaney's achieved is amazing and she'll get stronger and stronger as she gets back to her life," says Dr. Khan.
Delaney will continue to visit Stony Brook Children's for follow-up appointments during the next five years.
Her parents, Noah and Melissa, say it was a relief to have Delaney treated at Stony Brook, so close to their Selden home. The proximity allowed one parent to be home with Delaney's twin brother, Cameron, while the other parent stayed at the hospital with Delaney.
Inspired by her own cancer journey, Delaney wants to become a pediatric oncologist when she is older.
When asked how she maintains a positive attitude, she says, "Keep up with your passion. Don't give up on anything you want to do, and don't let one thing that's in your life ruin your whole life."
For consultations/appointments with Dr. Ganz, please call 631-444-4666. Watch this video (2:36 min) of Delaney's surgery press conference: