REMINDER: Summer Injuries and ER Visits Are Often Avoidable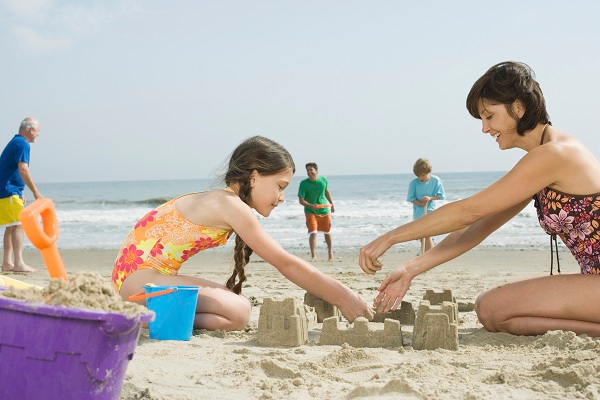 Today is the first day of summer! For many, the summer months — when school is out and families take vacations — mean lots of fun in the sun. But with all the pleasures of the season come injuries and increased visits to the emergency room.
"During the summer, we treat more patients with injuries from burns, drownings, boating accidents, and motor vehicle crashes, than at any other time of the year," says James A. Vosswinkel, MD, chief of our Trauma, Emergency Surgery, and Surgical Critical Care Division, and medical director of Stony Brook Trauma Center.
"We want Long Islanders to get out and enjoy the warm summer months, but to take a moment to first think about safety and precautionary measures they can take when planning outdoor activities. Many of the accidents and deaths that we see are avoidable."
Watch Fireworks from a Distance, Don't Set Off at Home, and Practice Outdoor Fire Safety Tips: Nearly 10,000 Americans are injured by fireworks each year, according to the National Council of Fireworks Safety. Most of these injuries occur during the Fourth of July holiday and include serious burns, loss of fingers, and blindness.
"Each year, we treat adults and children injured by fireworks," says Steven Sandoval, MD, director of the Suffolk County Volunteer Firefighters Burn Center at Stony Brook Medicine. He recommends enjoying public firework displays, which are handled by professionals, from a safe distance — rather than setting them off at home.

Watch this PSA video (2:27 min) on the dangers of consumer fireworks.

And summertime burns also result from outdoor grills, both charcoal and propane, which cause hundreds of injuries and thousands of fires every year. "In addition, we treat at least a few injuries from fire pits and campfires every summer," says Dr. Sandoval. Fire safety tips include:
Limit the amount of charcoal lighter fluid you use to start your fire pits and barbecues. A little goes a long way. And never pour any flammable liquid on hot coals or a live flame.
Only use charcoal lighter fluids that are approved for cooking purposes.
Keep children far away from fires and barbecue areas.
Keep a bucket of sand and/or a garden hose nearby fire pits and barbeques in case the fire grows out of hand.
Place the fire pit away from trees, branches, and foliage in order to prevent catching fire.
Be sure your barbecue grill is well maintained and cleaned regularly.
If you empty hot coals from your grill or fire pit, make sure they're not left anywhere where people can step on them. Even if you smother them with dirt or sand, if they're close to the surface someone could get a bad burn.
Dr. Sandoval emphasizes that flammable liquids, like wick (Zippo) lighter fluid, kerosene, and gasoline, should never be used to start a fire. "Unfortunately, the Burn Center treats flash burns to the face and torso when these agents have been used," Dr. Sandoval advises.
Closely Supervise Children around Fires: Around outdoor fires, Dr. Sandoval advises that children should be far enough away to prevent a burn injury. Remember to keep all barbecue accessories, including charcoal, lighter fluid, and propane gas tanks, well out of the reach of kids.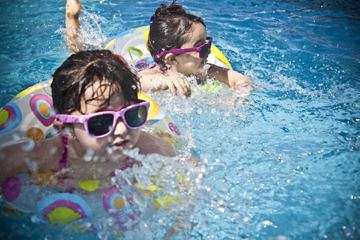 Keep a Watchful Eye on Swimming Children: Drowning is the leading cause of unintentional injury and death for children ages one to four, and drowning can occur in as little as two inches of water. "Parents should know that children can drown without making a sound, and that drowning deaths can occur even when children are left unattended for just a few minutes," says Dr. Vosswinkel.
Kristi L. Ladowski, MPH, injury prevention and outreach coordinator on our trauma team, provides the following water safety tips for people of all ages:

Tips to Keep Young Children Safe during Water Activities:
It's all about supervision: always know where your children are, and never leave them alone near water, not even for a second:

Designate a "water watcher" when children are swimming. The "water watcher" should not engage in any social distractions (conversation, phones, reading, etc.), they should only be watching the children in the pool for a set amount of time. Rotate the "water watcher" position so that the supervision remains fresh.
Install physical barriers to keep children out of pool/spa areas: fences that children cannot climb with self-latching doors.
Install door and/or pool alarms to notify you if a child is in or near the pool/spa.
Do not use flotation devices (water wing, floaties) as a substitute for supervision.
An adult should always be within arm's reach of infants and toddlers when they are in or around water:

If a child goes missing, check the water first.
Keep pools and spas covered when not in use, empty all other containers of water after use (buckets, inflatable pools).
Remove all toys from in and around the pool when not in use.
Water Safety Tips for Adults and Older Children:
Never swim alone, use the buddy system.
If swimming in open bodies of water (oceans and lakes), only swim in designated areas and obey all instructions and orders from lifeguards.
Do not dive into open bodies of water.
Never swim under the influence of drugs or alcohol.
Know how to safely get out of rip currents. If you're caught in a rip current:

Stay calm.
Don't fight the current.
Escape the current by swimming in a direction following the shoreline (parallel to shore). When free of the current, swim at an angle — away from the current — toward shore.
If you are unable to escape by swimming, float or tread water. When the current weakens, swim at an angle away from the current toward shore.
If at any time you feel you will be unable to reach shore, draw attention to yourself: face the shore, call or wave for help.
Water Safety Tips for Everyone:
Learn to swim.
Learn CPR.
Keep a cell phone nearby to call for help if needed.
Take a water safety and rescue course.
Keep rescue equipment nearby (life-saver ring, shepherd's hook).
Wear a life jacket when boating. In 2016, 80% of boating deaths were caused by drowning and 83% of those who drowned were not wearing a life jacket. (For more on boating safety, download the U.S. Coast Guard's Boating Safety Guide.)
Alcohol and Water Don't Mix: According to the U.S. Coast Guard and the National Association of State Boating Law Administrators, alcohol can impair judgment, balance, vision, and reaction time. It can also increase fatigue and susceptibility to the effects of cold-water immersion. For boaters, intoxication can lead to slips on deck, falls overboard, or accidents at the dock.
"Alcohol impairs judgment and increases risk-taking, a dangerous combination for swimmers," says Dr. Vosswinkel. "Even experienced swimmers may venture farther than they should and not be able to return to shore, or they may not notice how chilled they're getting and develop hypothermia. Even around a pool, alcohol can have deadly consequences. Inebriated divers may collide with the diving board, or dive where the water is too shallow."
Summer Auto Safety Awareness Is No Surprise: We highly recommend the summer safety tips provided by the National Highway Traffic Safety Administration's (see here). They pertain not only to driving. One really important set addresses the risk of heatstroke when a child is left unattended in a parked vehicle. Remember:
Never leave a child alone in a parked car, even with the windows rolled down, or air conditioning on. Children's body temperature can heat up 3 to 5 times faster than adults.
Always look in both the front and back of the vehicle before locking the door and walking away.
Heatstroke can occur in temperatures as low as 57 degrees. On an 80-degree day, temperatures inside a vehicle can reach deadly levels in 10 minutes.
Always lock your vehicle doors and trunk and keep the keys out of a child's reach.
THE GOOD NEWS: MANY SUMMER ACCIDENTS ARE AVOIDABLE
"Overall, the good news is that many injuries that commonly occur during the summer are avoidable — or at least the risk of serious injury can be significantly reduced — if recommended safety precautions are taken," says Dr. Vosswinkel. "We encourage Long Islanders to keep safe and have a great summer!"
"But if an accident does occur, call 911 and go to the nearest emergency room," says Dr. Vosswinkel.