New Study Finds Encouraging Results for Patients with Low Surgical Risk for Aortic Valve Replacement
Stony Brook University Hospital, in 2012, was the first hospital in Suffolk County to offer a newly FDA-approved procedure to treat severe aortic stenosis (narrowing of aortic valve opening) by replacing the aortic valve with a prosthetic valve, without the need for open heart surgery.
Called transcatheter aortic valve replacement, or TAVR, this minimally invasive treatment offers new hope for high-risk patients with severe symptomatic aortic stenosis in need of lifesaving valve replacement surgery. Since 2012, Stony Brook has acquired one of the most experienced heart teams for TAVR in the region.
Use of TAVR in patients deemed at low risk for conventional surgical valve replacement is now being studied, and Thomas V. Bilfinger, MD, ScD, professor of surgery and a leader of the Stony Brook Heart Institute has been participating in multicenter clinical trials of it.
Here, Dr. Bilfinger explains the latest findings of one of these trials just published online in the American College of Cardiology's journal Cardiovascular Interventions, under the title "Transcatheter Aortic Valve Replacement in Low-Risk Patients: One-Year Results from the LRT Trial" (see abstract).
~~~~~~~~~~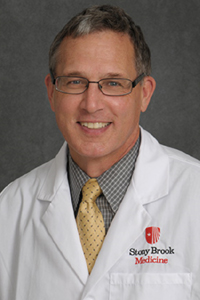 Traditional aortic valve replacement requires a sternotomy to open the chest and a choice between a mechanical or a tissue valve. In recent years overwhelmingly most surgical aortic valve replacements (SAVRs) were done with bioprosthetic tissue valves.
Minimal surgical approaches with partial sternotomies or parasternal incisions were used more frequently but overall the operation, although much safer than in the beginning, has not drastically changed.
A fundamentally new approach was introduced with transcatheter aortic valve replacement (TAVR) where a tissue valve is crimped in such a way that it can be loaded on top of a catheter and be inserted through a groin artery and then be deployed covering the problematic native valve and pushing it aside.
Initially TAVR was tried out on very high-risk surgical patients. The feasibility of this new treatment approach was established with the PARTNER (Placement of AoRTic TraNscathetER) trial, a large multicenter trial initiated earlier in the present decade.
The appeal of TAVR is no surgical incision, less pain, a shorter or
no ICU stay, and faster return to normal activity.
Subsequently, in view of the positive outcomes, Medicare allowed this valve to be used on (and covered for) intermediate-risk patients. The patients have to be 65 or older, and fall into an intermediate-risk category calculated by the risk score developed by the Society of Thoracic Surgeons.
This is where we currently stand for Medicare to pay and, hence, most other commercial insurances.
Recently at a meeting in New Orleans, two significant studies were presented. Both studies were sponsored by valve manufacturers, and were evaluating TAVR in low-risk patients versus SAVR.
These studies completely flipped traditional thinking. It used to be that TAVR was considered for patients who were poor surgical candidates.
The early results from the subsequent PARTNER trial (PARTNER 3) suggest that TAVR should be the first choice, and SAVR should only be offered for patients that are not good TAVR candidates.
The PARTNER 3 trial was sponsored by the manufacturer of a TAVR system (Edwards) and randomized 1,000 patients to SAVR vs TAVR. Low surgical risk is defined as less than 4.0 % predicted mortality. The mean score was 1.9% and the average age was 73.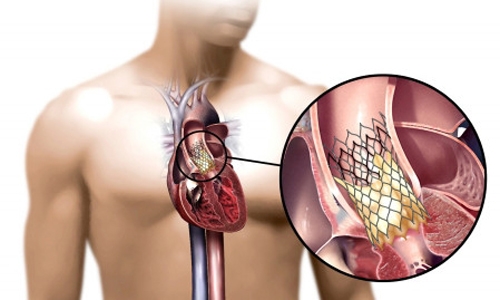 At one-year follow-up, 8.5% of TAVR and 15.1% of SAVR met the primary composite endpoint of death, stroke, or rehospitalization. The one-year results for death or disabling stroke were 1.0% for TAVR and 2.9% for SAVR.
The second study was sponsored by the manufacturer of another TAVR system (Medtronic) and used a low-risk cutoff of less than 3.0%. It looked at two-year follow-up of 1,403 patients who underwent TAVR versus SAVR.
At two years they found that the all-cause death or disabling stroke rate was 5.3% for TAVR and 6.7% for SAVR, showing non-inferiority for TAVR. One thing that turned out to favor SAVR is the lower need for pacemakers than for TAVR.
Stony Brook has been involved in the two Low Risk TAVR (LRT) trials — LRT-1 and LRT-2 — organized by MedStar Washington Hospital Center in Washington, DC. These trials are not industry-sponsored, and allow use of both commercially available valves.
LRT-1 is not a randomized trial comparing SAVR versus TAVR, but more a "real world" experience of the use of these two valves in low-risk patients. Two hundred patients were enrolled with a mean age of 73.6 years.
At 30 days there was zero mortality, and zero strokes were observed. At one year the mortality was 3.0%; the stroke rate was 2.1%; and the need for a pacemaker 5.0%. These results at 30 days and at one-year follow-up are equally impressive.
LRT-2 is looking at leaflet thickening of these valves which may influence durability. When the valve leaflets become thickened and stiff, they may cause narrowing of the valve opening.
Durability is the crux of this whole field. SAVR valves have a life expectancy of 10-15 years and, at present, it is not known if TAVR valves last that long; hence, the reluctance of Medicare and the commercial insurances to pay for TAVR valves in low-risk patients with long life expectancies.
New data like the data presented with these trials may shift the paradigm, but in the end, like most things, the market will decide the place of TAVR.
At present at Stony Brook as in many other U.S. hospitals, TAVR has taken over from SAVR, though both procedures are offered on a daily basis.
"Transcatheter aortic valve replacement (TAVR) is an established therapy for patients with symptomatic severe aortic stenosis (AS) who are extreme, high, or intermediate risk for surgical aortic valve replacement (SAVR). How TAVR compares to SAVR in patients who are low risk for surgery is now the subject of multiple clinical trials. The LRT trial was the first Food and Drug Administration-approved Investigational Device Exemption trial in the US to evaluate feasibility of TAVR in low-risk patients. Early results of the LRT trial confirmed safety of TAVR in low-risk subjects with symptomatic severe AS." — "Transcatheter Aortic Valve Replacement in Low-Risk Patients" (2019)
Learn more about the Stony Brook Heart Institute's TAVR program. For consultations/appointments with our TAVR specialists, please call 631-444-1820. Watch this video (5:22 min):