We Know How to Help Kids Achieve a Healthy Weight and Stay That Way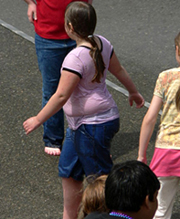 Childhood obesity keeps growing at an epidemic rate, along with that of adults.
More than one-third (40%) of U.S. adults have obesity, according to the latest numbers provided by the Centers for Disease Control. Nationwide, nearly 14 million children and adolescents aged 2 to 19 are obese.
Nearly one-fifth of kids are obese. How terribly sad! The obesity prevalence is around 14% among 2- to 5-year-olds, 18% among 6- to 11-year-olds, and 21% among 12- to 19-year-olds.
Since 1980, the childhood obesity rates (ages 2 to 19) have tripled — with the rates of obese 6- to 11-year-olds more than doubling (from 7% to 18%) and rates of obese adolescents (ages 12 to 19) quadrupling from 5% to 20%.
Childhood obesity is a condition where excess body fat negatively affects a child's health or well-being. As methods to determine body fat directly are difficult, the diagnosis of obesity is often based on body mass index, known as BMI. (Click here to use the CDC online BMI calculator for children.)
One out of five children in the United States has obesity now — and that's cause for alarm.
In Suffolk County alone, there are more than 5,000 obese students in middle and high school.
Obese children often have adult diseases, such as type 2 diabetes, high blood pressure, and heart disease, because of their extra body weight. In such cases, treatment becomes more urgent.
Stony Brook Children's multidisciplinary Healthy Weight and Wellness Center is dedicated to providing a range of treatment options, from diet change to surgery performed by our bariatric specialists.
Commenting on obesity in adolescents and the benefit of bariatric surgery, Konstantinos Spaniolas, MD, associate professor surgery and associate director of our Bariatric and Metabolic Weight Loss Center, says:
"Obesity and associated diseases (metabolic, psychologic, orthopedic, etc.) have a deleterious effect in adolescents with severe future cardiovascular risks. It is likely that an early intervention in this age group can disrupt the progression of disease, and lead to long-lasting benefit.
"Recent published evidence demonstrates profound and sustained weight loss in adolescents that is maintained at least 3 years after metabolic surgery. Importantly, 95% of adolescents with type 2 diabetes experience lasting remission at 3 years."
At present, weight loss surgery provides the only effective, lasting relief from severe obesity.
Obesity most commonly begins between the ages of 5 and 6, or during adolescence. Studies have shown that a child who is obese between the ages of 10 and 13 has an 80% chance of becoming an obese adult.
Obesity increases the risks of morbidity and mortality because of the diseases and conditions that are commonly associated with it, such as type 2 diabetes, hypertension, and cardiovascular disease, among other health risks.
Therefore, the American College of Surgeons believes it is of utmost importance to extend its quality initiatives to accrediting bariatric surgery centers so that it can assist the public in identifying those facilities that provide optimal surgical care for patients who undergo this surgical procedure.
In 2014, Stony Brook Medicine was first granted full accreditation as a comprehensive bariatric facility by the MBSAQIP, then a newly established program of the American College of Surgeons and American Society of Metabolic and Bariatric Surgery.
Every member of our large multidisciplinary team is committed to our program, and this commitment is the key of our success. We are all extremely proud of the work we do, and proud of our continued recognition by the MBSAQIP.
Our mission is to help children and adults who have issues with too much extra weight to achieve a healthy weight and stay that way.
Individualized assessment and care are crucial for the long-term success of weight loss treatment. At Stony Brook Medicine, our bariatric specialists welcome any pediatric/adolescent patient over the age of 12 for evaluation. With the close involvement of specialized pediatricians, dieticians, and psychologists, a thorough assessment of patient and family allows for proper guidance. We offer the full gamut of weight loss options, and many patients will be successful with lifestyle and behavioral modification alone. Bariatric surgery or other interventions are sometimes offered to further assist with weight loss and control of co-existing medical problems.
For consultations/appointments with our bariatric specialists, please call 631-444-BARI (2274) . Watch the News 12 L.I. video (2:47 min) of the weight loss story of a teenager treated by our team: