Eastern Long Island Hospital Joins Stony Brook Medicine Healthcare System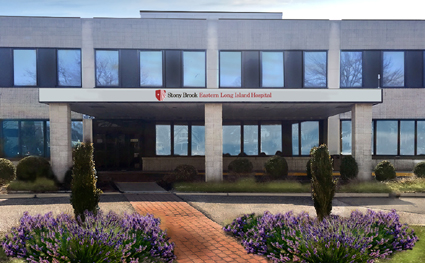 Today, Eastern Long Island Hospital (ELIH) became officially part of Stony Brook Medicine as the result of efforts toward this union over the past several years.
Located in Greenport at the eastern end of the North Fork, the acute care hospital will now be called Stony Brook Eastern Long Island Hospital (SBELIH).
This new name reflects combining the best in academic medicine and community medicine to improve access to advanced medical care for residents of the North Fork and Shelter Island.
The hospital was established in 1905, and has a long, distinguished history of serving its community, plus the vast number of people who go to the East End for their vacations in the summer months. It was the first hospital in all of Suffolk County, and the second on Long Island.
SBELIH has been formally affiliated with Stony Brook Medicine since 2006, with the decision for it to join the Stony Brook Medicine health system coming in 2015.
One of the principal goals now is for SBELIH to work collaboratively with Stony Brook University Hospital and Stony Brook Southampton Hospital to increase care, particularly specialized outpatient services.
New signage now identifies ELIH as Stony Brook Eastern Long Island Hospital
as its union with Stony Brook Medicine has been finalized.
These three hospitals in the Stony Brook Medicine healthcare system are working together to address healthcare gaps for East End residents, including specialty areas such as trauma, neurology, psychiatry, gynecology, pulmonology, hematology/oncology, and orthopedic services.
Stony Brook Medicine has maintained a fleet of critical care ambulances and first responders as a collaboration with community EMS and SBELIH to enhance the emergency care and transport services available to North Fork and Shelter Island residents.
Patients at SBELIH that require intensive care are transferred to University Hospital. As a result, patients quickly and easily receive treatment and benefit from enhanced services including shared medical records, clinical care protocols, and quality assurance programs.
"By welcoming Eastern Long Island Hospital into the Stony Brook Medicine Hospital System, we remain on the cutting edge of healthcare, implementing new strategies to improve the health of the communities we serve," says Kenneth Kaushansky, MD, MACP, senior vice president of Health Sciences and dean of the School of Medicine.
"We've taken many bold steps to strengthen our infrastructure across systems to promote excellence in research, education, and clinical services."
Our new Mastery in General Surgery Fellowship program is but one example of these steps. It provides Stony Brook surgical fellows with four months of rural surgery experience, thereby also improving surgical physician staffing in the SBELIH operating rooms and emergency department.
Paul Connor III, chief administrative officer of SBELIH, describes the new union with Stony Brook Medicine as "a marriage after a long courtship that links the two hospitals as the best way to serve the East End."
"With the help of Stony Brook Medicine," he says, "ELIH has gradually grown its footprint during the past few years."
Surgical Care to Grow and Expand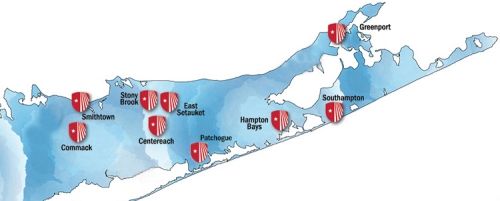 SBELIH currently provides a range of surgical care including general surgery, colorectal surgery, neurosurgery, ophthalmology, orthopedics, plastic surgery, and urology.
With the new union the surgical services there will continue to grow and expand with increased on-site coverage by surgeons of Stony Brook Medicine. Plus, patients will have access to our surgeons and other providers at Stony Brook and in Southampton.
The general surgery team at SBELIH provides emergency general surgery care addressing trauma, appendicitis, bowel perforation, bowel obstruction, and gallbladder emergencies.
They have a practice of avoiding any prolonged hospitalization and, generally, their patients go from emergency room to the operating room to recovery to home the same day.
The general surgeons work with a top-notch anesthesia and nursing team to provide safe, continuous monitoring throughout the patient's hospitalization. They work closely with the outstanding physicians of the community to provide seamless care.
In general, along with their emergency room staff, they have the capability to handle any surgical emergency and stabilize the patient.
In the few cases where after stabilization the patient's condition mandates a higher level of care, they have a well-organized system in place.
Stony Brook Medicine, in conjunction with the Aviation Unit of the Suffolk County Police Department, will transfer patients to University Hospital.
SBELIH's surgeons have worked closely with Stony Brook Medicine for many years
to provide the highest level of surgical care for local patients.
SBELIH 's surgeons have worked closely with Stony Brook Medicine for many years to provide the highest level of surgical care for local patients.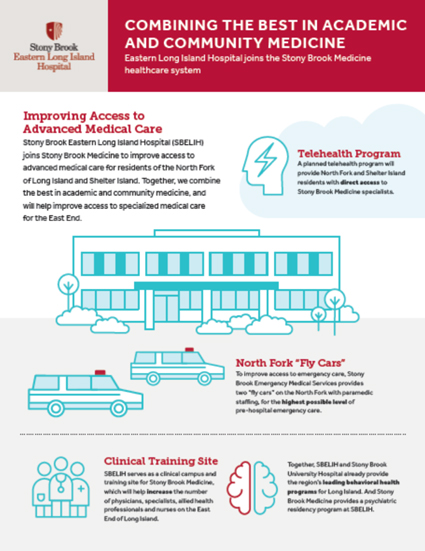 In fact, they will only operate at SBELIH on elective patients when they feel the outcomes will be the best. This covers most cases including hernia, gallbladder, colon and rectal, stomach, and soft tissue.
They do the vast majority of our cases via minimally invasive techniques, primarily laparoscopy. They can provide the initial evaluation for patients with liver, pancreas, and other malignancies.
They then help coordinate the care in an interdisciplinary approach with oncology colleagues affiliated with SBELIH, often performing the biopsy and then coordinating the appropriate imaging studies.
This approach avoids delay to treatment. Patients are then offered access to our world-class oncologic surgeons at University Hospital. Time from initial visit to diagnosis and referral to a cancer specialist is generally less than two weeks.
Our relationship with Eastern Long Island Hospital is a longstanding one with a history of the two hospitals working closely together to improve healthcare access and quality.
Stony Brook Medicine clinicians have staffed and assisted in the development of SBELIH inpatient behavioral health programs, cared for patients who needed specialty services not available at SBELIH, and provided support and patient transport services during times of emergency.
For example, following damage from Hurricane Sandy, Eastern Long Island patients were transferred to University Hospital for care until the Greenport facility was restored.
The new union will allow SBELIH to work even more closely together with University Hospital and Southampton Hospital to improve healthcare quality and access, coordinate care, and improve efficiency for their patients through shared resources.
This will help ensure that the residents of the North Fork and beyond have continued access to high-quality coordinated care close to home — making sure that each patient receives the right level of care in the facility that is most appropriate to match the level of services needed.
In addition, the platform for academic training and research will be enhanced for both institutions across the spectrum of the health science centers.
There will be many surgical and other specialists arriving at SBELIH, based on demand, as a practice site is developed there for these doctors, and more services within the Stony Brook Medicine healthcare system are accessed.
Stony Brook Eastern Long Island Hospital (SBELIH) is a 90-bed, full-service, community hospital committed to delivering excellence in patient care and meeting all the health needs of the North Fork and Shelter Island. Now a campus of Stony Brook University Hospital, SBELIH provides regional behavioral health programs serving the greater Suffolk County area. Centers of excellence include medical-surgical, advanced ambulatory care, behavioral health, emergency, geriatric, diagnostic services, physical therapy, and gastrointestinal services. Learn more about SBELIH.
For consultations/appointments with our surgical specialists, our directory page provides office phone numbers and online consultation request forms. For surgery at SBELIH, please call 631-477-5386.