The Journey Begins!
White Coat Ceremony Welcomes New Medical Students
White lab coats – traditional attire for healthcare professionals – were donned proudly by the incoming class of 136 medical students at Renaissance School of Medicine at Stony Brook University, as they officially became physicians-in-training.
The 49th matriculating class of students gathered August 11 in the Student Activities Center for the formal beginning of their medical careers. Once on stage, they stood a little bit straighter and smiled confidently as they put on their new white coats, assisted by Latha Chandran, MD, MPH, Vice Dean for Academic and Faculty Affairs.
Family and friends were in the audience, cheering and applauding to help launch the medical students on the next stage of their journey. Some clutched bouquets of flowers to give to their loved ones. One proud mother gave her daughter a last-minute pep talk, before the future physician walked on stage to claim her white coat.
The custom of holding a white coat ceremony started in 1989 at the University of Chicago's Pritzker School of Medicine.
Kenneth Kaushansky, MD, welcomed the students and said they are the School of Medicine's most diverse incoming class so far. Dr. Kaushansky, Senior Vice President, Health Sciences, and Dean, Renaissance School of Medicine, said 53 percent of the class are women, 17 percent are from groups historically underrepresented in medicine, and 21 percent are from socioeconomically disadvantaged backgrounds.
Of every person who applied to begin medical school in the United States this year, he said, one in ten applied to Stony Brook. The 136 students were selected from 5,241 applicants. Of those, 776 were interviewed for admission.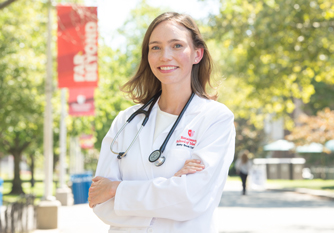 New medical student Erin Lavin was born at Stony Brook University Hospital. Returning to Stony Brook for medical school is a dream come true for the Long Island native, she said.
Besides being a busy first-year medical student, Erin is the mother of one-year-old daughter Clodagh. Erin said that when she put on her white coat for the first time, "I felt like I could aspire to the ideals of the profession." But also, as a parent, "I can actively dismiss harmful ideas about women, or being a mother in medicine. You can do both. Other mothers should feel empowered to choose this path, if they want to."
Erin graduated from Wantagh High School, and then from the University of Notre Dame with a bachelor's degree in biochemistry and a master's degree in education. She is interested in orthopaedic surgery, although she emphasized that at this early stage of her medical career, she's keeping an open mind about what area of medicine she might like to specialize in.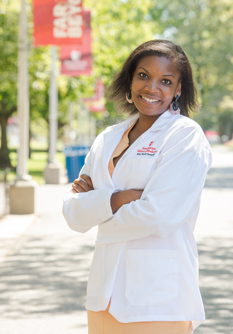 Chelsea Grant is also a new student. A Brooklyn native who graduated from Stuyvesant High School and then Harvard – with a bachelor's degree in public health – Chelsea spent two years in the Peace Corps, in the west African country of Cameroon. While there she worked on a project that provided HIV testing and counseling to children and adolescents.
Chelsea said she applied to the Renaissance School of Medicine for the proximity to her family in Brooklyn, and because she is impressed by "the empathy, compassionate care and patient-centered care at Stony Brook Medicine."
Her interests are infectious diseases, emergency medicine and surgery. "They're very different fields," Chelsea said. "But I'm open to figuring out which is best for me and is aligned with who I am as a person and as a physician."