Pursuing Breakthroughs in Gastrointestinal Cancer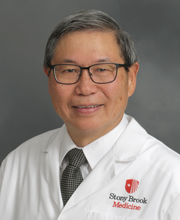 Vincent W. Yang, MD, PhD
Vincent W. Yang, MD, PhD, is the Simons Chair of Medicine and Professor in the Departments of Medicine, Biomedical Informatics, and Physiology and Biophysics. An internationally renowned physician scientist in the field of Gastroenterology, Dr. Yang's research is focused on identifying the causes and treatment of various digestive diseases including inflammatory bowel disease and gastrointestinal cancer. His group is the first to discover several Krϋppel-like transcription factors (KLFs) that play fundamentally important roles in the biology and pathobiology of the gut epithelium such as stem cells and cancer. His work has continuously been funded by the National Institutes of Health for over 30 years and has resulted in the publication of well over 200 original scientific articles. He is a member of several honor societies, including Alpha Omega Alpha (AOA) Honor Medical Society, American Society for Clinical Investigation (ASCI) and the Association of American Physicians (AAP), and he is a Fellow of the American Association for the Advancement of Science (AAAS) and American Gastroenterological Association (AGA). Dr. Yang has served or serves on the editorial boards of many professional journals and numerous review panels of the National Institutes of Health and Veterans Administration. He has been invited to speak about his research in over 30 national or international conferences and by numerous prestigious institutions in the United States, Europe, Japan, China, Hong Kong and Taiwan.
Why did you select your field?
My background in education and training is a mixture of medicine and basic research. As a house officer at the Johns Hopkins Hospital, I contemplated entering a field that would provide me with the best opportunity of combining the two disciplines for my future career. I ended up choosing Gastroenterology because of the fascinating nature of the digestive physiology, which offers a tremendous opportunity to explore and understand the mechanisms underlying both the normal and disease processes in the gastrointestinal system. My goal was consolidated during my fellowship years when I was able to learn both the clinical aspects of digestive diseases and perform bench research on the fundamental mechanisms of the digestive system. This combined theme of clinical and research pursuits continued throughout my career.
Why did you choose to work at Stony Brook? What is the opportunity here?
I was inspired by the potential to strengthen and enhance the tripartite mission of education, research and clinical practice in the Department of Medicine at the Renaissance School of Medicine at Stony Brook University. In addition to having a strong reputation in undergraduate and graduate education, Stony Brook offers the outstanding opportunity for collaboration in biomedical and clinical research due to the rich environment in not only the School of Medicine but the rest of University campus. Stony Brook University Hospital also enjoys an excellent clinical reputation in the local community and has the potential for becoming the predominant healthcare system on Long Island. These factors combined made my decision to come to Stony Brook an easy one.
What is the most rewarding aspect of your job?
There are several. One is the opportunity to recruit talented junior faculty into the department and to witness the growth and advancement of their career. It is gratifying to see that we have been able to assemble a group of top-notch physician scientists to conduct cutting-edge research, all of whom are now supported by independent funding. It is also humbling to have the opportunity of working with a faculty that is dedicated to both the educational process and patient care. Finally, I am grateful to be able to continue my own research effort, which remains funded to date.
What breakthrough would you most like to make?
One of my research interests is in the area of gastrointestinal cancer. Many of the faculty in our department are also devoted to basic and clinical research in a variety of cancer diseases. As such we are closely aligned with the Stony Brook University Cancer Center in pursuing its goal of achieving designation as a National Cancer Institute Comprehensive Cancer Center in the not-too-distant future. Personally, our own research has led to the discovery of a number of novel small-molecular compounds that appear to be effective in treating GI cancer in the pre-clinical stage. We aim to continue to develop these compounds with the goal of eventually bringing them to the clinic.
What might your field look like in the year 2025?
Methodology for screening and early diagnosis of cancer will continue to improve. Many biomarkers are now currently being validated that can predict or detect cancer at an early stage using simple blood tests. The development of novel therapeutics based on a targeted approach will continue to accelerate, resulting in a true "precision medicine" approach in treating diseases. Finally, the field of regenerative medicine, taking advantage of combined knowledge of stem cell research and tissue engineering, will play a significant role in managing diseases that involve tissue injury such as stroke, heart attack, spinal cord injury, and organ failure.
If you could send one message to the community about your field, what would it be?
That education and research are essential ingredients for the success of an academic medical institution like ours. They will both enrich and enhance the reputation of the clinical enterprise.
What are your interests outside of work?
I enjoy and spend a lot of time reading, particularly on history and biography. I like photography, especially landscape and nature, and want to improve in my photo editing skills. My wife and I enjoy travel to various countries and learn about their culture. Finally, with a newly arrived grandson and another soon-to-arrive grandchild, we can't wait for the COVID-19 pandemic to subside so we can visit them on the West coast.