The Department of Medicine is pleased to announce that Dr. Marshall Miller has been appointed as Associate Director of the Hospitalist section in the Division of General Internal Medicine, Geriatrics and Hospital Medicine, Department of Medicine. Dr. Miller received his PhD degree from Rockefeller University and MD degree from Weil Cornell Medical College. He joined our department in 2016 as a Hospitalist attending faculty upon completion of the Internal Medicine Residency program at New York-Presbyterian/Cornell Medical Center.

Dr. Miller's hard work, perseverance, and self-motivation are well recognized by his colleagues. In this new position, he will be collaborating with the Section Chief for the continued expansion of the Hospitalist program and to achieve strategic and operational objectives for the Hospitalist service.
We would also like to thank Dr. Robert Abdullah for his hard work, dedication, and leadership to the Hospitalist service over the past several years. Due to family reasons, Rob will be leaving Stony Brook. We wish him all the best in his future endeavors.
Please join us in welcoming Dr. Miller to his new leadership role.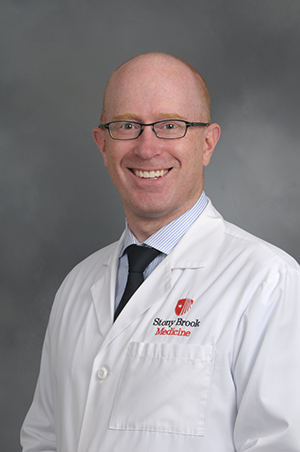 Marshall Miller, MD

Sadia Abbasi, MBBS
Clinical Associate Professor of Medicine
Chief, Hospitalist Section
Division of General Medicine, Geriatrics, and Hospital Medicine
Suzanne Fields, M.D.
Professor of Medicine
Division Chief
Division of General Medicine, Geriatrics, and Hospital Medicine
Vincent W. Yang, M.D., Ph.D.
Simons Chair and Professor of Medicine
Department of Medicine