From the Desk of Hal Skopicki, MD, PhD, Chief, Division of Cardiology:
It is my pleasure to announce that Dr. John Patrick (JP) Reilly has been named Chief of Cardiology at Stony Brook Southampton Hospital. Dr. Reilly will continue in his duties as the Co-Director of the Cardiac Catheterization Laboratory at Southampton Hospital and as the Director of Cardiology Endovascular Intervention at the Heart Institute/Stony Brook University Hospital.
Dr. Reilly is a master clinician whose clinical interests are focused on coronary and peripheral intervention and cardiovascular wellness. Before joining the Stony Brook Heart Institute in 2018, he was the Vice-Chairman of Clinical Affairs in Cardiovascular Disease at the Ochsner Clinic where he also served as the Director of Cardiac CT and the Program Director of the Cardiovascular Disease fellowship program.
Dr. Reilly was born and raised in the Bronx. After graduating from the University of Notre Dame, Dr. Reilly obtained his MD degree with honors at the Columbia University College of Physicians and Surgeons. He completed his residency and chief residency at NYU prior to his fellowship in Cardiology at NYU Medical Center/Bellevue Hospital and Interventional Cardiology fellowship at the Scripps Clinic.

He then joined the Ochsner Clinic Foundation in New Orleans, LA where he rose quickly to multiple leadership roles. He has been named both the Teacher of the Year and Mentor of the Year in Cardiology and won the Hurst B. Hatch Award as Teacher of the Year in Medicine. He has served on the editorial board of multiple journals and is a Fellow of the American College of Cardiology and the Society of Cardiac Angiography Interventions. At SCAI he has served on the Board of Trustees as Editor in Chief of Seconds Count and chair of the PR Committee. His research involves emerging endovascular therapies for renal denervation and carotid baroreceptor stimulation as adjunctive treatments for blood pressure control.
Please join me in congratulating Dr. Reilly.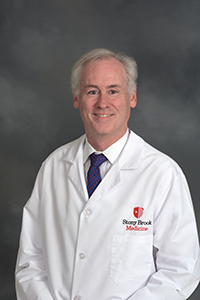 John P. Reilly, MD


Hal Skopicki, MD, PhD
Chief of Cardiology
Ambassador Charles A. Gargano, Chair in Cardiology
Co-Director, Stony Brook Heart Institute
Director, Heart Failure and Cardiomyopathy Program
Co-Director, Ventricular Assist Device Program