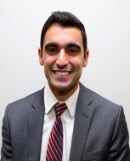 Hometown: Melville, Long Island  
Undergraduate School: The Ohio State University
Medical School: NYIT College of Osteopathic Medicine 
Hobbies/Interests: Racquetball, Pickleball, Squash, "Foodie"
Why Stony Brook? I chose Stony Brook because on my interview day I could immediately tell that not only my co-residents would be amazing, but also that my administration would always have my best interest in mind. Dr. Lane and the faculty are passionate about teaching residents and committed to improving our already outstanding curriculum. I feel honored to be a part of this program and lucky to have such incredible co-residents and faculty!