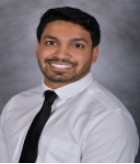 Hometown: White Plains, NY
Undergraduate School: Stony Brook University
Medical School: New York Medical College 
Hobbies/Interests: Watching/playing sports, working out, listening to podcasts, spending time with my family and friends 
Why Stony Brook?: Stony Brook was where I competed my bachelors, so throughout my time there I was able to get fairly familiar with the hospital and their residency program. That being said, the faculty and residents I met during my interview really sold me on the program being a great fit. Everyone was very welcoming and helpful throughout the application process.