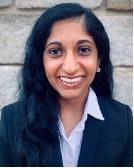 Hometown: Longmeadow, MA 
Undergraduate School: Cornell University 
Medical School: University of Massachusetts Medical School 
Hobbies/Interests: Traveling, Trying new restaurants, Watching mystery shows (Psych is my absolute favorite!), Badminton, Hiking, Baking 
Why Stony Brook? I wanted a program with strong leadership - Dr. Lane is welcoming, approachable and committed to resident learning and well-being. I was also looking for an academic university environment in which the program fosters a strong connection between its residents and faculty. I feel that I have already learned so much from the diverse pathologies at Stony Brook and appreciate the learning environment that my co-interns, seniors and attendings foster.