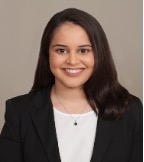 Hometown: North Merrick, NY  
Undergraduate School: Stony Brook University  
Medical School: NYIT-COM 
Hobbies/Interests: Traveling, baking, crocheting, spending time with family/friends 
Why Stony Brook? Since I went to Stony Brook University for undergrad, I knew I would be really happy to make my way back for residency. I was hoping to train at a large academic center with exposure to all subspecialties, diverse pathology, research, and integrated didactics. Stony Brook has all of that to offer in addition to a positive and supportive learning environment. Although our interview day was virtual, I was still able to appreciate the camaraderie among the residents and the dedication of the program leadership. This has held to be true so far as everyone I've worked with has been so helpful, understanding, and knowledgeable!