Our NICU
The Neonatal Intensive Care Unit at Stony Brook Children's Hospital is located in Suffolk County on Long Island.  Our unit is a Level 3B NICU, has 46 private beds and is the first in New York State to have all private rooms.  We are a New York State designated Regional Perinatal Center in partnership with the Division of Maternal-Fetal Medicine.  On a yearly basis we have approximately 4000 births, 1000 NICU admissions, 100 transports and an average of 90 babies with a birth weight of <1500 grams.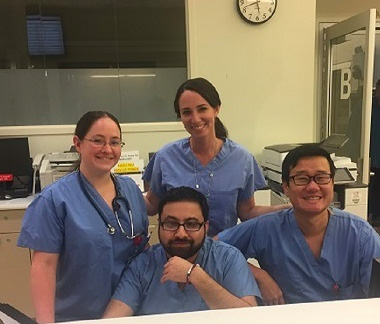 Our Neonatal-Perinatal Medicine Fellowship program is an ACGME accredited fellowship program and we are on a successful 10-year credentialing process.  The program is a three-year commitment for which we accept two fellows a year for training to become attending Neonatologists.  Our fellow applicants are graduates of Pediatric Residency Programs in the United States who are board-eligible or board-certified in Pediatrics.
The goal of our program is to develop strong, independent, well-rounded Neonatologists who can provide confident and compassionate care.  Our fellows are evaluated and provided feedback in all areas of the ACGME Core Competencies including Patient Care and Procedural Skills, Medical Knowledge, Practice-Based Learning and Improvement, Interpersonal and Communication Skills, Professionalism, and Systems-Based Practice.
Our division provides a well-balanced academic curriculum and we participate in the National Neonatology Curriculum provided by the Organization of Neonatal Training Program Directors (ONTPD).  We maintain a highly organized curriculum based on the Content Specifications for Neonatal-Perinatal Medicine board preparation.  
To enhance fellowship training in experiential learning techniques, we have a Neonatal Skills Lab located in the NICU equipped with manikins, and task trainers to teach both basic and advanced neonatal skills and techniques. In addition there is a state of the art Clinical Skills Center for conducting multidisciplinary Neonatal Simulation using standardized patients which includes video photography and closed loop debriefing techniques.
Our faculty have strong research experience and provide mentorship for our trainees in the areas of Clinical, Basic Science, and Translational Research. Fellows successfully participate in research projects which are consistently presented at the local, regional, and national levels.  Our fellows also participate in Quality Improvement projects to help improve the care of our NICU patients and their clinical outcomes.  These collaborative initiatives are also presented at local, regional, and national conferences. 
Our Team
The Neonatal Team includes ten board-certified/eligible Attending Neonatologists who are faculty of the Renaissance School of Medicine at Stony Brook University.  We have six Neonatal Fellows, nine Neonatal Nurse Practitioners, more than 110 dedicated neonatal nurses, nurse educators, a discharge coordinator, a dedicated neonatal nutritionist, lactation consultants, chaplaincy services, an ethics team, palliative care service, social workers, dedicated respiratory therapists, helpful receptionists, and other ancillary support staff. For complex neonatal disorders, we have full-time attending consultants in every subspecialty of pediatrics available including Cardiology, Neurology, ENT, Urology, and Pediatric Surgery.  Our Maternal-Fetal Medicine service continues to expand and has six Perinatologists and a robust fellowship program.  Together with the Maternal-Fetal Medicine group, we have a team approach to the optimization of care of high risk pregnancies and the safe delivery/resuscitation of the newborn.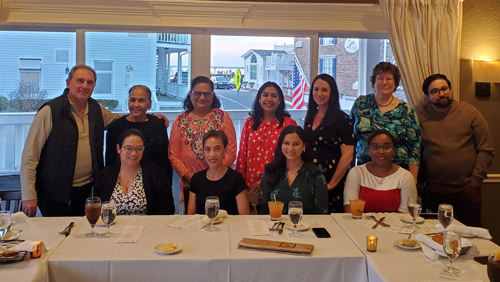 Our Location 
Our hospital is centrally located in Suffolk County on Long Island, which makes it easy for residents to plan fascinating and pleasurable day trips.  You'll always be close to home, whether you choose to venture into New York City, one of the greatest and culturally rich cities in the world; have fun in the sun in the Hamptons, Montauk, Orient Point, or any one of our famous ocean beaches; or relax and enjoy some of the Island's many beautiful wineries.