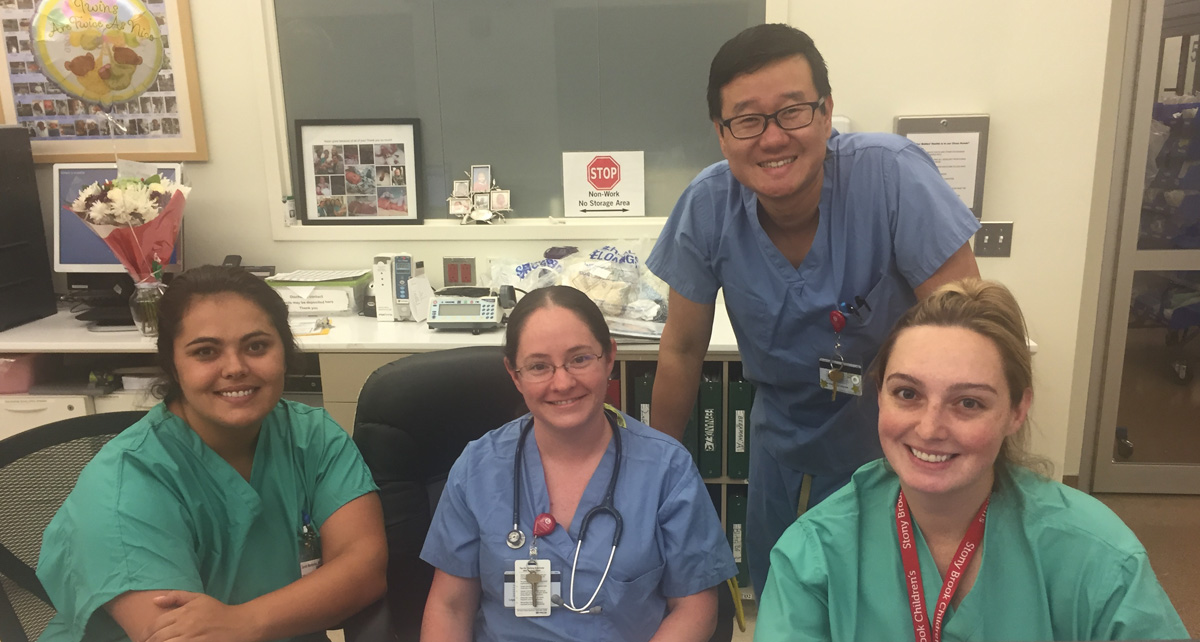 NICU Rotation
The NICU rotation is a clinical rotation on our Resident Team which is led by a fellow and attending. During these rotations, fellows develop the clinical skills needed to lead a team and care for patients. Fellows gather essential and accurate information about patients, make informed decisions about diagnostic and therapeutic interventions based upon patient information and current scientific evidence, and develop patient management plans while appropriately prioritizing clinical care, resident education and acting as a team leader. The NICU rotation also provides the fellows with opportunities to teach on rounds at the bedside and during dedicated Resident teaching sessions twice a week. The team attends Radiology Rounds as well to learn how to interpret clinical findings on x-rays and the importance of utilizing these findings to direct patient care. During the third year of fellowship, fellows will have the opportunity to lead Junior Attending rounds during which they act as the attending on service by leading the team, developing all clinical management decisions on their patients, and providing guidance to the team of residents in preparation for their career as a Clinical Neonatologist.
 
---
Delivery Room Rotation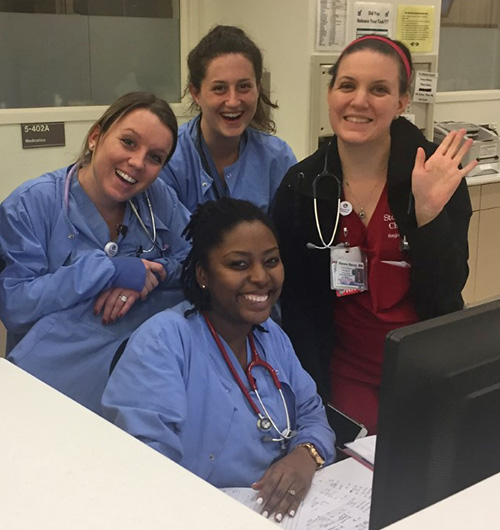 The Delivery Room rotation is a clinical rotation on our Neonatal Nurse Practitioner (NNP) Team.  This rotation incorporates the clinical management of patients in the NICU along with our NNPs, delivery room coverage where fellows can actively participate and demonstrate leadership in neonatal resuscitation by following NRP guidelines, stabilization of patients in the delivery room, development of management plans for patients admitted to the NICU, and provide transition of care to the clinical teams accurately and with confidence. 

Fellows also have a role in providing perinatal consultations for expecting parents on the Antepartum service and Labor & Delivery floor in addition to out-patient consults which will include a detailed tour of our NICU.  During these consults, fellows provide information regarding the expectant management of their baby upon delivery, both the potential short-term and long-term morbidity and mortality risks, and the family support needed to optimize care.  Ongoing collaboration and communication with our OB and MFM teams is an essential component to this rotation. 

The Regional Perinatal Center also provides fellows an opportunity to participate on transports from surrounding hospitals during this rotation.  Fellows will triage transport calls, provide guidance and support to the outside hospitals in preparation for transport to Stony Brook, actively participate in transporting patients to our NICU, and provide support to the families. 
 
---
Cardiology Rotation
Fellows will rotate with our Pediatric Cardiology team for a four week elective during their second and third year of fellowship training.  During the rotation, fellows will strengthen their fund of knowledge on cardiovascular disease in the newborn including:
 
The diagnosis and management of congenital heart disease
Pre-op and post-op cardiac care
Surgical procedures for congenital heart disease
Neonatal arrhythmia
Fetal echocardiography
Prenatal and postnatal consultations with families

Fellows will attend Cardiology Clinic for exposure to Fetal Echocardiography and patients with Congenital Heart Disease.  Cardiology Consults will also be performed by the fellows in both the NICU and PICU for both the diagnosis and management of Congenital Heart Disease.  All fellows will participate in the Congenital Heart Disease Gross Anatomy Lab which is given by our Pediatric Cardiology Team yearly and includes a detailed overview of Congenital Heart Lesions with an in-depth review of embryology, echocardiography, a physiology discussion and a unique hands-on experience using cadaver hearts.  A lecture series by our Cardiology Attendings is also provided throughout the year on a monthly basis.
 
---
Maternal-Fetal Medicine Rotation
During the third year of fellowship training, fellows will rotate with our Maternal-Fetal Medicine (MFM) team for a two week rotation.  This rotation will include both an in-patient and out-patient experience.  On the in-patient service, fellows will round with the MFM Fellow and Attending on the Antepartum Service and on Labor and Delivery for all high risk pregnancies.  They will also participate with the team during in-patient prenatal consults from the maternal/fetal perspectives.
The out-patient portion of the MFM rotation includes the following out-patient clinics:
 
High Risk MFM Clinic including Fetal Ultrasound
Diabetes Clinic
Maternal Opioid Management Support (MOMS) Clinic
Procedures Clinic
Fellows can attend Grand Rounds on MFM topics when available throughout the year as well as the Neonatal-MFM Conferences held twice a month to review upcoming high risk patients in addition to patients who have already delivered to review the diagnoses, clinical management, and neonatal outcomes.  This conference is given by both the MFM fellow and NICU fellow rotating on the Delivery Room Service. 
 
---
High Risk Follow-Up Clinic
The High Risk Follow-Up Clinic is available for our Neonates discharged from the NICU with a history of prematurity or other complex medical issues.  The clinic meets weekly and the team follows patients for 2-3 years depending on the needs of the patients.  The purpose of the clinic is to evaluate the growth and neurodevelopment of our patients and provide support and referrals to the parents including multidisciplinary follow up and Early Intervention to optimize care. 

Our fellows attend the clinic along with a dedicated team of neonatologists on a rotating schedule weekly.  The team reviews the hospital course of each patient, utilizes the Capute Scales to assess cognition, makes referrals when needed for the appropriate services based on clinical findings, and provides the Pediatrician with a summary of the visit. 

As a result of the High Risk Follow-Up Clinic, our fellows are able to appreciate the long-term effects of prematurity on our most fragile patients and develop a long-term professional relationship with our patients and their families beyond the doors of the NICU.