Women Need to Be Proactive in the Prevention and Treatment of Vascular Disease
By Angela A. Kokkosis, MD, Director of Women's Vascular Health, Vascular and Endovascular Surgery Division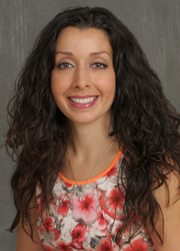 Great strides have been made in recognizing cardiac disease in women, but we still lag in the diagnosis and treatment of vascular disease in women.
Vascular disease, which affects the blood vessel's of the entire body, is another aspect in women's health that is not completely understood, resulting in erroneous and/or late diagnosis.
It is vital for women to be aware of their own risk factors, signs, and symptoms, so they can be proactive in the prevention and treatment of vascular disease.
We do know that women over the age of 60 are at increased risk of developing abdominal aortic aneurysms (AAAs), carotid (neck) artery disease, and peripheral artery disease (PAD).
By age 70, this risk is the same as it is for men, and it is believed that women "catch up" to men once they are in menopause and lose the protective effects of estrogen in the cardiovascular system.
As with heart disease, women with certain vascular conditions may have different signs and symptoms than men, which can result in delays in diagnosis and potentially worse outcomes.
Women need to be aware of their own risk factors, signs, and symptoms,
so they can be proactive in the prevention and treatment of vascular disease.
For example, women may be misdiagnosed with arthritis or spinal stenosis, as this is assumed to be more common in women, but they may actually have PAD.
Abdominal aortic aneurysm. The aorta is the main blood vessel in the body which supplies vital nutrients and oxygen to all the major organs. Risk factors such as cigarette smoking, high blood pressure, high cholesterol, and family history can predispose certain women as well as men to develop aneurysms, or a "ballooning," in the aorta.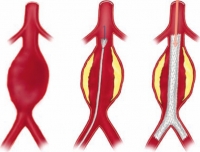 Typically, the aneurysm develops in the aorta that is in the abdominal region, but it may also occur in the chest (thoracic aortic aneurysm).
Lack of recognition of an aneurysm may put the patient at risk of life-threatening rupture of the aorta.
Unfortunately, aneurysmal disease is a "silent" disease — there are no early symptoms, only the symptoms of rupture (severe, sudden-onset belly pain and/or back pain).
The good news is that a simple non-invasive test, an ultrasound, can effectively diagnose the presence of an abdominal aortic aneurysm. Once an aneurysm is found, a treatment plan can be developed with the patient to determine whether medical management, open surgery, or a minimally invasive "endovascular" (through inside the vessels) repair surgery is indicated.
Carotid artery disease. The carotid artery in the neck serves as one of the main suppliers of blood to the brain; and there is one for each side of the brain. If this artery becomes blocked (typically with atherosclerosis), the patient may be at risk for a serious stroke.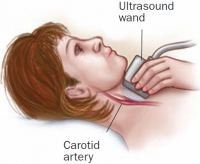 Risk factors for developing these blockages include high cholesterol, cigarette smoking, diabetes mellitus, high blood pressure, and family history.
Early diagnosis of carotid disease is paramount because studies have shown that medical management can effectively delay the progression of carotid disease, and ultimately the risk of stroke.
The types of medications used include those that control high blood pressure, those that help block the "stickiness" of platelets in the blood (antiplatelets), and those that help reduce cholesterol (statins).
If the blockage is very severe, then surgery may be necessary to prevent stroke, and depending on the individual patient, there are both open surgical (carotid endarterectomy) and minimally invasive surgical options (TCAR and carotid artery stenting).
Early diagnosis is certainly feasible; with a simple ultrasound, carotid disease can be discovered, and based on the severity, a treatment plan can be immediately initiated. This is particularly important as carotid disease is another "silent" disease — the first symptom may be the unfortunate stroke!
Peripheral artery disease. The "peripheral" arteries typically describe the arteries in the arms and legs. However, it is the legs which are most affected by vascular disease.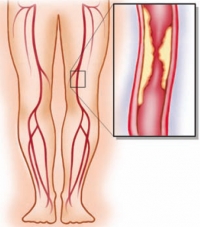 PAD is the build-up of atherosclerosis in the arteries, which leads to blockages. The risk factors for PAD are the same as for carotid disease and heart disease: high cholesterol, high blood pressure, cigarette smoking, diabetes, and family history.
If the blockages are severe enough, the patient may begin to develop early signs and symptoms which include: calf or thigh muscle cramping with walking, hair loss below the knees, abnormal nail growth, or slow healing of minor cuts and scrapes.
As the blockages progress, the patient may notice that it is hard to walk at all because of severe pain on the top of their feet, or they may have already developed wounds or gangrene. In these later stages of PAD, without medical or surgical care the patient is at risk for limb loss.
Early diagnosis is key, as emphasized above. Medical management and exercise therapy can help delay both the need for surgical interventions and reduce the risk for limb loss. However, in the more advanced stages of PAD, there are a myriad of open and minimally invasive endovascular surgical options for patients.
If a patient has the risk factors for PAD or any of the signs and symptoms, a non-invasive test called an "ABI" (ankle brachial index test) can be done to diagnose PAD. Briefly, a blood pressure cuff is placed around the ankles and the upper arms, and the ratio of the blood pressures determines the presence and severity of PAD.
Better understanding of the gender differences in vascular disease with focused randomized trials, biomedical research, and identification of gender-specific medical and social risk factors will improve the clinical outcomes in women.
It is critical for every woman to understand her individual risk of developing vascular disease and, when a vascular condition is diagnosed, to have it managed by a team of experts that can effectively prevent disease progression and complications.
As a national leader in the diagnosis, treatment, and prevention of vascular disease, the Stony Brook Vascular Center has established clinical and educational programs, both out in the local community and at our Centereach center location, aimed at improving women's vascular health. From meditation to smoking cessation to vascular awareness classes. Free vascular disease screenings are offered throughout Suffolk County to help grow awareness of the need for women to care for their vascular health.
See information about our FREE vascular disease screenings. Early diagnosis is best for lifesaving treatment. DON'T DELAY — MAKE AN APPOINTMENT TODAY!