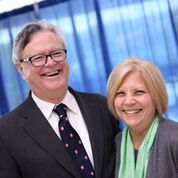 William and Jane Knapp
Mr. William Knapp and his wife, Jane, both graduates and long-time supporters of our University, have endowed the William and Jane Knapp Chair in Pharmacological Sciences.
Dr. Rigas is truly honored to occupy this prestigious chair as of 2013.
Both Bill and Jane have shown a strong interest in our Division's research. Displaying unusual foresight, they support innovative research projects that that may not be immediately fundable through the conventional processes.
Photographs of the Investiture Ceremony when Dr. Rigas was formally installed as the William and Jane Knapp Chair in Pharmacological Sciences: