We're thrilled and honored to announce that Susan Y. Lee, MD FACP, has been appointed as a Member of the Immunization Committee, American College of Physicians (ACP), for the 2021-22 term.
What is the ACP Immunization Committee? According to Thomas G. Cooney, MD, MACP, Chair-elect, Board of Regents, "The committees of ACP perform a vital role in the development of policies and programs that benefit the public, the profession of medicine, and our membership. Participation in committee activity provides a valuable opportunity both to serve and to have one's voice heard in ways that directly affect internal medicine and our patients."
A committed medical educator and primary care internist, Dr. Lee currently serves as the Medical Director at Stony Brook Primary Care in our East Setauket location. She is also the Lead Physician for PCMH and Ambulatory QI, and an Associate Professor of Clinical Medicine in the Department of Medicine.
Please join us in congratulating Dr. Lee on this very distinguished honor. We wish her the best of luck serving as a valued member of this critically important, and timely, committee.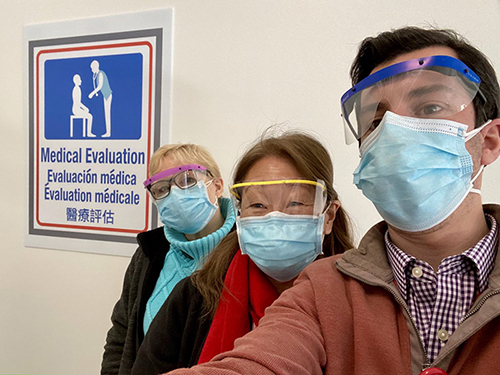 Dr. Susan Lee, middle, volunteering in a NYS DOH Covid19 Vaccine Pod with colleagues from Stony Brook Medicine.