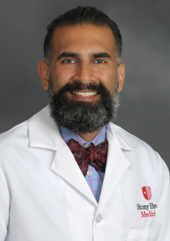 The surgical robot made its debut in the late 1990s, and it is increasingly used to perform a wide range of operations, including procedures to treat different cancers.
Now, surgeons are using robotic technology to expand their technical surgical capabilities.
Robotic systems are equipped with multiple robotic arms that surgeons control precisely using a nearby high-tech surgeon console.
One robot arm utilizes a small video camera with 3-D optics and visualization. The other three robotic arms utilize specialized surgical instruments that can access the surgical field through incisions each less than an inch long.
The surgeon sits at the console with a screen providing enhanced 3-D visualization of the operative field.
Hand controls that are similar to those used in video games allow surgeons to control the bed-side robotic instrumentation, providing them with full wrist dexterity and hand movements with a minimally invasive approach to enhance surgical precision.
Like other surgical methods and technologies, robotic surgery offers a variety of benefits for both patients and surgeons.
In 2017, our surgical oncologists at the Stony Brook Cancer Center performed Long Island's first totally robotic Whipple procedure for pancreatic cancer, advancing patient care significantly.
Here, Sherif R. Abdel-Misih, MD, a member of our Surgical Oncology Division with extensive experience and expertise in robotic surgery as well as a range of other surgical expertise, answers frequently asked questions about robotic surgery for cancer treatment.
Q: What is robotic surgery?
A: Robotics is a surgical technology platform first and foremost used by surgeons to enhance surgical capabilities.
Q: Does the robot perform the surgery alone, or does the surgeon perform the surgery?
A: The operating surgeon is in control of the technology and the conduct of the operation. I not uncommonly joke with my patients but clarify that I don't simply flip the switch and go play a round of golf. I am the one performing the surgery.
Q: What cancers are currently treated with robotic surgery?
A: Robotic technology has allowed many disciplines to incorporate robotic surgery into their operative management of many cancers, including lung, esophagus, gynecologic (ovarian, endometrial), urologic (kidney, bladder, testicular), and gastrointestinal cancer (stomach, pancreas, colorectal), to name some.
---
Robotic surgery has improved patient recovery, specifically pain, time in the hospital,
and return to everyday life and activities.
---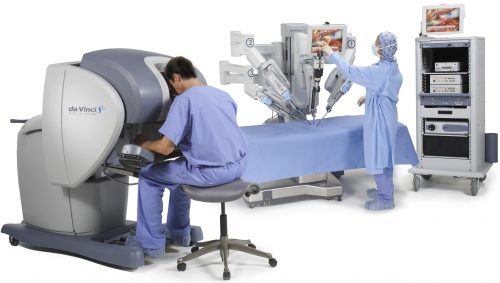 Q: What are the benefits of robotic surgery compared to traditional (open) methods of surgery?
A: Minimally invasive surgery done with robotics has improved patient recovery from surgery, specifically pain, time in the hospital, and return to everyday life and activities. Also, in many cases, robotic surgery allows the surgeon to achieve a higher degree of precision due to the enhanced dexterity and 3-D visualization provided by the robotic system.
I myself found these advantages very useful from my early experience now more than eight years ago when I began utilizing this technology to assist in the surgical management of patients with rectal cancer who I cared for. As I expanded robotic utilization to other cancers I treated, these advantages were further demonstrated to be of benefit.
Q: Is robotic surgery safe? What are its risks, in any, in cancer treatment?
A: In experienced hands, robotic surgery is safe because it is a technology like others that has to be used appropriately to achieve the desired surgical goals and outcomes. All surgeries carry some degree of risk.
Q: Why is the number of robotic surgeries performed important in choosing a surgeon?
A: Experience is important in all facets of life, and the greater the experience and exposure to a technology or surgical approach, the more skilled one becomes.
Q: What makes a patient a good candidate for robotic surgery?
A: Candidacy for surgery relates to the feasibility, safety, and quality of an operation that can be undertaken with any surgical approach or technology.
There are conditions and cancers that are sometimes too technically challenging or risky to reasonably substantiate a less invasive approach using robotic technology. However, by and large, in experienced hands, many patients will benefit from minimally invasive surgical approaches using robotic technology by enhancing or improving their recovery.
---
Stony Brook cancer specialists with expertise in robotic surgery have years of experience,
and are leaders in the field of robotics.
---
Q: Is robotic surgery covered by insurance?
A: Yes. Insurances generally cover use of the robotic platform because it is a technology and approach to surgery still directed at traditional problems and operations.
Q: What is the advantage of having robotic surgery for cancer treatment done at Stony Brook University Cancer Center?
A: Robotic surgical approaches are being used by many of our surgical disciplines with increasing frequency, which continues to enhance our experience and expertise. The outstanding operating room team support given our surgeons is a major asset. Together, our robotics focus and team approach provide for high-quality surgical care and outcomes.
The surgeons on the Cancer Center's Gastrointestinal Oncology Team who perform robotic surgery have years of experience, and are leaders in the field of robotic surgical oncology. We are committed to using robotics to make leading-edge surgeries a reality, as we did with Long Island's first totally robotic Whipple procedure for pancreatic cancer.
Use of the surgical robot allows operations for cancer treatment to be performed accurately and in a more minimally invasive way. At Stony Brook, increasing numbers of patients with cancer are being treated with surgery using robotics, and are benefiting from this advance in care.
For consultations/appointments with our surgical oncologists who have expertise in robotic surgery, please call 631-444-8086.