Gene Gindi, Ph.D.
•Associate Professor of Radiology and Electrical & Computer Engineering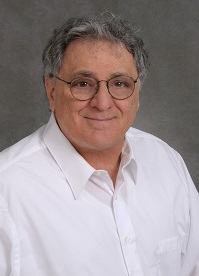 Education:
Ph.D. Optical Sciences, University of Arizona
M.S. Optical Sciences, University of Arizona
B.S. Applied Physics, California Institute of Technology
Honors:
1981, Gradute College Fellowship, University of Arizona
1982, Graduate College Outstanding Dissertation Award, University of Arizona
1984, Rudolph Kingslake Medal and Prize, awarded annually in recognition of the most noteworthy original paper to appear in the journal of Optical Engineering
1993, SPIE Milestone Series, Selectiong of Journal Articles for Inclusion in a Reference Volume Contaning "Key Foundation Papers"
1997, Co-Chair of International Conference on Information Processing in Medical Imaging
2001 & 2004, Honorable Mention in Poster Competition, SPIE Symposium on Medical Imaging
2005, Guest Editor, Journal of Medical Image Analysis
Publications:
Please click here to see a full list of articles published by Dr. Gindi on PubMed
Please click here to see a complete list of articles published by Dr. Gindi
Research Interest:
The Medical Image Processing Lab, directed by Prof. Gene Gindi, conducts investigations in medical image processing and analysis.

One interest is on reconstruction in emission tomography (PET and SPECT) with a focus on statistical reconstruction methods. We also

work, through a collaboration with Dr. Wei Zhao's group, on problems in reconstruction and scatter correction for X-ray breast tomosynthesis.

In addition, a significant part of our work has been in the area objective assessment of image quality. In this approach, performance on a mathematically defined

task of clinical relevance (such as detection and localization of a lesion) is used as a figure of merit to guide the design imaging components and data processing

along the imaging chain. We have used this approach to optimize the collimator design and the reconstruction in SPECT. This has been applied to neuroendocrine tumor imagine

and is currently being applied to SPECT cardiac imaging. The lab was started in 1992.

Please click here to be redirected to Dr. Gindi's Medical Imaging Processing labratory website.
Contact Information:
Stony Brook Medicine
Department of Radiology
HSC Level 4, Room 120
Stony Brook, NY 11794-8460
Phone: 631-444-2539
Fax: 631-444-6450
Email: Gene.Gindi@stonybrook.edu