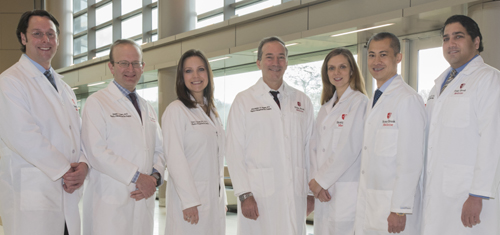 The Division of Plastic and Reconstructive Surgery provides training of plastic surgery residents at Stony Brook Medicine, as an affiliated institution of the integrated six-year residency program of the Long Island Plastic Surgical Group (LIPSG) based at NuHealth (Nassau University Medical Center; NUMC) in East Meadow, NY.
LIPSG is the oldest and largest private and academic plastic surgery practice in the United States.
One of the hallmarks of LIPSG is its decades-long commitment to furthering the science and art of plastic surgery. Only the most skilled, experienced, and innovative plastic surgeons make up its team of doctors, and each is dedicated to passing his or her knowledge on to new generations of surgeons who will be the next leaders in the field.
The clinical faculty at Stony Brook are leaders in the field of plastic and reconstructive surgery, with major achievements as academic surgeons in both patient care and research (see their publications), several of which have gained national attention.
The NuHealth LIPSG-Stony Brook plastic surgery residency program teaches the next generation of plastic surgeons everything from the basics of aesthetic enhancement procedures to reconstruction of skin in patients with severe burns.
NuHealth established its plastic surgery training program with LIPSG in 1954 (read more). It now offers the integrated six-year residency, in addition to the traditional independent three-year residency, both of which are fully accredited by the Accreditation Council for Graduate Medical Education (ACGME).
For the integrated residency program, residents are chosen out of medical school to enter the program. Successful completion of the six years of training provides eligibility for certification by American Board of Plastic Surgery.
Stony Brook's Dr. Alexander Dagum and Dr. Aleksandra Krajewski are the Program Director and Associate Director, respectively, of the Plastic and Reconstructive Surgery Residency Program.
Since its inception, the NuHealth residency program has trained more than 125 residents, and has seen many of them grow into some of the most respected and skilled plastic surgeons in the nation.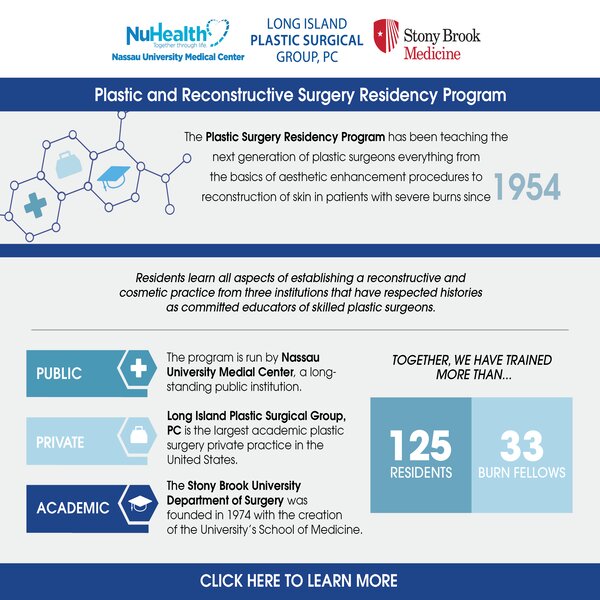 Graduates from the independent residency program have gone on to successful careers in both private practice and academia, and have become some of the leading innovators in the fields of plastic and reconstructive surgery.
Candidates from all across the country apply for a coveted spot in this program. The integrated residency program will accept one new resident per year for a total of six residents. Both programs are committed to accepting candidates who represent diverse backgrounds and experiences, and who have stellar records of academic achievement.
Residents in the integrated residency program will receive training in all aspects of surgery with specialization in plastic, cosmetic, and reconstructive surgery under the guidance and mentorship of faculty from all three organizations: NUMC, LIPSG, and Stony Brook Medicine.
Further, these residents will have the unique opportunity to train in the large private practice setting of LIPSG, as well as at numerous other locations including NYU Winthrop Hospital and Mercy Medical Center, in addition to Stony Brook University Hospital, Stony Brook Cleft Palate-Craniofacial Center, and Stony Brook Plastic & Cosmetic Surgery Center.
Candidates for the integrated plastic surgery residency program should apply through the Electronic Residency Application Service (ERAS) and the National Resident Matching Program (NRMP). Applications are accepted by ERAS beginning the first week of September and matching takes place in January prior to the following July 1 start date.
Alexander B. Dagum, MD, chief of plastic and reconstructive surgery, and executive vice chair of surgery, states: "Residents admitted to this program will have the unique opportunity to get their plastic surgery training across three major institutions with approximately 30 different plastic surgeons. There are many ways to reconstruct tissue after traumatic injury or surgery, and many ways to treat and solve reconstructive and plastic surgery challenges. This collaborative approach, and the wealth of knowledge and experience it offers, has created one of the most diverse programs in the country."
For more information, please call program coordinator Tiana Martucci, M.A., at 631-444-2037, or email her.