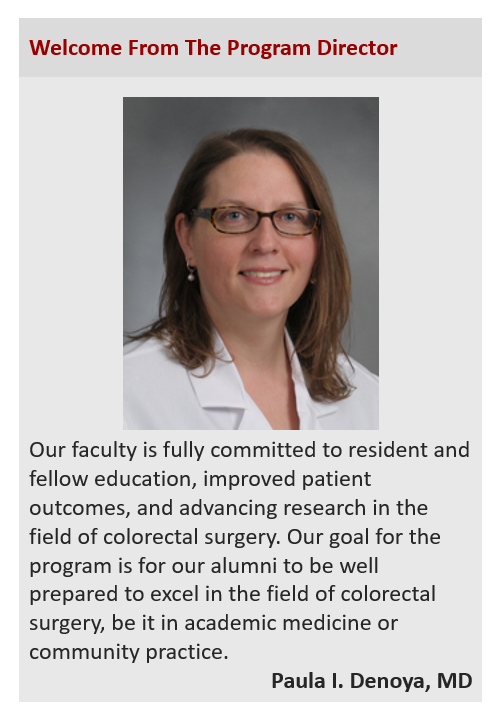 The Division of Colon and Rectal Surgery offers a 1 year ACGME-accredited colon and rectal surgery residency. This program is designed to prepare the surgeon for the pursuit of an academic career in colon and rectal surgery as well as for private practice in colon and rectal surgery. 
Upon completion of the training program, the resident will feel comfortable in dealing with all aspects of clinical colon and rectal surgery, and is eligible for board certification in colon and rectal surgery by the American Board of Colon and Rectal Surgery.
Residents gain a comprehensive experience through a large volume of diverse surgical procedures, including reconstructive anorectal surgery, surgery for inflammatory bowel disease, colorectal cancer, emergency colon resections, ambulatory anorectal surgery, and all aspects of office-based and endoscopic procedures. There is a strong focus on minimally invasive training including robotics. The resident also participates in and becomes proficient in anorectal physiology studies and sacral neuromodulation.
The colorectal resident spends the majority of time at the Stony Brook University Hospital. The ambulatory surgery center, some outpatient offices and endoscopy suites are located outside the main hospital, but there are no off-site rotations.
The content of the educational experience is directed toward fulfilling the requirements of the American Board of Colon and Rectal Surgery.
There is a comprehensive formal teaching/lecture program, which currently includes the following conferences: weekly morbidity and mortality (M&M) conference and grand rounds with department of surgery, fellow's weekly core curriculum, bi-weekly treatment planning conferences and CRS division M&M, tumor board, GI conference, and other case presentations. The weekly Core Curriculum conference incorporates the CREST curriculum available through the American Society of Colon and Rectal Surgeons (ASCRS) along with standard textbooks and other resources.
The colorectal surgeons work closely with the Division of Gastroenterology and Hepatology as part of the Inflammatory Bowel Disease Center to care for patients with Crohn's disease and ulcerative colitis.
Also, our state-of-the-art Surgical Skills Center at Stony Brook offers residents essential training experience by means of surgical simulation of laparoscopic, robotic surgery, and endoscopy, if needed.
Case Mix From Past Fellows
The faculty for the fellowship at Stony Brook University Hospital includes five clinically active full-time colon and rectal surgeons: Dr. Deborah Nagle, MD, Colon and Rectal Surgery Division Chief, Dr. Paula I. Denoya, MD, program director; Dr. Nicholas J. Ahn, MD, associate program director, Dr. William B. Smithy, MD, and Dr. Suresh B. Yelika, MD. Dr. Marvin L. Corman, MD, participates in the fellow's education through weekly core curriculum and other various conferences throughout the year.


The entire faculty is committed to teaching at all levels — lectures and conferences, walk rounds, operative and procedural instruction, office management of patients, as well as administrative and financial advice concerning running a practice in colon and rectal surgery.
---
Research
The colorectal resident is encouraged to participate in clinical research during training and is expected to submit an abstract to the ASCRS annual meeting and to local and regional meetings, as well as to participate in the annual Stony Brook Surgery Research Day. Several studies, which have been approved by Stony Brook's Institutional Review Board, are in progress. The resident is expected to participate in all aspects of these trials.
Ample time is allotted for reading and for research. A large medical library is present on both campuses, along with extensive electronic access. While at Stony Brook, the resident leads a team consisting of a junior and senior general surgery resident.
Our faculty includes national and international leaders in the field of colon and rectal surgery, as shown by their distinguished contributions to the surgical literature: Selected Faculty Publications 2000–Present.
---
Life At Stony Brook
The resident is expected to be available for call 2 weekends a month, but not in-house. There is always a senior level general surgery resident in the hospital.
The resident receives one-month vacation per year, in accordance with the GME requirements of both institutions, and are entitled to salary and benefits at the PGY-6 level ($88,189). No housing is provided. The resident will be sent to the national meeting of the American Society of Colon and Rectal Surgeons as a guest of the Division of Colon and Rectal Surgery. Additionally, the resident participates in various specialty training courses throughout the year, including the Association of Program Directors Career Course and a robotic training course.
Explore more about life on Long Island here which offers both town (NYC) and country (SB), including wine country.
---
If you have any questions regarding our training program, please do not hesitate to contact Fellowship Program Coordinator Ali Violando at 631-444-1791 or by e-mail at alaisha.violando@stonybrookmedicine.edu.
For additional information about GME at Stony Brook please click here.