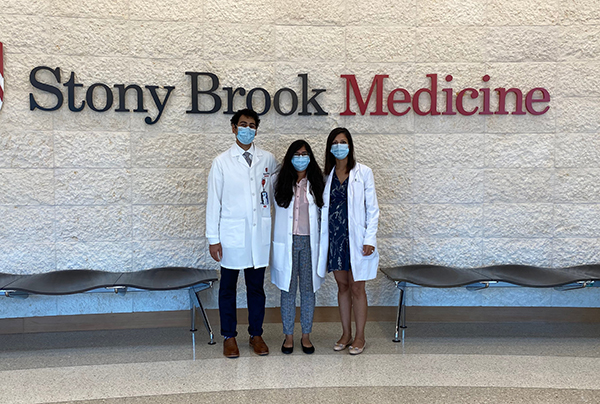 Thank you for your interest and welcome to the Stony Brook University Hematology/Oncology Fellowship Program! Under the leadership of our Division Chief, Dr. Alison Stopeck, our Program Director, Dr. Roger Keresztes, and our dedicated faculty, Stony Brook is an amazing place to train! 
Stony Brook University Hospital 
We are the flagship institution of the Stony Brook Medicine Health System and a referral center for all of Long Island. As a 603-bed hospital and the only tertiary care and Level 1 trauma center in Suffolk County, you will be exposed to a diverse patient population and range of pathology. As a fellow, you will spend many months caring for inpatients on our Medical Oncology, Hematologic Malignancies and Stem Cell Transplant Teams, as well as on Hematology and Oncology Consult Services. Elective rotations are available with Radiation Oncology, Palliative Care, Blood Bank, Special Hematology, Hematopathology, Gynecologic Oncology, and Neuro-Oncology services. 
 
Stony Brook Cancer Center  
The Stony Brook Cancer Center encompasses two levels of the newly constructed and state-of-the-art Medicine and Research Translation (MART) Building. Here you'll be working as part of a multidisciplinary disease-oriented team to develop a customized treatment plan for each patient. 

Northport Veterans Affairs (VA) Medical Center  
The Northport VA provides health care services to veterans across Long Island and surrounding areas. Under the close supervision of faculty, fellows will manage and run their own hematology/oncology continuity clinics and perform consultations on both inpatient and outpatient basis. Fellows will also be actively engaged in weekly multidisciplinary tumor boards. 
Research 
We are a prominent research institution with a wide range of basic science, translational, and clinical research opportunities. Ongoing clinical trials include monoclonal antibodies as therapeutic agents; phase I/II trials of new chemotherapeutic agents and novel CAR-T therapy -- just to name a few! Our fellows frequently attend and present at national meetings including ASH, ASCO, and the San Antonio Breast Conference Symposium. 
Education 
Fellows' education is a top priority of our program. Our curriculum includes once weekly faculty lectures, fellow led journal club or board review, Grand Rounds through the Department of Medicine and Stony Brook Cancer Center, as well as multidisciplinary disease-specific tumor boards at Stony Brook and the Northport VA Medical Center. 
A Wonderful Place to Live 
Long Island has something for everyone. Enjoy peace and tranquility "Out East" by visiting a local farm or vineyard on the North Fork. Pack a picnic lunch and visit the Montauk Lighthouse, Shelter Island or beautiful Hampton beaches. Alternatively, for those who enjoy the city's hustle and bustle, New York City is a quick train or car ride away! Long Island has among the highest ranked schools in the country. Not to mention, a variety of local concert venues, museums, theatres, parks, and more! Thank you again for your interest in our program. We wish you luck in this exciting new chapter in your career. Please do not hesitate to contact us with any questions! 
 
Best Wishes, 
Roshan Asrani, Bareia Chaudhry and Nabeela Patail, Senior Fellows,
Hematology/Oncology Fellowship Program Stony Brook University Hospital