Professional identity is "a representation of self, achieved in stages over time during which the characteristics, values, and norms of the medical profession are internalized, resulting in an individual thinking, acting, and feeling like a physician."  (Cruess RL et al)
Residency training is a critical period in professional identity formation.  We offer mentorship workshops, a strong commitment to your personal and financial wellbeing, education regarding liability and malpractice, free and confidential counseling, and opportunities for support when there are unexpected outcomes.
Collaborative Mentorship Program
This program guides residents through the mentorship process with peer and faculty facilitators. Residents conduct self-assessment of their individual learning needs, systematically prepare for, and form meaningful mentor-mentee relationships. They create individual learning plans and explore and develop their mentorship networks. Senior residents learn important mentoring and leadership skills. Residents also have the opportunity to review their CVs, research projects, and portfolios with faculty members. Faculty members discuss their career paths and provide advice for work-life balance. The program is designed to promote self-efficacy, self-management, and resourcefulness to achieve individual career goals.
Our interns start this longitudinal curriculum by learning the fundamentals of being an effective mentee. Interns also construct their own individual development plan and start to build their academic mission statements. A key aspect of this workshop focuses on understanding and building effective mentorship networks.
Our PGY 2 residents are engaged in career development workshops. They spend time understanding the academic mission of teaching, research and professional service. This provides the opportunity to think ahead and start to build their 5-year career plan.
The PGY 3 aspect of this curriculum focuses on preparing our residents for the next transitions of their career, including tips on finding a job post-graduation. In these workshops, senior residents learn about the job search timeline, various practice and compensation models, effective CV writing, preparation for interviews and important elements of physician contracts. Residents are also provided with resources to help them find their dream job.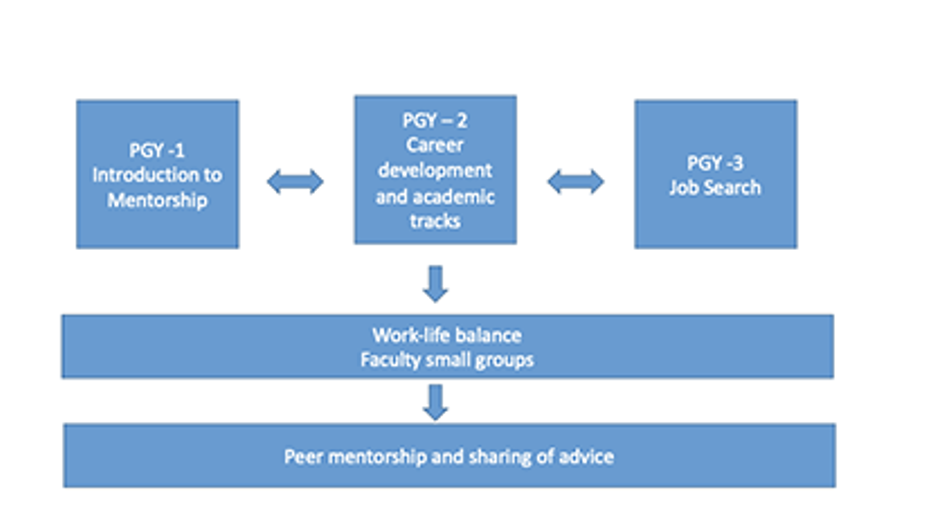 Intern Learning Series
These small group sessions scheduled early during the academic year address commonly encountered clinical scenarios. Each session takes place in an informal setting, is restricted to interns only, and is led by the chief medical residents. The goal is to help interns develop autonomous decision-making skills and ensure that first year residents feel comfortable and confident managing patients while on night float or inpatient services. Emphasis is placed on knowing when to ask for help and underscores the "never worry alone" culture at Stony Brook.
Chief Coaching
Our internal medicine chiefs are dedicated to helping you reach your greatest potential as a clinician, educator, and leader. Our chiefs surveyed our newly minted senior residents to learn what skills that would like to work on over the course of this year.  Based on this feedback, the chiefs have developed a "coaching menu" – offering various skills and activities that an individual senior resident would like their 1:1 chief coaching session to focus on. Items include pre-rounding, rounding, post-conference team management, and sign-out. Once a week one of the chiefs meets with a SB team senior to observe and provide feedback on the item or items the senior wants to work on together.
Board Review
We prepare our residents for success on the American Board of Internal Medicine (ABIM) exam. Our board review series encompasses high yield concepts and topics in the form of interactive didactics. The series also incorporates strategies for effective board preparation for all PGY levels.
Resident Clinical Vignette Presentation in Medicine Grand Rounds
This initiative allows residents to present a clinical vignette during Medicine Grand Rounds in front of faculty, residents, and fellows. The resident's presentation and speaker introduction preface the main talk. Residents volunteer and are selected based on their interest in the specialty. This is an outstanding opportunity to develop skills for presenting to a large-scale audience, and to network with faculty presenters from within and outside the institution.
Your Well-being
We know that residency training is challenging and that we all experience pressure in different ways.  Physicians face wellness impairment both during training and beyond. The Stony Brook Internal Medicine program is dedicated to providing a learning environment that supports your wellbeing and gives you the tools to thrive in your careers now and into the future.  You work hard and you deserve a great life and career! We emphasize human connection and belonging in our training program and we take pride in our program's family-like atmosphere. Please take a moment to learn about our wellbeing initiatives.
Our wellness sessions focus on helping our residents develop lifelong habits to support and maintain a healthy lifestyle and outlook throughout their careers. Sessions have included discussions about physician burnout, mindfulness practices, and group activities.
Wellness Events
Here at Stony Brook we love spending time with our internal medicine family both inside and outside the hospital.  We get to hang out with our furry friends at the puppy social and enjoy food in the sun with our colleagues from other specialties for the annual GME barbeque. We also get to take a break from the hospital and see all Long Island has to offer. Whether it's pumpkin picking in the fall, enjoying the beaches or kayaking in the summer, ice skating in the winter, or brunch at the vineyards, we love exploring with our IM family!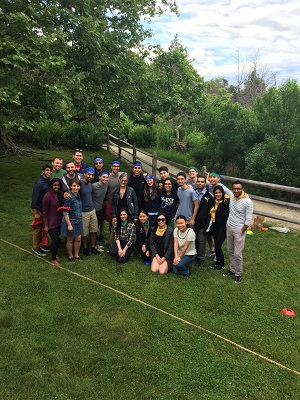 Celebrations
Life is better when there are things to celebrate, and at Stony Brook, we believe in celebrating everything from birthdays to the 100th day of the year, to "Winterfest" (an annual program outing), to Intern Appreciation day. Celebrations include a short break in the middle of the day, cake, and, of course, camaraderie.  We like to celebrate the holidays and milestones, too—with a family feast for Thanksgiving, mocktails to celebrate New Year's, Fellowship Match Day celebrations, and more!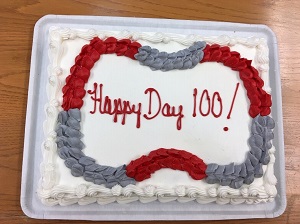 Yearly Retreats
Each program year class has an annual retreat, starting during orientation for the interns and going through just before graduation for the PGY-3s. At these half-day long events, each class is relieved from clinical responsibilities (including night float!), and goes on an adventure together. Whether it's reliving our childhood by playing air hockey with classmates at an arcade, learning how to cook (and sampling) new foods, a scavenger hunt in a nearby town, or field day, each class gets a chance to bond and celebrate their milestones together.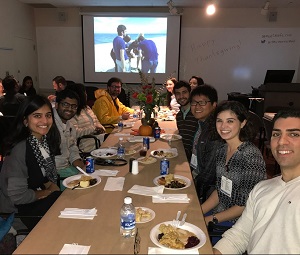 Confidential Counseling
Stony Brook Medicine provides free and confidential counseling or other psychiatry services with psychiatrists located on the main Stony Brook campus.  Our psychiatrists greet our interns during orientation and return for a "booster" session mid-way through the year.
Critical Incident Reflection Rounds (CIRR)
Caring for the dying patient can take an emotional toll, and if unaddressed, can contribute to burnout. Our residency program focuses on proficiency in all aspects of end of life care, including the emotional impact on our residents' wellbeing. Critical Incident Reflection Rounds (CIRR) is a small group facilitated crisis intervention process. It is a group story telling process about a critical event related to patient death or adverse outcome that has had an emotional impact on us in our role as healthcare providers. The purpose of CIRR is to create a forum to express thoughts and emotions, and to facilitate residents' emotional recovery. Our residents can activate the CID program by calling the chief resident anytime they encounter a critical event. The residency program will then arrange a facilitated CIRR session with residents involved in the case and faculty members.
Financial Well-being
Financial stressors can affect a resident's well-being and many medical trainees do not receive financial planning education prior to residency. In collaboration with our institutions' financial planners, we developed a Financial Wellness Program that provides residents with resources and education around debt management, student loan repayment programs, and retirement planning. Each year, residents have the opportunity to participate in financial workshops and can meet individually with a financial planner to help develop their financial goals.
Job Search 101
Our program prepares our residents for each transition of their career, including tips on finding a job post-graduation. In these workshops, senior residents learn about the job search timeline, various practice and compensation models, effective CV writing, interview preparation, and important elements of physician contracts. Residents are provided resources to assist them in finding their dream job.