The Stony Brook University Pediatrics Residency Program provides the residents with a well-rounded training in general pediatrics.  A significant amount of our training takes place in the ambulatory setting. 
Stony Brook University Cancer Center
The Cancer Center is a comprehensive cancer program backed by university-based research. The Stony Brook University Cancer Center, well known for its excellence in scientific research, provides an integrated framework for care and promotes multidisciplinary and translational research, ensuring that results from the research bench are quickly incorporated into more effective therapies.  The Pediatric Hematology/Oncology program is a multidisciplinary team that provides care to children and young adults with hematologic and oncologic disorders.  Faculty are members of the internationally renowned Children's Oncology Group.   Clinical programs exist for Survivorship, Palliative Care, Adolescent and Young Adult Oncology and Hemoglobinopathies.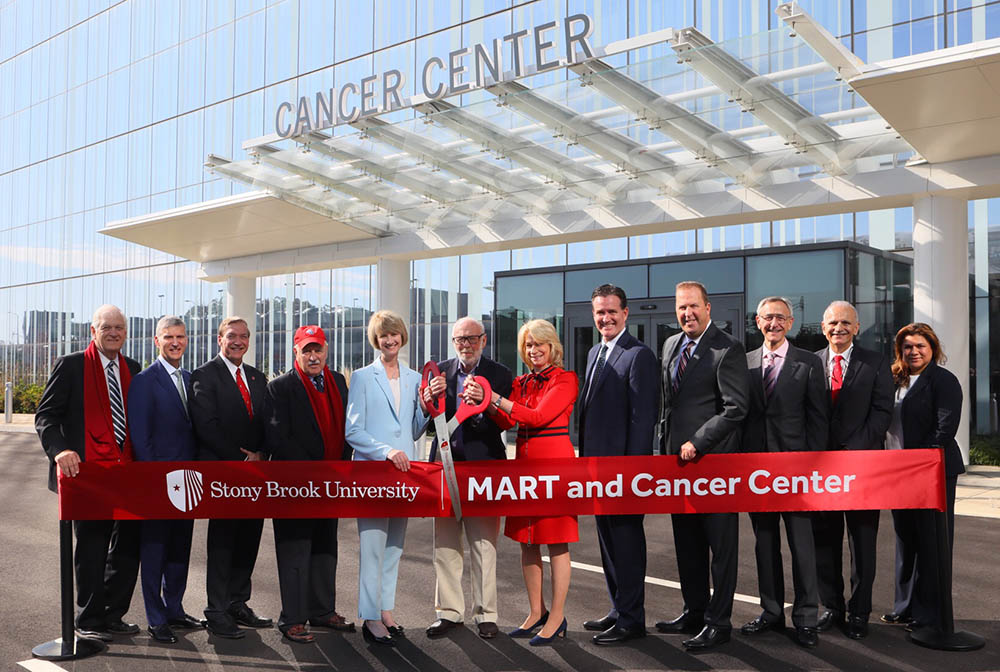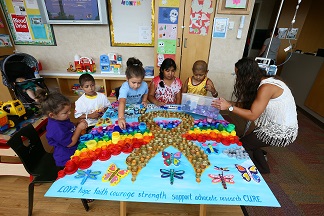 Division of Child and Adolescent Psychiatry (CAP)
The Division of Child and Adolescent Psychiatry (CAP) within the Department of Psychiatry offers a variety of services for children and teens with mental health concerns and their families. The children's inpatient unit on 12N is a 10-bed unit that treats children from ages 5-12 with the most severe problems, most typically aggression and suicidal behaviors. The outpatient clinic located in Putnam Hall on the South Campus of the University is staffed by CAP attendings, fellows, NPs, psychologists, and social workers who offer diagnostic evaluations, school consultations, medication management, and behavioral therapies for children and teens from infancy up to 18 years of age. In addition to treating children with a variety of disorders including ADHD, anxiety disorders, depression, tic disorders, OCD, and PTSD, there is an Autism Spectrum Disorders team that includes a developmental pediatrician. Consultation liaison services include providing evaluations and consultations for children and teens on the pediatrics inpatient units, as well as two CAP attending physicians and one fellow embedded in three therapeutic Western Suffolk BOCES special education schools.
The Stony Brook Pediatric Community/Advocacy Experience
This eight-week experience serves to advance the knowledge and skills of our trainees in the areas of community and advocacy. As health care providers of children, we are responsible for helping to maintain the health and safety of our patients. Health evaluations in our office are only one piece of this task.  To a much greater extent, it requires that we have knowledge of our patients' environments and the resources within them and critically examine how we can interact with these resources to advocate for our patients and their families.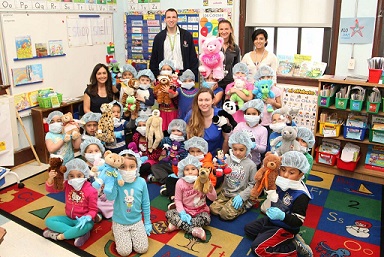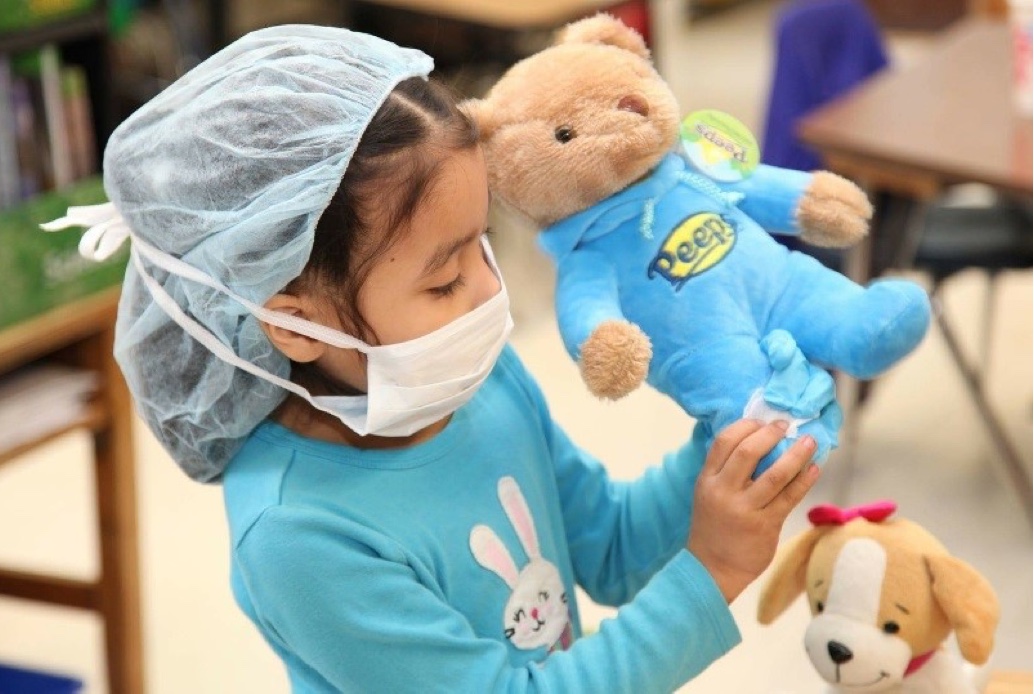 During the two-week blocks, the trainee will have the opportunity to complete several mini community/ advocacy projects. Each project is constructed to allow the trainee to advance their community/ advocacy skills, giving them knowledge to utilize immediately as he/she interacts with patients/ families in their CCC.  The four-week block rotation exposes our trainees to a variety of community agencies that provide services for children and families. Some of these programs include WIC, Early Intervention, and our community home visiting program.
Residents experience interaction with the school system by creating their own lesson plans and teaching health classes in the middle schools in one of our underserved communities. Other programs include the Teddy Bear Clinic, Family Court, Foster Care, and Alternatives for Youth.  In addition, the trainee will spend time at the Suffolk County Child Advocacy Center (CAC) with Dr. Gillian Hopgood, Medical Director of the CAC. The trainee will observe medical examinations of children who are being evaluated for possible maltreatment and participate in Multi-Disciplinary Team (MDT) meetings with all the agencies involved in the investigation of these cases.
Pediatric Multiple Sclerosis Center
The National Pediatric Multiple Sclerosis (NPMS) Center, the first of its kind in the nation to address pediatric MD, was started by Dr. Lauren Krupp, an internationally recognized expert in MS.
Dr. Louis N. Manganas is the Director of the Lourie Center for Pediatric MS with an assembly of multi-disciplinary team of experts including MS specialists, pediatric neurology, neuropsychology, pediatric nursing, child psychiatry, and neuroradiology.
The team's goals are to provide outstanding clinical care and to identify the biological changes in children facing MS; to advance research that could make a dramatic difference in their lives; and ultimately find the answers to MS.  We are recognized as a Center of Excellence by the National Multiple Sclerosis Society. Pediatric patients who come to our Center receive a comprehensive multi-disciplinary evaluation, conducted over one to two days.
This includes:
Extensive neurological assessment
Neuropsychological evaluation and psychological assessment to evaluate the effects of MS on cognition, academic performance, and emotional functioning
Ophthalmology
Radiology
Nursing case management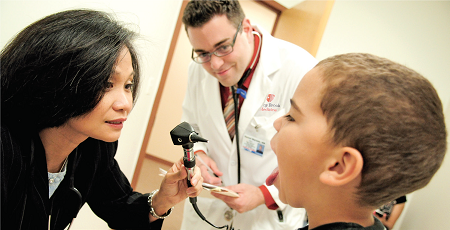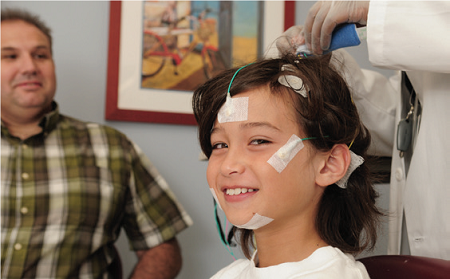 Cystic Fibrosis (CF) Center
Steadily improving treatment is helping cystic fibrosis patients live longer and enjoy a better quality of life. The average expectancy for someone with cystic fibrosis has changed dramatically since the 1980s and continues to increase over time.
The Cystic Fibrosis Center at Stony Brook Children's is one of approximately 120 such centers in the country accredited by the Cystic Fibrosis Foundation. This means that the center offers comprehensive care and the latest protocols following Cystic Fibrosis Foundation guidelines. Stony Brook also is a designated Center of Excellence by the New York Department of Health for cystic fibrosis. In addition, the center is one of only 16 facilities in the nation selected to participate in a leadership and learning collaborative sponsored by the Cystic Fibrosis Foundation. Members share quality improvement initiatives, evidence-based care practices and research designed to provide better patient care. Currently, Stony Brook is examining pulmonary exacerbation and education of our CF patients regarding their care when they are sick. Another hallmark of quality care at the Cystic Fibrosis Center is its team approach. This involves physicians, nurse practitioners, respiratory and pulmonology function therapists, physical therapists, social workers, a mental health coordinator, a nutritionist and a genetic counselor. Together with the patient and family, the care team constantly refines treatment plans to reflect the changing needs of children as they grow. With more patients living longer, the center also serves adults with cystic fibrosis, as well as children and adolescents.