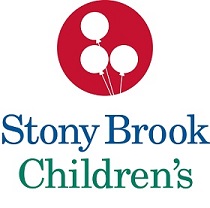 Stony Brook Children's pediatric residency training program is based out of Suffolk County's only Children's Hospital, and is the only pediatric residency training program located at an academic university that boasts a thriving medical school program.  Our university and teaching hospital relationships offer the unique opportunity for integration and interaction with ongoing basic and clinical scientific research trending at Stony Brook University.  The research conducted at Stony Brook Children's has and will continue to change the shape of pediatric medicine.  The clinical environment provides residents with a broad spectrum of pathology, top-notch general practitioners and subspecialists, along with a diverse patient population. Our teaching faculty are committed to resident education and support each resident's unique training goals.
Why Choose Stony Brook? Click below to play our Graduate Medical Education video highlighting the resident and fellow experience at our institution.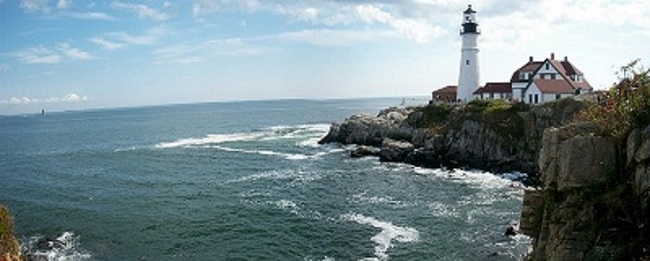 Our Location
Our hospital is centrally located in Suffolk County on Long Island, which makes it easy for residents to plan fascinating and pleasurable day trips.  You'll always be close to home, whether you choose to venture into New York City, one of the greatest and culturally rich cities in the world; have fun in the sun in the Hamptons, Montauk, Orient Point, or any one of our famous ocean beaches; or relax and enjoy some of the Island's many beautiful wineries.  Click here to learn more about our area.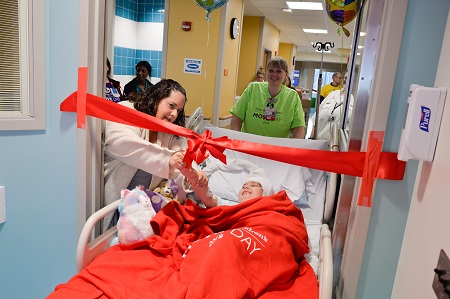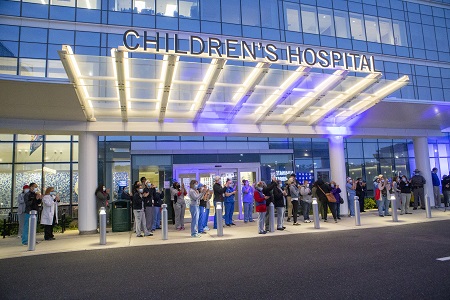 Our New Children's Hospital
Stony Brook Children's Hospital has expanded significantly over the past 10 years and recently opened the doors to a new, 104-bed pediatric facility in the late fall of 2019. The new Children's Hospital offers state-of-the-art technologies with single-bed rooms designed for delivery of care at the bedside and includes a General Pediatrics Ward, Hematology Oncology Unit, a PICU, an Adolescent Unit, and an in patient Psychiatry Unit.  The child-friendly setting provides patients and families a safe and beautiful healing environment complete with several play rooms, a live video feed from the Long Island Aquarium, and a lush outdoor rooftop garden.  In addition, families can take respite in the Ronald McDonald Family Room, which has become a prototype for other institutions, or in the on-campus Ronald McDonald House, which will break ground in the near future.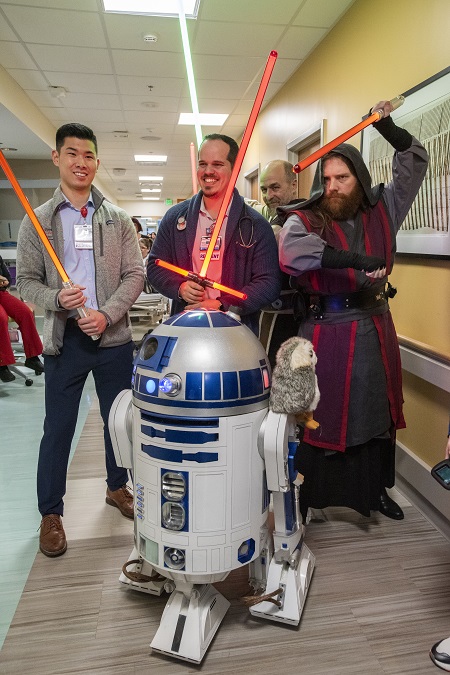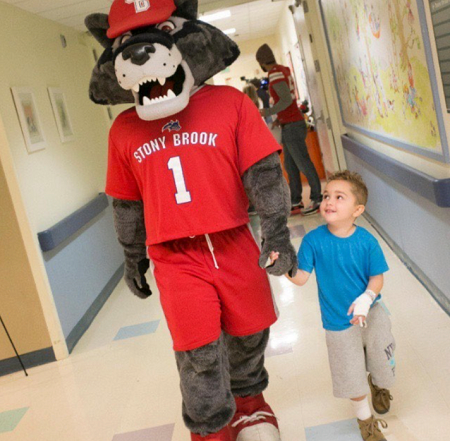 Our Program
The Categorical Pediatric Residency Program is a medium-sized program (37 residents) complemented by a Combined Internal Medicine/Pediatric residency program, a Child Neurology Pathway, and four pediatric sub-specialty Fellowship Programs.  Our residents have the advantage of working alongside more than 180 pediatric specialists in over 30 pediatric specialties, many of whom have earned national reputations in either clinical care or research.  The dedicated Pediatric Emergency Department offers 24/7 care to a diverse population and our residents gain unparalleled experience in our Level 1 Pediatric Trauma Center.  Our Level 3 NICU was the first in New York State to be built with family-centered pods and individual private patient rooms. Our in patient, family-centered rounds, conducted on all units, are designed so that residents are part of an interdisciplinary team where they gain exposure to a large variety of pathologies and develop strong leadership skills. 
In addition, Stony Brook Children's is the home to many widely recognized centers:
Celiac Disease and Gluten Sensitivity Center is the only one on Long Island specializing in the comprehensive diagnosis and treatment of children with celiac disease and gluten sensitivities
Lourie Center for Pediatric MS has been designated as a Center of Excellence by the National Multiple Sclerosis Society
Duchenne Muscular Dystrophy Center provides a comprehensive, multidisciplinary approach to care and access to clinical trials
Cystic Fibrosis Center is one of 16 in the nation to be selected to participate in  a leadership and learning collaborative sponsored by the Cystic Fibrosis Foundation
Overall, Stony Brook Children's Pediatric Residency Program exposes residents to bread and butter pediatrics throughout their training, intertwined with complex medical conditions and rare diseases requiring unique specialty care.  We have a dedicated faculty committed to training residents to become well-rounded pediatricians prepared for their career of choice and are pleased that our graduates enjoy successful job placements and outstanding fellowship match results.
Learn more about our program's response to the COVID-19 pandemic.