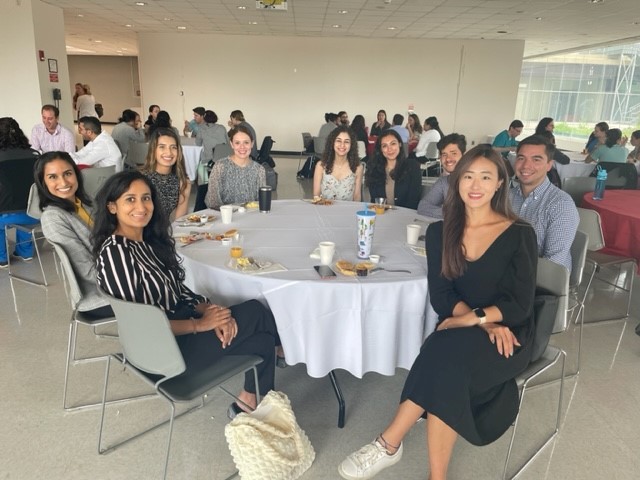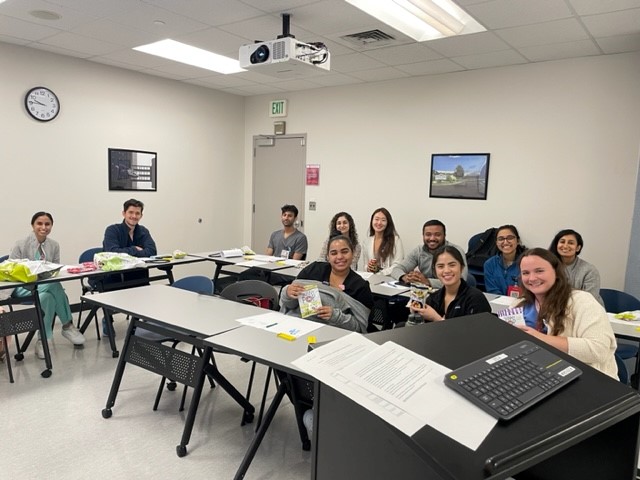 In order to best prepare our residents for the practice of Pediatrics, weekly conferences with protected educational time are scheduled with an emphasis on both clinical care and a formal didactic teaching program. A three-year educational curriculum has been carefully designed to ensure a full and balanced educational experience for our residents.
Core Lecture Series
This three-year curriculum is designed with attention to the American Board of Pediatrics (ABP) content specifications. The lectures are held on Wednesdays, following our 8am-9am morning grand rounds. Resident Wednesday conference time runs from 9am to 1pm or 2pm. Residents' time is protected during these sessions, with a select few residents remaining on inpatient units in a rotating fashion. Conferences address the broad range of topics required for general pediatrics training. Plus, residents receive lunch each Wednesday and enjoy the opportunity to spend time together after a morning full of learning. In addition to the standard ABP content specs, our conference series covers topics such as ethics, quality improvement, patient safety, transitions of care, and evidence-based medicine. 
 

Monday

Tuesday

Wednesday

Thursday

Friday

Week
1

2:00pm
Hospitalist Ward Teaching

12:30pm
Afternoon Case Conference

8:00am:  Grand Rounds
9:00am: Primary Care Resident Case of the Month
9:50am: Nephrotic Syndrome
10:40am: Adolescent Gynecology 
11:30am: Palliative Care Lecture Series
12:20pm: Lunch
1pm: Evidence Based Medicine Literature Search

1:00pm
PICU Division Chief Rounds
2:00pm
Hospitalist Ward Teaching
3:00pm
Pediatric Mock Code

12:30pm
Afternoon Case Conference

Week
2

2:00pm
Hospitalist Ward Teaching

12:30pm
PICU Afternoon Case Conference

2:00pm
NICU Mock Code

8:00am:  Grand Rounds
9:00am: Disorders of the Upper Airway
9:50am: Disorders of the Hypothalamic-pituitary Axis
10:40am: Thalassemia and Hemolytic Anemia
11:30am: Residency Meeting
12:20pm: Lunch
1pm: Liaison Meeting

1:00pm
PICU Division Chief Rounds

2:00pm
Hospitalist Ward Teaching

 

12:30pm
NICU Afternoon Case Conference

Week
3

2:00pm
Hospitalist Ward Teaching

12:30pm
Cardiology Afternoon Case Conference

3:00
Pediatric Mock Code

8:00am:  Grand Rounds
9:00am: Diversity, Equity, Inclusion: Health Equity Rounds
9:50am: Board Review with the Chiefs
10:40am: Cyanotic Heart Disease 
11:30am: Non-Accidental Trauma
12:20pm: Lunch
1pm: Research Series: Survey Design

1:00pm
PICU Division Chief Rounds

2:00pm
Hospitalist Ward Teaching

12:30pm
Afternoon Case Conference

 

 

Week
4

2:00pm
Hospitalist Ward Teaching

12:30pm
Afternoon Case Conference

8:00am:  Grand Rounds
9:00am - 11:00am: Motivational Interviewing OSCE for PGY1s
9:00am: IBD & Non-infectious Diarrhea
9:50am: Neonatal Respiratory Distress
10:40am: Urticaria, Angioedema, & Anaphylaxis
11:30am: Residency Meeting
12:20pm: Lunch
1pm: Liaison Meeting
 

1:00pm
PICU Division Chief Rounds

2:00pm
Hospitalist Ward Teaching

3:00 Pediatric Mock Code

12:30pm
Afternoon Case Conference

 

 
Afternoon Case Conference

Residents from all years, medical students, and faculty from various subspecialties attend these conferences. Residents prepare and lead an interactive discussion on an interesting case. Additionally, there are afternoon case conferences specific to the fields of cardiology, NICU and PICU (including sepsis education focused presentations).
Board Review
During their third year, residents attend an intensive weekly board review with a curriculum based upon the American Board of Pediatrics content specifications.  Residents receive a structured, thorough integration of material from PREP and Pediatrics in Review. Residents are responsible for specific readings and quizzes before each session. The sessions are very well received by highly motivated learners in a challenging, but supportive study environment.
Children's Hospital Quality Assurance (QA) Meetings
The QA meeting is an essential feature of our continuing mission to improve the quality of patient care and enhance patient safety. During this interdisciplinary meeting, morbidities, mortalities, and patient safety cases are discussed in an open forum.  Solutions to system problems are discussed and action plans are created, implemented, and tracked.  All residents have the opportunity to participate in the Children's Hospital QA committee and become actively involved in the hospital's patient safety mission.
Departmental Research Day
Annual Research Day at Stony Brook Children's Hospital has become a traditional, as well as much anticipated, event for our residents and fellows.  Current research projects and Quality Improvement projects are presented through poster and platform presentations.  Two to three residents present PED (like TED) talks on topics of their choice.  Formal judging of the presentations and projects is followed by an Awards Luncheon Ceremony, which concludes the day.
Grand Rounds
Traditional academic grand rounds are held on a weekly basis.  Cutting-edge medicine is presented by distinguished professors from all over the world. This conference is attended by residents, medical students, faculty, and community pediatricians.  Residents' schedules are designed to include Grand Rounds each week.
Journal Club ("CAT" Presentations)
As part of our three year longitudinal Evidence-Based Medicine curriculum, our second year residents perform a literature search on a clinical question and present their findings in a Critically Appraised Topic ("CAT") journal club.  In this comprehensive review, three to four articles are discussed and a final "clinical bottom line" is presented. Medical students, residents, and faculty attend this interactive, and often lively, discussion of the literature.
NICU Conference
This weekly conference is attended by the Pediatric residents, OB/GYN residents, the Neonatal Team, and Maternal-Fetal Medicine Faculty.  Interesting cases and difficult management plans are the focus of the discussions at this meeting. 
Resident Meetings
Open communication is essential for a residency program to function well.  One Wednesday each month, residents meet with the residency program directors in a "town meeting" style forum to discuss any issues related to the residency.  This is a great opportunity for the residents to voice any concerns they might have and to discuss any potential changes in the residency program.  In addition, the residents elect "Class Liaisons" to represent them in smaller group sessions with the program directors and Chief Residents monthly.
Resident Presentations
Throughout residency there are many opportunities to practice teaching and presentation skills. During the Adolescent rotation, the resident gives an hour-long lecture to their peers.  On other subspecialty rotations, residents present topics in a variety of formats, and each resident works with a primary care physician to develop an interactive Primary Care Case Conference presentation.
Simulation Curriculum

Residents of all years engage in a simulation curriculum consisting of mock codes and rapid cycle deliberate practice sessions focused on teamwork and basic and advanced life support skills. Interns also learn procedural skills, including endotracheal intubation, bag-mask ventilation, venipuncture, arterial blood draw, lumbar puncture, bladder catheterization, and chest tubes during their Intern Orientation Skills Session. Seniors revisit these procedural skills during an interactive session with Anesthesia colleagues, aimed at building upon principles of airway, breathing, and circulation. Residents of all years also participate in sessions with standardized patients aimed at enhancing skills related to motivational interviewing, professionalism, care of LGBTQ* individuals, hand-off, delivering bad news, and cultural competency. Residents can also utilize the SIM center for individual practice to build their own specific skill sets. 
Subspecialty Team Conferences
Each division runs interdisciplinary conferences and team meetings where they discuss patient management, advances in the field, current literature reviews, as well as didactic presentations.  Examples of these conferences include Tumor Board, Cardiology Catheterization Conference, Endocrinology Conference, Pathology Conferences, and others.
Ward Teaching
In addition to daily teaching during family-centered rounds, our Hospitalists host additional interactive teaching sessions with residents on the Ward to augment learning on common inpatient conditions and disease processes.