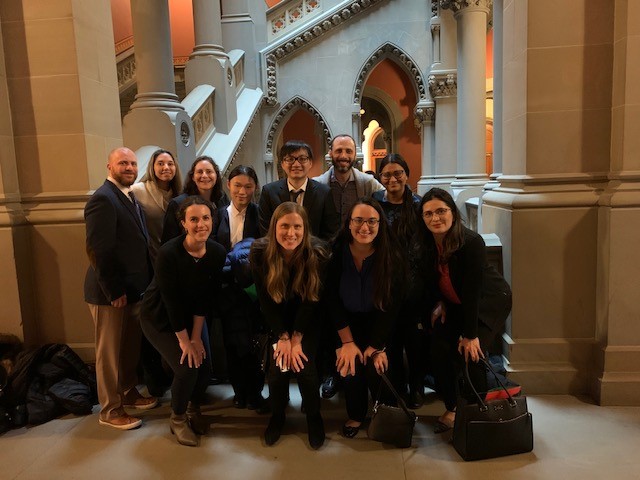 Stony Brook Children's Hospital was well represented in Albany for the annual New York State American Academy of Pediatrics' Advocacy Day.  Allison Eliscu, MD, Division Chief of Adolescent Medicine, as well as her colleagues, Zak Jacobs, DO, and Alexis Santiago, MD, accompanied pediatric residents on the trip to the state capital.
During Advocacy Day, pediatric residents have the opportunity to meet faculty and residents from other New York State residency programs as well as American Academy of Pediatrics leadership in our area.  The day begins with a gathering of all pediatricians coming to Albany to advocate for issues surrounding children's health.  Later in the day, pediatric residents, with the mentorship of the Adolescent faculty, sit down with members of the State Assembly and Senate representing the districts we serve, both inpatient and in our various outpatient sites.  Residents often also have the opportunity to see one of the legislative bodies in session as well, including hearing the New York State Assembly debate and vote on gun safety legislation.
It is extremely rewarding for residents to gain experience investigating current issues in children's health and make their voices heard.  For example, an important topic of discussion during Advocacy Day 2019 was the dangers of crib bumpers.  By the end of 2019, crib bumpers were banned in New York State!  After Advocacy Day, residents in attendance continue the conversations with their classmates at the next Residency Meeting.  We are all encouraged to contact our local legislators and to follow the progress of bills discussed as well as how those representing our local communities have voted.
Advocacy Day truly highlights our important role as advocates for children's health as pediatricians!