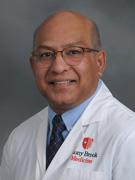 The Department of Anesthesiology at Stony Brook Renaissance School of Medicine is a team of more than 200 physicians, CRNAs, physician scientists, basic scientists and trainees, all working together to deliver exceptional patient care, educate the next generation of transformational leaders and conduct innovative research in anesthesiology, pain, critical care and perioperative medicine. It is the largest academic medical center on Long Island serving the population of Suffolk county and beyond.
Residency education is our priority. We have an extensive educational program that has been structured around a core set of lectures, regular training in our simulation center, problem-based learning, and Board reviews and lectures. We regularly administer written and oral exams that mimic the boards to ensure that the residents are keeping pace with their peers and are on target to pass both the written and oral boards. We dedicate all-day Wednesdays as education day for the residents.
The department has cutting-edge research programs with clinical trials investigating the newest compounds and technologies in anesthesia. Exciting basic science research covers several areas of investigation including mechanisms of anesthesia, pain, and neurological function utilizing the most modern tools of genomics, proteomics and functional MRI.
The department prides itself in being the leader in the enhanced recovery programs, educating the residents on various aspects of the enhanced recovery process, team leadership and successful implementation.
Probably the most important teaching tool is the extensive experience obtained by caring for patients with tremendously varied pathologies that occur in the large patient population that present for surgery under the direct guidance of our highly skilled faculty. We also strongly believe in community service and we provide several opportunities for both residents and faculty to be part of mission trips to third world countries.
Stony Brook is ideally situated midway between the excitement of New York City and the world famous beaches of the Hamptons. The University offers a tremendous diversity of outdoor and cultural activities of its own; moreover, Manhattan or the beautiful south shore beaches are within easy reach. When combined with the village atmosphere and safety of Stony Brook and with one of the best school districts in the nation, it is not surprising that this is one of the most sought after areas in the Northeast.