Volume 24 Number 4 Stony Brook, NY August 2015
---



---

Jeremy Poppers, MD, PhD
Jeremy Poppers, MD, PhD, is our new Division Chief of Cardiothoracic Anesthesiology. Jeremy was previously an assistant professor in the division of cardiothoracic anesthesiology at Columbia University Medical Center, where he served as the Associate Director of the Medical Student Anesthesia Clerkship. He has a special interest in education, as well as intraoperative 3D TEE modeling. Prior to going to Columbia, he completed his anesthesiology residency, as well as a fellowship in cardiothoracic anesthesiology at the Brigham and Women's Hospital in 2009. Jeremy completed a one-year internship in internal medicine and earned his medical degree and PhD (studying the host antiviral response to HSV) from New York University. He obtained an undergraduate degree in biology from the Massachusetts Institute of Technology in 1996.
Dr. Poppers is a nationally recognized teacher in cardiac anesthesiology and transesophageal echocardiography. He is the founding director of the Bi-annual New York City Transesophageal Echocardiography. He has won many awards including the M. Finster Attending of the Year Award and Kathryn Cozine Teacher of the Year Award in the Department of Anesthesiology, Columbia University Medical Center.
Along with his wife, Joy, and their two children, Alyssa (9) and Josh (7), Jeremy is excited to move to Long Island and join the Stony Brook University community.

Eric Zabirowicz, MD
Dr. Zabirowicz has joined the Division of Cardiothoracic Anesthesiology. Previously, he was a resident and fellow in Adult Cardiothoracic Anesthesia at New York Presbyterian - Columbia. There, he also served as Chief Resident in Anesthesiology. Eric earned his medical degree from Stony Brook School of Medicine in 2010 and an undergraduate degree in biology from Binghamton University. He has developed a particular interest in mechanical circulatory support for both acute and chronic heart failure.
Along with he wife Anna, and son Samuel, Eric is excited to (re)join the Stony Brook community.









Ru-Rong Ji

, PhD, Distinguished Professor of Anesthesiology and Professor of Neurobiology at Duke University is this month's Visiting Professor. Dr. Ji received a PhD in Neurobiology from the Shanghai Institute of Physiology in 1990. After postdocs in Peking and Sweden, he came to the US to work at Johns Hopkins in 1995. Later, he moved to Harvard, first being at MGH and then at Brigham and Women's Hosptial where he was Associate Director of the Pain Research Center. Dr. Ji became Chief of Pain Research at Duke in 2012.

Dr. Ji's research interest is in the mechanisms and therapeutics of chronic pain. He has published over 144 peer-reviewed papers. His research focuses on the role of the spinal cord in chronic pain, particularly neuropathic pain. His group has demonstrated important roles of MAP kinases and glial cells in pain control. Their studies have also shown that anti-inflammatory and pro-resolution lipid mediators are potent analgesics. They regulate neuroinflammation, synaptic plasticity, and TRP channels.

Dr. Li will speak to the department on Wednesday, August 12 at 7:00 AM. His talk is entitled "New Strategies for Preventing and Treating Chronic Pain". He will also present a research conference on Tuesday, August 11 at 5:00 pm, "Glial Cells in Chronic Pain".





http://anesthesiology.duke.edu/wp-content/uploads/2013/10/Ru-Rong-Ji-PhD1.jpg
| | |
| --- | --- |
| Dr. Gan spoke at the Intraoperative Management session on "Enhanced recovery after surgery: The role of multimodal pain management". He also was a panelist during the Question and Answer section of the session. | |
Ursula Landman
Dr. Gilliar Dean of New York Institute of Technology - College of Osteopathic Medicine (NYIT-COM) invited me to be the Keynote speaker for the white coat ceremony on Wednesday, July 22. I was honored as Alumna of the year and was the first female physician from NYIT-COM to receive this honor. It was a beautiful ceremony for the class of 2017. It was wonderful to share it with my family and colleagues.
Maria Lagade
During July 8-11, 2015 as a member of the Committee on Accreditation of

CAAHEP

(Commission on Accreditation of Allied Health Education Programs), I had the opportunity to be a Site Visitor for a program in California. With the new

ASATT

policy on anesthesia tech certification, new Anesthesia Technology programs are starting to apply for accreditation. The AT program curriculum, faculty, students, outcomes, and institution sponsorship and committees are initially reviewed and critiqued according to the CAAHEP standards prior to the site visit. Although being a site visitor required a lot of reading and research, in the end it was a very rewarding learning experience!
Yes, there are diverse opportunities on the horizon to suit to one's passion aside from Anesthesia practice!


Dr. Peggy Seidman's Educational Scholarship and Mentoring Grant application has been funded by Stony Brook's Academy of Clinical and Educational Scholars (ACES) program. The grant, "Development of Ultrasound Curriculum for Preclinical Medical Students", provides $4,375 for the project. Dr. Seidman's co-investigators on the grant are Drs. Chris Page, Matthew Tito and Neera Tewari from our department, Dr. Andrew Wackett from the Department of Emergency Medicine and two SOM 2016 students, Lauren Maloney and Kristen Zach.

The Ultrasound Curriculum consists of four classes. Initially, students are introduced to LJPs (Large Jello Phantoms). Then they will use the LJPs and other phantoms to practice reading ultrasound signals, placing spinal needles, gaining vascular access and performing lumbar punctures.

The goal is to develop a time and cost-effective curriculum to train preclinical medical students in basic ultrasound techniques. Dr. Seidman writes that because of the wide application of ultrasound techniques, "basic instruction in ultrasound skills is of critical importance in the training of well-rounded clinicians of all specialties."
| | |
| --- | --- |
| | from Jorgensen et al 2015 |
Saikat Chakraborty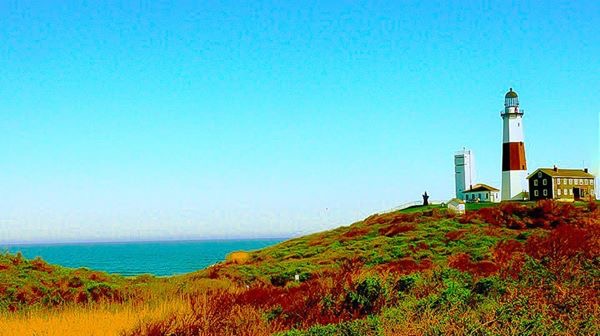 An Anonymous Gamer
Most Stony Brook faculty, staff and students go about their day, blissfully unaware that, all around them, their campus is a raging virtual battleground in the online game, Ingress. Two warring factions, the Enlightened and the Resistance, clash for control of Ingress Portals and the surrounding terrain, and Stony Brook is a pivotal point of contention, with numerous portals, including ones at the HSC, HSC Library, and Cancer Center. As you can see from the Intel map, the Enlightened (green) currently control much of the campus, driving the Resistance (blue) to the sidelines. But this can all change in a matter of hours !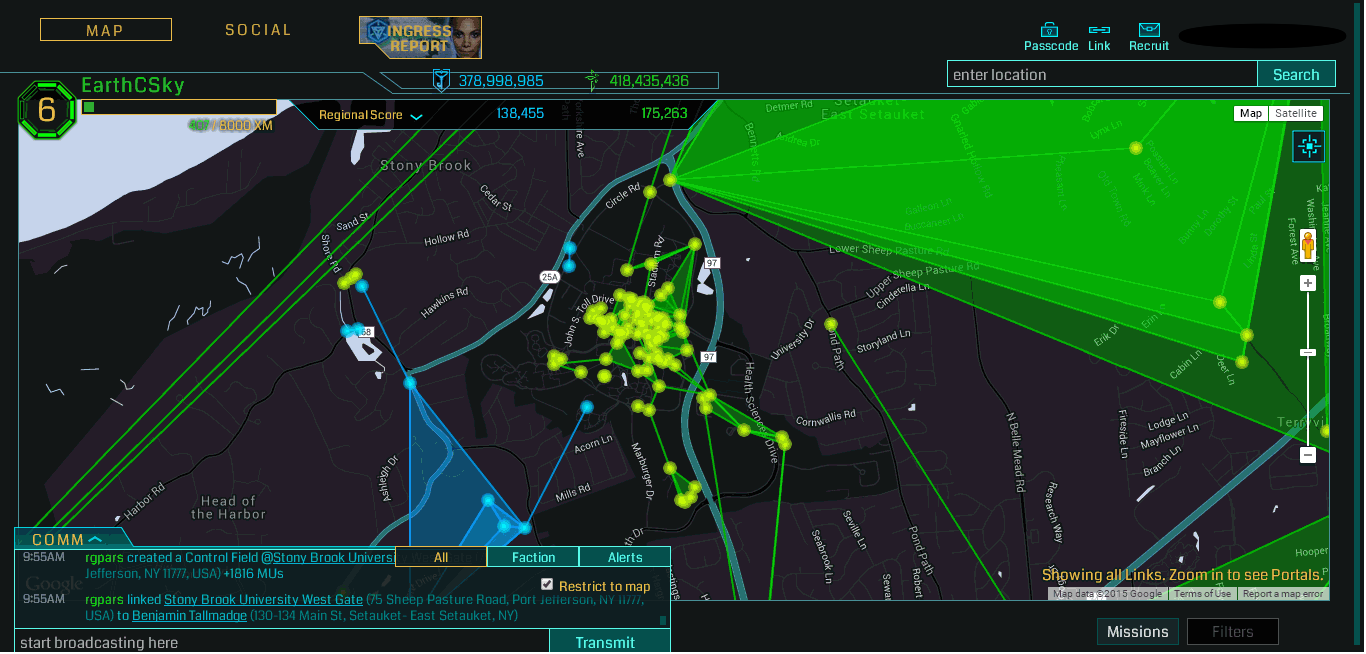 Jim Dilger
Only one person (Deborah Richman) suggested that she knew where this picture was taken and what it is! She wrote: "A walk around campus is highly recommended. This is just one of many fascinating exhibits and beautiful art pieces to be seen. There are egrets, baby turtles, baby geese and koi at Roth pond, and baby bunnies in the bushes abound."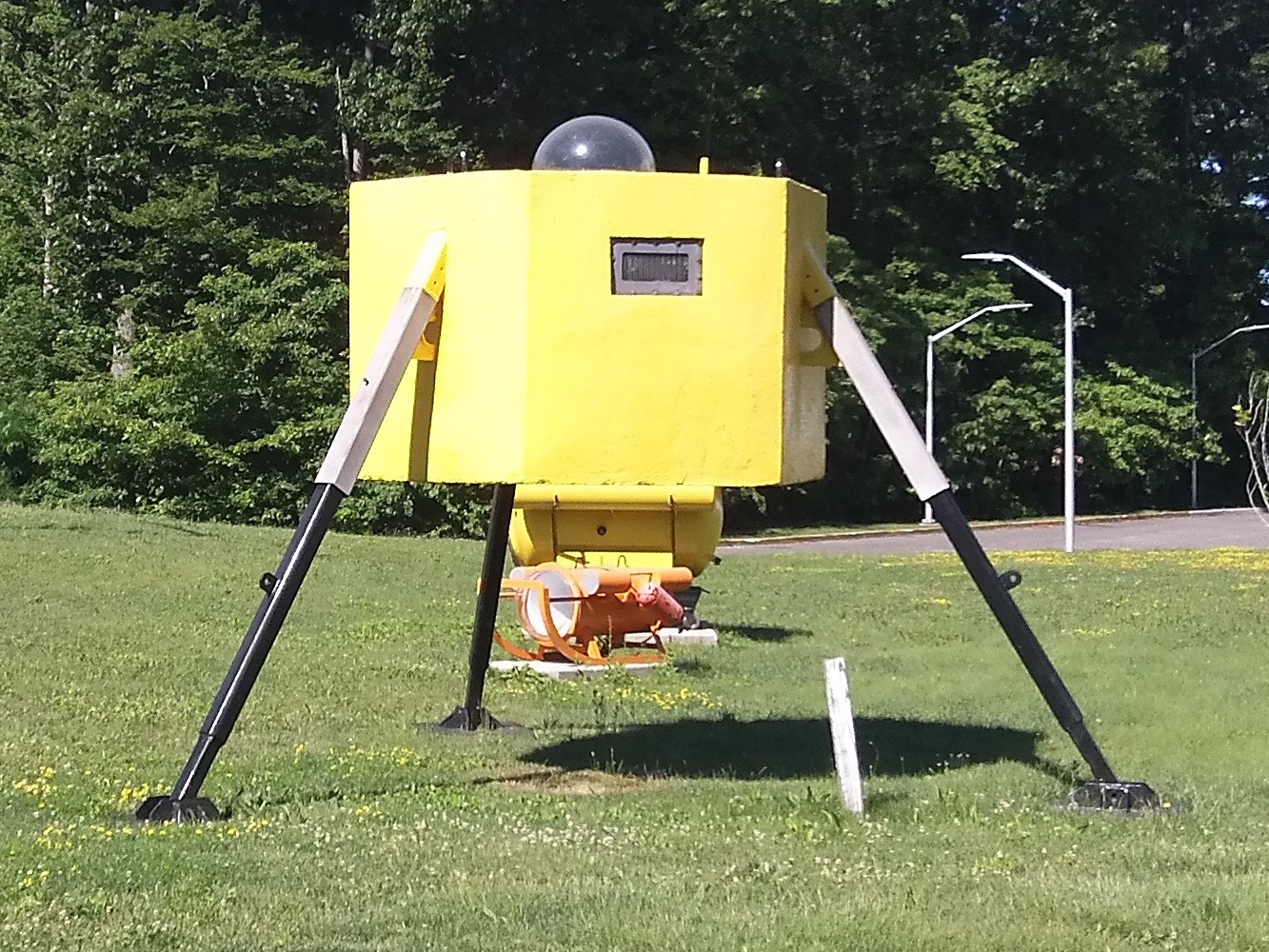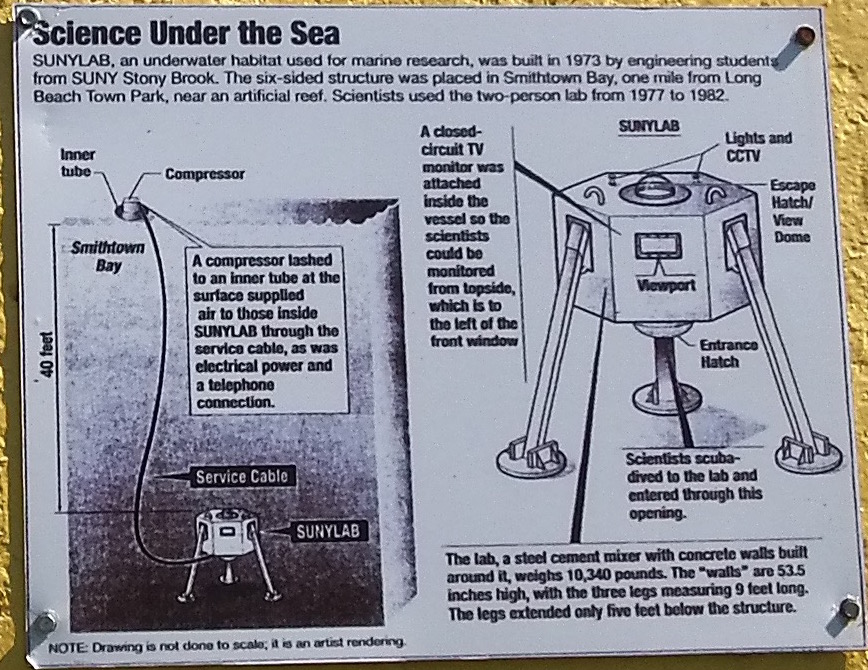 Here's another photo taken somewhere on campus. Do you know where it is? Why not make a family outing to search for it? If you find some other interesting things on campus, please send me a photo!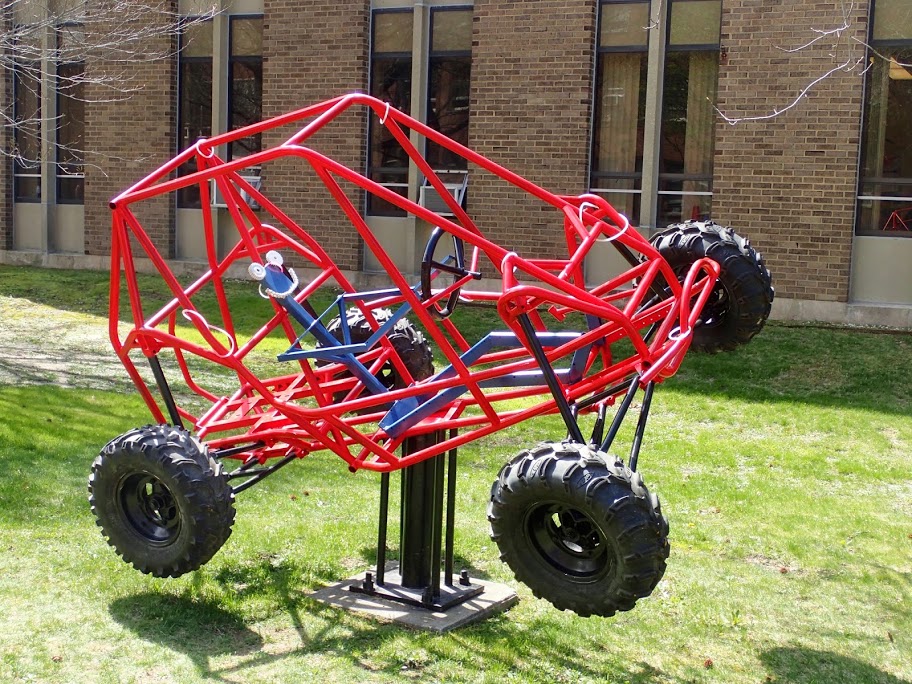 ---
SleepTalker, the Stony Brook Anesthesiology Newsletter is published by the Department of Anesthesiology,
Stony Brook Medicine, Stony Brook, NY.
Tong Joo Gan, M.D., Chairman.
Editorial Board: James P. Dilger, Ph.D., Stephen A. Vitkun, M.D., M.B.A., Ph.D., Marisa Barone-Citrano.
---