| | | |
| --- | --- | --- |
| Volume 33 Number 2 | Stony Brook, NY | < February 2020 > |
| | | |
Paul J. Poppers Memorial Lectureship
Ellen Steinberg, MD, Chair of the Endowment Committee
As many of you already know, our founding Chairman, Dr. Paul Jules Poppers, passed away on June 20, 2019, at the age of 89. Dr. Poppers led a remarkable life and career. He was born in the Netherlands in 1929 and he and his family survived the Holocaust by going into hiding on a farm for more than two years. After the war, he went on to complete his medical degree at the University of Amsterdam in 1955 and then came to the United States for residency training. He was a faculty member at Columbia Presbyterian Hospital from 1963-1974 and then joined the faculty at NYU as Professor and Vice Chairman. He was recruited to Chair the Department of Anesthesiology in the newly formed Stony Brook School of Medicine in 1980.
During his 20 year tenure as Chairman of our department, he remained committed to excellence in clinical care and research, recruiting top-flight faculty physicians, developing a competitive Residency Training Program and attracting NIH-supported basic scientists. By the time Dr. Poppers retired as a SUNY Distinguished Professor Emeritus in 1999, he had transformed our department, growing it from a handful of faculty members to include more than 30 clinical and basic science faculty and over 20 residents. We are fortunate that the legacy of Dr. Paul Poppers lives on in our department through his son, Jeremy Poppers, MD, PhD who is an Associate Professor of Anesthesiology and Chief of Cardiothoracic Anesthesiology.
Our department and the family of Dr. Paul Poppers intend to honor his memory by establishing an endowed lectureship, which will enable the department to invite a renowned guest speaker each year to deliver the Paul J. Poppers Distinguished Lecture. This fund is administered through the Stony Brook Foundation and is established in perpetuity. To launch this effort, the Poppers family has agreed to seed the fund with a donation of $50,000, which will be matched by our department.
In addition, our department has agreed to match all other private donations we receive up to $25,000. We invite you to participate with a gift of your own toward the fund. All donations are welcome. Whatever you choose to give, please know that the amount of your donation will never be shared with either the department of the family.
Visit our
Make a Gift to Anesthesiology
page for details about how to contribute to the endowment.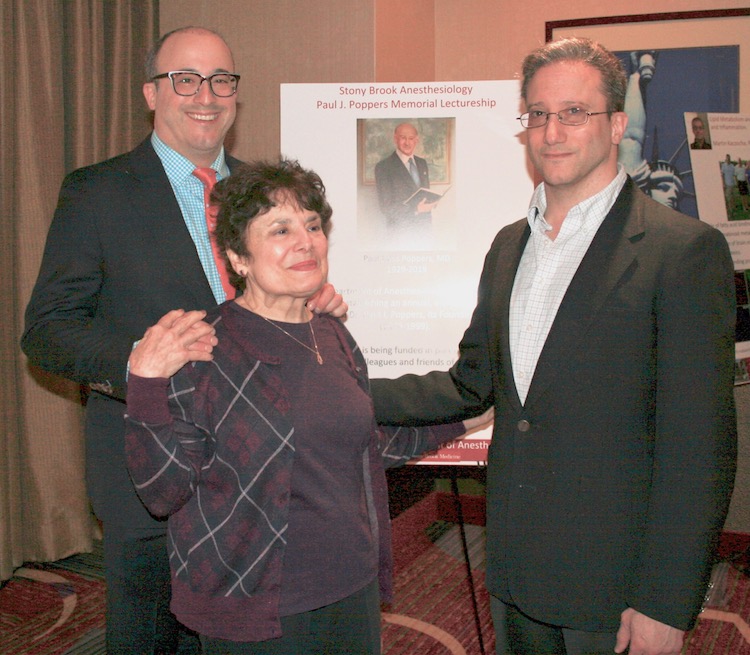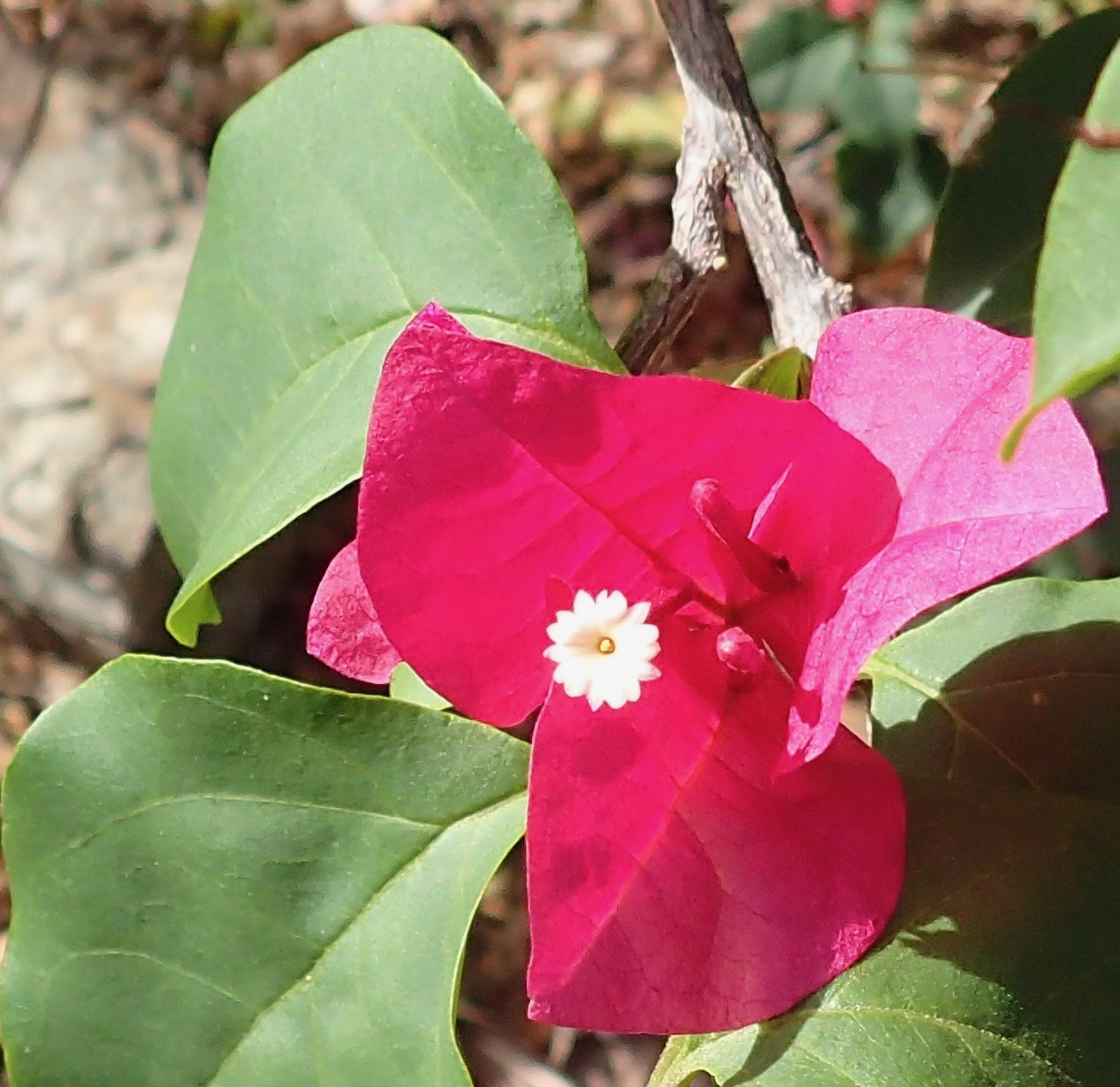 Wed. Feb 5.
Dr. TJ Gan
will present the State of the Department address at 7:00 am in LH5.
Wed. Feb 12.
Dr. Jae Grymes
will present her Senior Grand Rounds at 7:00 am in LH5.
Wed. Feb 19.
Dr. Carlos Sanchez
will present his Senior Grand Rounds at 7:00 am in LH5.
Tue. Feb 25.
Drs. Duran Mitchell, Ramiz Shuminov, Jerimarie Pasiliao
, and
Eric Zabirowicz
will present Journal Club at 6:00 pm in the HSC Galleria.
Wed. Feb 26.
Dr. Rishimani Adsumelli
will chair the QA committee meeting at 7:00 am in LH5.

STARS: STaff Appreciation and Recognition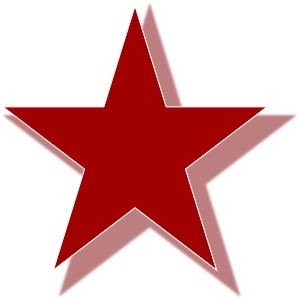 Joseph Gnolfo III, DNP, MS, ACNP, CRNA
I am writing to recognize a display of vigilance and teamwork I witnessed that without a doubt saved a life. On 12/19 in the E.P. lab a patient's vancomycin was started by EP staff to cover a device implantation, no sedation or anesthesia had been given at this point. The patient expressed not feeling well and shortly afterwards her condition quickly deteriorated. The SRNA (
Shaleha Khalique
) and CRNA (
Loren Crowley
) in the room quickly recognized the seriousness of the situation and began to treat a suspected anaphylactic reaction to the vancomycin while alerting the team. By the time I had arrived back to EP after being alerted of the event the team including Loren, Shaleha, and
Dr. Bennett-Guerrero
were in full swing and working together. A code blue was eventually called and the instant response by additional members of the anesthesia team including
Dr. Poovathoor
and
Dr. Kowal
to the EP lab helped to streamline care. After we had continued to perform many interventions and began the implementation of ACLS the patient's condition began to stabilize. There is no doubt that the quick recognition, diagnosis, and action by Loren and Shaleha allowed to team to provide lifesaving actions. At that moment I was reminded how honored and privileged I am to be part of the Stony Brook Anesthesia team. I feel the definition below is an appropriate portrayal of our team's abilities.
Elite: a select group that is superior in terms of ability or qualities to the rest of a group or society.

Drs. TJ Gan and Joy Schabel received this note from a patient
I am writing to express my sincere gratitude for the treatment I received by one of your residents,
Dr. Adam Wetcher
. I apologize for the lateness in my note, but perhaps that demonstrates how lasting of an impression Dr. Wetcher left on me. On May 26-27, 2018, Dr. Wetcher assisted in the labor and cesarean delivery of my son. From the moment Dr. Wetcher entered the room to explain the epidural procedure to the assistance he provided throughout the cesarean delivery he was kind, informative and patient. He truly provided both me and my husband with the assurance that my son and I were in good hands.
So often the positive actions of doctors go unrecognized, as I am sure you are frequently contacted with complaints opposed to accolades. I wanted to take the time to share the extremely positive experience I had with Dr. Wetcher and to thank him for going above and beyond to provide care and comfort during a very stressful time.

Dr. TJ Gan and CRNA Joseph Gnolfo received this message from a patient.
I had the pleasure of being a patient of
Nancy Perez, CRNA
on November 4th. I was having a hip replacement and was quite anxious but fortunately, Nancy was the CRNA on my case. She is pleasant, caring and professional. I cannot tell you how much of a difference it made for me to have her take care of me!

Dr. Vahe Tateosian
was awarded Fellow status in the American Academy of Pediatrics. Congratulations!
Dr. Ana Mavarez Martinez
obtained her Diploma of Master of Science in Clinical Pharmacology from The Ohio State University. She also has a new
publication
. Yes!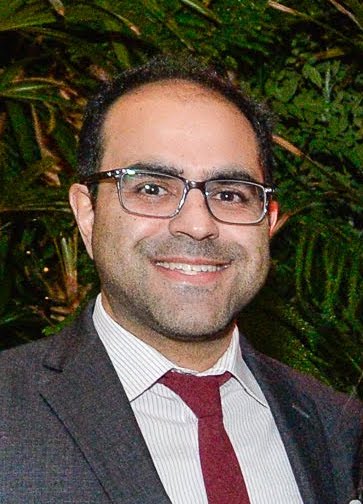 A paper authored by
Drs. Jun Lin, Ru Li
, and
Yujie Huang
,
Distinct effects of general anesthetics on lung metastasis mediated by IL-6/JAK/STAT3 pathway in mouse models
, was published in
Nature Communications
this month. Nice going!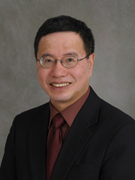 Srinivas Pentyala, PhD
Our department is sponsoring the 17th Annual Science And Research Awareness Series (SARAS) in July 2020. This summer program runs for 3 weeks (July 6 to 24) and consists of lectures, experts views, video workshops and hands on workshops. This program is designed for high school and undergraduate students. Program details, photos, students and parents comments, video excerpts and application material can be found at the
SARAS website
.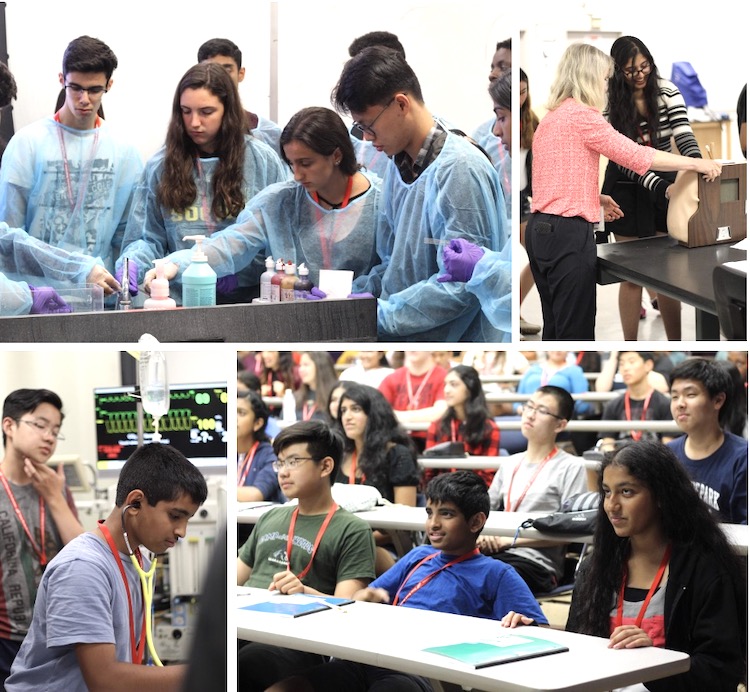 CA-3 Resident Spotlight!
Meet Dr. Charles (Trey) Mouch
Ramanjot S. Kang, MD

Can you tell us a little about your background?
Born and raised in Texas. Rowed Crew through College. Backpacked through Europe and Asia. Lived in Bangkok.
What attracted you to anesthesiology?
The personality fit and the variety of experiences.
How did you come to be a resident at Stony Brook (Why SB)?
Destiny.
What do you like least about being a resident?
That's a real Sofie's Choice you're asking me to make.
What pearls of wisdom would you like to share with your fellow junior residents to help them succeed in their time here and future careers?
Help each other out. Don't be afraid to stand up for yourself...politely. Try and get along with everyone.
So what's the next step you will be taking as you transition from the role of a resident to attending next summer?
I'm doing a Pain Management Fellowship at Cornell.

As you're soon to enter the real world of anesthesiology, what do you find most daunting?
The fact that I won't be doing much of it for at least a year while I'm in fellowship.
If you could do it all over again (become a doctor), would you? Why or why not, and what would you have done differently?
Hard question to answer. It's not a hard no, but the path didn't seem this long when I started.
If you hadn't chosen to go into medicine, what career path might you have followed?
Movie/TV production and writing.
What has been your favorite residency memory of your 4 years here at Stony Brook?
The last day of intern year.
What do you like the most (and least) about living on Long Island?
Most: Summer. Least: Winter
What is your favorite type of food?
Miller's
What's your favorite restaurant in LI/NYC?
Miller's
Where would you love to travel to next and why?
New Zealand, because I haven't been there and Lord of the Rings.
What's your favorite Tourist Activity in LI/NYC?
The crushing existential terror of being around so many people. And the beach.
Describe yourself in three words:
Wild Wild West
Who is your role model and why?
Jim West, because he's a desperado, a rough rider, and he don't want nada.
What are you looking forward to doing once you start receiving "attending" salary?
I'm with Leif, I want a squat rack.

Stony Brook Children's Fundraiser
RIchard Tenure, MD
One of the members of my firehouse is going to be hosting a Pediatric Cancer Fundraiser in Smithtown in March.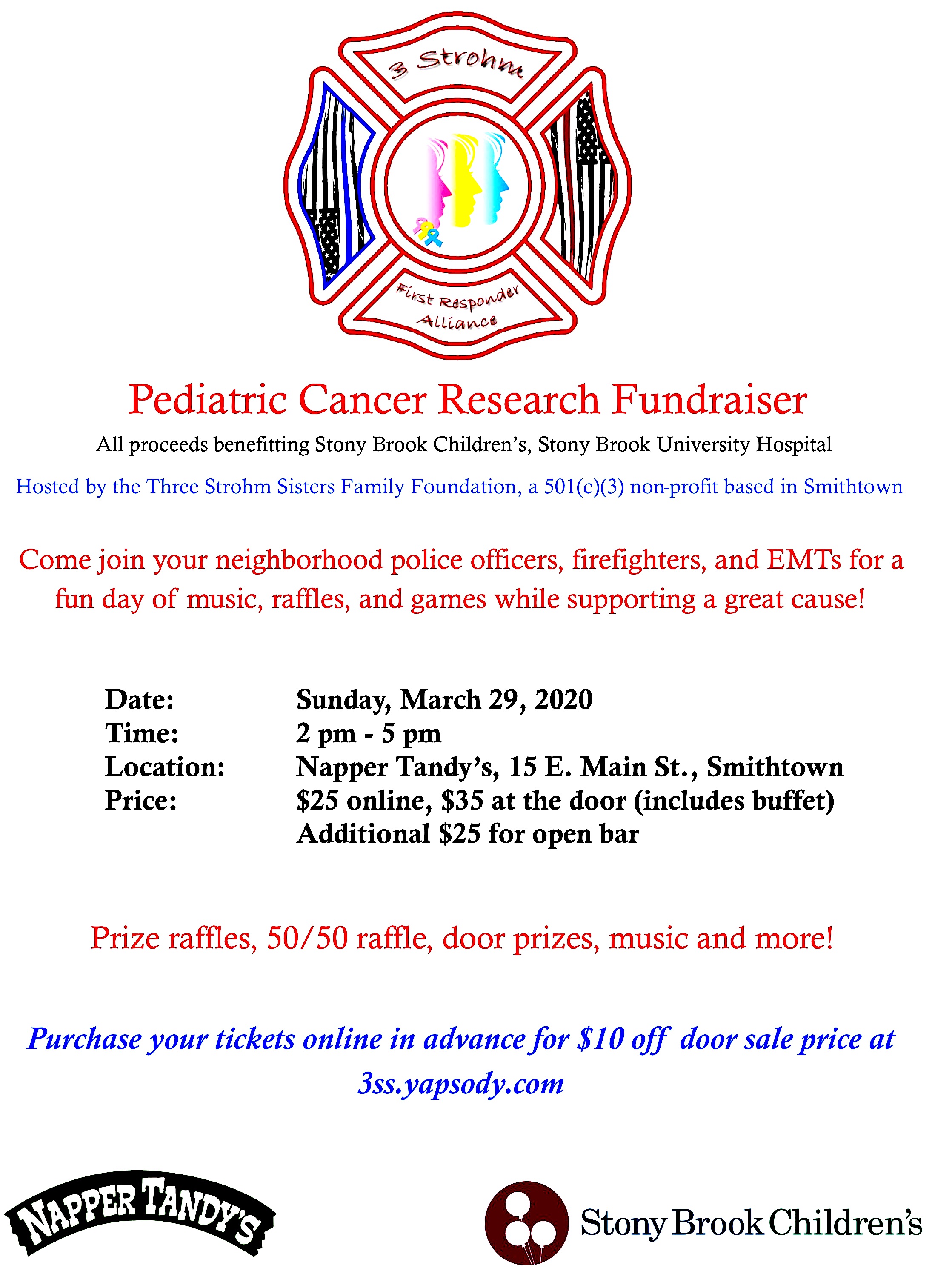 Sunitha Singh, MD
The departmental Book Club has been attracting more members. Here is some information about our next two meetings. We welcome suggestions for future meetings!
On February 5, 2020 at
Bahama Breeze, Lake Grove
at 5:00 pm we will be discussing
Sex at Dawn: How We Mate, Why We Stray, and What It Means for Modern Relationships
by Christopher Ryan. This is a controversial, idea-driven book that challenges everything you (think you) know about sex, monogamy, marriage, and family. It is sure to generate some interesting discussion!
Our March book is
Little Fires Everywhere
by Celeste Ng. This book explores the weight of secrets, the nature of art and identity, and the ferocious pull of motherhood—and the danger of believing that following the rules can avert disaster. We will discuss it on March 12, but we haven't decided on a venue yet.


Monthly Muscle Chillaxant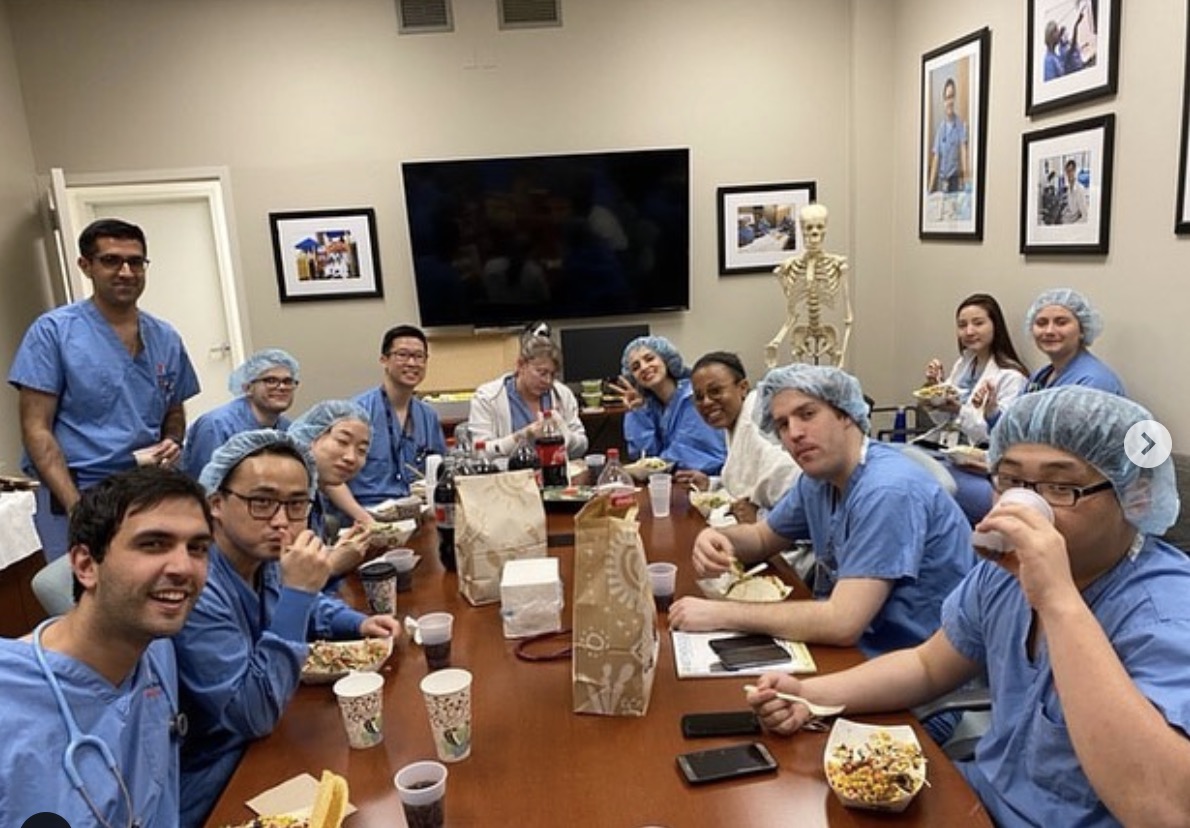 SleepTalker, the Stony Brook Anesthesiology Newsletter is published by the Department of Anesthesiology
Stony Brook Medicine, Stony Brook, NY
Tong Joo Gan, M.D., MHS, FRCA, MBA, Chairman
Editorial Board: James P. Dilger, Ph.D.; Stephen A. Vitkun, M.D., M.B.A., Ph.D.; Marisa Barone-Citrano, M.A.; Ramanjot S. Kang, M.D.