| | | |
| --- | --- | --- |
| Volume 35 Number 2 | Stony Brook, NY | < February 2021 > |
| | | |
Dr. Sergio Bergese Appointed Vice Chair for Faculty Development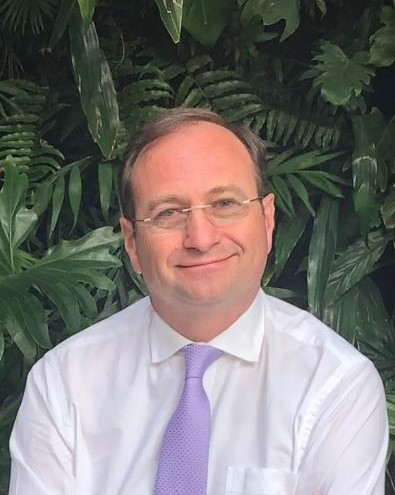 TJ Gan, MD, MBA, MHS, FRCA
I am pleased to announce that
Dr. Sergio Bergese
has been appointed as Vice Chair for Faculty Development. Dr. Bergese, a national leader in neuroanesthesia, joined our department in July 2019. He is well suited for this new role to help faculty with professional growth.
Dr. Bergese has authored more than 250 publications, delivered over 850 lectures globally, conducted upward of 300 clinical trials, and served on several national committees that led to influential clinical practice guidelines including perioperative management for ischemic stroke. His contribution to the field has been recognized by multiple awards including "Distinguished Educator in Anesthesiology" by the American Society of Anesthesiologists.
Within the past 18 months at Stony Brook Medicine, he has been active in bringing expertise to the division of neuroanesthesia, and expanding clinical research opportunities in the department with numerous active clinical trials. He has also contributed to other collaborative efforts at Stony Brook University including leading the Research Hub Capacity Core for the proposed CTSA (Clinical and Translational Science Awards) application. He has worked with a number of faculty and residents on their career plan and is the department's representative on the Faculty Senate Executive Committee.
As Vice Chair for Faculty Development, he is enthusiastic, personable and eager to contribute to assist faculty and residents with their career development and collaborating with Dr. Vitkun on the AP&T process.
Please join me in welcoming Dr. Bergese in this new role.

Dr. Martin Kaczocha Promoted to Associate Professor with Tenure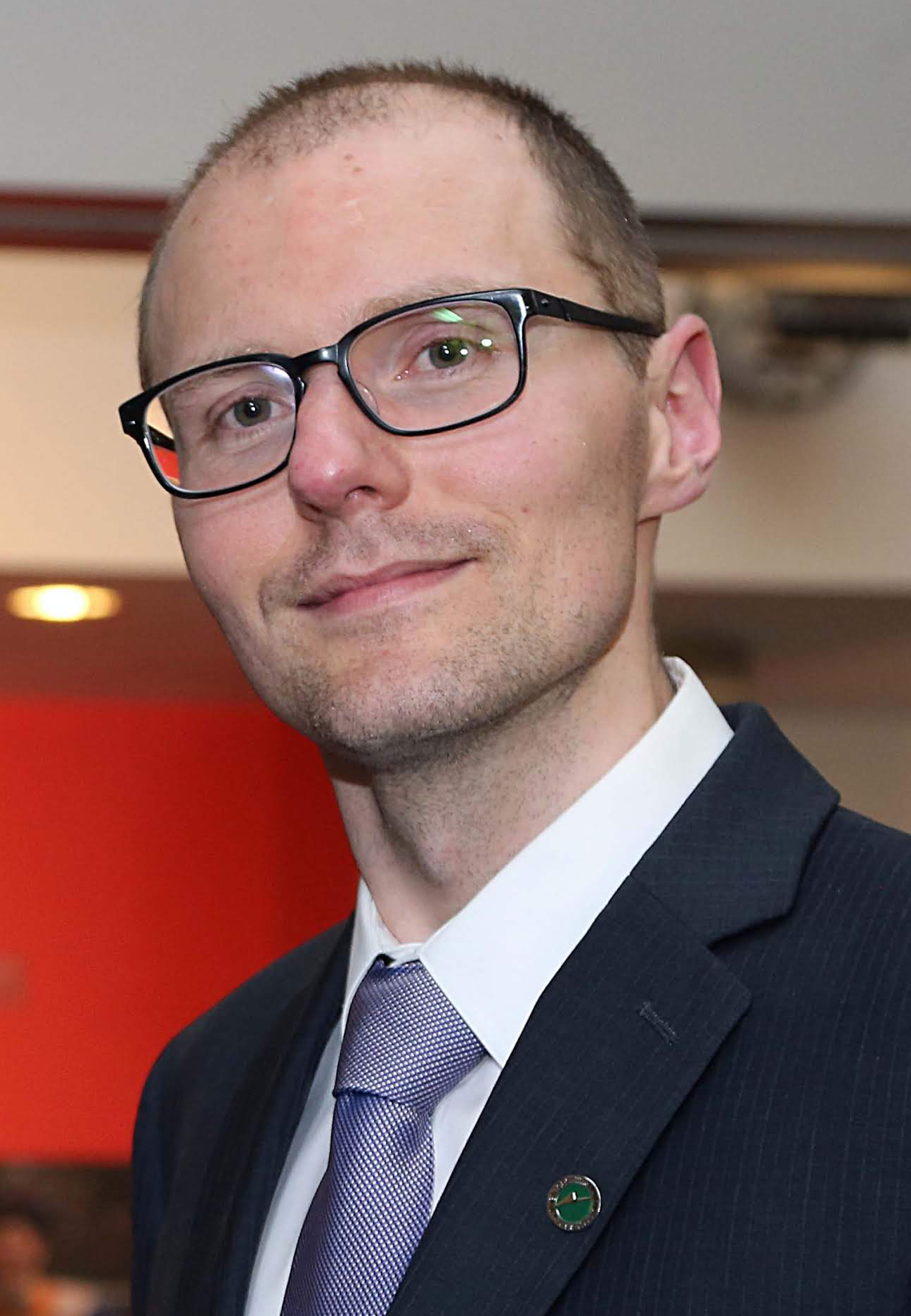 James P Dilger, PhD
Dr. Martin Kaczocha
has been promoted to Associate Professor of Anesthesiology, with Tenure. Martin joined our department in 2012 but he has a long history at Stony Brook University. He obtained his undergraduate degree here and went on to do a PhD in the Department of Biochemistry with Dr. Dale Deutsch. He stayed in the Deutsch lab for a postdoc and then became a research assistant professor. Martin's research specialty is lipid metabolism and signaling and their roles in pain, inflammation, and cancer. Fatty acid binding proteins (FABPs) are of particular interest to him.
Martin's research has been well supported by grants from the NIH. He and his collaborators at Stony Brook and Cold Spring Harbor Labs, have a 5-year, $4.2 million grant from the National Cancer Institute for their project "Development of the Next Generation of FABP5 Inhibitors to Treat Prostate Cancer". Martin also has $2.3 million in NIH funding for "Endocannabinoid Metabolism in Acute Pain". The idea for this proposal stems from his group's observation with
Dr. Syed Azim
that the levels of some endocannabinoids are raised in patients with high acute postoperative pain. A third NIH grant, "Synaptic Transport of Endocannabinoids in the Brain" is a 2-year project with $679,000 in funding,
Martin has nearly 50 peer-reviewed publications. He has received several awards and honors including a Howard Hughes Medical Institute Postdoctoral Teaching Fellowship, a Young Investigator Award from the International Cannabinoid Research Society, and membership in the National Academy of Inventors.
Martin is active in the University Senate. He was recently appointed Chair of SUNY University Faculty Senate Graduate and Research Committee. Since 2017, he has been and Associate Editor for
BMC Anesthesiology
General Pharmacology and Pharmacokinetics Section. He teaches in undergraduate and graduate Biochemistry and Neuropharmacology courses, and the SARAS program.
Congratulations, Martin, on your well-deserved promotion!

STARS: STaff Appreciation and Recognition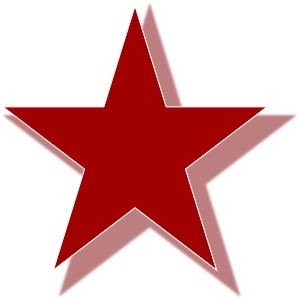 Ms Carol Gomes received an email from the wife of a patient who has undergone several procedures at Stony Brook Medicine in the past six months. Her message is excerpted here.
My husband was diagnosed with melanoma. Needless to say when you hear the word melanoma you think the worst … The day of the surgery turned out to have a few delays which was no fault of the staff. With the wait being so long, there was the constant updates from the RN's especially
Dorothy Gozdziak, CRNA
. We also were so impressed with
Dr. Thomas Corrado
, Anesthesiologist and Cheryl Preseter, ORRN, they were both informative and kept us reassured. The entire staff was beyond wonderful.

Eileen Conlon RN, from the Comprehensive Stroke Center sent this message
It's all about teamwork!
Yesterday (12-16-20) an MSU patient was transported from her home in the Smithtown district to SBUH for a suspected Large Vessel Occlusion. The patient was witnessed by her family at 1030 (while helping to decorate in the house) to slur her speech and experience left sided weakness including face with partial gaze deviation. NIHSS=13. The MSU arrived to patient's house by 1037 and in the next 51 minutes arrived at SBUH after administering IV tPA and confirming on imaging an LVO.
The patient was in the angio suite (where
Adrian Fischl, MD
was the Attending), in 7 minutes, accessed in 24 minutes and revascularized in 43 minutes (from arrival) with TICI 3 score (best you can get). At 1530, her deficits included facial droop, slurred speech, mild sensory decrease. NIHSS=4. At 2330, her deficits included mild facial droop, mild left leg weakness. NIHSS=2. At 0841 today, she is deficit FREE. NIHSS=0.
What an amazing gift to this patient and her family- doing what we do to achieve the best possible outcome. In this crazy environment, it's good to see how impactful the staff of SBUH is in people's lives. Congratulations to all of you for all you do.

Patient comment about our Ambulatory Surgery Center staff from the Press Ganey questionnaires (compiled by Marisa Barone-Citrano, MA)
Everything was extremely smooth. Diane and Nancy were my two nurses and they were wonderful.
Dr. Eleanor Romano
was my anesthesiologist and she was terrific.

Visiting Professor Dr. B. Scott Segal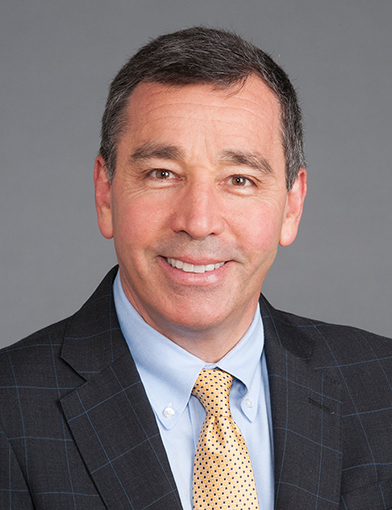 Our Visiting Professor for February is
B. Scott Segal, MD, MHCM
, the Thomas H. Irving Professor and Chair of Anesthesiology at Wake Forest School of Medicine. Dr. Segal did his undergraduate degree at Harvard majoring in history and science. He obtained his MD from the University of Texas Southwestern Medical School. He stayed there for an internship in internal medicine, then moved to Boston for a residency in Anesthesiology at the Brigham and Women's Hospital.
Prior to being appointed Chairman at Wake Forest in 2015, Dr. Segal was Chairman at Tufts University School of Medicine and was Vice Chair for Education at Brigham and Women's Hospital. While at the Brigham, he earned a MSHCM degree from the Harvard School of Public Health.
Dr. Segal's research interest is OB Anesthesiology. He has over 45 peer-reviewed publications indexed in PubMed. His most recent article,
"Association Between Epidural Analgesia During Labor and Risk of Autism Spectrum Disorders in Offspring"
, published in JAMA Pediatrics in December 2020, has already been picked up by 14 news outlets and has generated 1289 tweets! Another of his high
"attention score"
studies is
"Are surgeons and anesthesiologists lying to each other or gaming the system?"
from 2015.
Dr. Segal will present virtual lectures on February 9 (for the Residents) and February 10 (Departmental Grand Rounds). The titles of his talks are not yet available. Let us welcome Dr. Segal "to" Stony Brook!

Virtual Meetings are the New Reality
Tazeen Beg, MD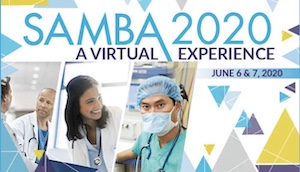 I attended my first ever virtual conference on June 6-7th weekend when the Society for Ambulatory Anesthesia (SAMBA) hosted their annual conference, SAMBA 2020- A Virtual Experience. It was most certainly different from the other meetings I have attended and experienced in the past. A lot goes on behind the scenes in preparation just like any other meeting, but in a different way. As one of the invited speakers to present my experiences as a member of the COVID Airway team of the hospital, I had several virtual meetings with IT professionals who helped me prepare and navigate my presentation. We even had a 'dry run' of the meeting!
The meeting itself turned out to be great and very engaging. Several hundred people from the anesthesiology community in the US and other parts of the world registered for the event in spite of the COVID-19 disruptions. The conference included numerous thought-provoking sessions including one on the challenges our profession is facing due to the COVID-19 pandemic which were, not surprisingly, well attended. There were virtual networking receptions and a newly created App for faster communication during the conference which included 'virtual meet ups' between the attendees.
It was wonderful that we were able to attend a conference despite all the despondency and misery surrounding us. Here we were, sitting in the comfort of our homes, or on bleachers at a kids' practice game (yes, they had some games locally), running an errand or driving to in laws' place in the next town! You could just turn the audio/video off and go about doing your chores while listening to the lectures. Simple. You may dress up as you would for a conference or just relax in your recliner dressed up in your favorite pyjamas!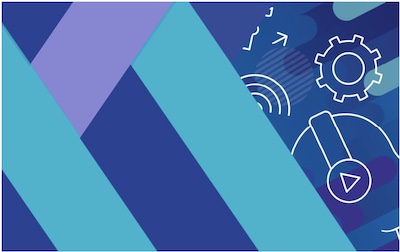 However, it didn't feel the same. It didn't feel as if we were at a conference. It lacked the in-person interaction. The excitement of meeting the author of a classic paper or an editor of a book. The casual conversation that starts while you stand in line for a cup of coffee and ends with exchange of phone numbers and an invitation to do a talk or collaborate in research. The special connections that appear during discussions at a Problem Based Learning Discussion (PBLD) or a pro-con debate were missing. From the perspective of a speaker, you sit in front of a computer and talk to the screen searching for that specific body language from the audience, that 'connection' with your remote audience that isn't there. On the other hand, as a member of the audience, watching a person talk on the computer screen for hours is hardly an experience to be thrilled about even with the speaker's creative backgrounds! Digital burnout, eye strain and fatigue are some other problems faced by the conference attendees.
For a researcher, sharing their research with colleagues around the world from the confines of their offices or homes doesn't always allow them to get fully immersed or involved. There are numerous distractions, audiovisual disturbances and technological difficulties that have to be overcome for a flawless presentation. Conferences for them may be a means of retreating from their everyday routines to mingle with the intellectual community for exchange of ideas and thought processes. That is missing in a digital environment.
While conferences are learning experiences for us, they are also an excuse to travel and visit new and exotic places. Some attendees bring their families along to be able to spend time with them while 'working'. Well, you can't possibly do that in a virtual event but you could certainly stroll at the beach with that friend from Italy if you both happen to be your 'digital avatars'!

While SAMBA 2020 was a smaller conference, the challenges faced by the organizers of larger gatherings could be overwhelming. The American Society of Anesthesiologists (ASA) Annual Meeting 2020 held virtually (#Anes20) was a large undertaking with thousands of attendees and hundreds of speakers and events. Navigating the virtual event was not an easy task and it was probably more challenging for the not-so-tech-savvy person. With such a huge platform, a few technological mishaps like server breakdown and internet disconnection are bound to happen. However, its success is commendable. The recently concluded PGA74 meeting was another such success story. The two-day virtual event this year offered 25 scientific sessions featuring 75 speakers, a virtual exhibit hall and poster presentations, all well conducted from the confines of the offices, homes and hospital call rooms. Of course, one missed the lights and delights of NYC during the holidays.
While a virtual conference may have certain disadvantages, the outreach is even greater and more diverse both for the speakers and the attendees. With not much travel going on due to COVID-19 they don't need to take off from work to travel. The conferences have become more inclusive especially with international participation. There is an enormous exchange of ideas and experiences from around the country and the world. The individuals who would otherwise be restricted due to babysitting issues or their disability, can now attend the conferences of their choice without having to step out of their homes. Financially too, it is more affordable for the conference organizers as well as the attendees. The major cost incurred for hosting a virtual event is for the technology company or the web platform that hosts the event. Even with travel restrictions due to COVID, there is no travel barrier for attendees saving both time and transportation costs. If you have an overlap of your favorite lectures and missed them, they can be watched on-demand at your own leisure.

And while we are discussing the perks of a virtual conference, the decrease in its environmental impact warrants a special mention. With no in-person travel and hospitality venues, there is no environmental waste and energy expenditure thus providing a more sustainable conference environment. In a recent article in Nature, it was pointed out that the carbon footprint of conferences varies from 0.5 to 2 or more tons of carbon dioxide per participant in travel alone. If each of the estimated 7.8 million researchers in the world travelled to just one conference each year, it would still have more carbon emissions roughly equivalent to those of some of the smaller nations!
Virtual conferences and meetings are here to stay if not solely virtual, definitely as a hybrid model. They have been on the rise with the digital revolution around us but with the advent of the pandemic, COVID-19, their demand skyrocketed. The digital technology companies are definitely making huge profits, while the big resorts and hotel chains may be losing out on their clients. Finally, even though the grand receptions have been degraded to a virtual BYOB, the snacks at the breaks are the same and the restroom lines are certainly shorter!

Stony Brook Anesthesiology at NANS 2021
Abstracts
•
Bracero LA, Gupta AK
. Challenges in Clinical Management of Complex Regional Pain Syndrome Due to COVID-19 Outbreak in New York
•
Kim BS, Kang RS, Shim H
. Treatment of CPRS in the Setting of Newly Diagnosed Breast Cancer
•
Shah R
, Mikell C,
Gupta AK
. Cingulotomy for Chronic Lower Extremity Pain After Failed Neuromodulation and DREZ

From the January 2021 issue of the ASDA Newsletter
Each of the Residents shared some thoughts about the experience. Erica said, "It was such a rewarding experience knowing that I was a part of a bigger cause that is not only affecting our community, but globally." Jennifer noted, "To be able to have access to the COVID vaccine and to be a part in distributing the vaccine to our healthcare workers was extremely gratifying". Vy expressed her "many thanks to everyone who takes the vaccine. I call it a gesture of love, love for yourself, love for the defenseless and love for the community." Brandon added, "Being able to use our unique skill set to help protect our colleagues and friends was an incredible experience".

Same-Day Joint Replacement at Stony Brook
Sunitha Singh, MD and Syed Azim, MD
We premiered our ERAS Total Joint Replacement pathway in Fall 2019 for elective hip and knee replacements. Over the course of a few months, we phased in elements including the removal of epidural anesthesia & intra-operative urinary catheters for most of these elective surgery patients. In Spring 2020 we moved to periarticular joint infiltrations and removing the PCA.
A significant part of ERAS sustainability is continuous auditing of the pathways. From Quarter 1 of 2019-Quarter 3 of 2020, the data shows that we have improved fluid management, pain management, and the utilization of resources.
As you know, the COVID pandemic has restricted same day admission elective surgical procedures and limited our resources. This presents barriers to our patients. To overcome this limitation, we implemented a highly selective process to offer this population ambulatory joint replacement in the main operating room.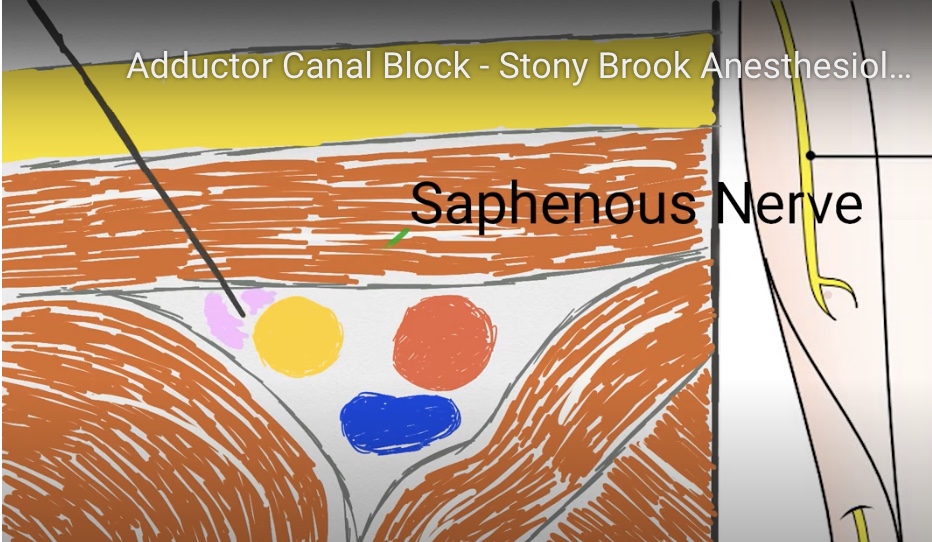 Stony Brook Orthopedic Anesthesia and the Joint Replacement Orthopedic Surgical teams instituted small changes in the current protocol. These include using a spinal anesthetic drug that is shorter acting and connecting nerve block catheters with a continuous infusion pump. This facilitates a faster return of motor and sensory function, earlier physical therapy evolutions, and pain management follow up at home with Home care nurses.
We have been doing these cases for approximately 1 month. The surgeon screens candidates for qualifications; they must be relatively healthy and highly motivated to return home. Physical Therapy assesses the patient in the PSA Recovery area prior to home discharge. As mentioned, total knee replacement patients go home with a Q pump. The Homecare Nurse and Physical Therapy see the patient the next day in their home. Anecdotally, patient feedback has been positive. Patients' strong desire for same-day surgery motivates them to actively participate in the perioperative and postoperative process.

Farewell Dr. Matthew Tito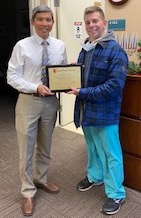 Dr. Matthew Tito
has left Stony Brook to join the anesthesiology group at St. Catherine's Hospital. Matt has a long history with Stony Brook. He attended Medical School here and did his residency here as well. He will be greatly missed! We wish him the best for his future.

Srinivas Pentyala, PhD
The SARAS (Science & Research Awareness Series) summer program, organized by SBU Anesthesiology department was initiated in 2004 and ran continuously for 16 years through 2019.
SARAS became one of the most sought after summer programs in the country. Students from different parts of the country (and some international students) have attended this 3 week event at our medical center. Over 90 faculty members and staff from our institute interact with 125 students in this program.
In 2020, SARAS had to be canceled due to COVID-19 pandemic.
In view of the uncertainty regarding COVID vaccinations and the safe transition to a new normal, this year we are looking into several options.
In-person program
Blended program – (partial in-person and partial virtual)
Completely virtual program
Cancellation of the 2021 program
Our maximum is 125 students if regular In-person program is held. Already 100 students have reserved spots in 2021-SARAS since the program opened for registration on January 25, 2021.
We are very optimistic about holding the 2021-SARAS event in July. Please visit the
SARAS website
for more info and updates.

Anesthesia Interest Groups

Ursula Landman, DO, FAOCA

Both the Stony Brook Anesthesiology Interest Group and the NYIT-COM Anesthesiology Interest Group met on January 19th. Dr. Joe Park, a SB alumnus, spoke to the groups regarding anesthesiology and also about his recent experience on the television reality show The Bachelorette. The students enjoyed his talk! In all my years of advising these groups, this had to be the most lighthearted and fun talk I have ever heard! A great break for all in these challenging times we are living through.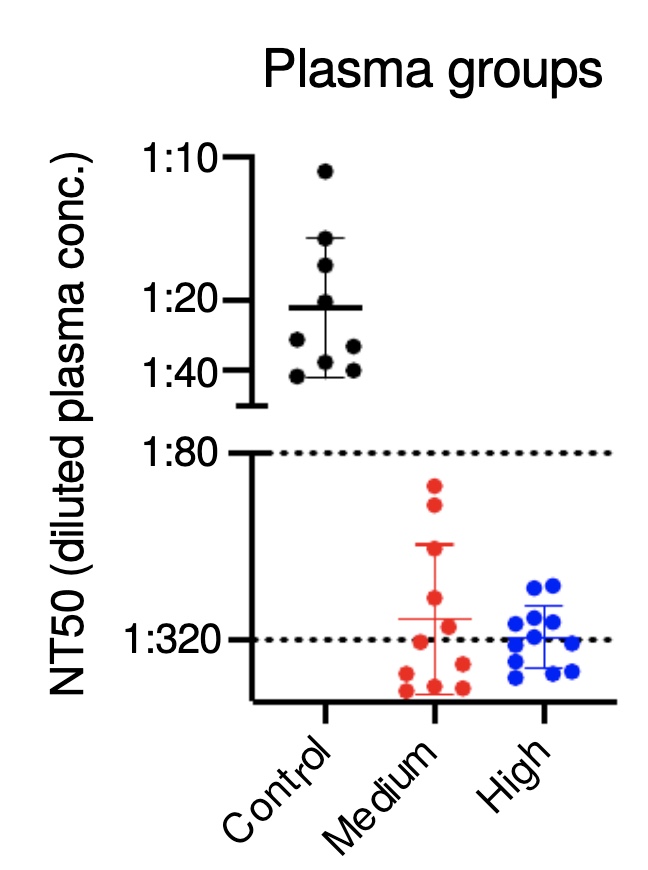 James P Dilger, PhD
You may have been surprised to see on our list of New Publications, one entitled "Josh Dubnau" authored by "Dubnau J". Well, the editors of the journal
Current Biology
conducted an interview of our own
Dr. Josh Dubnau
and published it in a recent issue. The interview can be appreciated by all: scientists, young potential scientists, and parents/teachers of potential scientists. Josh takes us on a journey of his scientific curiosity from ants, to gypsy moths, to fruit flies, to neurodegenerative diseases. He relates how mentors and students alike, influenced his research directions. Josh also gives his "two cents" regarding scientific publication, the responsibility of scientists to the public, and the role of big data. I recommend that you take 10 minutes to read the
entire interview
. I think you will enjoy it!

SleepTalker, the Stony Brook Anesthesiology Newsletter is published by the Department of Anesthesiology
Stony Brook
Medicine
, Stony Brook, NY
Tong Joo Gan, M.D., MHS, FRCA, MBA, Chairman
Editorial Board: James P. Dilger, Ph.D.; Stephen A. Vitkun, M.D., M.B.A., Ph.D.; Marisa Barone-Citrano, M.A.; Ramanjot S. Kang, M.D.