| | | |
| --- | --- | --- |
| Volume 37 Number 2 | Stony Brook, NY | < February 2022 > |
| | | |
Dr. Nada Named Medical Director of the Acute Pain Service
Tong J (TJ) Gan, MD, MBA, MHS, FRCA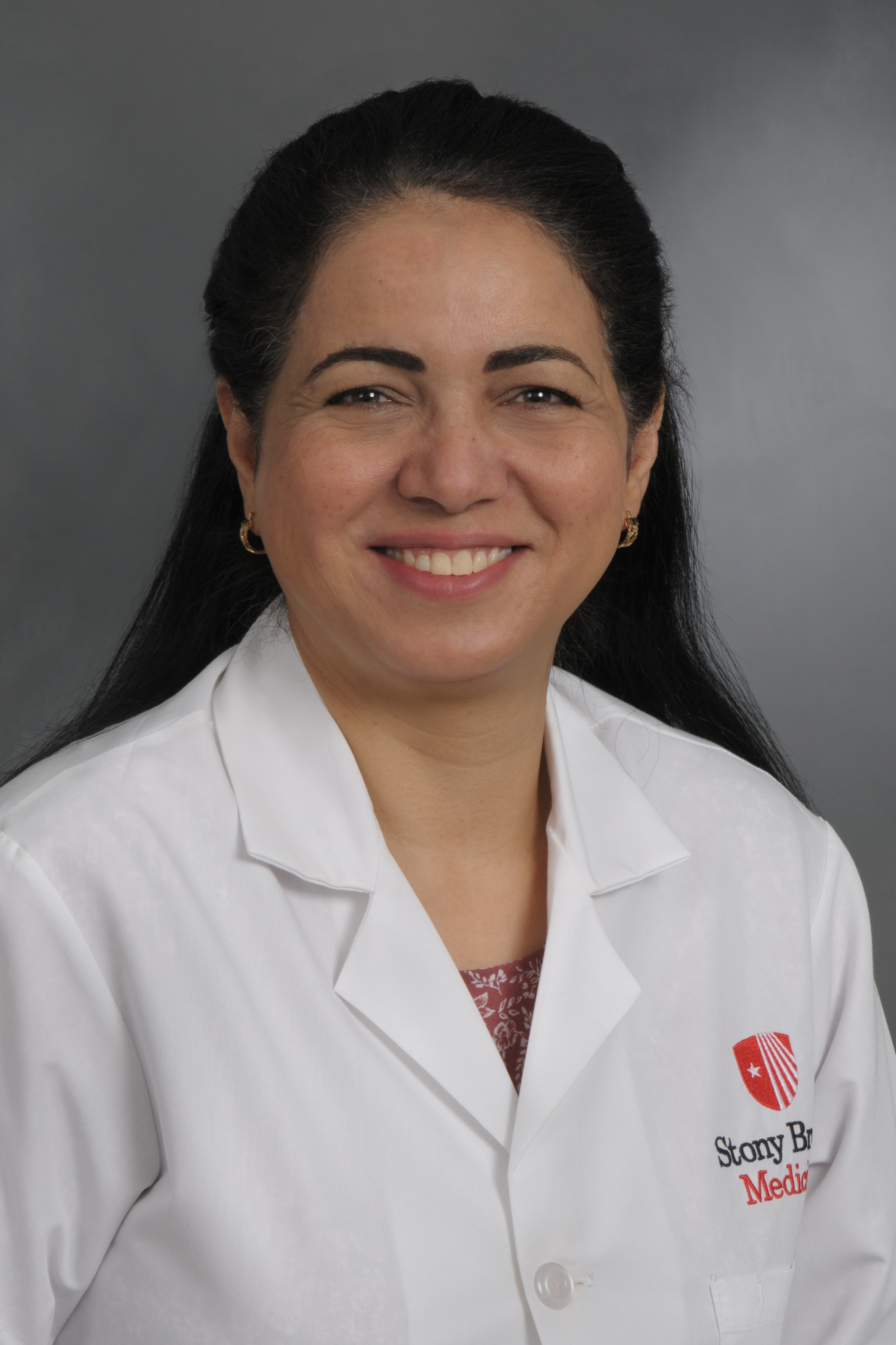 I am pleased to announce that
Dr. Eman Nada
has been named the Medical Director of the Acute Pain Service, effective February 1, 2022. This will be in addition to her role as the Division Chief of Regional Anesthesia. As most of you know, Dr. Nada joined our department last June. Eman earned a Doctorate of Anesthesia and Intensive Care from Alexandria University, Egypt. She completed a residency in anesthesiology at the University of Arkansas for Medical Sciences, Little Rock, Arkansas. In addition, she completed a fellowship in regional anesthesia and acute pain, and a fellowship in neuroanesthesia, both at the Cleveland Clinic Foundation. Eman is board-certified in anesthesiology. Most recently, Dr. Nada was a member of the faculty at the University of Massachusetts, in the department of Anesthesia and Perioperative Medicine.
Over the years, Dr. Nada's active teaching of residents has earned her several awards, including the University of Arkansas for Medical Sciences' Marc Wise Award for improving resident well-being, and the Original Research Award from the Midwest Resident Anesthesia Meeting. Eman has published numerous peer-reviewed manuscripts and co-edited a book on regional anesthesia and pain management. She has also co-authored book chapters in
Problem Based Learning Discussions in Neuroanesthesia and Neurocritical Care and Anesthesiology: A Problem-Based Learning Approach
. Eman is a reviewer for the
Clinical Journal of Pain, Journal of Neurosurgical Anesthesiology, Open Anesthesiology Journal
, and
PLOS One
.
Please join me in welcoming Dr. Nada to her new role.
Dr. Tannenbaum Named Medical Director for Preoperative Services at ELIH
James P. Dilger, PhD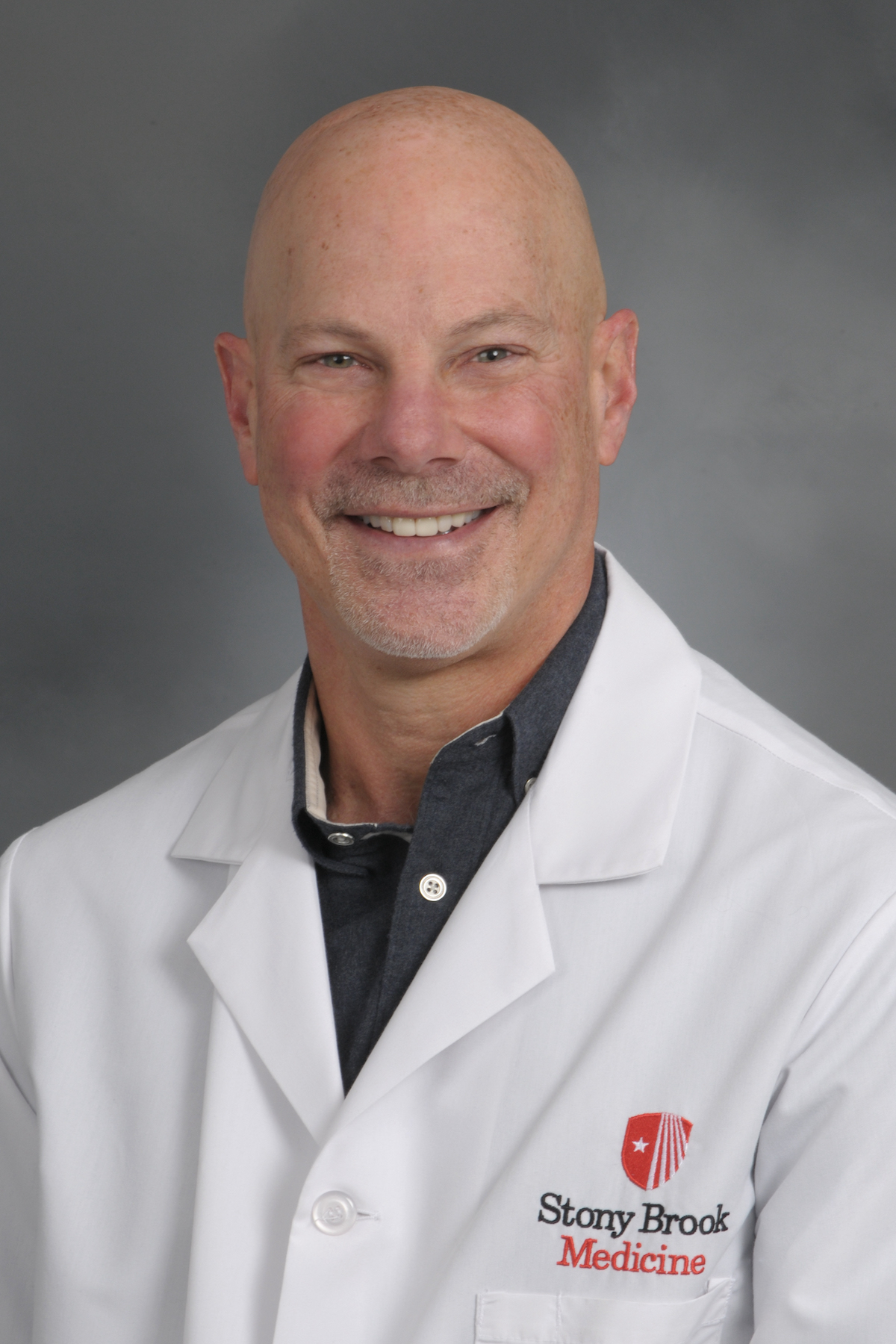 Dr. Marc R. Tannenbaum
has joined the department as Clinical Assistant Professor and the Medical Director for Preoperative Services at Eastern Long Island Hospital. Dr. Tannenbaum earned his MD at Medical College of Virginia. He did a one-year internship in Internal Medicine at the Cabrini Medical Center in NYC. This was followed by three years at Mount Sinai Medical Center where he did an Anesthesiology Residency and a Fellowship in Cardiothoracic Anesthesiology. Starting in 1993 and continuing until last month, he was an Attending Anesthesiologist at Manhattan Eye, Ear, and Throat Hospital / Lenox Hill Hospital of Northwell Health. For several years, he was also affiliated with Memorial Sloan Kettering Cancer Center.
Dr. Tannenbaum is a long term member of the American Society of Anesthesiologists and the New York State Society of Anesthesiologists. He was a member of the Manhattan Eye, Ear, and Throat Quality Assurance Committee from 1994 - 2000 and served as Chairman from 2000 - 2002.
We welcome Dr. Tannenbaum to Stony Brook!
Dr. Igor Izrailtyan Promoted to Professor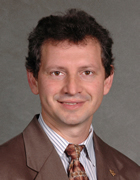 James P. Dilger, PhD
Igor Izrailtyan, MD, FACC
has been promoted to Clinical Professor of Anesthesiology. Dr. Izrailtyan has been an Attending in our department and a member of the Cardiothoracic Anesthesiology Division since 2005.
Igor received his MD from the Russian State Medical University, Moscow, Russia. He continued there to pursue a PhD in Physiology but departed the Soviet Union before defending his thesis. He moved to the Department of Cardiovascular Medicine and Surgery, Drexel University (MCP Hahnemann), Philadelphia, PA. There, he was a Research Associate where he studied microvascular-interstitial interactions in regulating coronary blood flow and cardiac mechanics and energetics. He was promoted to Research Assistant Professor and was a PI, Coordinator and co-Investigator in several clinical projects including "Risk Stratification of Myocardial Rejection Using Nonlinear Measures of Heart Rate Variability in Transplant Patients." In 2000, he decided that his calling was medical practice, so he did a transitional residency year at Mercy Catholic Medical Center in Darby, PA. He was then accepted into our department's Residency Program 2001-2004. Igor followed this with a Fellowship in Cardiothoracic Anesthesiology and Critical Care at Duke University. He returned to Stony Brook to become an Assistant Professor and was promoted to Associate Professor in 2012.
Dr. Izrailtyan serves our department as the Director of Perioperative Echocardiography. In this capacity, he directs transesophageal (TEE) imaging, electronic reporting, and QA. He represents us as a Senator in the Medical School Senate and works on the Admissions Committee. He gives monthly lectures to Residents rotating through Cardiac Anesthesia and teaches TEE imaging to non-cardiac Anesthesia Residents and Attendings.
Igor's has diverse research interests. He has 25 peer-reviewed publications on topics such as heart rate variability, using photospectrometry to detect changes in blood volume, oxygenation and intracellular calcium, cocaine in the nonhuman primate fetal brain, and safety hazards with implanted electronic devices. He has authored over 100 presentations at scientific and medical meetings.
Congratulations on your well-deserved promotion, Igor!
CA-1 Resident,
Dr. Zhaosheng (Jims) Jin
was quoted in an article
"Colorectal Cancer Surgery Outcomes Unaffected by General Anesthetic"
in the December 2021 issue of
Anesthesiology News
. The article highlights the systematic review and meta-analysis he and his co-authors,
Dr. Jun Lin
and
Dr. Ru Li
, presented at the 2021 PGA meeting.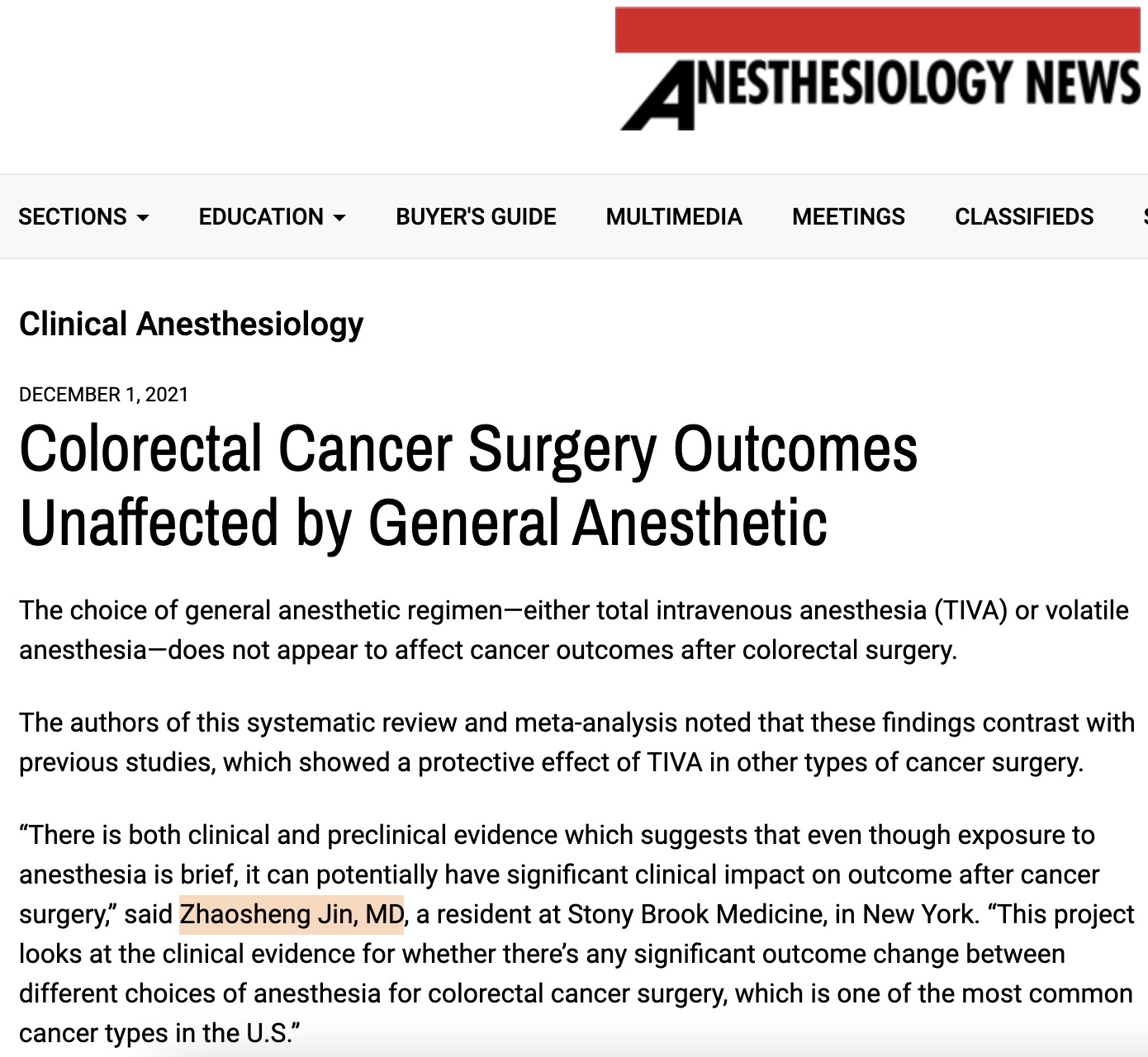 Dr. Tsirka, the Vice Dean for Faculty Development complimented on the presentations of
Dr. Tommy Corrado
and
Dr. Steve Probst
at the Clinical Leadership Academy Program. They really enjoyed the program and hope that other faculty can go through the same program in the future.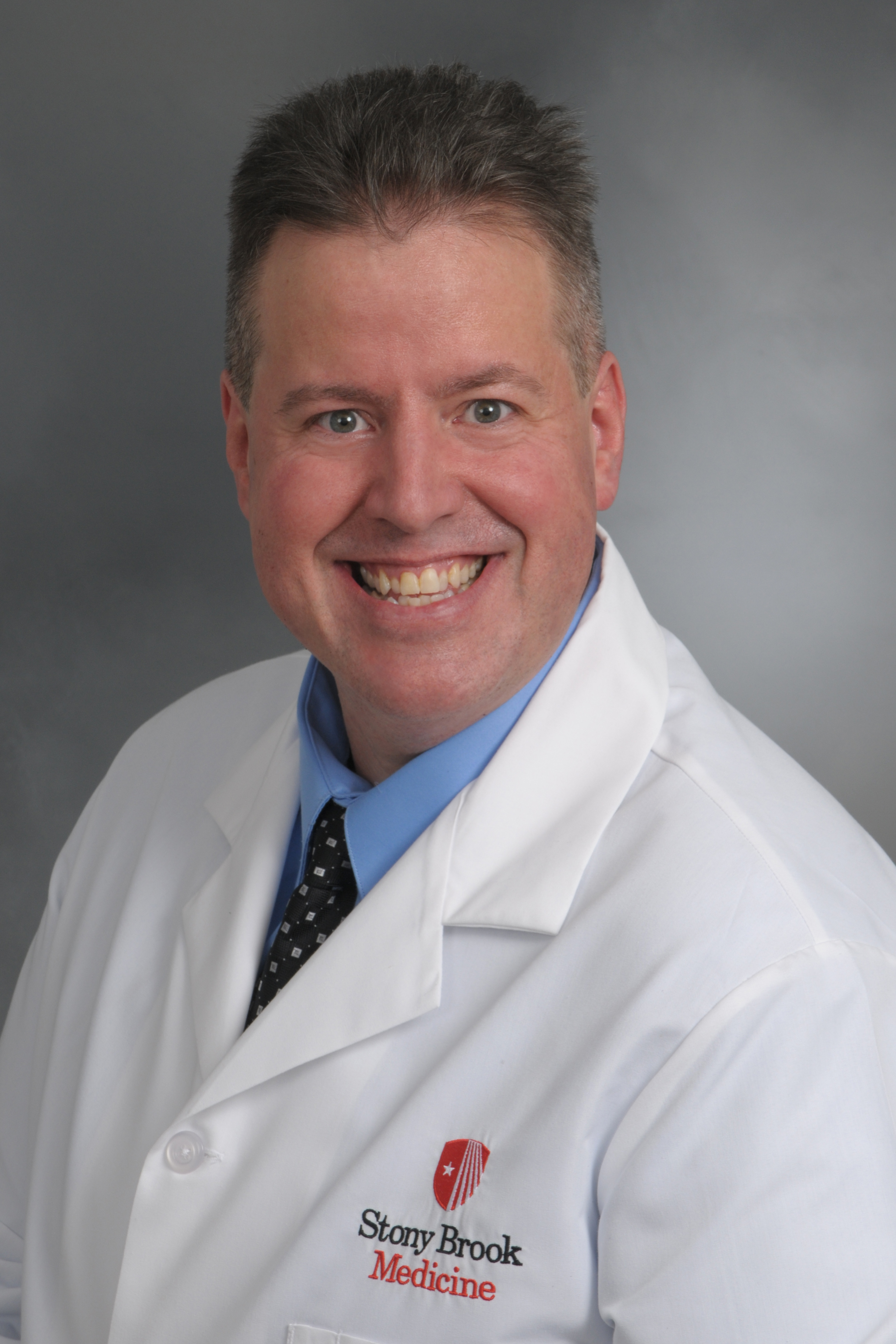 SPARC - Inaugural Publication
James P. Dilger, PhD
The Stony Brook University Pain and Analgesia Research Center (SPARC) has just published its first manuscript! SPARC director,
Dr. Shao-Jun Tang
joined our department in July 2021 and established the Center. Their first paper "
A neuron-to-astrocyte Wnt5a signal governs astrogliosis during HIV-associated pain pathogenesis
" was published in
Brain
last month. The first author of the paper is postdoctoral associate
Dr. Xin Liu
and the co-authors are Dr. Tang's colleagues at the University of Texas Medical Branch, Galveston, TX and Southern Illinois University, Carbondale, IL. Congratulations to the SPARC team!!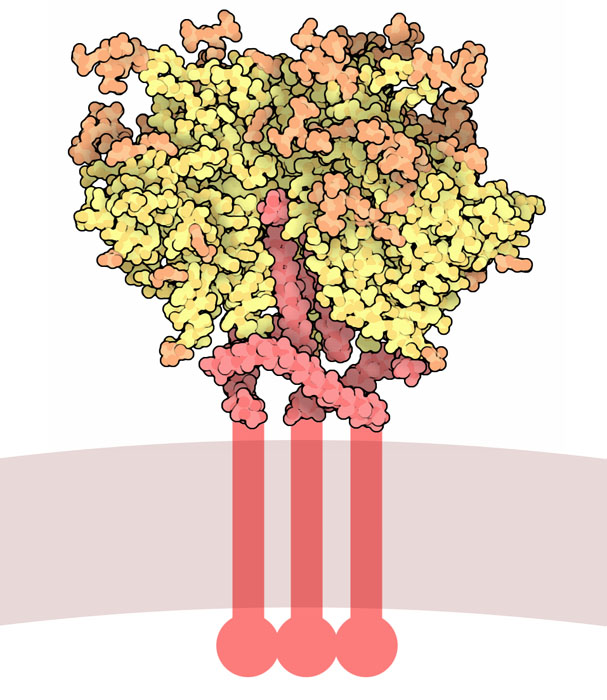 The glycoprotein gp120 is expressed on the surface of the HIV envelope. High levels of gp120 are detected post-mortem in the spinal horn of only those HIV patients who developed pain. Wnt-5A, a signalling protein expressed mainly by neurons, is also upregulated in pain-positive HIV patients. Wnt-5A is implicated in causing pain by inducing prolonged astrogliosis. Although reactive astrocytes play a protective role after a moderate injury, prolonged astrogliosis is thought to cause damage in a number of neurological disorders. The goal of this study was to determine whether the pathway Wnt-5A pathway might link gp120 to HIV pain. This was done by producing Wnt-5A conditional knock-out mice.
The investigators used a combination of genetic, pharmacological, behavioral, protein analysis, immunofluorescence, and patch clamp techniques. They found that conditional knock-out of either Wnt-5A in neurons or its receptor in astrocytes abolished gp-120 astrogliosis. Moreover, the knock-out animals did not get experience gp-120- induced hyperalgesia as measured both behaviorally and electrophysiologically. The results of the study indicate several attractive targets to treat HIV-associated pain.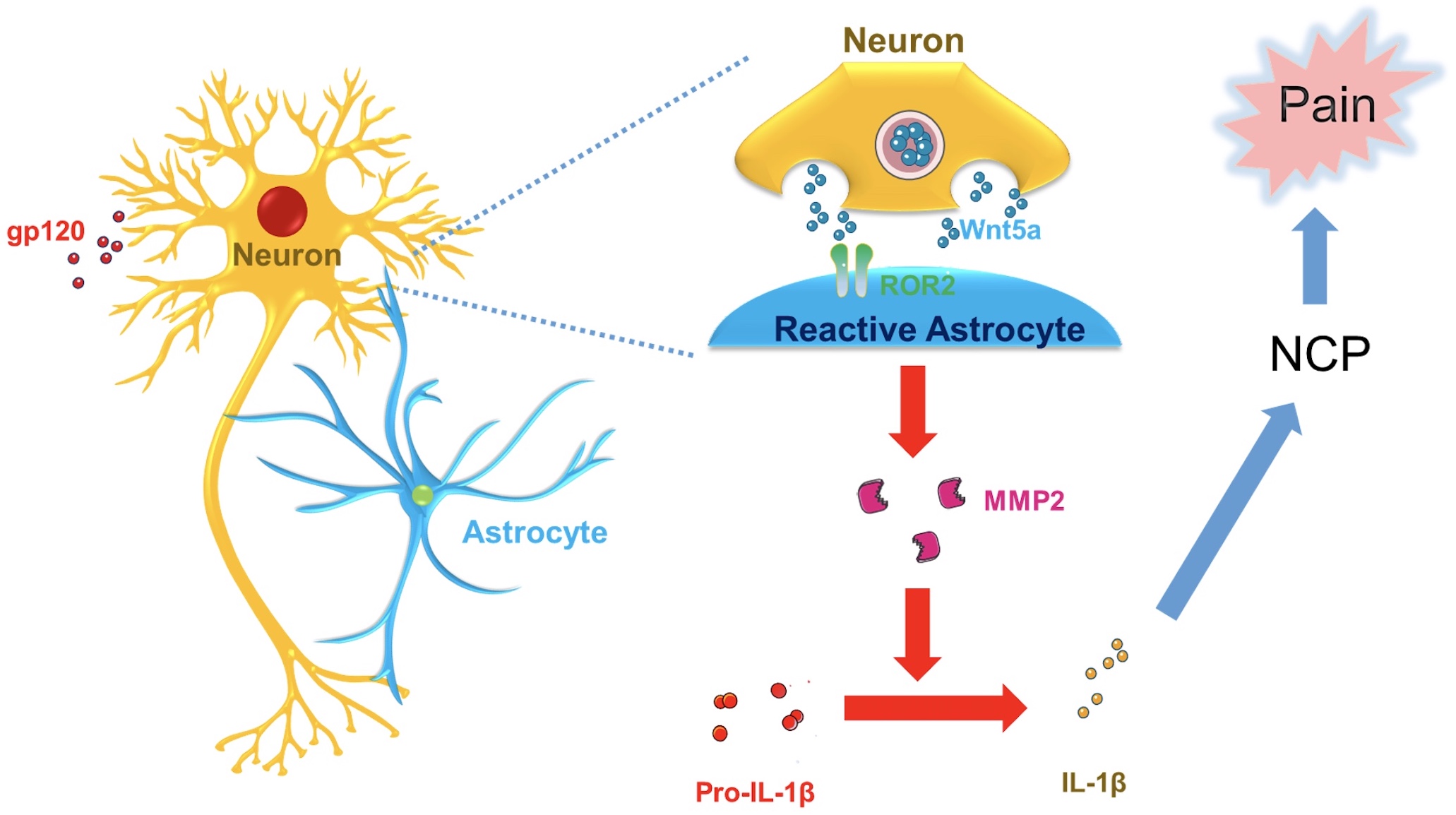 James P. Dilger, PhD
SleepTalker
is emailed to some 200 alums (faculty, residents and staff) each month. So, you know about us, but we don't know about you! We are starting a "Life After SB Anesthesia" column and would love to hear from you! Tell us your story or share a memory in the form of prose, poetry, and/or photos. Thanks to Dr. Deborah Richman for suggesting this!
Thanks to Dr. Joy Schabel, the department's
Residency Program webpage
has testimonials from former residents. Former residents who would like to support our recruitment efforts can send their paean to
Joy
directly.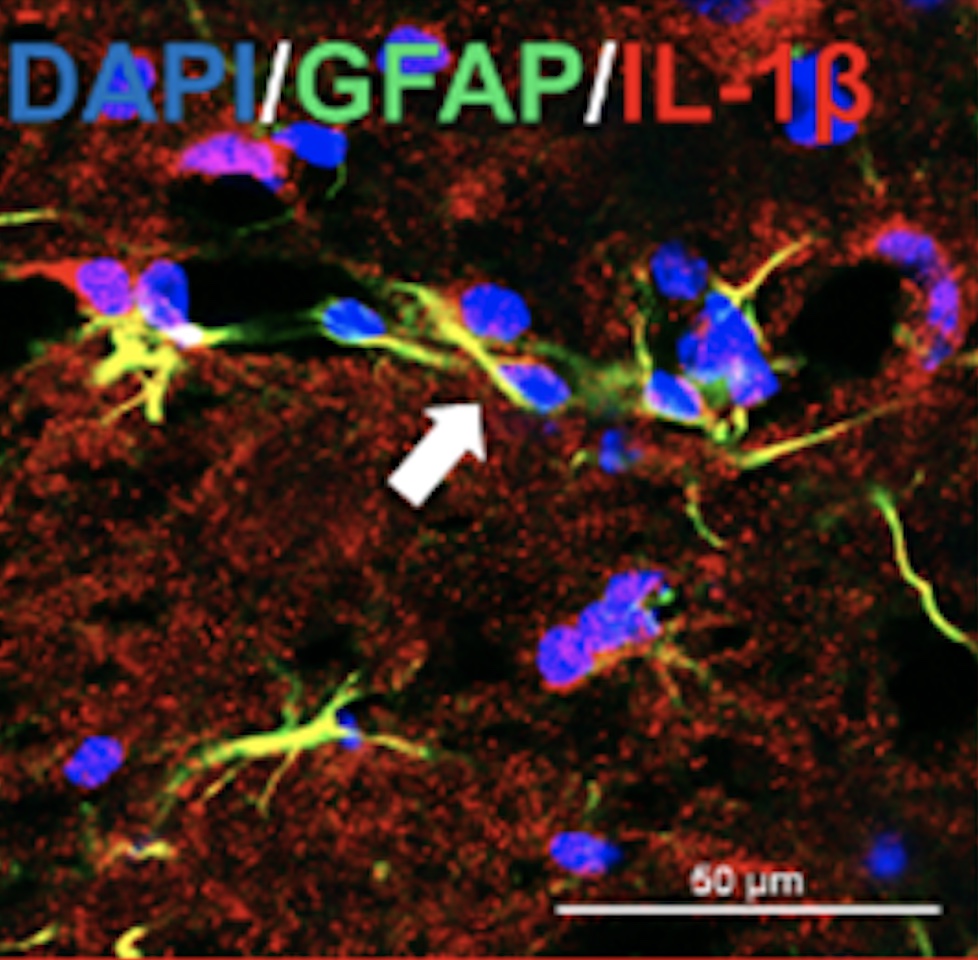 Liu X

, Bae C, Gelman BB, Chung JM,

Tang SJ

. A neuron-to-astrocyte Wnt5a signal governs astrogliosis during HIV-associated pain pathogenesis. Brain. 2022 Jan 18

Jin Z, Zhang W, Liu H, Ding A

, Lin Y, Wu SX,

Lin J

. Potential Therapeutic Application of Local Anesthetics in Cancer Treatment. Recent Pat Anticancer Drug Discov. 2022 Jan 19
SleepTalker
, the Stony Brook Anesthesiology Newsletter is published by the Department of Anesthesiology
Stony Brook
Medicine
, Stony Brook, NY
Tong Joo Gan, M.D., MHS, FRCA, MBA, Chairman
Editorial Board: James P. Dilger, Ph.D.; Stephen A. Vitkun, M.D., M.B.A., Ph.D.; Marisa Barone-Citrano, M.A.; Ramanjot S. Kang, M.D.