Volume 25 Number 1
Stony Brook, NY

<

January 2016

>
This month, our Visiting Professor is

Andrea Kurz, MD

, Chair of General Anesthesiology, Cleveland Clinic. Dr. Kurz received her medical degree from the Vienna (Austria) School of Medicine and completed her Anesthesia residency at the University of Vienna. Dr. Kurz's career has had her hopping across the Atlantic Ocean several times. She moved to San Francisco for a research fellowship at the Outcomes Research Consortium Laboratory. In 1993, she was appointed Assistant Professor in the Department of Anesthesia and Critical Care at University of California. After being at UCSF, she became Professor of Anesthesia in the Department of Anesthesia and General Intensive Care at the University of Vienna. She then moved to Washington University, St. Louis and directed the Department of Anesthesia's Clinical Research Center. After four years, she returned to Europe, this time as Chair of the Department of Anesthesiology at the University of Bern, Switzerland. In 2007, she moved to the Cleveland Clinic as Vice-chair of the Department of Outcomes Research. Two years ago, she was appointed Chair of Department of General Anesthesiology at the Cleveland Clinic. She also has an appointment at Lerner College of Medicine at Case Western Reserve University.

Dr. Kurz is the Associate Director of the

Outcomes Research Consortium

. This organization is involved in more than 100 clinical studies, including some large multi-center outcomes trials. The Consortium facilitates the scientific exchange and collaboration necessary for technically complex outcomes studies involving hundreds or thousands of patients.

Dr. Kurz has published more than 180 peer-reviewed research articles. Among her high-profile articles are "Nitrous oxide does not increase the risk of surgical wound infection" published in the Lancet in 2005 and "Selective postoperative inhibition of gastrointestinal opioid receptors" published in the New England Journal of Medicine in 2001. Recently, she has published papers on the effects of tight glucose control on delirium after cardiac surgery and the prevalence of postoperative hypoxemia.

Dr. Kurz will present Grand Rounds on Wednesday, January 13.
| | |
| --- | --- |
| Dr. Jeremy Poppers has been promoted to Clinical Associate Professor of Anesthesiology. Dr. Poppers, who joined our department in August of 2015, is Division Chief of Cardiothoracic Anesthesia. Dr. Poppers is a nationally recognized teacher in cardiac anesthesiology and transesophageal echocardiography. He is the founding director of the Bi-annual New York City Transesophageal Echocardiography. He has won many awards including the M. Finster Attending of the Year Award and Kathryn Cozine Teacher of the Year Award in the Department of Anesthesiology, Columbia University Medical Center. Congratulations! | |
The Ambulatory Surgery Center in general and Dr. Christine Cokinos in particular received commendations from patients as reported in the Press Ganey Patient Satisfaction Comments. Patients noted that the registration mailed and emailed from the ASC was "great - very informative". "All of the staff were outstanding" before the procedure. "Dr. Cokinos was wonderful! She took the time to check all of my allergies and explained everything in great detail!". Overall, "my care was outstanding. Thank you to all."
A colleague in another Stony Brook Medicine department wrote to Dr. Gan. "Just a quick note to recognize the absolutely fabulous care and service my father received today at our Pain Center. Dr. Marco Palmieri is truly the epitome of a highly skilled professional with fabulous bedside manner. My father is so pleased with the care he has received for almost a year from Dr. Palmieri and all the staff at the pain center under his direction. Dr. Scott Licata is a skilled physician as well, and balances confidence with patient sensitivity. The two make a great team!"



Dr. Bharathi Scott was compelled to write about the performance of Anesthesia Tech Anne Stowell. "I want to take a moment to recognize the outstanding job Ann did yesterday. We had a level A emergency open heart on a patient in cardiogenic shock. Ann did an excellent job getting the room ready and helping me get the case started in a matter of minutes. Twelve minutes to be exact! I have worked with Ann over 10 years on a daily basis and she is always excellent and professional and there when we need her. Doing an outstanding job on a daily basis takes dedication. Since it happens on a daily basis it is taken for granted and expected, sometimes it is not seen as anything special. So I want take this time to recognize Ann for her outstanding service and dedication."
Dr. Chris Gallagher
I have been working on two projects with SAGE (a group of anesthesia educators splashed around the country) and the work is starting to bear fruit. They're a great group to work with, among the top educators around, and develop doable projects that look at the bigger education questions of the day. Our abstract "Faculty and Resident Perceptions of Anesthesiology Milestones: Do We Share A Similar Mental Model of Milestones Achievement?" was accepted for the 2016 ACGME meeting (February in National Harbor, MD) as a poster. Out of >150 abstracts, it was also selected as one of only 10 for oral presentation. SAGE should be brewing up more projects, we'll see some of them at the Sim meeting in San Diego in January, so I will ask them what's up. A shout out to Jean Abbott, who put in a lot of work carrying these projects forward.
Ehab al Bizri, a volunteer working with the Research Coordinators, passed the Step 2 Clinical Skills Exam with High Performance. Congratulations!

Dr. James Dilger has been appointed to the APT (Appointment, Promotion and Tenure) Committee. He joins Dr. Stephen Vitkun, the other representative of the department on the committee.
| | |
| --- | --- |
| Sharri Allbright is the newly hired Assistant to Drs. Rosenfeld and Schabel. Sharri received her Bachelor's Degree in History and Education at Hunter College in New York City, and will complete a Graduate Degree in History in the near future. She worked as a High School history teacher in New York City for 7 years. Prior to her teaching career, Sharri worked for more than 15 years as an office support professional; Executive Assistant at Citicorp, N.A. and an Office Administrator at Synelec USA, Inc. Welcome to our department, Sharri! | |
Dr. Igor Izrailtyan's step-daughter, Bella, a talented undergraduate English major and University Scholar at Stony Brook University, was featured in an

article in SBU Happenings

"Bella Gurevich '17 Takes a Multidisciplinary Approach to Life".

Lisa Muchnik

, CRNA, and her husband Marc welcomed their first baby, a girl named Aria on December 4.
Smagin DA, Park JH, Michurina TV, Peunova N, Glass Z, Sayed K, Bondar NP, Kovalenko IN, Kudryavtseva NN, Enikolopov G. Altered Hippocampal Neurogenesis and Amygdalar Neuronal Activity in Adult Mice with Repeated Experience of Aggression.

Front Neurosci. 2015 Dec 1;9:443.

Saboor F, Reckmann AN, Tomczyk CU, Peters DM, Weissmann N, Kaschtanow A, Schermuly RT, Michurina TV, Enikolopov G, Müller D, Mietens A, Middendorff R. Nestin-expressing vascular wall cells drive development of pulmonary hypertension.

Eur Respir J. 2015 Dec 23.

Yoon JH, Grechushkin V, Chaudhry A, Bhattacharji P, Durkin B, Moore W. Cryoneurolysis in Patients with Refractory Chronic Peripheral Neuropathic Pain.

J Vasc Interv Radiol. 2015 Dec 17.


Figure from Saboor et al.
Departmental representation at the 2015 PGA was high. There were 20 Medically Challenging Cases, 6 Posters, 3 Focus Sessions, 1 Mini Workshop, 11 Problem-Based Learning Discussions, 6 Scientific Panels and 1 Workshop. Dr.
Neera Tewari
moderated the Panel on "Anesthesia for Ambulatory and Office-Based Practice". Dr.
T.J. Gan
was one of the speakers. He was joined by Drs. Rebecca Twersky, Michael Walsh and Fred Shapiro (top right photo).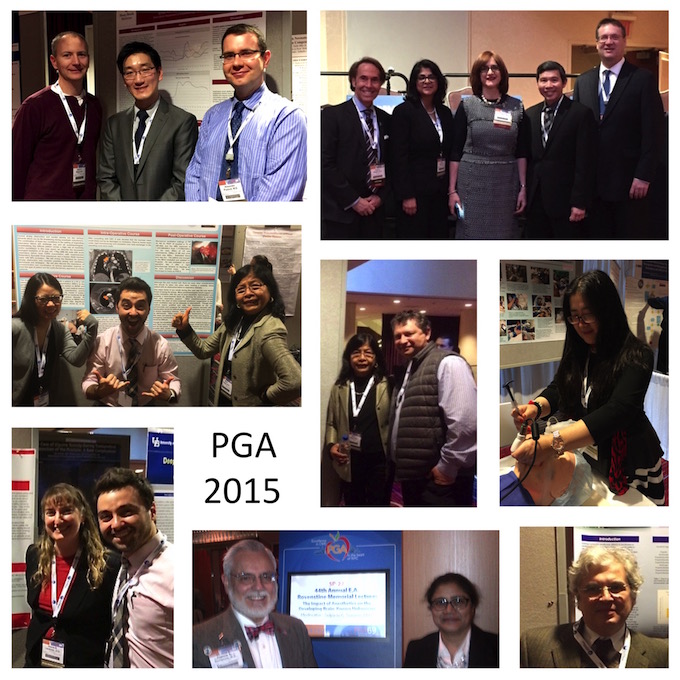 Dr. and Mrs. Gan hosted the annual Holiday Party at Flowerfield.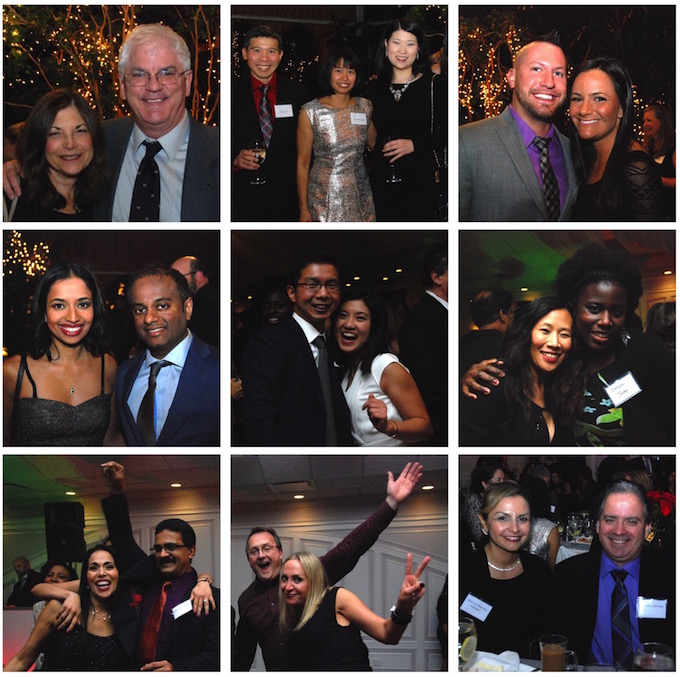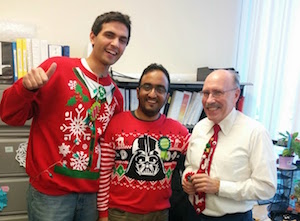 The 2nd Annual Snakepit Ugly Sweater Party was also held during the month. The competition was intense but in the end the "Ugly" prize went to Jim Dilger (the rules were bent to allow for ugly ties), Ehab al Bizri's sweater was deemed "Uglier" and Mohammed Shanawaz used the Force to capture the "Ugliest" prize!
The
Island Harvest
Food Drive will continue through January 15. There are boxes for donations of food and cash at the Snakepit. Please stop by and make a contribution!
Jim Dilger
Last month's photo
shows part of the "Kinetic Bicycle Sculpture" located at the Student Activities Center (SAC) on the main campus. The sculpture is by the American graphic designer Milton Glaser. Glaser may be better known for his work such as the I♥NY logo and his psychedelic Andy Warhol poster. However, other examples of his art can be found at Stony Brook, in particular the 911 Memorial and various 3-dimensional signage around campus.
We'll start out 2016 with the picture below. I won't leave you guessing, though, because the exhibition, "Origami Heaven" at the Wang Center will close on January 8. It's worth a visit!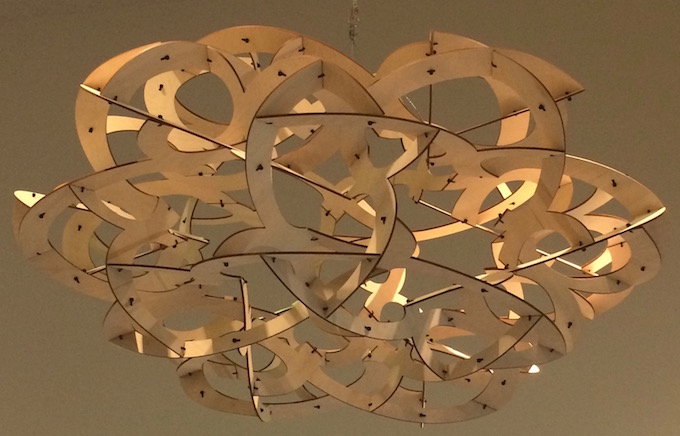 ---
SleepTalker, the Stony Brook Anesthesiology Newsletter is published by the Department of Anesthesiology,
Stony Brook Medicine, Stony Brook, NY.
Tong Joo Gan, M.D., Chairman.
Editorial Board: James P. Dilger, Ph.D., Stephen A. Vitkun, M.D., M.B.A., Ph.D., Marisa Barone-Citrano.
---