Volume 24 Number 6
Stony Brook, NY

<

October 2015

>
Dr. Minyi Tan is joining our department on October 5 as Assistant Professor of Clinical Anesthesiology in the Pain Center. Dr. Tan received a BS in Biochemistry (Magna Cum Laude) from Stony Brook University. She stayed at Stony Brook for her medical education, graduating in 2009. She did her internship and anesthesiology residency at Weill Cornell Medical Center. She stayed in the City to complete a Tri-Institutional Pain Management Fellowship at Weill, Sloan Kettering and the Hospital of Special Surgery. For the past year, Minyi has been working as an Interventional Pain Consultant with the Morris Anesthesia Group in New Jersey.
Minyi is no stranger to our department. As a medical student, she participated in Dr. Lixin Liu's research project concerning cardioprotection by volatile anesthetics in the aging heart. She is co-author of a paper that resulted from that research.
Welcome back to Stony Brook Dr. Tan!



Photo credit
Dr. Rev. Tracie Saunders has been promoted to Professor of Clinical Anesthesiology. Tracie is an obstetric anesthesiologist who has been with the Department since 2003. In addition to her clinical service, Tracie has served the institution as an educator, teaching actively within and outside of the Department. She has served as a manuscript reviewer for the Journal of Clinical Anesthesia and Anesthesia & Analgesia. She has been a Faculty Senator and is a member of the Faculty EEO Committee. In addition to her many accomplishments at Stony Brook, most notable is her service outside the institution. She serves the community as a Baptist Minister at Faith Baptist Church of Coram and is the Assistant Pastor of the First Presbyterian Church of Southold. Tracie received the Master of Divinity degree in 2010. Congratulations on your promotion!

Linda Cimino, Ed.D., M.S.,

Dr. Linda Cimino has been promoted to Associate Professor of Clinical Anesthesiology. Linda is a Nurse Practitioner in Child and Adult Health a Kirkpatrick Certified Professional, and Certified Healthcare Simulation Educator. Her Doctorate is in Educational Leadership, Administration and Technology. She joined the Department of Anesthesiology in 2001 and holds joint appointments in Pharmacological Sciences, Clinical Health Sciences and Nursing. Linda served on the inaugural editorial board of the Journal of Simulation in Healthcare and reviewed simulation grant proposals for the AHRQ and continues to serve the Journal as a manuscript reviewer. She is a member of the Education Committee of the Society for Simulation in Healthcare. Dr. Cimino is an inaugural member of SUNY Stony Brook's Academy of Clinical Educators and Scholars (ACES). Congratulations on your promotion!
Dr.

Monty Mythen

, Smiths Medical Professor of Anaesthesia and Critical Care at the University College London Hospitals, will be our visiting professor on October 13-14. Prof. Mythen completed his anaesthesia fellowship (FRCA) in the UK in 1990. He obtained his MD in 1995 and served as assistant professor at Duke University Medical Centre before returning to the UK. His wide range of research interests including: peri-operative fluid management and trans-esophageal Doppler, hemostasis in the critically ill, endotoxin and endotoxin immunity and the determinants of post-operative morbidity and mortality. He has published over 160 peer-reviewed articles and serves on several editorial boards of anesthetic and critical care journals. He recently was project leader for the "Caudwell Xtreme Everest" project, spending three months at The Smiths Medical High altitude laboratory, Namche, Nepal (3,500 m).

Professor Mythen will speak to the Residents at 5:00 PM on Oct 13 on "Perioperative Fluid Management for Enhanced Surgical Recovery". He will present his Grand Rounds talk, "Results and Lessons from the Widespread Adoption of Enhanced Surgical Recovery in the English NHS" at 7:00 AM on Oct 14.




Photo credit
Department members will be making 29 presentations and moderate an abstract session at the annual meeting of the
American Society of Anesthesiologists
. The meeting will be held in San Diego from October 24-28. A
meeting itinerary
can be viewed and downloaded at the
Department of Anesthesiology website.
(Its on the Quick Links menu found on every webpage).
Please visit our Presenters while you are at the ASA meeting. And, don't forget to take photos of department members standing in front of posters! We can use these in November's issue of
SleepTalker
, on our website and in the library display case.
Medically Challenging Cases
• Alanes MY, Lagade M, Izrailtyan I. Awareness of the Anesthesia Team Helps an Early Diagnosis of Iatrogenic Bladder Perforation During TURP Procedure
• Costa AC, Park S. Alternative to Regional and Endotracheal Intubation in a Patient With Poor Respiratory Mechanics
• Evans BM, Izrailtyan I, Bilfinger T, Tassiopoulos A. A Novel Approach to Type B Endovascular Aortic Aneurysm Repair
• Evans BM, Rogenbogen E, Chen S. Blunt Force Trauma Leads to a Retropharyngeal Abscess in a Pediatric Patient
• Giordano M, Enyinna C, Steinberg E, Abola R. Anesthesia for Craniotomy and Meningioma Resection in the 25-Week Pregnant Patient
• Giordano M, Evans B, Abola R, Schabel J. Cesarean Delivery in a Parturient With Arrhythmogenic Right Ventricular Dysplasia
• Hasan A, Reduque L. The Elective Subclavian Mass Removal That Went Wrong
• Hasan A, Vasquez-Colon C. A Baby Within a Baby: The Teratoma That Grew Like a Monster
• Licata S, Taylor J, Fernandez H, Izrailtyan I. Use of 3D-TEE and Cerebral Oximetry Monitor in Optimizing Complex Redo Ascending Aorta Repair
• Llenes R, Fradlis A, Lagade M, Izrailtyan I. Use of Transesophageal Echocardiography During Radical Nephrectomy for Invasive Renal Cell Carcinoma, Complicated by Severe Protamine-induced Allergic Response
• Llenes R, McLarty, Gupta S, Izrailtyan I. Clipping Of The Left Atrial Appendage During Thoracotomy Enhanced By Intraoperative TEE Imaging
• Nunziata RL, Beg T, Abola R. The Case of an Eclamptic 19-Year-Old 34-Week Gestation Woman and Discussion of Systems Based Improvement of the Maternal Mortality Rate
• Pak A, Abrahams E, Adsumelli R. An Urgent Cesarean Section Complicated by Maternal Noonan Syndrome
• Pak A, Oleszak S, Gupta S. An Interesting Case of Postoperative SVC Obstruction After Cardiac Surgery
• Pak A, Oleszak S, McLarty A. BiVAD in the Setting of Multi-organ Failure Complicated by Multiple Thrombi
• Pollack J, Abola R, Stuart W, Schabel J. Successful Epidural Anesthesia After Recent Epidural Blood Patch
• Pollack J, Richman D, Jacob Z. Anesthetic Management of a Patient With End Stage Duchennes Muscular Dystrophy for a Palliative Procedure
• Praslick A, Bilfinger TV, Izrailtyan I. The Use of Cerebral Oximetry in the Management of Cerebral Perfusion During Hypothermic Circulatory Arrest for Aortic Arch Repair
• Shah S, Kowal R, Oleszak P, Wloch M. Atrial Myxoma In A Pregnant Patient
• Shah S, Oleszak P, Wloch M, Kowal R. Dextrocardia And Perioperative Considerations
• Shah S, Wloch M, Andraous W. Phrenic Nerve Injury: A Serious Complication of Atrial Fibrillation Cryoablation
Poster Discussion
• Liu L, Ma L, Gao Q, Rebecchi M. Antioxidant-Mediated Activation of Mitophagy Restores Isoflurane Preconditioning in Aging Heart
Posters
• Floyd T, Chen E, Wang Y, Leiton CV, Cutrone M, Conn K, Petrie J, Sheikh J, Cohen B. The Potential Role of Hypoxia and the Hypoxia Inducible Factor in Aging-Related Postoperative Cognitive Dysfunction
• Kertai MD, Liu W-W, White WD, Gan TJ, Fontes M. Pulse Pressure and Postoperative Acute Kidney Injury After Noncardiac Surgery
Panels
• Gan TJ. Enhanced Recovery After Surgery- A Look Into The Future of Perioperative Care
• Gan TJ. Enhanced Recovery Program. Tapping the Low Hanging Fruits to Improve Outcomes
• Bennett-Guerrero E. Age of Blood- Does Younger Blood Really Matter?
Workshop
• Stellaccio FS. Difficult Airway Workshop with Simulation
Refresher Course
• Gan TJ. Enhanced Recovery for the Ambulatory Patients
Abstract Moderator
• Gan TJ. Outcomes and Database Research Abstracts
| | |
| --- | --- |
| There was a farewell luncheon for Dr. Shruti Kapoor who is leaving the department and relocating to Columbus, Ohio. At the luncheon, Dr. Kenneth Rosenfeld spoke of her dedication to the clinical and teaching missions of the department. Dr. Kapoor wrote, "I have tremendously enjoyed working here, and I appreciate having had this wonderful opportunity to work with you all. During these last three years, you have all provided me support, guidance, and encouragement. I have learnt so much from you, and with you. With many of you, I have shared a unique camaraderie which I hope will continue in the years to come even though I shall not be here at Stony Brook." | |
John Fallon, CRNA

In March of 2005 I received a call from Walter Schiff. At the time he and his wife, Paulette were happily residing in Phoenix, Arizona, and Walter was working at the Maricopa Medical Center. Walter and Paulette were visiting her mother on Long Island and after seeing our ad for a CRNA position at Stony Brook in Gas Works, he told me that he thought he would " Maybe just take a look, can't hurt". During his interview, I felt he really had no intention of leaving Phoenix. Well, he looked. We liked him and he liked us, and we got him (Paulette may have had something to do with that decision). Anyway, Walter spent the next 10 years with us. Last Tuesday in Endoscopy, Walter administered his last anesthetic. This was more than 40 years after he administered his first in 1974. Walter has had a long and productive career and we were blessed with his presence as a coworker and friend. We wish him and Paulette the best of luck and health in his retirement.
Anesthesia Technician Jaclyn Milazzo, was commended for "exceptional dedication" by Dr. Jeremy Poppers. At the conclusion of a case a few weeks ago, they had to transport an ortho-trauma patient (intubated) to CT before bringing the patient back to the SICU on 18. "Not only did Jackie happily assist me with the transport, she was a vital member to this process, demonstrating extreme dedication and caring for the patient throughout. Jackie impressed me with her attention to detail and proaction: she asked me if a ventilator was available in the CT suite, she helped me set up all the lines during transport, she ventilated the patient throughout our travels and she insisted on staying with the patient when she could have returned back to the ORs because she identified that this patient 'is more important right now'".

Drs.

Deborah Richman

and

Peter Oleszak

recently received praise from a patient; this was then mentioned in

Dr. Reuven Pasternak's CEO Blog

. The patient had severe hypoplasia of the mandible and a very small opening of the mouth and throat. She was concerned that this would interfere with intubation. "Dr. Richman examined me and assured me ... that special attention to my issue would be given top priority. I left her office feeling I was in good hands." The patient then met with Dr. Oleszak who "sat with me to explain what he would be doing and that he was aware of my problem. He examined me and took great care in the OR to explain once again that he would take special precautions and care with me." The patient wrote "I cannot stress enough how impressed and grateful I am with the quality of doctors who cared for me."

Dr. T. J. Gan received a handwritten note from a patient recently. The patient was undergoing her first surgery ever and was quite nervous. She wrote "I will remember you forever as caring, kind and patient doctor. I was afraid that I would not be able to wake up. But your words 'I will wake you up' are all I needed to hear. I woke up!!! I do not know how to express my gratitude and thankfulness to you."
Kogler AS, Bilfinger TV, Galler RM, Mesquita RC, Cutrone M, Schenkel SS, Yodh AG, Floyd TF. Fiber-optic Monitoring of Spinal Cord Hemodynamics in Experimental Aortic Occlusion.

Anesthesiology. 2015 Sep 29


Figure from Kogler et al., 2015
Ursula Landman

The Stony Brook Medical Student Anesthesia Interest Group met on September 16. Co-presidents Isaac Yeung, Tyler Jones, Fred Cohen and Faraz Khan are excited for the upcoming year. I spoke to the group of about 50 students about anesthesia in general. I also discussed private practice vs academic medicine. I made them aware of opportunities for students including the FAER Summer Fellowship, shadowing and the externship program in our department. On September 1, I spoke to the NYIT-COM Medical Student Anesthesia Interest Group. Nearly 100 students attended. The leaders of this group are President: Anthony Esposito, Vice President: Sheena Mago, Secretary: Yevgeniya Borovinskaya, Treasurer: Liana Tatarian, Second Year Representative: Neeraj Suryanarayanan and First Year Representative: Sal Intagliata. Some of you may remember Sal as an anesthesia tech in our department; he is doing very well at NYIT-COM. Sheena Mago is well known to Drs. Mario Rebecchi and Jim Dilger. While she was an undergraduate at Stony Brook, Sheena did a research project in their lab (and won an award at the 2014 Academic Research Evening). Both Interest Groups are looking forward to an informative year.
"Gibbous Moon 2012" by Saikat Chakraborty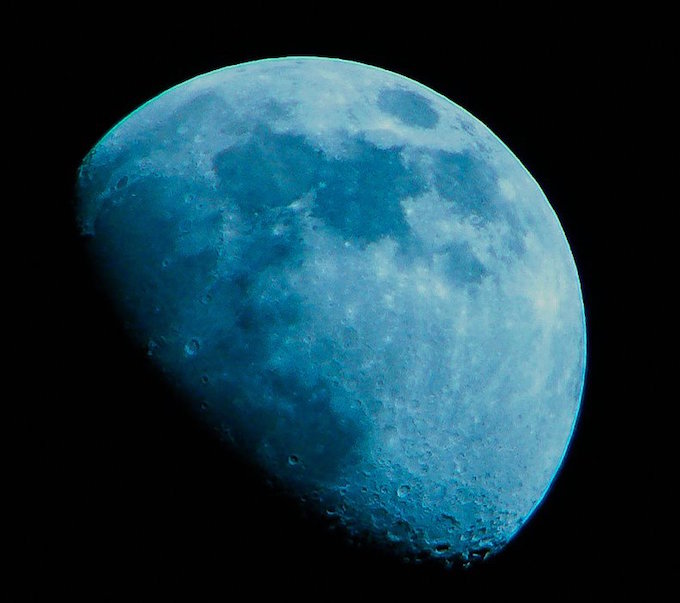 Jim Dilger

Jean Abbott's sunflowers photo (right) from last month depicts a sculpture at the entrance to the Cancer Center. The description in the lobby reads: "Local artist Cruz created the sculpture and donated it to Stony Brook Medicine in honor of the care his wife, Patricia Hill Cruz, received as a patient. Constructed from the metal of a 100-year-old plow, it symbolizes hope and new life. The artist designed the sculpture with the intent to convey positive thoughts about life and health for those who visit the Cancer Center. It was unveiled on September 21, 2009, during Ovarian Cancer Awareness Month at a ceremony honoring patients with gynecologic cancer."

It shouldn't be much of a mystery as to where I took this month's photo (below), so I'll just give you the details from the Department of Chemistry's website. In 2012, they thanked the "prominent Long Island artist, Eileen Sanger, Prof. David Hanson, and Mrs. Colleen Hanson for their generous donation of the piece of art entitled

Chemistry Graffiti

for display in our Atrium Lobby."
---
SleepTalker, the Stony Brook Anesthesiology Newsletter is published by the Department of Anesthesiology,
Stony Brook Medicine, Stony Brook, NY.
Tong Joo Gan, M.D., Chairman.
Editorial Board: James P. Dilger, Ph.D., Stephen A. Vitkun, M.D., M.B.A., Ph.D., Marisa Barone-Citrano.
---