| | | |
| --- | --- | --- |
| Volume 32 Number 4 | Stony Brook, NY | < October 2019 > |
| | | |
Dr. Syed Shah Appointed ASC Director
Tong J. (TJ) Gan, MD, MBA, MHS, FRCA and Mark A. Talamini, MD, MBA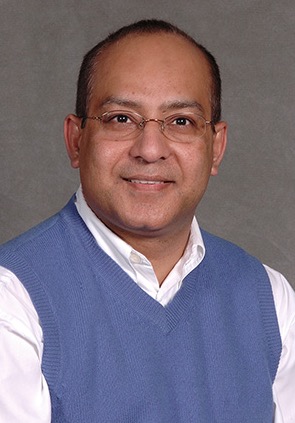 It is our pleasure to announce that effective Sept. 16,
Dr. Syed Shah
will assume the Directorship of the Ambulatory Surgery Center (ASC), replacing
Dr. Barry Florence
, who will be retiring in several months.
Dr. Shah graduated from Dow Medical College, Karachi, Pakistan. He completed his residency in Anesthesiology at New York Medical College, followed by his fellowship in Cardiac Anesthesiology at Stony Brook University Hospital (SBUH). Prior to that, he was a faculty member of the Department of Anesthesiology at Aga Khan University Hospital in Karachi, Pakistan, from 1999 to 2002.
Dr. Shah joined the SBUH faculty in 2002 as a Clinical Assistant Professor of Anesthesiology. He was promoted to Clinical Associate Professor in 2013. In addition to his clinical and educational responsibilities, he has been involved with departmental and hospital administration. He is the Associate Vice Chair for Clinical and Administrative Affairs in the department and has previously served as the Medical Director of the Pre and Post Anesthesia Care Unit. He co-chaired the departmental QA and credentialing committees, was a member of the Hospital QA and credentialing committees as well as the Faculty Senate. As the Associate Medical Director of Operating Rooms since 2010, Dr. Shah has been actively involved with OR management. Dr. Shah has been transitioning to this new role over the past year, increasingly assuming the day-to-day operations over the past several months.

Dr. William Caldwell Appointed Pain Center Director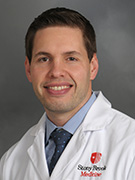 TJ Gan, MD, MBA, MHS, FRCA
Dr. William Caldwell
has been selected as Director of the Stony Brook Center for Pain Management and Chief of the Pain Division in the Department of Anesthesiology. He has been serving in an Interim capacity since April 2019.
Dr. Caldwell completed his residency in anesthesiology at Montefiore Hospital, where he was chief resident. He also completed the Weill Cornell Tri-Institutional Pain Fellowship (Memorial Sloan Kettering, Hospital for Special Surgery, and New York Presbyterian Hospital) where he was awarded Fellow of the Year.
Dr. Caldwell came to Stony Brook in 2017. He previously worked as an anesthesiologist and interventional pain physician at Montefiore Hospital. Since joining Stony Brook, he has developed a thriving clinical practice and acted as the primary educational leader for the pain medicine division. His goals are to establish a premier academic pain medicine program, as well as developing the Center for Pain Management as the best program serving the population of Suffolk County and beyond. He leads a multidisciplinary team comprised of three other ACGME fellowship trained pain physicians, a psychologist and nurse practitioners, providing cutting-edge technology in pain management.
Dr. Caldwell has a special interest in minimally invasive interventional techniques, including the use of spinal cord stimulation and dorsal root ganglion stimulation for chronic pain syndromes. He is one of a very few physicians trained and proficient in the Intracept procedure for vertebrogenic back pain. Dr. Caldwell uses these and other interventional techniques to minimize the use of medication therapies.
Please join me in welcoming Dr. Caldwell in this new role.

Wed. Oct 2.
Dr. Leif Ericksen
will present his Senior Grand Rounds at 7:00 am in LH5.
Wed. Oct 9. Our annual ASA Presentation Grand Rounds features
Drs. Leif Ericksen, Ehab Al Bizri, Shuran Ma
, and
Richard Tenure
. 7:00 am in LH5.
Tue. Oct 15.
Dr. Michelino Puopolo
will present a research discussion on "SCI-induced hyperexcitability of nociceptors" at 4:00 pm in the Anesthesiology Library.
Wed, Oct 23.
Dr. Manuel Lee
will present his Senior Grand Rounds at 7:00 am in LH5.
Tue, Oct 29.
Drs. Shuran Ma
and
Usama Siddique
will present at Journal Club. 6:00 pm at Curry Club.
Wed, Oct 30.
Dr. Rishi Adsumelli
will chair the QA Committee meeting at 7:00 am in LH5.

STARS: STaff Appreciation and Recognition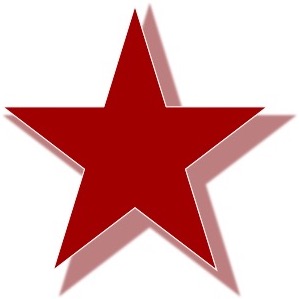 Dr. Jun Lin received this note from Tara Huston, MD, Associate Professor of Surgery and Dermatology
This message is to commend
Lauren Logue, CRNA
. She was with myself and Drs. Bui and O'Hea all day yesterday for a 12 hour free tissue transfer case. Her professionalism, demeanor, efficiency and team spirit were phenomenal. Most days in the OR are good ones, however yesterday was just outstanding. It was capped off by one of the smoothest and most comfortable emergence/extubations I have ever seen. Kudos to you and CRNA Logue for a great day! My patient was incredibly appreciative and so was I. Thank you.

Dr. TJ Gan received this note from a grateful patient
I was referred to Dr. Roger Fan by my cardiologist Dr. Mann for elective cardioversion. My appointment was at 6:30 this morning. I was ushered into my room at 6:20 and was prepped and ready to proceed. It was a busy morning for the staff as they had over 40 cases. The team, headed by Dr. Fan was superb. My nurse, Sandy was caring and very thorough in her history and assessment. Nurse Marreianne Bowers explained the procedure in detail and returned several times to update me on when we were going to start and kept my wife informed as well. The anesthesiology team,
Dr. Renata Kowal
and
CRNA Melissa Day
were outstanding as well and made sure I was comfortable.
While it is fashionable nowadays to be critical of things, it is at least as important to complement and encourage those that do their jobs with empathy and precision. Thank you so much for having such a superb team of clinicians.

Melissa A. Day, MS, CRNA, CCRN
Josette Douglas
, Anesthesia Technician in the Endoscopy unit has been recognized by multiple staff members for modeling the iCare core values of Integrity, Compassion, Accountability, Respect and Excellence in the Endoscopy Unit. Josette has also been recognized by
Dr. TJ Gan
, Chairman, Anesthesia Department and
Dr. Tazeen Beg
, Division Chief, Non Operating Room Anesthesia. Josette has been with Stony Brook Medicine since October 2004 where she has worked as an Endoscopy Technician and Clinical Assistant. She was a Clinical Assistant in the Psychiatric unit and the main operating room prior to her Anesthesia Technician position. Josette has been the sole Anesthesia Technician in the Endoscopy unit since February 2017, where she manages 6 rooms in the fast paced environment that can have 40-70 cases/day. She ensures supplies are present for Providers, assists during general and complex interventional cases and is present and available to assist Providers during emergence and with turnover of the room.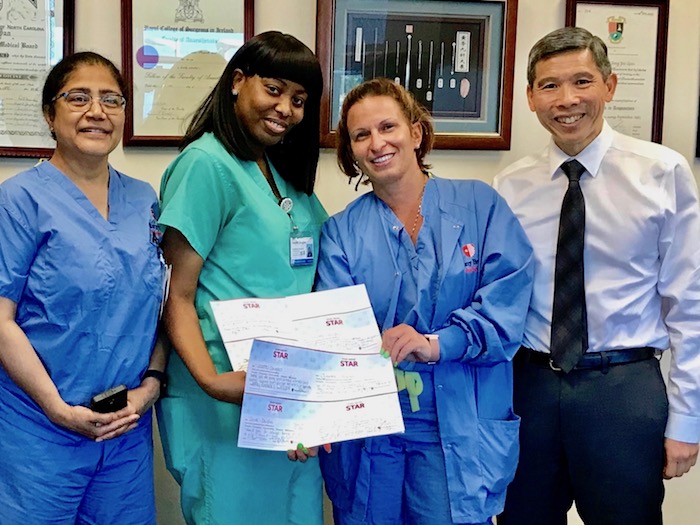 Here are some quotes mentioned on Josette's SB STAR Cards:
"Appreciated by many for being a hard worker and always helping out" "She's the best"
"Willingness to help and always has a smile on her face"
"Thank-you for always being prepared to help and keeping the unit running smoothly"
"Thank-you for being indispensable, always willing to help everyone. Her kindness, professionalism, positive attitude are a few of her many assets"
"Josette is always around helping out, anticipating what is needed in difficult cases and delivers compassionate care to our patients"
Thank-you Josette for your hard work, dedication and work ethic in the Endoscopy Unit!!! You are appreciated by many for all you do!!!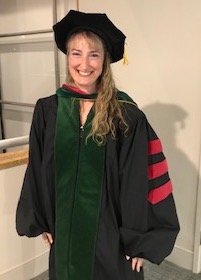 Ursula Landman, DO
was elected to the Board of Governors at the American Osteopathic College of Anesthesiologists 67th Annual meeting in Philadelphia. She is excited to work with the Board on membership issues and strategic planning for the national organization. Congratulations!



CA-3 Resident Spotlight!
Meet Dr. Ehab Al Bizri!
Ramanjot S. Kang, MD

Can you tell us a little about your background?
I was born and raised in Damascus, Syria. I received my MD from the University of Aleppo in Syria. I have been in the US since 2014.
What attracted you to anesthesiology?
Upon my arrival to the US, I was privileged to meet some nice anesthesiologists from Stony Brook where I had a great time helping them in clinical and basic science research.
How did you come to be a resident at Stony Brook (Why SB)?
It was fun working with Stony Brook faculty in research. I have always felt at home here and I have always dreamed of being a Stony Brook resident.
What do you like most about being a resident?
Stony Brook attendings and residents are always available to help you
What do you like least about being a resident?
Missing Real Madrid soccer games while I'm in the OR.
What pearls of wisdom would you like to share with your fellow junior residents to help them succeed in their time here and future careers?
Try to learn something new everyday so you have all these things ready to help you on a difficult day.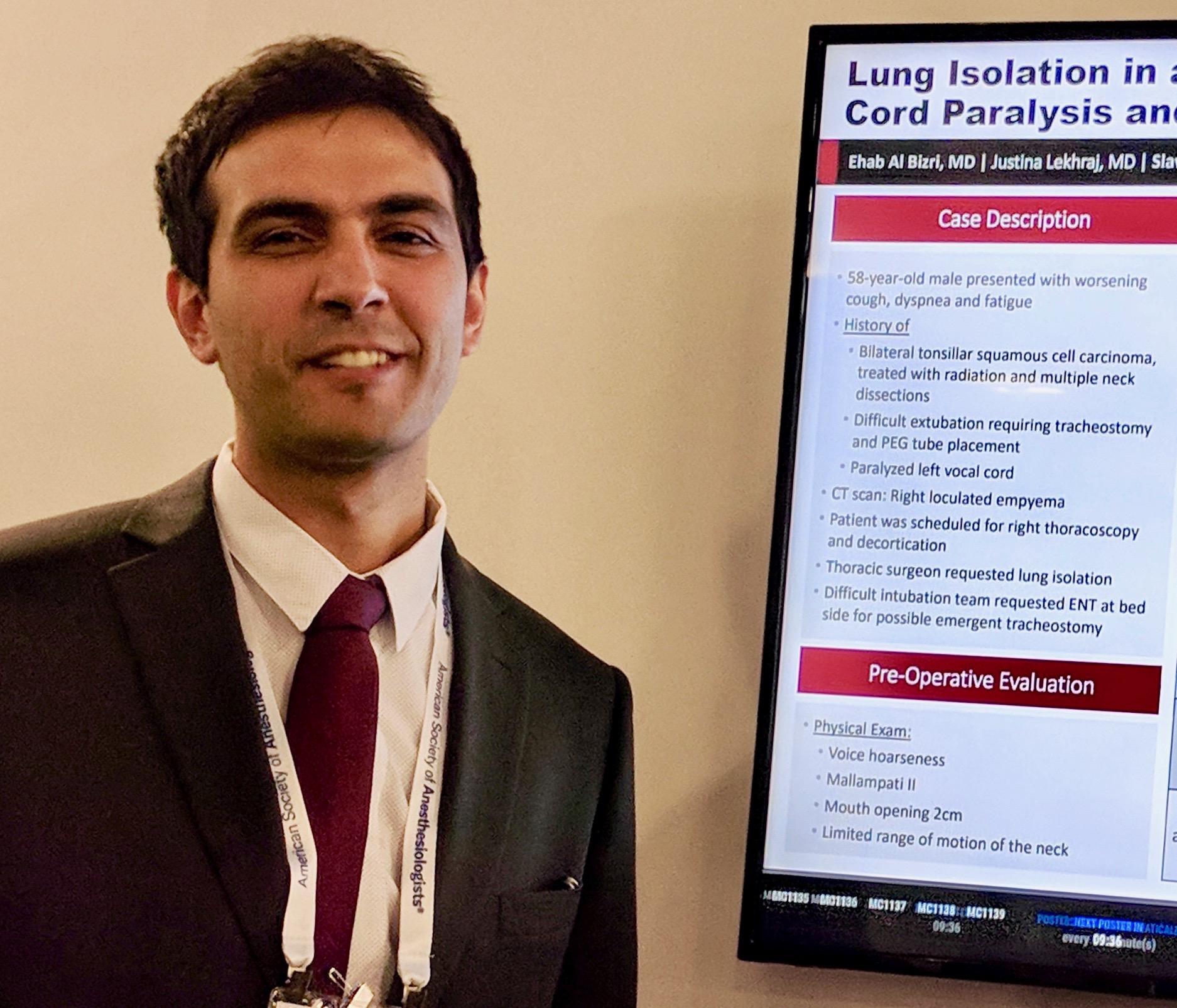 So what's the next step (academic attending, private practice, research) you will be taking as you transition from the role of a resident to attending next summer?
I'm applying for pediatric fellowship in the northeast. I'm still waiting for my match result. Inshallah I can go from there to an academic position.
As you're soon to enter the real world of anesthesiology, what do you find most daunting?
I don't know! Since I came to US, it's been an easy path, thanks to the great people I've met. I hope it continues this way.
If you could do it all over again (become a doctor), would you? Why or why not, and what would you have done differently?
Yes sure. Coming from another country where anesthesia is not very popular, my path has lead me to anesthesia which I feel now that it's the perfect choice for me.
If you hadn't chosen to go into medicine, what career path might you have followed?
I guess I would be doing volleyball blocks instead of nerve blocks! I used to play professionally back in Syria. I play beach volleyball here in Long Island which is a lot of fun too.
What has been your favorite residency memory of your 4 years here at Stony Brook?
Our trip to Thailand is probably the best vacation I have ever had. I'm so grateful for this group of friends.
When you aren't running around the hospital saving lives, how do you like to spend your free time?
I love sports in general. Either playing volleyball or basketball, or watching European soccer games, especially the kings of Europe, Real Madrid.

What do you like the most (and least) about living on Long Island?
The most - My family and friends live here.
The least - It's a little far from shawarma restaurants in Brooklyn and the city.
What is your favorite type of food?
I love Arabic food in general, and my favorite dish is Mloukhyia.
What's your favorite restaurant in LI/NYC?
Au Za'atar! It's my friend's shawarma restaurant in the City. You get your own rotating shawarma spit on your table and you get to slice your own shawarma!
Where would you love to travel to next and why?
Madrid, Spain. I'd love to see my favorite soccer team, Real Madrid, play live.
What's your favorite Tourist Activity in LI/NYC?
Broadway! I have always liked The Phantom of the Opera soundtrack. It was an amazing experience to see that live. I loved it!
Describe yourself in three words:
Happy, Lucky, Optimistic
Who is your role model and why?
Joseph - From the pit, to the prison, to the palace.
If you could make one wish, what would it be?
To find a tall wife!
If you could eat lunch with one person (fictional/alive/dead/etc), who would it be?
David Beckham! The coolest man alive.
What are you looking forward to doing once you start receiving "attending" salary?
Travel first class! I can't wait to get the extra leg room.

Joseph Gnolfo III, DNP, MS, ACNP, CRNA
This year Stony Brook Anesthesia expanded its brand recognition by attending the American Association of Nurse Anesthetist Annual Congress. The venue had hosted nearly 3000 CRNAs and SRNAs and generated some valued leads to expand our group's team of highly skilled and dedicated CRNAs. Thank you to
Elvin Aguilar
and
Anna Buono
for stopping by the booth to help out!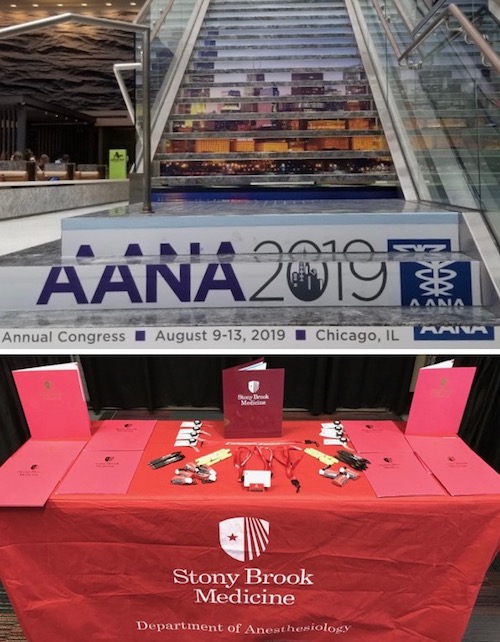 Stony Brook Anesthesiology at the ASA Meeting
Featured Abstracts
•
Bergese SD
, Uribe AA, Bichajian LH, Ashburn C, Fox GM, Habib AS. Amisulpride is Effective for Rescue of Ambulatory Patients with Postoperative Nausea and Vomiting.
•
Moller D, Romeiser J
, Wu AR, Cannizzo J,
Bennett-Guerrero E
. Heart Rate Variability During Surgery: What Changes are Observed During Incision and Opioid Administration?
•
Romeiser J, Abola RE, Cavalcante J, Steinberg E, Gan TJ, Bennett-Guerrero E
. Feasibility of Collecting Patient Reported Outcomes Using Web-based Methods in Labor and Delivery Patients.
Abstracts
• Uribe A, Dimitrova GT, Krouch S, Todeschini AB, Stoicea N, Munlemvo DM, Abdel-Rasoul M,
Bergese S
. The Effect of Thromboelastometry (ROTEM) in Patients Undergoing Complex Spine Surgeries.
•
Singh S
, Liverpool AM,
Romeiser J
, Thacker J,
Gan TJ
,
Bennett-Guerrero E
. A U.S. Survey of Preoperative Carbohydrate Beverage Use in Colorectal Enhanced Recovery after Surgery Programs.
•
Ericksen WL
, Eng M,
Kim ES
, Nie L, Levy JH, Senzel L,
Bennett-Guerrero E
. Comparison of Thrombin Generation in Cardiac Versus Non-cardiac Surgical Patients.
• Fiorda-Diaz J, Gutierrez AE, Uribe AA, Abdel-Rasoul M, Dada OF, Heard JA,
Bergese SD
. Sugammadex Versus Neostigmine for Neuromuscular Blockade Reversal after Outpatient Laparoscopic Surgery.
•
Romeiser J
, Cavalcante J,
Richman DC
,
Gan TJ
,
Bennett-Guerrero E
. Feasibility of Collecting Perioperative Patient Reported Outcomes Using Web-based Methods in ERAS Patients.
•
Izrailtyan I
,
Poppers J
,
Kowal R
,
Zabirowicz E
, Nie L,
Gan TJ
,
Bennett-Guerrero E
. Development and Preliminary Experience with a Novel Quality Improvement Program for Intraoperative Tee.
• Brzezinski M, Hammer GB,
Bergese SD
, Pan PH, Michalsky C, Cochrane K, Wase L, Habib AS. Low Incidence of Opioid-induced Respiratory Depression Observed with Oliceridine Regardless of Age or Body Mass Index.
•
Bergese S
, Berkowitz RD, Ladouceur M, Cochrane K, Wase L, Rider P, Habib A. Lower Incidence of Postoperative Opioid-induced Respiratory Depression with Oliceridine Compared to Morphine: A Retrospective Analysis.
• Saager L, Jiang W, Khanna A,
Bergese S
, Morimatsu H, Uezono S, Ti LK, Soto R, Buhre W. Respiratory Depression on General Care Floors Increases Cost of Care: Results from the Prodigy Trial.
•
Singh S
, Liverpool AM,
Romeiser J
, Thacker J,
Gan TJ
,
Bennett-Guerrero E
. Types of Surgical Patients Enrolled in Enhanced Recovery after Surgery Programs in the U.S.
•
Gupta R
,
Rizwan S
,
Romeiser J
,
Abola RE
,
Probst S
,
Gan TJ
. Effect of Deep Versus Moderate Neuromuscular Blockade on Peak Airway Pressures in Patients Undergoing Laparoscopic Surgery.
•
Mitchell D
, Dhautal B, Holecek W,
Romeiser J
,
Poppers JS
, Bilfinger T, Parikh PB,
Bennett-Guerrero E
. Low Diastolic Blood Pressure and Aortic Insufficiency after Transcatheter Aortic Valve Replacement.
•
Gan TJ
, Wahlert A, Fox G. Intravenous Amisulpride has a Favorable Safety Profile in the Management of Postoperative Nausea and Vomiting.
• Uribe A, Todeschini AB, Fiorda-Diaz J, Echeverria-Villalobos M, Stoicea N, Viljoen S, Grossbach A, Ongaigui C, Abdel-Rasoul M,
Bergese SD
. Efficacy and Safety of Intravenous Tranexamic Acid in Multilevel Thoracic and Lumbar Spine Surgeries.
Medically Challenging Cases
•
Wetcher A
,
Yau G
, Wang K,
Steinberg E
,
Schabel J
. Anesthetic Management Of A Parturient With A Hypoplastic Right Ventricle.
• Shuminov O,
Shuminov R
, Pedoto A. Erector Spinae Plane Catheter (esp-c) For Unplanned Open Lung Resection: A Case Series Of Two Patients With Contraindications For Neuraxial Blockade.
•
Chojnowski R
,
Poppers JS
,
Atkinson DJ
. Neuraxial Anesthesia And Epoprostenol Via Bipap For Revision Right Hip Arthroplasty Complicated By Pulmonary Hypertension.
•
Al Bizri E
,
Mitchell D
,
Caldwell W
. Pediatric Amplified Musculoskeletal Pain Syndrome (amps) And Calmare® Scrambler Therapy - A Case Series.
•
Brar C
,
Andraous WF
. Ludwig's Angina Complications and Difficult Airway Algorithm Application to an Emergency Case.
•
McManus M
,
Caldwell W
. Ultrasound Guided Stellate Ganglion Block for a Fully Anticoagulated Patient in Refractory Ventricular Tachycardia Failing Conservative Medical Therapy.
•
Mouch C
,
Caldwell W
. Diagnostic Pseudofacet Block In Collegiate Athlete With Bertolotti Syndrome.
• Zaidi D,
Shim HB
, Shekane P. Intractable Ischemic Limb Pain Treated With Sympathetic Block.
•
Ma S
,
Adrahtas D
,
Oleszak SP
. Anesthesia Considerations for a 70 Year Old Male with Relapsing Polychondritis Involving the Airway for Elective Inguinal Hernia Repair.
•
Shah R
,
Na Javeed S
,
Abola RE
. Anesthesia For Cesarean Section In Parturient With Pulmonary Hypertension And End Stage Renal Disease.
•
Mitchell D
,
Gupta R
. A Case Report Of A Prolonged Spinal Following Routine Administration Of Intrathecal Bupivicaine.
•
Tenure R
,
Kim ES
, McLarty A,
Poppers JS
. Apparent Iatrogenic Pulmonary Hypertension In A Patient With An Impella And Va Ecmo.
•
Ma S
,
Costa AC
,
Al Bizri E
. 49 Year Old Female With Blue Discoloration Of Limb After Indigo Carmine Administration.
•
Siddique U
, Stemke L,
Azim SA
. Intraoperative Massive Pulmonary Embolism Causing Bradyasystolic Arrest During Spinal Surgery.
•
Pasiliao J
,
Yau G
,
Andraous WF
, Stemke L. Intrathecal Pump Replacement Under Transverse Abdominis Plane Block.
Session: Team-based Perioperative Coordinated Care
•
Gan TJ
. Enhanced Recovery Strategy - Principles, Practice and Implementation.
Point-Counterpoint
•
Gan TJ
. CON: MIPS Reporting Adversely Impacts Quality of Care.
Panel
•
Gan TJ
. The Role of Processed EEG in Ambulatory Patients.

Stony Brook Anesthesiology at the SFN Meeting

Abstracts
•
Puopolo M, Liu H, Lauzadis J
. Contribution of hypothalamic A11 dopaminergic neurons to pain modulation in the dorsal horn of the spinal cord.
•
Amelchenko EM
, Smagin D, Shuvaev S, Umadevi Venkataraju K, Osten P, Kudryavtseva N, Koulakov A,
Enikolopov GN
. Probing the neuronal circuitry of social hierarchy.
•
Lazutkin A
, Shuvaev S, Kiryanov R, Doronin I, Anokhin K, Koulakov A,
Enikolopov GN
. Pseudo-4D visualization and analysis of cell division and migration in the whole brain.
• Hiramoto T, Boku S, Kang G, Abe S, Nagashima M, Gordan R, O'Broin P, Ye K, Michurin TV,
Enikolopov GN
, Hiroi N. Tbx1, a 22q11.2 cnv-encoded gene, in neonatal progenitor cells determines the postnatal development of affiliative social behaviors.
•
Shih M-FM
, Hige T, Turner GC,
Dubnau JT
. Single-cell RNA-seq identifies differential expression in response to memory formation in Drosophila.

Srinivas Pentyala, PhD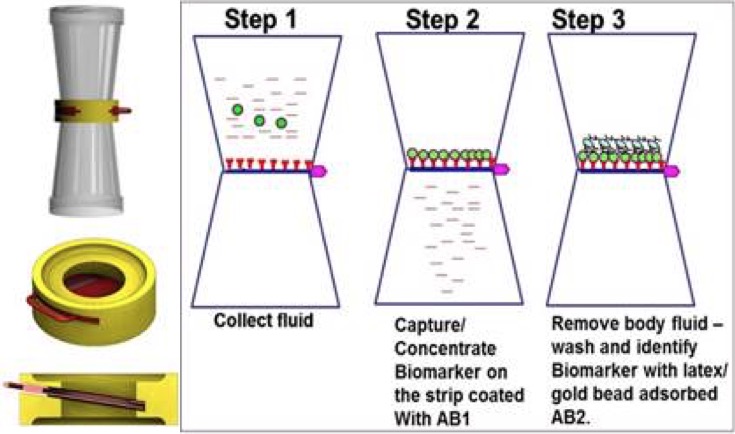 Stony Brook University OTLIR filed a utility patent on "Rapid Trace Biomarker Detection Device" recently. I and my daughter
Sahana Pentyala
are the inventors of this technology. Sahana came up with the initial idea and I helped her to modify, develop and validate this novel technology in our department labs. (
Dr. James Dilger
served as an advisor for this project during the developmental stage). There are no rapid point-of-care devices or methods to identify trace biomarkers in large volumes of samples. Although diagnostic strips and lateral flow devices are available to identify different diseases and conditions, they are limited in their ability to detect markers beyond a specific concentration. Moreover, they have limitations related to the collection and application of sample. The advantages of our design for a rapid trace marker detection device include the ability to collect large volumes of sample, and to trap and detect trace markers. Our device is cost-effective in that it is a multiplex and multi-use device. This device will/can replace many of the normal collection devices like urine /blood/plasma collection tubes and containers. The device will be able to identify, capture and concentrate the specific marker that is to be tested in a rapid fashion at bedside. The device can be used in several settings where urine, blood and other large volumes of samples are collected for analysis of markers, analytes and even substances of abuse and environmental contaminants. As such, this innovative device will be of immense commercial value to health care, diagnostics and analytical industries. My lab is currently working on developing this device to detect diabetic nephropathy bedside.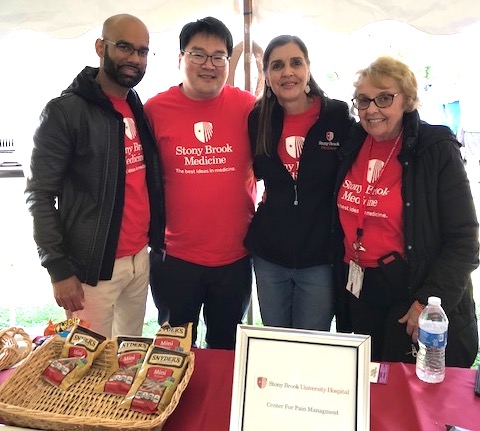 Sheila Papike, Practice Manager of the Pain Center
The Pain Center was a sponsor at the CRPS Walk on September 7 at EIsenhower Park in East Meadow. The walk organized to raise awareness about Complex Regional Pain Syndrome.
Newday published an article about CRPS and the Walk
. They quoted
Dr. William Caldwell
, Director of the Stony Brook Center for Pain Management and Chief of the Pain Division in the Department of Anesthesiology.

Medical Student Anesthesia Groups

Ursula Landman, DO

The Anesthesia Interest Group at Stony Brook met on September 3 and the Anesthesia Interest Group at NYIT-COM met on September 9. Both meetings were well attended. I spoke to both groups to introduce Anesthesiology as a specialty. The students had many great questions and are looking forward to the year ahead. If you are interested in speaking to either group of students please let me know. Interest in anesthesia is booming lately!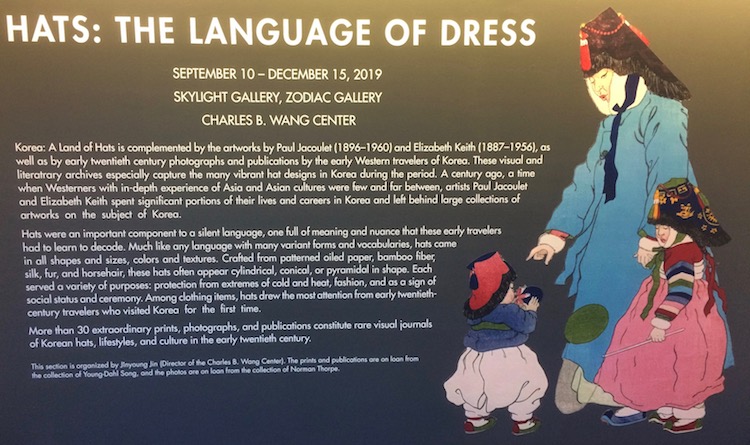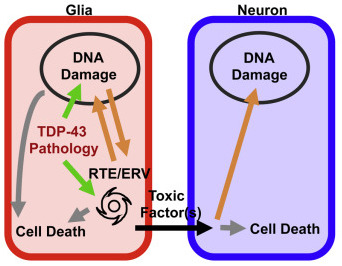 Monthly Muscle Chillaxant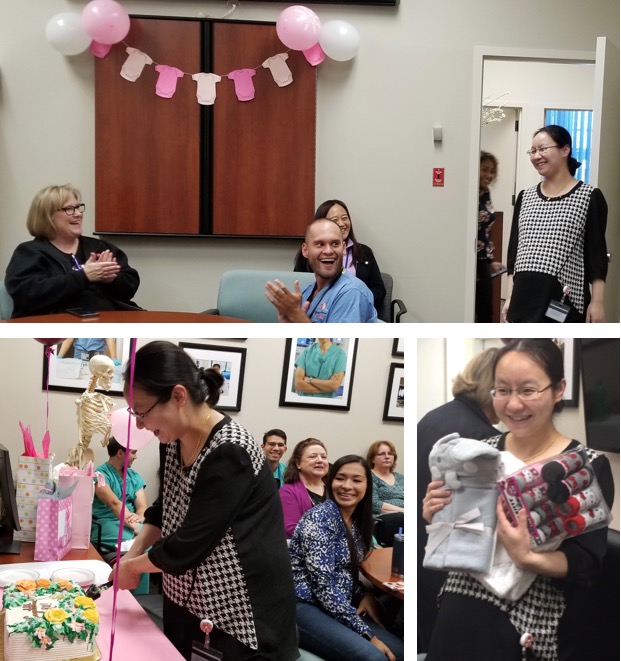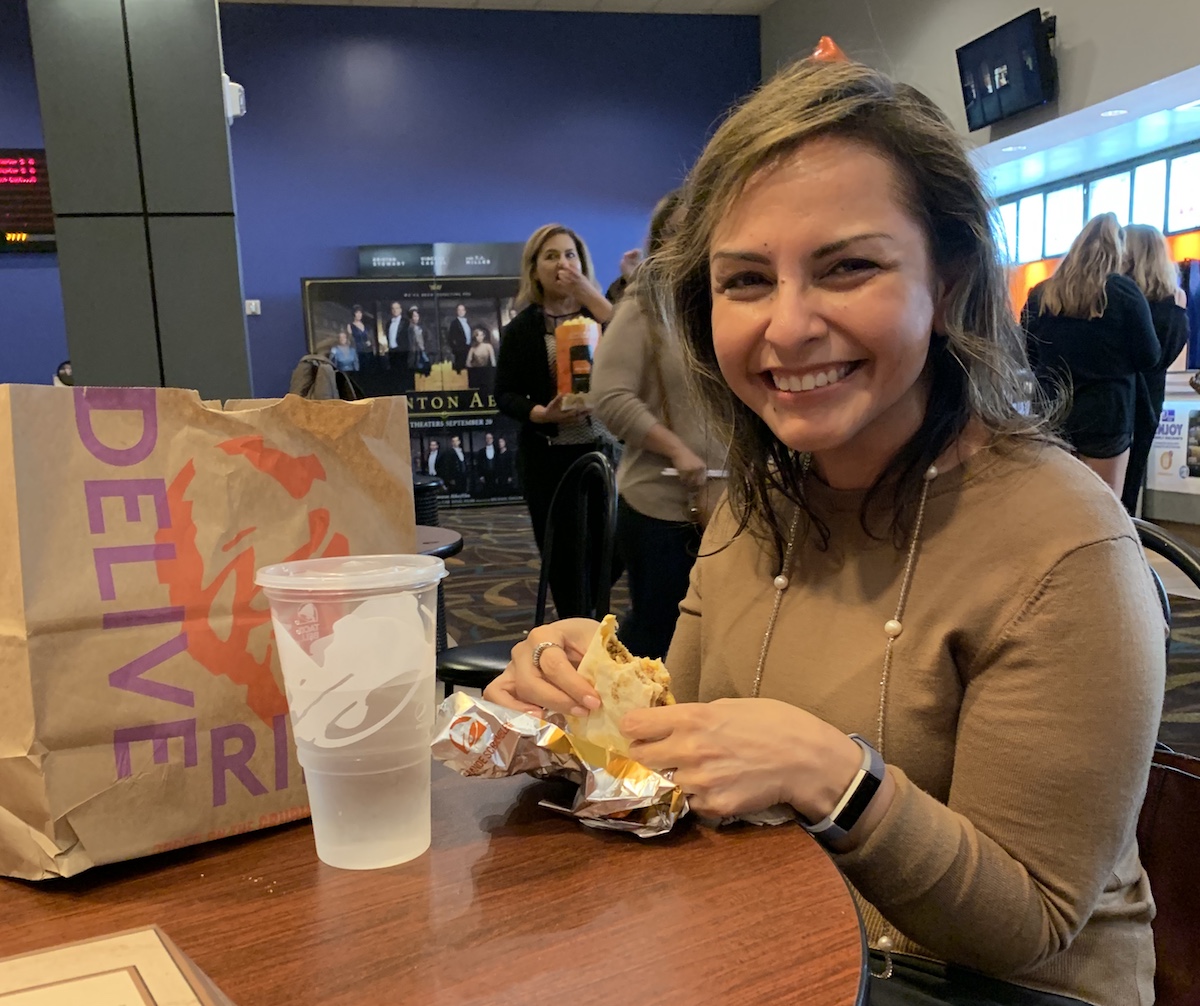 SleepTalker, the Stony Brook Anesthesiology Newsletter is published by the Department of Anesthesiology
Stony Brook Medicine, Stony Brook, NY
Tong Joo Gan, M.D., MHS, FRCA, MBA, Chairman
Editorial Board: James P. Dilger, Ph.D.; Stephen A. Vitkun, M.D., M.B.A., Ph.D.; Marisa Barone-Citrano, M.A.; Ramanjot S. Kang, M.D.