Volume 26 Number 3
Stony Brook, NY

<

September 2016

>
We are delighted to welcome
Anthony J. (Tony) Senagore, MD, MS, MBA
as our visiting professor for September. Dr. Senagore is from the University of Texas Medical Branch at Galveston where he wears many hats including: Professor and Vice Chair for Clinical Operations; Chief of GI & Oncologic Surgery; Co-Director of the Department of Surgery Clinical Outcomes Research Program.
Dr. Senagore earned his M.S. degree in Physiology from Michigan State University (MSU) and subsequently completed an M.D. degree at the same institution. He performed his surgical residency at Butterworth Hospital (MSU, Grand Rapids). This was followed by both a Clinical Fellowship in Colon and Rectal Surgery and a Research Fellowship (MSU, Grand Rapids and East Lansing). Dr. Senagore is board certified in general surgery and colon and rectal surgery. He is a fellow in the American College of Surgeons and the American Society of Colon and Rectal Surgeons.
Dr. Senagor's research interests include: improving outcomes and cost-effectiveness of colorectal surgery; comparison of surgical techniques for colon resection; and enhanced recovery. He has lectured on various topics related to colon and rectal surgery, edited 5 textbooks in colon and rectal surgery, authored nearly 200 peer-reviewed publications and 15 textbook chapters.
On September 14, Dr. Senagor will present his seminar to a joint meeting of the Departments of Anesthesiology and Surgery: "Enhanced Recovery After Surgery (ERAS)".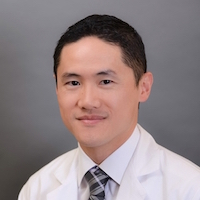 After a brief hiatus in Maryland, Dr. Steve Chen has returned to his Long Island and Stony Brook roots! Steve did his undergraduate studies in Chemistry at St. John's University in Jamaica, NY. He attended St. George's University Medical School and received his MD in 2005. This was followed by an internship in Internal Medicine at Flushing Hospital and then an Anesthesiology residency here at Stony Brook. During the 2008-2009 academic year, Steve was one of the Chief Residents. After graduation, Steve joined the Stony Brook faculty initially in the hospital and subsequently in the Ambulatory Surgery Center. While at Stony Brook, he played an active role in resident education, particularly in the use of ultrasound-guided regional anesthesia. For the past year, Steve was the Medical Director of Advantia Health Indian Creek Ambulatory Surgery Center. Welcome back, Steve!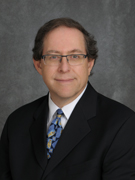 Reuven Pasternak, MD
Dr. Martin Griffel
has been appointed interim Chief Medical Officer. Marty has had a keen interest in patient safety over the past 15 years of his career. After serving as a faculty member at Stony Brook from 1991 to 2000, he joined NYU Langone Medical Center in 2000, where he served for 14 years before returning here to facilitate the creation of a Cardiothoracic ICU critical care service within the Department of Anesthesiology.
Marty is a graduate of Rensselaer Polytechnic Institute and Albany Medical College of Union University. He trained and maintains board certifications in Internal Medicine, Anesthesiology and Critical Care Medicine, clinically practicing anesthesiology, plus surgical and cardiothoracic critical care. He is a Fellow in the American College of Physicians (FACP).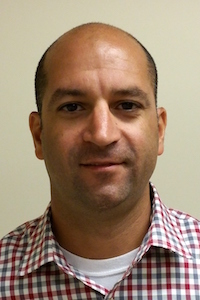 Tong Joo Gan, MD
Joseph Gnolfo III has been promoted to Chief Nurse Anesthetist. A graduate of the Stony Brook University's Baccalaureate program in nursing in 2003, Joe worked in the CVICU and in the Acute Pain Service at Stony Brook University Hospital until 2006. He then attended the Hospital of Saint Raphael School of Anesthesia in New Haven, Connecticut, where he graduated in 2008. Joe continued to work at the Hospital of Saint Raphael for the next 2 years as a staff anesthetist and clinical and didactic instructor in the School of Anesthesia. In 2010 Joe returned to Stony Brook when he accepted a position as a nurse anesthetist. During this time Joe has established himself as an excellent clinician and a valuable member within the department. He has also served as preceptor and Clinical Coordinator for Nurse Anesthesia Education in association with Columbia University School of Nursing. Joe was a member of the New York City Police Department from 2000 to 2001. He is currently pursuing a Doctorate in Nursing Practice in Nurse Anesthesia.
I would like to thank John Fallon, who has served as Chief Nurse Anesthetist over the past 16 years. He was among the first nurse anesthetists at Stony Brook. During this period, the group has grown to the current size of 40 nurse anesthetists. John is well respected by his peers and I am grateful for his leadership and valuable contribution to the department as well as the hospital. John has voluntarily decided to step aside as Chief but he will remain in the department and assist Joe in his capacity.

Srinivas Pentyala, PhD
Our osteogenic peptide research has yielded a patent! The US patent office has issued a notice of allowance to the inventor (Srini) on the patent application related to anabolic bone peptide use titled, "Polypeptides Derived from Calcitonin Receptors and Methods of Use". My collaborators and I showed that this anabolic bone peptide has the ability to transform stem cells into bone-producing cells, enhancing the rate of fracture healing and strengthen osteoporotic bone in an animal model. This work has been supported by NY State Center for Biotechnology, NY State Innovative Technology Fund and our department. SBU Office of Technology Licensing has further decided to file a divisional application directed towards the composition claims that corresponds to the allowed method claims.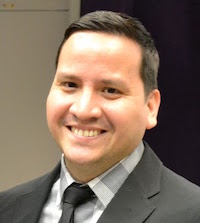 Carlos Helguero
has been working with me on the anabolic bone peptide project for the past two years as a graduate student. Carlos successfully defended his PhD thesis in July and was conferred a PhD for his work on "Engineering Interface and Analysis in Orthopedic Surgery: Resection of Bone Tumors and reconstruction using Biomimetic Implants". Carlos, under the guidance of me (Anesthesiology), Dr. Fazal Khan (Orthopedics), Dr. Imin Kao (Mechanical Engineering) and Dr. David Komatsu (Orthopedics) has successfully designed and validated 3D-printed customized cutting guides for bone tumor resection, performed kinematic modeling and error analysis for positioning the cutting-guide during surgery, developed an intraoperative technique to accurately position cutting guides, created biomimetic implants for bone reconstruction by creating artificial 3D bone scaffolds and making them biologically active by seeding them with stem cells and transforming them into bone producing cells. Carlos also showed that osteogenic peptide treated, stem cell seeded, artificial bone scaffolds have enhanced biomechanical properties which allows these scaffolds to become effective implants replacing damaged bone. Carlos is a Fulbright scholar from Ecuador and after becoming Dr. Helguero, he returned back to his country as a faculty member in ESPOL, Ecuador.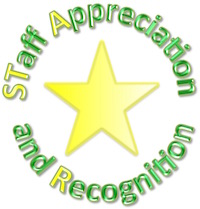 Renata Kowal, MD
I just want to extend my deepest appreciation and gratitude to Drs.
Peter Oleszak, Daryn Moller, Loreta Grecu, Xiaojun Guo and Nehul Patel
and the Anesthesia Techs who were involved. We had a disaster patient that developed aorto-enteric fistula and was heavily exsanguinating into GI tract. It required heroic measures to keep him alive and multiple massive transfusion coolers were used. He got transfused over 20 liters of blood and blood products over 3 hrs. In addition, a round-trip to the CT scanner was needed because the precise location of aortic bleeding could not be found. The patient survived, and was awake on the following day. Considering what he went through the day before, he looked like a million dollars. I want to thank my colleagues for helping me out and pulling together as a team. I am not sure if the outcome would have been the same without their help.
- - - -
A medical student wrote the following about Ms. Sharri Allbright, Administrative Assistant
Sharri Allbright
is honestly the best part of my anesthesiology experience. I wish there was a Sharri in every department at Stony Brook. She is so kind, patient and cooperative. I was sick during my first week of rotation and felt very stressed but she checked on me every day and made all the accommodations necessary for me to be able to complete the course. She really cares about the students, very responsive and hands down one of the nicest people I've met in my whole life. She deserves the biggest award there is in the department!!! Thanks Sharri!
- - - -
The staff at the
Ambulatory Surgery Center
was praised by Dr. Reuven Pasternak, Chief Executive Officer of Stony Brook University Hospital in a
recent posting on his CEO Blog
. He wrote: "As a model of excellence for everyone at Stony Brook Medicine, the Ambulatory Surgery Center has performed at a very high level in patient satisfaction over the past decade. Its percentile ranking compared to other large hospitals nationwide has steadily climbed, from the 63rd percentile in 2004 to a peak of the 99th percentile in 2015. For four of the past five years, the Ambulatory Surgery Center has been at the 90th percentile or higher nationwide."

Maria Lagade, MD
Congratulations to
Dr. Wesam Andraous
in his new appointment as Assistant Medical Director, School of Health Technology and Management Anesthesia Technician Program. He will be actively involved in the AT Clinical Internship program of our Department. As the Anesthesia Technology profession moves forward, Drs. Andraous, Joy Schabel, and I will update the AT Clinical Standard of Practice guidelines. We welcome suggestions and contributions from the clinical faculty.
Sade Taylor, BSHS a graduate from AT program 2015-2016 joined our anesthesia tech team this month. Welcome!

Shivam Shodhan, MD
Over the past 6 months, our department has hosted
Eric Noll, MD, PhD
, a Visiting Research Scholar from the University Hospital of Strasbourg, France (IHU Strasbourg). They say time flies when you're having fun and these 6 months have certainly flown by!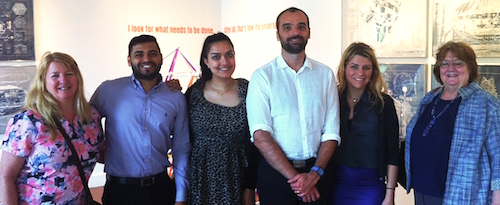 Under the mentorship of
Dr. Bennett-Guerrero
, Eric has gained a depth of knowledge and honed his skills with regard to research design, leadership, and execution. As an enthusiastic and dedicated member of the research team, he had a very productive time here at Stony Brook Medicine. With the support of many individuals (acute pain service, research coordinators, etc.), Eric and Shivam were able to start and complete the APPROVE Study, a randomized controlled trial of over 150 patients to determine the impact of acupressure on patient satisfaction and quality of recovery in hospitalized patients. Additionally, Eric spearheaded the ASSIST Study, an assessment of individual skill in cricoid pressure, which Shivam and Arnavi completed. He even won awards for Best Overall Clinical Abstract and for Best Fellow Poster at this year's Dr. Peter S.A. Glass Academic Research Evening.
Aside from his research contributions, Eric took advantage of his time here at Stony Brook Medicine to learn more about our healthcare and anesthesia services within the hospital as he had the opportunity to shadow/observe with the Main OR, Endoscopy Suite, Acute Pain, Ambulatory Services, Dr. Guo's Acupuncture Services, Rapid Response Team, Dr. Floyd's Laboratory, Pre-Operative Services, and Departmental Grand Rounds and Journal Clubs.
Work hard and play hard! Eric has been a friendly face throughout the department and meshed very well with our faculty and staff. Additionally, he came to our institution with his wife, Mélanie, and children, Alexandre and Lucie. From the bowling team to the sail boats and from the beautiful Long Island beaches to the summer BBQs, Eric and his lovely family were able to experience the best of what we here have to offer.
Now that Eric's time with us has come to an end, we wish him all the best, and will miss him! He is always welcome back, and likewise, he has shared that all of us are always welcome to visit him and his institution in Strasbourg!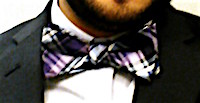 The power of a bow-tie!
Congratulations to Drs. Anthony Szema and Shivam Shodhan, representing IMSzema Solutions, for coming in
first place
at the iBreakfast NY Summer 2016
Startupalooza!
Leaving the other 37 competitors in the dust, they successfully presented the winning pitch to 15 Angel Venture Capital Investors. They pitched their drug designed to save the lives of thousands of patients who fall victim to Hermansky-Pudlak Syndrome (pediatric pulmonary fibrosis), Iraq-Afghanistan War Lung Injury, and 9/11 Exposure Pediatric Lung Injury. During the finalists announcement, the Investors unanimously expressed that it was the first time they had a presenter wearing a
bow tie
! Best of luck to the team as they present at the Private Equity Forum at The Yale Club later this year!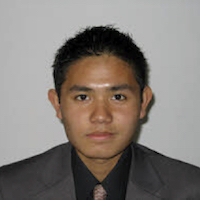 Shivam Shodhan, MD
Can you tell us a little about your background (hometown, college, medical school, etc.)?
I grew up on Long Island, went to college at Stony Brook and med school in Syracuse. I missed Stony Brook so so much, that I came here for residency!
What attracted you to anesthesiology?
The anesthesiologists I always came across were always the nice ones to me in the OR. However, the surgeons were the not-so-nice ones.
How did you come to be a resident at Stony Brook (Why SB)?
I wanted to stay close to my family, and Stony Brook was a great program close to home.
What do you like most about being a resident?
I'd say it's the progressing and learning throughout the years. Seeing your skills and knowledge improve day by day is the best thing.
What do you like least about being a resident?
The long tough days and busy weekends on call are the hardest.
What pearls of wisdom would you like to share with your fellow junior residents to help them succeed in their time here and future careers?
Try to learn and take something out of every case, every patient, and every experience, no matter if it was good or bad--you can always learn.
How would you describe our Stony Brook Medicine Anesthesiology Residency Program?
A program with a largely close-knit faculty and residents who try to look out for each other.
What advice do you have for medical students looking to pursue a career in anesthesiology?
Take the time to look at every specialty in medical school and try to soak everything in. You'll learn all the anesthesia essentials in residency once you get there.
So what's the next step (fellowship, attending, research) you will be taking as you transition from the role of a resident to fellow/attending next summer?
I'm looking to go into a private practice career.
As you're soon to enter the real world of anesthesiology, what do you find most daunting?
Not having an attending over your shoulder when things don't go smoothly.
If you could do it all over again (become a doctor), would you?
Despite the long tough days, i would definitely do it all over again.
If you hadn't chosen to go into medicine, what career path might you have followed?
A ferry boat captain!
When you aren't running on around the hospital saving lives, how do you like to spend your free time?
I find new places to eat, find new places to travel, and play an occasional game of tennis.
What do you like the most (and least) about living on Long Island?
The beaches are really nice in the summer, but there's not enough diversity of food in Suffolk County.
What is your favorite type of food?
I like bits and pieces from every cuisine imaginable!
What's your favorite restaurant in LI/NYC?
Ihawan in Woodside, Queens. It serves My favorite comfort food growing up.
Where would you love to travel to next and why?
Mallorca, Spain. I heard they have nice beaches and good paella.
What's your favorite Tourist Activity in LI/NYC?
Finding good hole-in-the wall food places that you can go back to over and over again!
Who is your role model and why?
My dad who showed me what a good man and a humble doctor looks like. My mom, who sacrificed and left her family to come to America so that we could have a better life. And lastly my brother, who paid for all my Caribbean vacations in college.
If you could make one wish, what would it be?
To never become jaded, and wake up happy doing what I do, even 30 years from now.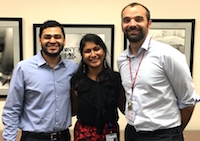 Shivam Shodhan, MD
This year's two FAER students, James Satalich (VCU) and Arnavi Varshney (NYCOM), did an outstanding job immersing themselves and completing their respective projects!.
With the help of James, we were able to complete all the data gathering and analysis for the department's quality improvement project analyzing post-dural puncture headache over the past 10 years here at Stony Brook Medicine. Amidst all of our emails, texts, and face-to-face requests to attendings, residents, CRNAs, and OR nurses, Arnavi enthusiastically helped complete the ASSIST Study aimed at assessing individual skill in cricoid pressure application amongst our department.
So a big thank you to James and Arnavi for all their help and support! We wish them the best of luck in their endeavors as they take on their second year of medical school now.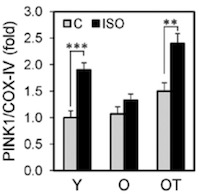 Jim Dilger
The 9-11 Memorial Arch on the on Stony Brook Campus. The Arch, donated by the Stony Brook Alumni Association, honors the 21 alumni who were lost at the 2001 World Trade Center attack. It is located on the west campus between the Humanities and Psychology buildings.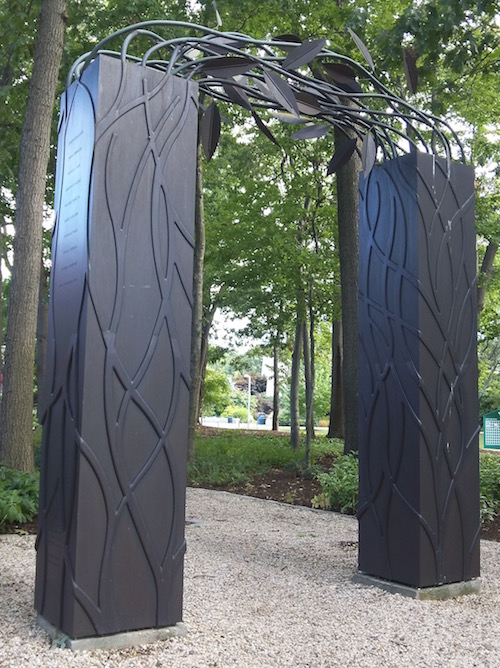 Shivam Shodhan, MD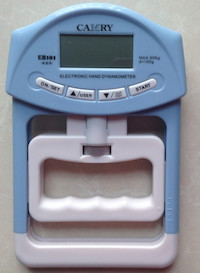 PACU Grip Strength Contest!
It doesn't get any more monthly
"muscle"
chillaxant than this! Yes, grip competitions are a thing (I mean c'mon, even curling is an Olympic sport)! Earlier in August,
Dr. Gregory Walton
organized a friendly competition of handgrip strength amongst our perioperative staff (nurses, technicians, residents, attendings, etc.)! Each of the contestants lined up, stretched their fingers and forearms, and prepared to win the gold. One-by-one, each squeezed and clamped down on the handgrip dynamometer (fancy name, right?) to weigh in their total grip strength in kilograms.
Dr. Stephen Probst
delivered the single most dominating performance Stony Brook Medicine has ever seen in the handgrip strength world with a whopping 86.4 kg of strength, as he won the first ever men's and overall grip strength competition. Reigning the women's world was the CTICU nurse,
Vanessa Cardone-Wigington
coming in at a grip strength of 46.4 kg!
So there you have it, folks: the Long Island's top grip contest made it clear that if there's a current king and queen of the grip strength world, their names are Dr. Stephen Probst and Vanessa Cardone-Wigington!

Stephen Vitkun, MD, MBA, PhD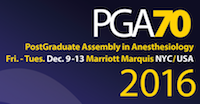 SAVE the DATE for the Annual Stony Brook Anesthesiology Alumni Reception!
Saturday December 10th 2016 (PGA Saturday) from 5 to 7pm
Venue:
The Yale Club, NYC

SleepTalker, the Stony Brook Anesthesiology Newsletter is published by the Department of Anesthesiology
Stony Brook Medicine, Stony Brook, NY
Tong Joo Gan, M.D., Chairman
Editorial Board: James P. Dilger, Ph.D.; Stephen A. Vitkun, M.D., M.B.A., Ph.D.; Marisa Barone-Citrano, M.A.; Shivam Shodhan, M.D.