| | | |
| --- | --- | --- |
| Volume 30 Number 6 | Stony Brook, NY | < December 2018 > |
| | | |
Alumni Cocktail Reception at PGA 2018
HOPE TO SEE YOU THERE!
Date: Saturday, December 8, 2018
Time: 5:00 – 7:00 pm
Location: Yale Club of NYC, 50 Vanderbilt Ave, New York City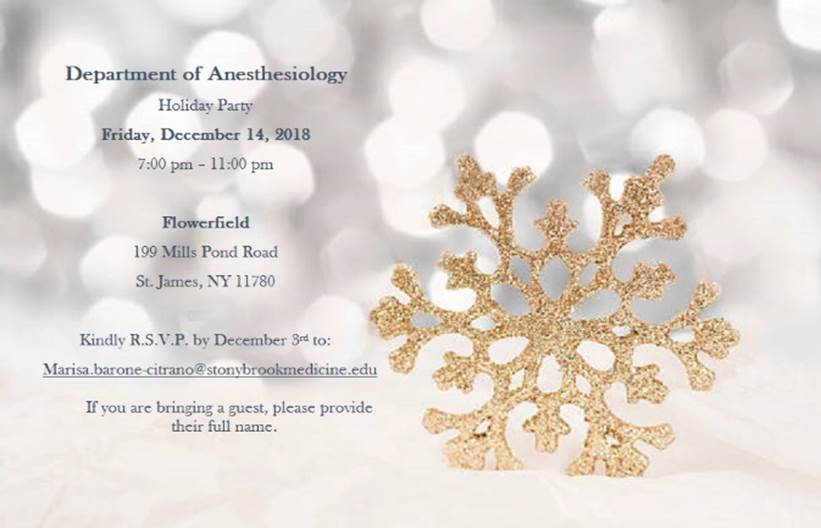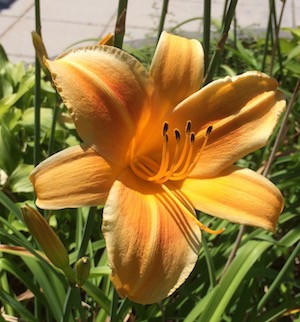 Wed. December 5.
Dr. TJ Gan
will chair the Faculty Meeting at 7:00 am in Lecture Hall 5, Level 3.
Wed. December 12.
Dr. Tinsae Demissie
will present her Senior Grand Rounds at 7:00 am in Lecture Hall 5, Level 3.
Wed. December 19.
Dr. Rishimani Adsumelli
will chair the Quality Assurance meeting at 7:00 am in Lecture Hall 5, Level 3.
Wed. December 26. No Grand Rounds today.

STARS: STaff Appreciation and Recognition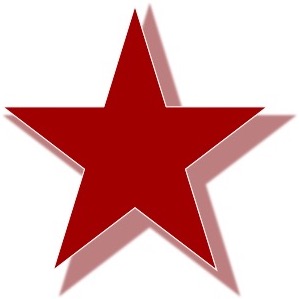 The Center for Pain Management received this note from a patient.
As a patient of
Dr. William Caldwell
, I entered the Center for Pain Management for an epidural, done under sedation. Any qualms I had were immediately eased by the kindness shown by
Tom Keenan, RN
. Tom chatted with me and readily answered my questions. This attention created a friendly, relaxed interval pre-treatment, and after as well. I want to bring Tom's solicitous service to your knowledge because, even though the Hospital staff are all excellent, I feel that Tom Keenan merits special attention.
Dr. Gan received this note from a patient.
I am writing this note today proclaim my personal success with Doctors at Stony Brook Hospital. Firstly Doctor Jeffrey Muhlrad who performed my left hip replacement. Thusly allowing me to continue to walk and lead a normal life. Several years later Doctor Harold Fernandez performed a quad bypass which ultimately extended my life with family allowing me a second chance. Finally,
Dr. Marco Palmieri
and
Kathryn Scheriff, NP
who, for the past two years have be instrumental in helping me fight arthritis in my knees, shoulders and lower back. With Dr. Palmieri's very effective cutting edge procedure of radio frequency ablation, I have been able to lead a productive life with minimal pain. In addition the attention to detail and the month to month very professional support provided to me by Kathryn Schriff have been a great part of my positive experience at the Pain Center. Without the latter two professionals and the entire staff at the Pain Center, my life would be in a "less than" state instead of the optimistic one I feel currently.
I just wanted to take a moment to let you know how I feel and to congratulate you and your organization for having amazingly dedicated professionals and caring, thoughtful men and women working on your staff. They have made a critical difference in my life and unless my eyes deceive me on the lives of hundreds of patients I have observed at the Pain Center.
Dr. Jeremy Poppers wrote this note of thanks to the Anesthesia Techs.
A few weeks ago,
Josephine Pace
and
Christina Catania
were phenomenal in assisting me with the emergency in room 25 that required all hands on deck for a very critical airway. Last night, there was an emergency dissection.
Carine Etienne-Michel
, as always, and
Liliana Taveira
were just so unbelievably helpful and displayed the utmost professionalism and dedication In helping me get the case safely underway in the midst of chaos. I cannot adequately describe the appreciation I have for what the Anesthesia Tech team does and contributes to our department, our hospital, and our patients. You are the silent warriors!
Dr. Barry Florence received this note from Stony Brook Medicine employee who had a procedure at the Ambulatory Surgery Center.
Just wanted to drop you a quick note to tell you how satisfied and impressed I was with my recent experience. I was at the ASC for a Lithotripsy and the professionalism of the staff and operational environment/process was truly impressive. I'm sure you are aware that sometimes it's the littlest things that make the most significant impression and are in essence a reflection of the entire operation. For example, giving me two patient belonging bags, one for my shoes and one for my clothes. Informational signs in each room that are framed and not just taped to the wall. Multiple coat hooks in each room. Constantly being offered warm blankets and not only being given time estimates but having those estimates being exactly correct. Staff always seeking and anticipating my needs. And finally, one of the nurses in the OR recognized me and we chatted a bit (we worked together in AICU) and she asked me if I was OK with her being in on the case (which it was), NOW THAT is true professionalism. From the moment you walk in the door to the moment you walk out, everyone that I came in contact with was sincere and professional. I could go on and on but you and everyone who works there knows what a good job you do.

Dr. Josh Dubnau
was the Keynote Speaker at a meeting on "Transposable Elements" at Cold Spring Harbor Labs in November.
Rev. Dr. Tracie Saunders
led an Interfaith Prayer Service for Healthcare Professionals in October.
Dr. Francis Stellaccio
has been appointed to serve on the 2019 NYSSA Committee on Continuing Medical Education and Remediation.
Dr. Grigori Enikolopov
and
Dr. Natalia Peunova
were awarded a grant from the National Institute of Mental Health for their proposal "Alterations in Neuronal Networks Induced by cART and HIV". This is a two-year R21 grant, designed to support exploratory research that is in the early stages of development.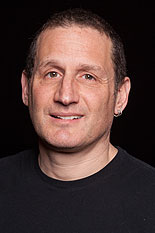 F. Barry Florence, MB, ChB
Dr. Marty Redmond
has been and still is a cornerstone of the ASC. Marty did his residency at Stony Brook. He did leave for a while, but his twenty years here have been immeasurable. He is clearly the strongest clinician at the ASC with skills across all subspecialties. He did cardiac anesthesia for a while, is very competent with kids, supported the hospital pediatric call group for a while and has mastered regional anesthesia. I wish that I could claim that history for myself!
He will retire to his home in Florida where his daughter and grandchild live next door. Marty's last day will be January 2, 2019. He will be very difficult to replace!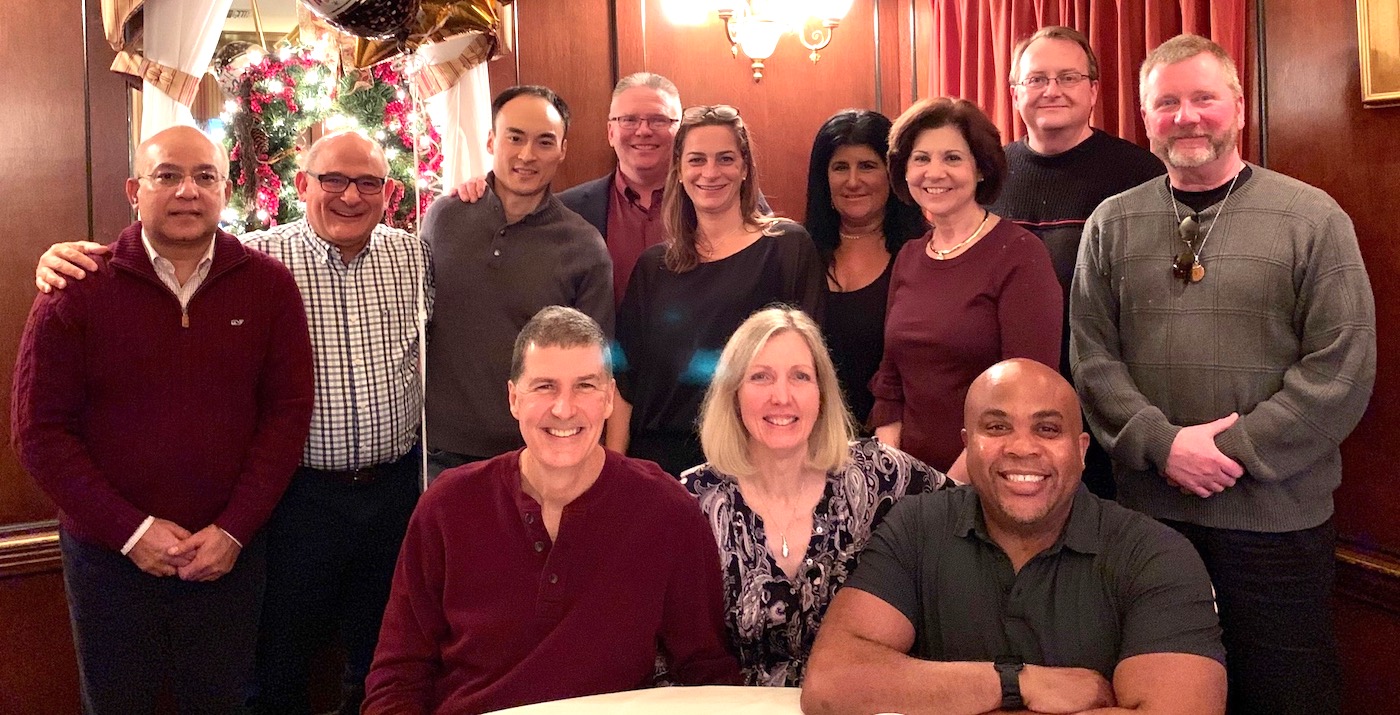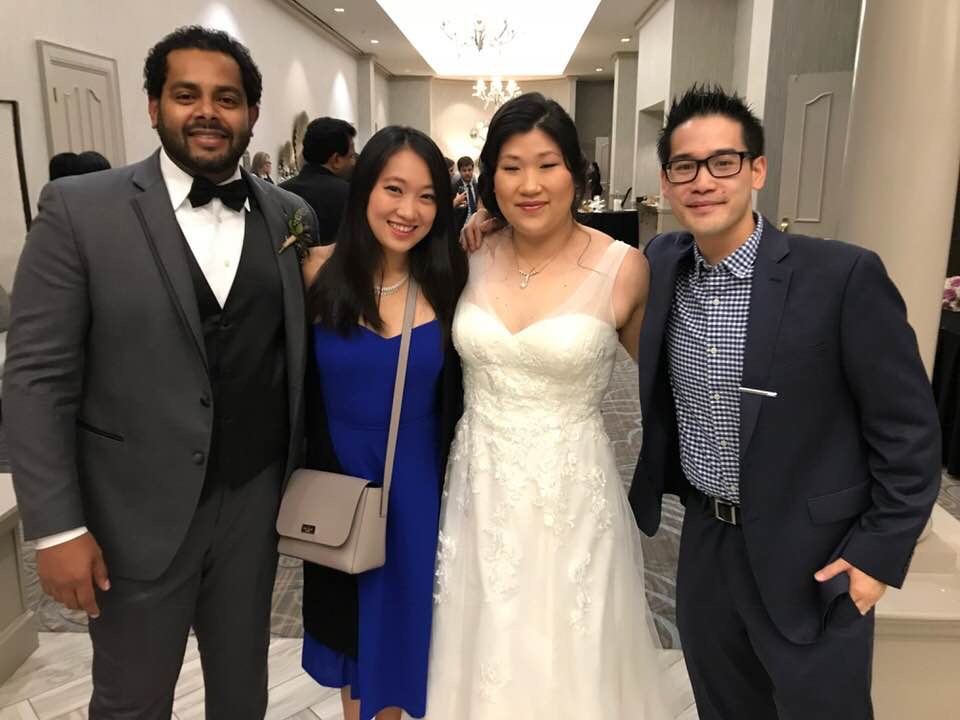 Members of the department will be presenting 11 Medically Challenging Cases, 1 Abstract, 6 Focus Sessions, 2 MiniWorkshops, 5 Problem Based Learning Discussions, 4 Scientific Panels and 3 Workshops at the NYSSA PGA meeting, December 8-10, 2018 in New York.
Medically Challenging Cases
•
Al Bizri E, Lekhraj J, Oleszak S
. One Lung Ventilation in a Patient with Unilateral Vocal Cord Paralysis
•
Al Bizri E, Sanchez C, Andraous W
. Airway Management during Transoral Resection of Cervical Spinal Chordoma
•
Al Bizri E, Landman U
. Combined Spinal Epidural (CSE) for Parturient with Lumboperitoneal Shunt (LPS)
•
Wetcher A, Yau G, Wang K, Schabel J, Steinberg E
. Anesthetic Management of a Parturient with a Hypoplastic Right Ventricle
•
Yau G, Wetcher A, Costa A
. Euglycemic Diabetic Ketoacidosis in Pregnancy
•
Mouch C, Caldwell W
. Diagnostic Pseudofacet Block in Collegiate Athlete with Bertolotti Syndrome
•
Izrailtyan I, Khmara K
, Tannous H, Chikwe J. Epicardial Tumor Identified by Perioperative Transesophageal Echocardiography
•
Smestad A, Tateosian V
. Newborn with Fetal Exposure to Zika Virus With Large Lumbar Myelomeningocele
•
Yau G, Cheung R, Andraous W
. Heliox Application During Awake Tracheostomy
•
Khalili M, Caldwell W, Tan M
. Successful Treatment of Central Pain Via Spinal Cord Stimulation
• Shah N,
Lekhraj J, Schabel J
. Anesthetic Management of a Parturient with TRAPS
Abstract
• Noll E, Ohana M, Hengen M, Diana M, Pottecher J, Labani A,
Bennett-Guerrero E
, Meyer N, Diemunsch P. Validation of MRI for Quantification of Pulmonary Aeration Impairment
Focus Sessions
•
Gan TJ
. The Concept of Enhanced Recovery AFTER SURGERY (ERAS): What Does It Mean to You?
•
Gupta R
. Practice Management: How to Evaluate an Anesthesia Contract
•
Vitkun SA
. Oral Presentation of Selected Posters on Display at PGA72
•
Iskander AJ
. Assigned to IR and MRI: What the Anesthesiologist Needs to Know
•
Shah S
. Which Patients and What Procedures for Office-Based Settings?
Mini-Workshop
•
Costa AC
. Postoperative Nausea and Vomiting: Practice Guideline Update
•
Rosenfeld K
. Are you Ready to be a Director or Chair of an Anesthesia Department?
Problem Based Learning Discussions
•
Steinberg ES
. The Pregnant Patient for Non-Obstetrical Surgery
•
Stellaccio FS
. Is Rapid Sequence Induction Necessary in the Morbidly Obese
•
Beg T
. Anesthetic Management of the Endobronchial Ultrasound (EBUS) Patient
•
Beg T
. Community Hospital: GI Bleed in the Patient with LVAD
•
Gupta R, Poovathoor S
. New Techniques for Fluid Management from Operating Room to ICU
Scientific Panels
•
Richman D
. Do We Have Adequate Tools for Risk Scoring in Anesthesia and Surgery?
•
Bennett-Guerrero E
. Special Considerations for the Perioperative Management of the Cancer Patient
•
Gan TJ
. Best Practices in Ambulatory Surgery Patients
•
Steinberg ES
. 20th Annual Bragging Contest: Any Case You've Done, I've Done a Better One
Workshops
•
Corrado TE, Oleszak SP, Stellaccio FS, Tateosian V, Vitkun SA
. Difficult Airway Management: A Hands-On Demonstration
•
Kiamanesh DA
. Basic Point of Care Ultrasound (PoCUS)
•
Vitkun SA
. Advanced Cardiac Life-Support (ACLS)

Anesthesia Interest Groups

Ursula Landman, DO

Both the Stony Brook Anesthesia Interest Group and the NYIT-COM Anesthesia Interest Group met recently. There was a large group in attendance for both.

Dr. Frank Stellaccio

spoke to the Stony Brook MS1-MS3 students on Nov 5 about some basics of anesthesiology. The NYIT group had a hands-on Airway Workshop in October. Many of the students are looking forward to attending the PGA meeting in New York City. Please let me know If you are interested in speaking to either group about your particular interests in anesthesiology.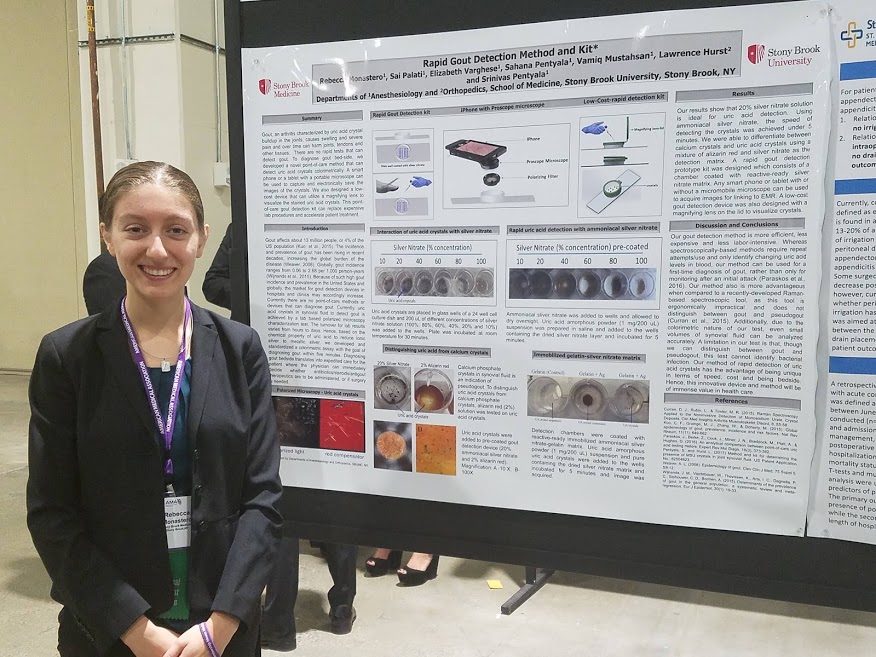 Rebecca Monastero, MS2
In early November, I presented my project, "Rapid Gout Detection Method and Kit," at the American Medical Association Research Symposium in the medical student division of the AMA Interim Meeting. The work I presented was the colorimetric gout diagnostic research I have conducted in
Dr. Srinivas Pentyala's
laboratory over the past two years with support from the Departments of Anesthesiology and Orthopedics and the Scholarly Concentrations Program. It was a wonderful learning experience with hundreds of medical students and residents presenting their work, and I look forward to attending again next year!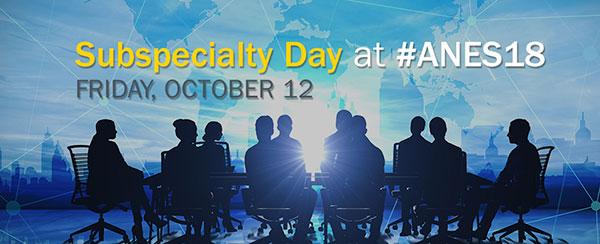 Francis S. Stellaccio, MD, FASA
The Friday before every annual American Society of Anesthesiology meeting is known as "Subspecialty Day". This is the day that most subspecialty groups and anesthesia-related organizations hold meetings and activities in conjunction with the ASA Meeting. This is a wonderful time to learn more about the subspecialty societies, to hear great lectures concentrating on specific areas of anesthesia, and to take advantage of a unique opportunity to network with specialist members. These subspecialty societies cover a wide spectrum of anesthesia interests from enhanced recovery (ASER), pharmacology (ISAP), neuroscience (SNACC), education (SEA), pediatrics (SPA) to trauma (TAS) and more. At ASA 2018, twelve (12) of these organizations held meetings at different venues around San Francisco.
Always having an interest in military medicine, I decided to attend this year's 4th annual USSA/AVAA Joint Military Academic Meeting. The USSA/AVAA is relatively a new society combined from two older societies which were the Uniformed Services Society of Anesthesiologists (USSA) founded in 2003 and the Association of Veterans' Affairs Anesthesiologists (AVAA) founded in 1991. Not only is USSA/AVAA a subspecialty society, but also it is the only military component society of the ASA. The society represents and serves the unique needs and interests of uniformed physician anesthesiologists and civilian anesthesiologists working for the military and the Veterans Health Administration (VHA).
It has been said that wars not only destroy but actually extend and enhance society! Believe it or not, wars greatly influence the progress of medicine. For example, the expanded use of ether and chloroform occurred during "The War Between the States"; WWI saw infection control measures, the use of ambulances and the development of field hospitals; and the Vietnam War helped develop better blood banking and transfusion techniques.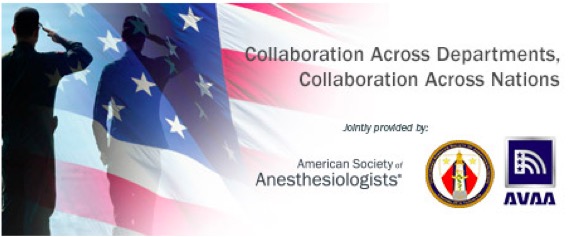 This year's USSA/AVAA meeting was centered on three main topics which are affecting not only military personnel, but also, unfortunately, the civilian population, as well: Mass casualties, head injuries, and the opioid epidemic. In addition to distinguished speakers from within the military, the meeting featured lecturers from Harvard, Stanford, and Duke. Dr. Lee Fleischer (Robert D. Dripps Professor and Chair of Anesthesiology and Critical Care at the University of Pennsylvania) gave an informative lecture on the ASA's Postoperative Cognitive Dysfunction and the Brain Health Initiative. Incidentally, Dr. Fleischer, who received his MD in 1986 from Stony Brook, was the recipient of
Stony Brook's 2011 Distinguished Alumni Award
.
And finally, I must spotlight the airway management workshop, where I met Dr. Jessica Feinleib (Yale - VA) a co-developer of DAARC - Difficult Airway Algorithm and Rescue Cricothyrotomy. This program engages learners in an avatar based airway management educational tool with the objective to educate, to train, and to modify clinical behavior by using video gaming technology. The US Department of Veterans Affairs -Veterans Health Administration developed this TEAM Training Tool to reduce patient morbidity and mortality associated with difficult and failed airways, especially outside the OR. DAARC won "Best in Show" at the International Meeting for Simulation in Healthcare in 2017 and has been approved for ABA MOCA Part 2. If you are interested in trying your skills.
So, the next time you plan on attending the annual ASA meeting, consider attending one of the Friday Subspecialty Meetings, too. What you learn and experience may surprise you…. He'ping.

James P. Dilger, PhD
Even though I walk past the Health Sciences Library every day, I didn't realize until today that, since April, an exhibit
Dental Instruments: Past and Present
has been on display. At the exhibit, you can view objects ranging in size form toothbrushes to dental chairs. A large touch screen provides information about dental anesthesia among other topics. It is well worth a brief visit!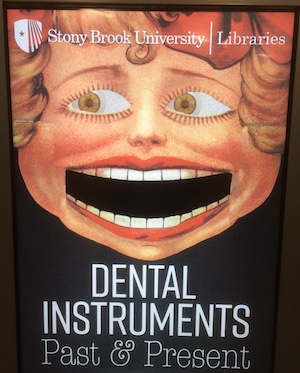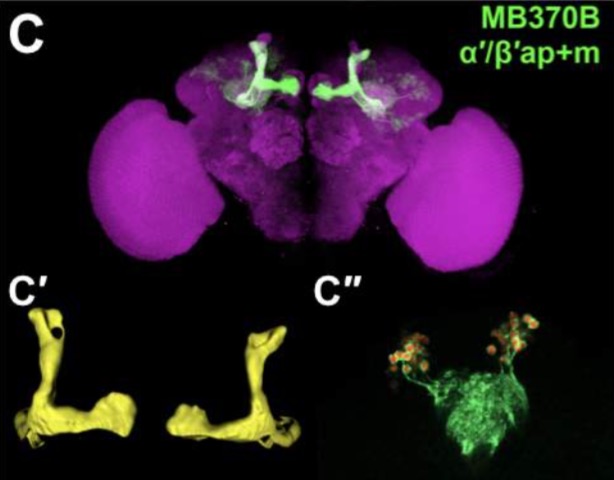 James P. Dilger, PhD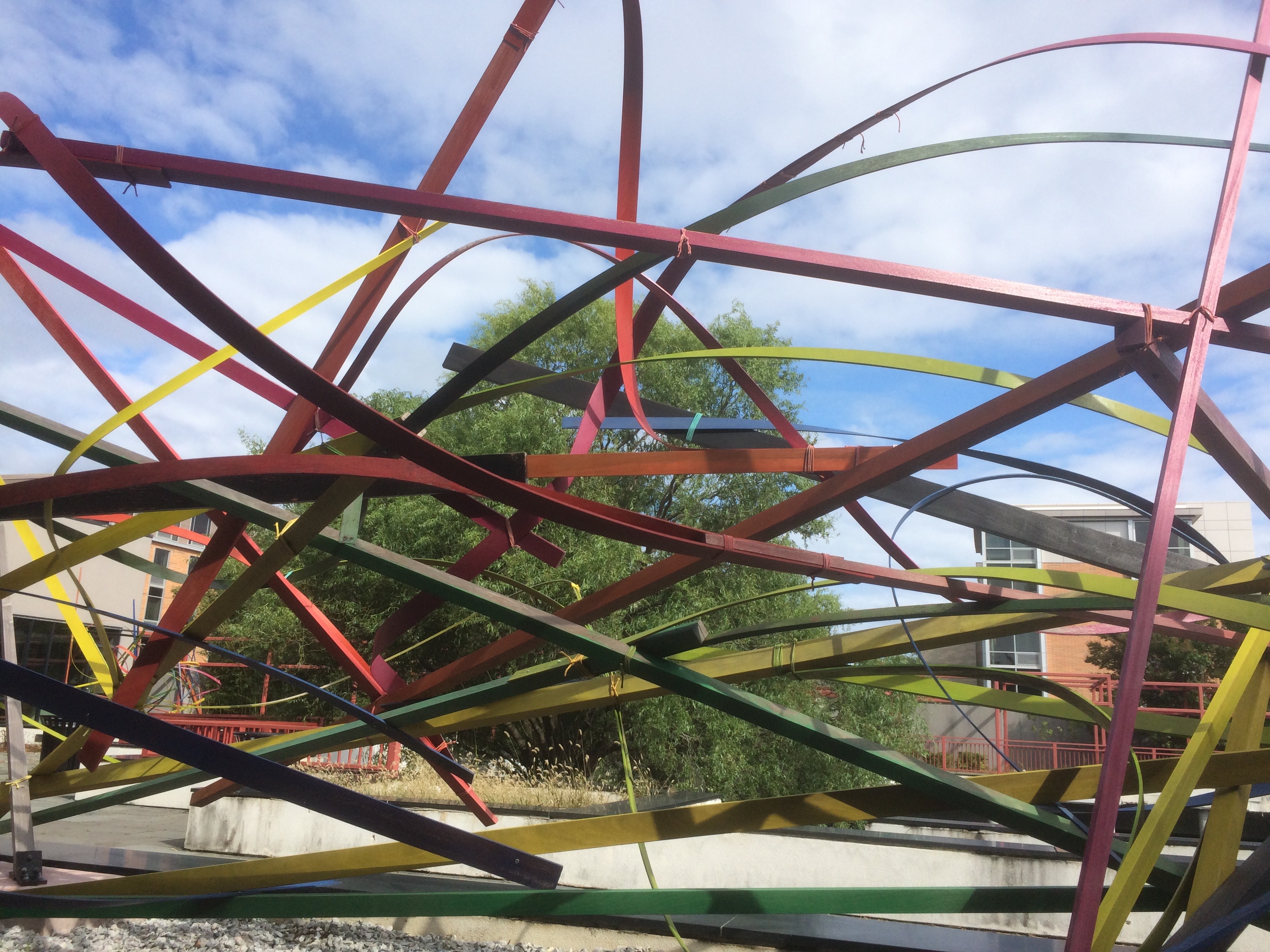 Monthly Muscle Chillaxant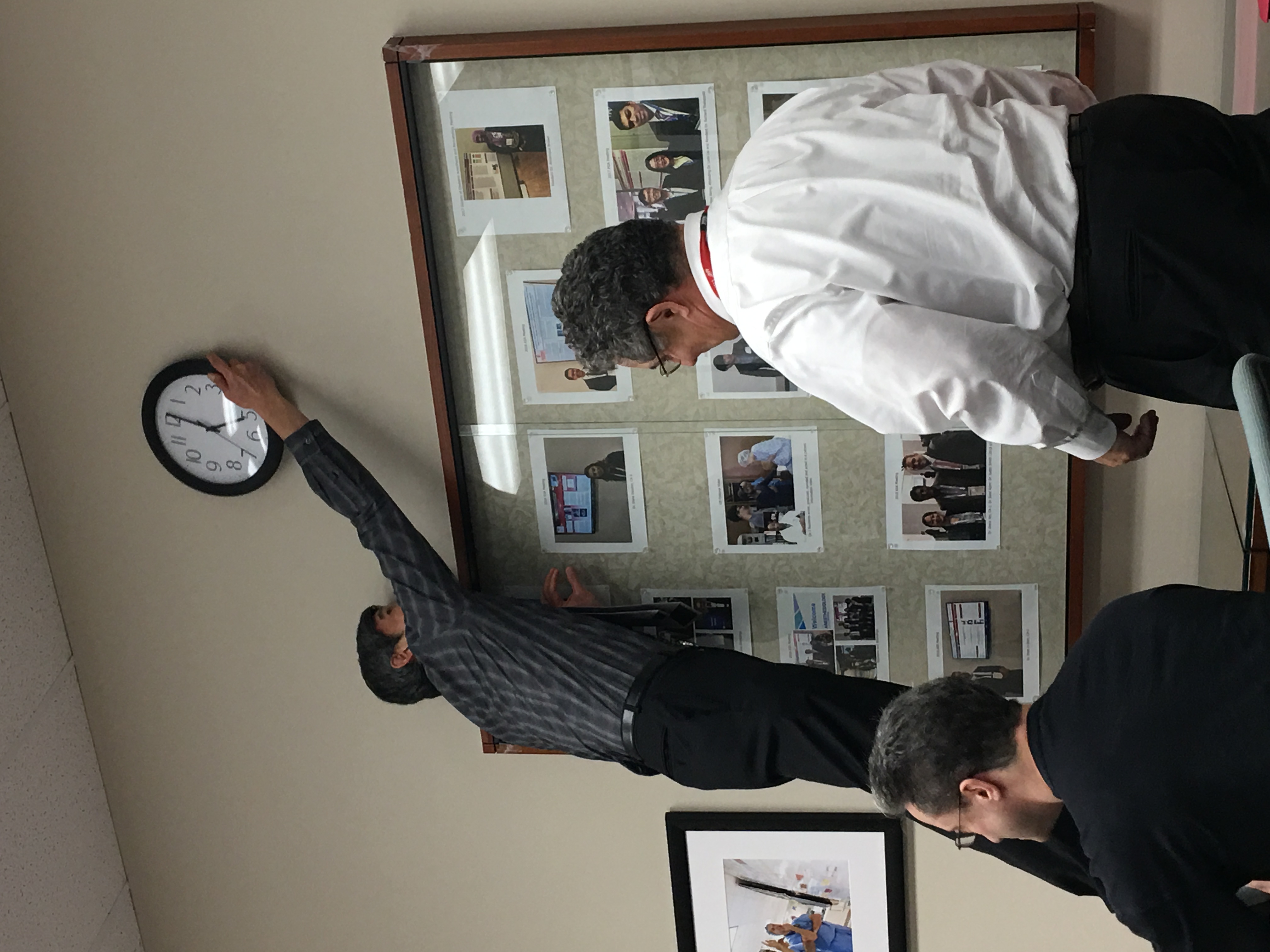 SleepTalker, the Stony Brook Anesthesiology Newsletter is published by the Department of Anesthesiology
Stony Brook Medicine, Stony Brook, NY
Tong Joo Gan, M.D., Chairman
Editorial Board: James P. Dilger, Ph.D.; Stephen A. Vitkun, M.D., M.B.A., Ph.D.; Marisa Barone-Citrano, M.A.; Richard Tenure, M.D.