| | | |
| --- | --- | --- |
| Volume 31 Number 2 | Stony Brook, NY | < February 2019 > |
| | | |
Academic Research Evening 2019
Elliott Bennett-Guerrero, MD
This year's Peter Glass Academic Research Evening will be held on Tuesday, May 14, 2019 at the Charles B. Wang Center from 3:30 - 8:30 pm. Please mark your calendar!
Our Keynote speaker is Evan Kharasch, MD PhD, Professor of Anesthesiology and Vice-Chairman at Duke University; Editor-in-Chief of
Anesthesiology
.
We invite you to submit one or more abstracts of your research for this event. An email will be sent out detailing the abstract submission process and due date.

Wed. February 6.
Dr. Sana Na Javeed
will present her Senior Grand Rounds at 7:00 am in Lecture Hall 5, Level 3.
Thurs. February 7. Journal Club at 6:00 pm in the HSC Galleria.
Wed. February 13.
Dr. TJ Gan
will make the State of the Department presentation at 7:00 am in Lecture Hall 5, Level 3.
Wed. February 20.
Dr. Diana Escobar
will present her Senior Grand Rounds at 7:00 am in Lecture Hall 5, Level 3.
Wed. February 28.
Dr. Rishimani Adsumelli
will chair the Quality Assurance meeting at 7:00 am in Lecture Hall 5, Level 3.

STARS: STaff Appreciation and Recognition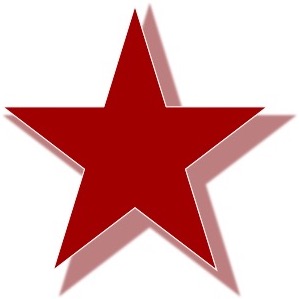 Dr. Deborah Richman wrote to Dr. Gan:
I wanted to share with you what an incredible experience the mission to the Philippines was last week. I felt privileged to be part of it. I am incredibly proud of our residents who went the extra mile, stayed late, were ultimate team players and maybe Stony Brook Anesthesia proud. Drs. Kseniya Khmara (now peds fellow in Denver),
Demetri Adrahtas
and
Michael Khalili
all consistently presented better kids to the PACU than any other anesthesia team member. Working in the PACU teaches a lot about the level of expertise and professionalism of anesthesia providers. I can't say enough good things about the three of them. Well done!

Patient comments about our Ambulatory Surgery Center staff from the Press Ganey questionnaires (compiled by Marisa Barone-Citrano, MA):
The nurses were excellent. Also the anesthesiologist were FANTASTIC. I have the nerve blocker and they explained everything and implemented it perfectly.
Everything was "very good" - from when I walked in door till I walked out!! I loved I got to meet dr, nurses, anesthesiologist all before procedure & everything was thoroughly explained

Dr. Stephen Probst
has been promoted to Clinical Associate Professor. Steve graduated from Stony Brook Medical School and did his residency here in our department. In 2008, he joined our faculty. Steve is the Chief of the Neuroanesthesia/ENT Anesthesia Division. Congratulations!
Dr. Christopher Page
has been promoted to Clinical Associate Professor. Chris also graduated from Stony Brook Medical School and did his residency in our department. After a Fellowship in Pain Medicine at New York Presbyterian Hospital, he became a faculty member in 2007. Chris is the Division Chief for Acute Pain. Congratulations!
Dr. Francis Stellaccio
has completed the requirements for ABA re-certification. Congratulations!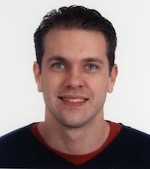 Joseph Gnolfo III, DNP, MS, ACNP, CRNA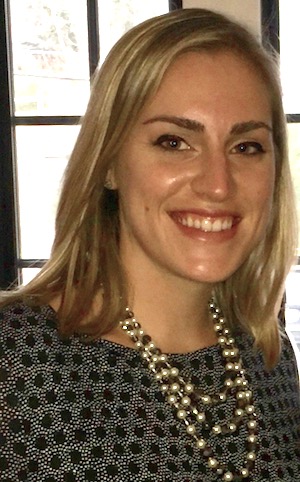 Please join me in welcoming

Sherri Tergino, MS, CRNA

to the anesthesia team. Before earning her Masters in Science in Nurse Anesthesia Sherri had worked as a nurse and nursing supervisor in SICU here at Stony Brook Medicine. I am confident Sherri will prove to be a true asset to the team. WELCOME SHERRI!!



Elliott Bennett-Guerrero, MD
I would like to introduce

Brittney Ayala

and

Tanya Buchrieser

who have recently joined the department as clinical research coordinators. Brittney Ayala has a master's degree in Microbiology and a background in veterinary medicine. She is very enthusiastic about this opportunity. When not at work, Brittney considers herself a "foodie" and shares her residence with her two favorite feline children, Stanley and Wilomena. Tanya Buchrieser obtained a PhD in Health Psychology in 2015 and subsequently began her research career at St. Francis Hospital in the field of Cardiology (Advanced Cardiac Therapeutics/Heart Failure). She is looking forward to using her previous research experience to enhance the department and welcomes the ability to increase her knowledge in the area of anesthesia. Off hours, you may find Tanya cooking plant based dishes, running, and taking care of her three year old daughter, Sonja. Please join me in welcoming Brittney and Tanya to the Stony Brook family.



Grigori Enikolopov, PhD

A paper on which we are co-authors, has been accepted to Nature. The title is "A radical switch in clonality reveals the formation of a stem cell niche in the epiphyseal growth plate". The paper was reviewed as an Article, and I hope that they will preserve it as such (it becomes quite usual for Nature to tell the authors at the end of the long review process to condense an Article to a regular Letter format).

This study, performed by a team at Karolinska Institute in Stockholm, used our triple S phase labeling for birth-dating stem cell cohorts, in this case in the growing bone. It shows that there are two different strategies in the organism for bone growth. During fetal and perinatal periods, when there is rapid longitudinal bone growth, the pool of chrondrocyte progenitors is used extensively and is almost depleted, but later, in parallel with formation of the secondary ossification centers, chrondrocyte progenitors acquire capacity for self-renewal and symmetric division and start producing large and stable monoclonal columns of chondrocytes. Identification of this switch may be relevant for developing therapies for children with growth disorders.



Rany Makaryus, MD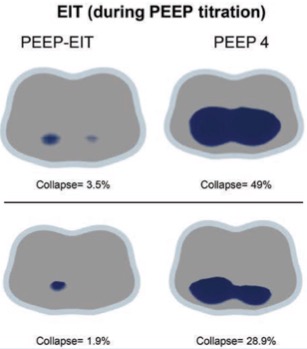 After taking a break during interview season, we are gearing up to restart Journal Club for this academic year. We will kick-off on February 7th (seemed necessary to use a football pun given the season) with a presentation titled:
"Finding Your Patient's Inner PEEP"
Dr. Melia McManus
will be presenting on the advantages of using individualized PEEP settings optimized specifically for each patient, while
Dr. Ehab Al Bizri
will be presenting on the use of "PEEP-step" to help identify the best PEEP for a patient. You might be asking, "What's wrong with a PEEP of 5, what is "PEEP-step" and who came up with that?" If so, then join us for Journal Club right here at the Stony Brook Galleria in the HSC. We will be answering those questions and multiple others.
Dr. Shaji Poovathoor
will be moderating the discussion. When he realized that this was going to the topic, his response was, "This is good. Very Good. I love PEEP!" With that said, it is certain that we will have a great Dinner and Discussion that evening!

Ellen Steinberg, MD

The Steinberg family had a very eventful end of December. Our daughter, Rina graduated a semester early from the University of Michigan and will begin her job as a Management Consultant at KPMG in the summer. We have paid our last college tuition!! Our youngest son, Jonathan was married to Blair Chizner on December 29 in Boca Raton. He is doing his medical residency at University of Miami, Jackson Memorial. Blair is a Pediatric dentist. The next day, our oldest son, Alexander became engaged to Niaomi Eisenstadt! Our middle son, Ezra received his first promotion at CB Insights. We have a lot to be thankful for.



Srinivas Pentyala, PhD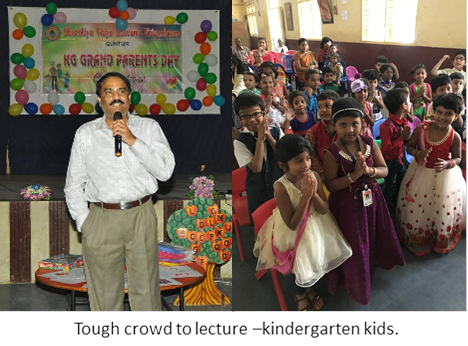 I had the pleasure of being in India in the month of January. Attended a few conferences and workshops. One of the most memorable meeting that I attended is "Grandparents Day" in my hometown. I had the toughest time in engaging my cute little students. My job was to inspire them about science – not sure whether I inspired them, but the smile on my face persisted the whole week after talking to these young bright students.
Sankranti, one of the biggest Indian festivals, is celebrated in the month of January. It is a three day harvest festival during which the entire household celebrate by wearing new clothes, flying kites, cooking traditional food items, drawing "Rangoli" (artwork) not only in the house but also on the streets, arranging bonfires, rooster fights, decorated ox circuses, family reunions and many more fun things.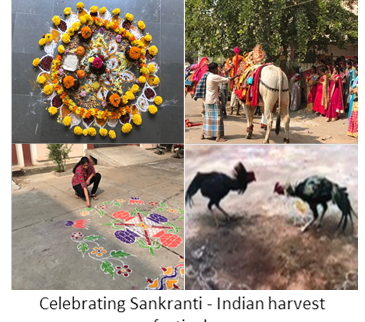 Particularly the women in the Indian household spend lots and lots of money on shopping (silk and gold). The best things about this festival is that a son-in-law is treated like royalty and showered with gifts (mostly cash). I love being at my in-laws place at this time (even though I am considered an "old" son-in-law, after 27 years of marriage), as I am always showered with gifts (not going to reveal how much cash I received this year!!!). All this cash was spent by my wife and daughter to buy – you know what. My daughter had the best time meeting the extended family and participating in every traditional ceremony, especially drawing Rangoli.



Ogrodnik M, Zhu Y, Langhi LGP, Tchkonia T, Krüger P, Fielder E, Victorelli S, Ruswhandi RA, Giorgadze N, Pirtskhalava T, Podgorni O,

Enikolopov G

, Johnson KO, Xu M, Inman C, Schafer M, Weigl M, Ikeno Y, Burns TC, Passos JF, von Zglinicki T, Kirkland JL, Jurk D. Obesity-Induced Cellular Senescence Drives Anxiety and Impairs Neurogenesis.

Cell Metab. 2018 Dec 28

Mineyeva OA, Bezriadnov DV, Kedrov AV, Lazutkin AA, Anokhin KV,

Enikolopov G

. Radiation Induces Distinct Changes in Defined Subpopulations of Neural Stem and Progenitor Cells in the Adult Hippocampus.

Front Neurosci. 2019 Jan 9;12:1013

Synaptic Communication: Violins at the Super Bowl
James P. Dilger, PhD
I've been studying the violin recently. Actually, I've been looking at the violin
plot
, not the instrument. I've become a big fan! Okay, I know this sounds like a really nerdy topic, but try to stay with me. It all started with a project I was doing with the high school student Sarah Adamo (now a freshman at Northeastern U) whom I've written about before. Her experimental data on sea anemones was not normally (bell shaped curve) distributed. This required particular statistics (nonparametric) for analysis. That was not a problem. But the question was how to best display the results graphically to compare datasets.
Rather than getting into the details of her data, let me illustrate this with something with decidedly international appeal. Let's consider the weights of the 106 players (53 on each team) on the active rosters of the two Super Bowl teams this year: New England Patriots and Los Angeles Rams. Here is a histogram showing the distribution of weights. This is most definitely not a bell-shaped curve! While the average is about 246 pounds, it ranges from 153 lbs (Rams' wide receiver JoJo Natson) to 380 lbs (Patriots' offensive tackle Trent Brown). Even I, a football agnostic, get the idea. Some players have to be nimble and quick, others have to resemble a brick wall. Stats people would say that the histogram is bimodal.

An alternative to the histogram is to plot each point along with a bar showing the median value (recall that there are as many points above the median as there are below). Because the average does not tell us too much, you might be inclined to include the standard error of the mean (SEM). As you can see, that's not useful at all. The standard deviation (SD) provides a bit more flavor of the wide range of values observed, but does not reflect the asymmetry of the distribution. In the 1970s, statistician
John Tukey
increased the information content when he introduced the Box and Whisker Plot. The top and bottom ends of the box represent the 25th and 75th percentiles of the distribution, the center line is the median (50th percentile) and the whiskers extend out to the full range of the dataset. Thus, our 106 data points can been reduced to five descriptive numbers in an easy to understand graph. However, this still does not capture the bimodal nature of the distribution.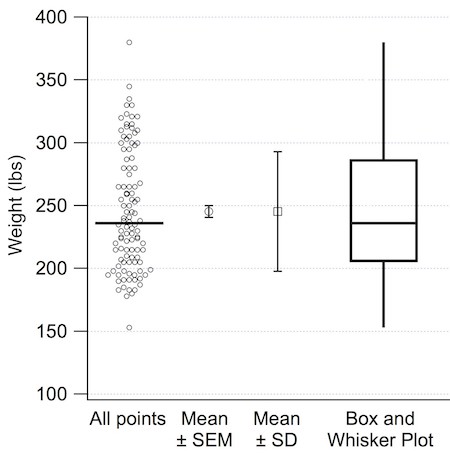 This brings us to the newest addition to such data displays: the Violin Plot, introduced 20 years ago by
Hintze and Nelson
. A box plot lies at the core of the violin while a smoothed version of the histogram (technically a kernel density plot) is drawn rotated by 90° (blue shading). So, in addition to the five numbers of the box plot, we get a good idea about the distribution. Violin plots also make it easy to compare the two teams (red and green shading). Alas, there is no statistical difference between their weight distributions (p>0.05 Mann-Whitney test)! Sorry I cannot be of more help in placing your bets!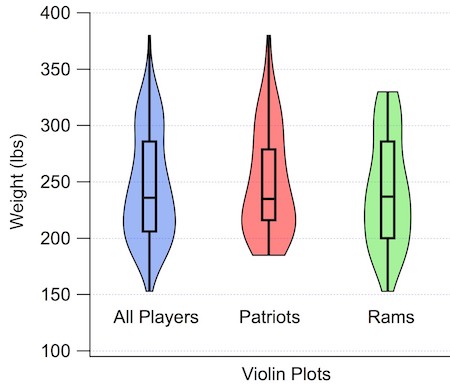 Violin plots are becoming increasingly popular and many statistical software packages include them. I hope that this music appreciation essay will help you interpret any Violin Plot you may encounter in your literature browsing! And, if you think your data might be attuned to a Violin, I'd be happy to help you design it.

James P. Dilger, PhD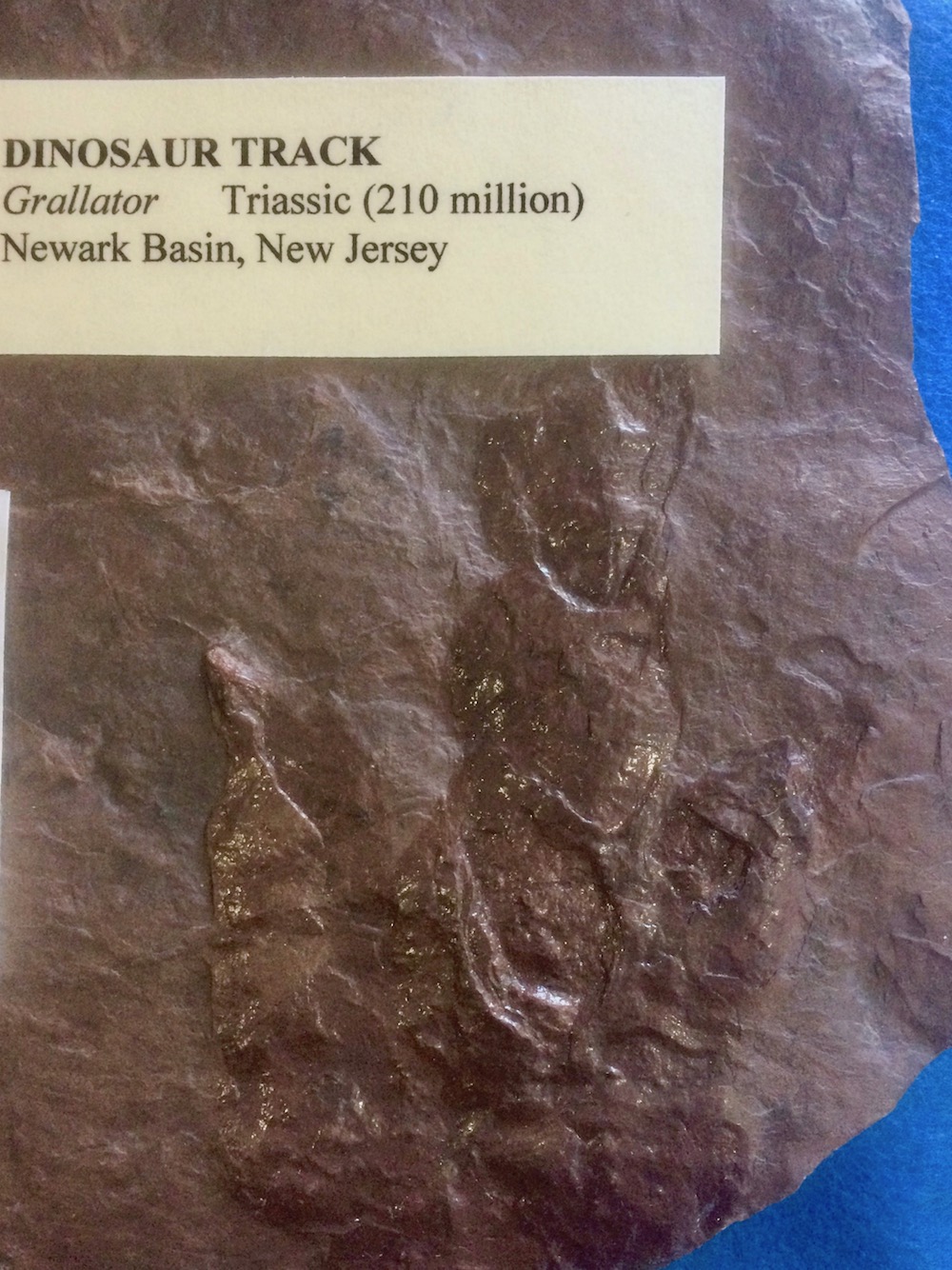 Monthly Muscle Chillaxant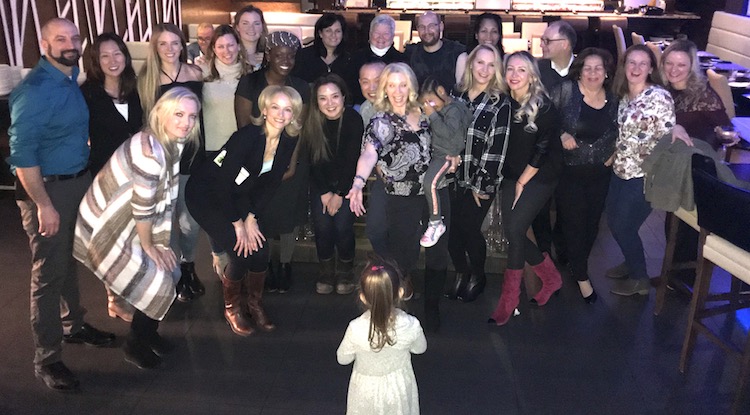 SleepTalker, the Stony Brook Anesthesiology Newsletter is published by the Department of Anesthesiology
Stony Brook Medicine, Stony Brook, NY
Tong Joo Gan, M.D., Chairman
Editorial Board: James P. Dilger, Ph.D.; Stephen A. Vitkun, M.D., M.B.A., Ph.D.; Marisa Barone-Citrano, M.A.; Richard Tenure, M.D.