Volume 25 Number 6
Stony Brook, NY

<

June 2016

>
Helene Benveniste, MD, PhD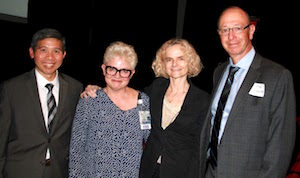 Nora Volkow, MD
was the keynote speaker at this year's Dr. Peter S.A. Glass Academic Research Evening. Dr. Volkow is the Director of the National Institute of Drug Abuse. Her keynote speech, "Collision of Pain and Opioid Epidemics: Challenges and Solutions" was an excellent overview of the current opioid crisis.
A total of 46 posters were presented by faculty members, residents, fellows and students. Of these, ten were selected to be presented in two Moderated Poster Sessions. The results of judging from those sessions are:
Best Overall Clinical Abstract as well as Best Fellow Poster: Dr. Eric Noll
Best Student Poster: Krishanthi Devendran
Best Overall Basic Research Abstract: Dr. Martin Kaczocha
Best Junior Faculty Basic Research Poster: Dr. Michelino Puopolo
Best Fellow Basic Research Poster: Dr. Ehab Al-Bizri
We are grateful to our guest judges who donated their time and expertise:
Dr. Nora Volkow
Michael Frohman, PhD, Professor and Chair of the Department of Pharmacological Sciences
Peter Glass, MB, ChB, FFA (SA), Emeritus Chairman of the Department of Anesthesiology
Lorne M. Mendell, PhD, Professor of Neurobiology and Behavior
Laurie A. Shroyer, PhD, MSHA, Professor and Vice Chair, Department of Surgery
Paul Vaska, PhD, Professor of Biomedical Engineering
Please take a look at the
photos from the Academic Research Evening
!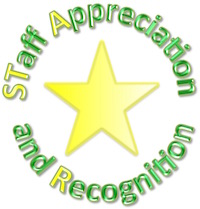 We would like to thank Lisa Contess for an outstanding job of coordinating the department's Academic Research Evening. The event was a huge success in large part because of Lisa's diligence and dedication. We would also like to recognize our support staff, research associates, lab staff, and our Visiting Scholar, Dr. Eric Noll, for helping Lisa to set up and break down the event.

Patients at the Ambulatory Surgery Center and the Pain Center continue to have nice things to say about us!
- Anesthesiologist explained the benefits of the nerve block and was extremely approachable.
- Everyone was extremely caring and friendly - was a good experience.
- Extremely attentive to safety!
- Dr. Tewari rocks the anesthesia!
- Dr. Palmieri and the entire staff at the pain center & amb. surgery does an outstanding job. Not only in managing pain but being very professional, friendly, caring, and very concerned for my well being.
- Anesthesiologist explained the benefits of the nerve block and was extremely approachable
- No one wants to have surgery, but if you have to - this was the best experience you can have - The entire staff was ABSOLUTELY wonderful.
- The anesthesiologist was wonderful - he was very comforting as well.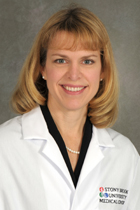 Dr. Joy Schabel
received the 2016 SOAP Teacher of the Year Award in May at the annual SOAP meeting. The
SOAP Teacher of the Year Award
"recognizes outstanding practitioners of obstetric anesthesiology who have demonstrated superior teaching primarily of anesthesiology residents and fellows, and secondarily of obstetricians, nurses, midwives, and the lay public". Congratulations, Joy!
Dental Anesthesia Residents
Drs. Kevin Dincher, Brandon Fitzgerald, Shelly Levin and Breanna Weiland
passed the written board exam given by the American Dental Board of Anesthesiology. The Stony Brook Dental Anesthesia Residency program now has a 96% passing rate for the written board examination.
Drs. Tazeen Beg, Francis Stellaccio, Srinivas Pentyala and James Dilger
were each awarded a Certificate of Appreciation for Community Service in 2015. Each year, Stony Brook University Hospital and the Department of Community Relations honor those who participated in community outreach. The four departmental recipients this year were recognized for their participation in the
HOPE (Health Occupations Partnership for Excellence) program
. HOPE promotes and fosters the development of promising high school students from underserved, racially and ethnically diverse communities, and strives to support them in pursuing a college education and future careers in the healthcare industry.

Shivam Shodhan, MD

Demetri Adrahtas, M.D.
Medical School
: University of Athens, Greece
Hometown
: Limassol, Cyprus
Hobbies
: Reading, Traveling, Soccer
Why Stony Brook Medicine?
: University hospital with knowledgeable and approachable faculty, combined with friendly residents create the perfect environment to learn and grow

Antanique Brown, M.D.
Medical School
: Rutgers University - Robert Wood Johnson Medical School
Hometown
: Plainfield, NJ
Hobbies
: Copy editing, Makeup, All things SoCa (Soul of Calypso – Caribbean subculture and music)
Why Stony Brook Medicine?
: I loved the diversity of all the faculty and residents. Stony Brook really gave me good vibes. Best of all, it's not too far from NYC or my family home!

Joseph Caballero, M.D.
Medical School
: University of Iowa Carver College of Medicine
Hometown
: Mesa, AZ
Hobbies
: Piano, Reading, Traveling
Why Stony Brook Medicine?
: Great academic institution with emphasis on patient care, clinical excellence and resident education.

Tinsae Demissie, M.D.
Medical School
: Georgetown University School of Medicine
Hometown
: Houston, TX
Hobbies
: Painting, Drawing, Baking, Being on the beach
Why Stony Brook Medicine?
: The anesthesia residents and faculty I met while interviewing at Stony Brook were the most genuine I'd come across. I knew I'd get good training and be around people I'd enjoy working with every day.

Diana Escobar, M.D.
Medical School
: Alpert Medical School of Brown University
Hometown
: Los Angeles, CA
Hobbies
: Learning Mandarin, Baking, Nail Art
Why Stony Brook Medicine?
: Everyone was extremely friendly!

Michael Khalili, M.D.
Medical School
: The Commonwealth Medical College
Hometown
: Roslyn, NY
Hobbies
: Traveling, TV, Board Games, Salsa
Why Stony Brook Medicine?
: "Home of the best ideas in medicine." I grew up in Long Island knowing the reputation and talent that came out of Stony Brook. "The best there is or ever will be" and I just wanted to be a part of it. Now I can say, "I'm a Stony Brook doctor that's my job."

Justina Lekhraj, M.D.
Medical School
: SUNY Downstate, College of Medicine
Hometown
: Richmond Hill, Queens, NY
Hobbies
: Watching Tennis, Shopping, Watching Marvel Movies
Why Stony Brook Medicine?
: It is so close to NYC and home!

Yuchen Liu, M.D.
Medical School
: Stony Brook University, School of Medicine
Hometown
: Rego Park, Queens (originally Beijing, China)
Hobbies
: Culinary Arts, Ski, Classical Piano
Why Stony Brook Medicine?
: I chose this program, because I believe there is so much for me to learn from the family that introduced me to the world of Anesthesiology.

Sana Na Javeed, M.D.
Medical School
: SUNY Downstate, College of Medicine
Hometown
: Queens, NY
Hobbies
: Hiking, Traveling, Being a foodie
Why Stony Brook Medicine?
: Academic training center, Friendly people, Close to family and friends.

Andie Smestad, M.D.
Medical School
: SUNY Buffalo, School of Medicine
Hometown
: Smithtown, NY
Hobbies
: Playing music (ukulele, drum set, trumpet), writing music, cooking, and everything Harry Potter!
Why Stony Brook Medicine?
: Having grown up on Long Island I've always known Stony Brook University Hospital to have a reputation for excellence and I dreamed of working here from a young age. Everyone I met on interview day was incredibly friendly and that has proven true during residency thus far.

Jonathan Bacon, D.D.S.
Dental School
: University of Maryland, Baltimore College of Dental Surgery
Pediatrics Dental Residency
: Children's National Medical Center, Washington DC
Hometown
: Columbia, MD
Hobbies
: Painting, Strength Training, Cycling, Beer/Wine Making
Why Stony Brook Medicine?
: Stony Brook had the best combination of private practice experience mixed with operating room experience to allow me to be comfortable treating any patient in any setting.

Tyler Tomkinson, D.M.D.
Dental School
: Western University of Health Sciences, College of Dental Medicine
Hometown
: Phoenix, AZ
Hobbies
: Running, Camping, Theatre
Why Stony Brook Medicine?
: Stony Brook offers excellent training and experience with a diverse patient population.

Hasan Zia, D.D.S.
Dental School
: SUNY Buffalo, School of Dentistry
Hometown
: Long Island, NY
Hobbies
: Hiking, Going to the beach, and Eating out every chance I get!
Why Stony Brook Medicine?
: First and foremost, I knew I would receive exceptional training at Stony Brook. I also like the suburban life style without being too far away from NYC. Plus, having a beach nearby, plenty of good food, hiking and biking trails were all more than good reasons to want to live here.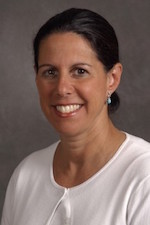 Ellen S. Steinberg, MD

Our Division continues to care for an increasing number of complicated obstetric patients. Since we instituted a second attending to cover the scheduled cases, we have increased our productivity and our ability to get the scheduled cases finished in a timely fashion so we no longer leave the evening team with scheduled cases to be done. Having the second attending has also allowed us to provide better resident education since we do not always need to have the residents busy doing cases and we are doing a pretty good job of completing our monthly lecture schedule.

Our core team of myself and Drs. Abola, Adsumelli, Saunders and Schabel has expanded to include our regular O2 attendings: Drs. Costa, Lokshina and Stanley. This has enhanced patient care as our OB doctors and our OR Nursing team are used to working with this team on a daily basis. In addition, Drs. Landman and Liu continue to do all of their calls on L&D.

Currently, Dr. Costa is working on creating a Complications Data Base for us, initially focusing on wet taps and PDPHAs. Dr. Abola is working on a number of projects, including our elective C/section data base and the relationship between epidurals and breastfeeding. Dr. Stanley recently took a workshop on ultrasound guided neuraxial block at SOAP and she hopes to begin incorporating this into resident education. Drs. Lokshina, Abola, Page and I are working with the OB Department to develop a multidisciplinary approach to management of the pregnant patient with opioid addiction which is currently a big problem in Suffolk County. We continue to be leaders for practice changes on L&D. We recently updated our Oral Intake Policy for labor and scheduled c/sections, and we have led the way for changes in our intra-operative and PO/PP administration of Pitocin and the introduction of post-op SQ Heparin for VTE prophylaxis.

We are exceedingly proud that our very own Dr. Joy Schabel received the 2016 SOAP Teacher of the Year Award earlier this month at the annual SOAP meeting.

We continue to work to fulfill our mission of providing the best and safest anesthesia care for our mothers and babies.


Chief Residents for Resident Activities: Mikhail Kagan, M.D. & Scott Licata, M.D.
Chief Resident for Medical Student Activities: Eldhose Abrahams, M.D.

The annual meetings of the Association for University Anesthesiologists (AUA) and the International Anesthesia Research Society (IARS) were held in San Francisco last month.
Dr. Jun Lin
presented "Lidocaine inhibited glioma cell proliferation via TRPM7" at the AUA. This year the AUA host institute (UCSF) presented a fascinating forum on "Precision Medicine: From Molecules to Social Justice".
At the IARS meeting, 14 posters from Stony Brook were presented.
Chunyun Xiao
, a graduate student in Physiology working in Dr. Lin's lab, presented her work on effects of local anesthetics on breast cancer cells and five other posters with Dr. Lin during IARS.
See more photos taken at the meeting.
Viscusi E, Webster L, Soergel D, Burt DA, Skobieranda F, Gan TJ. Rapid onset of pain relief with oliceridine (TRV130), a novel μ receptor G protein pathway selective (μ-GPS) modulator, vs. morphine: a phase 2A/B study analysis.
Minkowitz H, Soergel D, Burt D, Skobieranda F, Gan TJ. A randomized, placebo- and active-controlled phase 2B study investigating oliceridine (TRV130), a novel μ receptor G protein pathway selective (μ-GPS) modulator.
Leng T, Xiao C, Xiong Z, Lin J. Proliferation of C6 glioma cells is regulated by Transient Receptor Potential Melastatin 7 channels.
Chen J, Xiao C, Dou Y, Zhu W, Lin J. Midazolam induced proliferation loss in human glioblastoma by suppressing TRPM7 channels.
Liao S, Xiao C, Zheng W, Lin J. PI3K/AKT mediates lidocaine protecting rat PC12 cells from amyloid-beta toxicity.
Chakraborty S, Xiao C, Dilger JP, Lin J. Lidocaine alters migration and TRPM7 channel expression of human A549 lung cancer cells.
Gowen-MacDonald W, Graczyk T, Lark M, Cowan C, Gan TJ. Oliceridine (TRV130), a novel μ receptor G protein pathway selective (μ-GPS) modulator, has a differentiated profile of G protein and β-arrestin signaling versus opioids.
Corman S, Gan TJ, Jiang S, Dagenais S, Gonzales J. Impact of postsurgical analgesia intervention on hospital length of stay (LOS), discharge status, and hospital costs following total knee arthroplasty (TKA).
Xiao C, Dilger JP, Lin J. Inhibition of breast cancer cells by local anesthetics.
Giovannetti T, Price CC, Fanning M, Messe S, Ratcliffe SJ, Acker MA, Floyd TF. Postoperative cognitive dysfunction: The impact of stroke and silent ischemic lesions following aortic valve replacement for aortic stenosis.
Holiprosad D, Etwaru K, Xiao C, Dilger JP, Lin J. Inhibition of TRPM7 channels in HEK-293 cells by local anesthetics.
Xiao C, Chakraborty S, Dilger JP, Lin J. Local anesthetics inhibited breast cancer cell growth.
Devendran K, Reinsel RA, Xiao C, Chandrakantan A. Effectiveness of antiemetics in post discharge nausea and vomiting in children.
Azim SA, Kaczocha M, Nicholson J, Rebecchi MJ, Rizwan S, Feng T, Benveniste H. Intrathecal morphine reduces circulating endocannabinoid levels in comparison to placebo in patients undergoing total knee arthroplasty.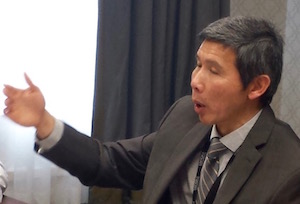 Shivam Shodhan, MD
From April 20 to 22, 2016, the 4th Annual Congress of Enhanced Recovery and Perioperative Medicine was held in Washington, DC co-hosted by the American Society of Enhanced Recovery (ASER) in conjunction with Evidenced Based Perioperative Medicine (EBPOM). Over 400 attendees, both domestic and international, participated in this 3-day conference, which featured 45 speakers, 11 Q&A panel discussions, and 24 poster presentations. In the company of our very own Dr. TJ Gan, ASER Founder and President, the other individuals representing Stony Brook Medicine were Drs. Francis Stellaccio, Paul Willoughby, and me.
Organized by Dr. Timothy Miller, the Scientific Program Chair, this year's conference began with an initial overview of the idea of enhanced recovery (ER), followed by individual sessions focusing on the multiple topics including economics of healthcare and implementation of enhanced recovery, fluid and hemodynamic management, pain with regards to regional anesthesia and analgesia, and the future of perioperative medicine. Presenters ranged from various aspects health care teams including surgeons, anesthesiologists, nurses, coordinators, and hospital executives. This allowed the attendees to gain a very insightful perspective of the different aspects and roles involved to successfully implement an ER program. The program ended in a meeting with individuals interested in further involving themselves with ASER committees and becoming ER Champions of their own.
Overall, it was a tremendously educational and engaging conference that shared the critical knowledge and tools to successfully bring ER to one's institution. I'll definitely be looking forward to next year's ASER congress!

Stephen A. Vitkun, MD, MBA, PhD
Our Anesthesia Technology concentration students in the BSHS program of the School of Health Technology and Management graduated on Fri 5/20. All of the students have enrolled in the post-bac program and we will be seeing them in the OR starting in September, 2016.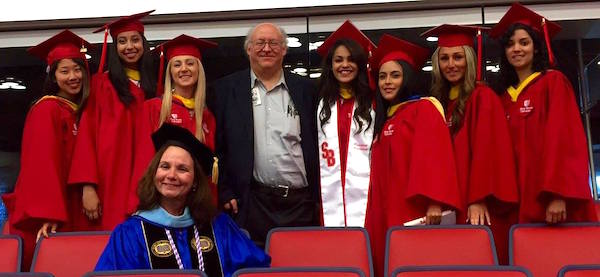 Editor's note: Dr. Maria Lagade received a letter from Charles Cheung, an AT Intern. It is excerpted here.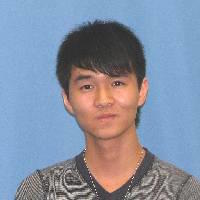 My name is Charles Cheung, I am a graduate of Stony Brook University's Health Science Major and a current intern of the Anesthesia Tech Program Clinical Year. I hope to ultimately become a physician assistant, a goal I have been pursuing since freshman year of college. This program in many ways has become the crown jewel of my clinical and educational experiences. Now that I am almost done with this program, here are my experiences and thoughts.
One aspect of this program that is unique and advantageous is the classes that are offered during the second semester of senior year in undergraduate college, particularly Anesthesia Pharmacology. Very few undergraduate courses offer as in depth of an examination of medications like this class does. It is extremely helpful not only for the clinical year, but also for health care education in general. Cardiopulmonary Physiology was another very good course. Clinical monitoring gave a brief overview of the various rotations that are in the clinical year. Overall, the classes were great in establishing a science background that acts as good preparation for technologist level work in the clinical year.
The clinical portion of the program is in my opinion, the best part of the program because it a hands-on way to learn clinical techniques and reinforce the knowledge learned from the classes in the previous year. I am extremely grateful to be able to work with expert Anesthesiologists who shared knowledge with me that I wouldn't be able to get elsewhere. On a daily basis, I learned and practiced many of the duties that an anesthesia technologist would be responsible for. I feel very prepared for a future career as an anesthesia technologist.
This program is excellent in teaching its interns professionalism and how to be a productive member of the health care team. The one thing that I was able to work on a lot in this program is situational awareness. This is basically the ability to anticipate and adapt to any situation that arises in the operating room so that I can assist the staff accordingly, and help rather than hinder in the patient's care. The way I did this was by reviewing my journal and keeping track of what I did that day, and keeping a mental note of what I can improve on or do different the next time I encounter a similar situation. By putting the patient first and being aware of my actions, I was able to make the most of this program and learn while helping out the staff.
Ultimately, how much you learn and take away from this program is all dependent on what you make of it. We are treated as autonomous adults. In the clinical year, monthly educational schedule, assignments, and evaluation are received. It is each AT intern's responsibility to be proactive and productive for learning advancement as one should be by this age. By walking through those doors with a positive attitude and a curious mind, I'm sure anyone can agree that this program is excellent exposure of direct patient care and an amazing chance to learn, whether for a future career as an anesthesia technologist or pursuit of higher learning.

Ursula Landman, DO

The last Journal Club of this academic year took place on May 5 in the Stony Brook Galleria. The topic, Perioperative Management of Anti-Platelet Therapy, was presented by
Drs. Mikhail Kagan, Nehul Patel
and
Eric Zabirowicz
. Dr. Patel reviewed the paper
"Safety of short-term discontinuation of antiplatelet therapy in patients with drug-eluting stents"
by Eisenberg et al. If a patient with a stent requires surgery within 12 months of stent placement, should antiplatelet therapy be discontinued to avoid the risk of bleeding problems? It is a rare event, but important nevertheless. In this modified case-only design study, restricted to Academic Research Consortium-defined definite cases, 161 cases of late or very late stent thrombosis from 84 articles were reviewed. Patients had been treated with both thienopyridine and acetlysalicylic acid (ASA). For patients who stopped both antiplatelet meds, the median time to event was 7 days. For patients who stopped thienopyridine and then stopped ASA, the median time to event was 7 days. For patients who stopped thienopyridine but continued ASA, the median time to event was 122 days. The study concluded that if ASA therapy is continued and thienopyridine is stopped short term, then this would be relatively safe in patients with DES. The clinical practice at SB is to give 325 mg chewable ASA in preop holding because this will be helpful to prevent MI postop when patients leave the hospital.
Dr. Kagan gave a concise review of
"A systematic review and meta-analysis on the hazards of discontinuing or not adhering to aspirin among 50,279 patients at risk for coronary artery disease"
by Biondi-Zoccai et al. Coronary artery disease. (CAD) was discussed as the leading cause of morbidity and mortality worldwide. Acetlysalicylic (ASA) is the most commonly given antiplatelet medication worldwide. Adverse side effects of ASA were reviewed. In addition, certain cases prone to increased bleeding were discussed. This review was done to increase awareness of the hazard of ASA withdrawal or noncompliance in patients with CAD or at risk for CAD. They concluded that ASA discontinuation should be advised only when the risk of bleeding or other adverse effects overwhelm that of the CV atherothrombotic events. In our discussion, it was noted that the continuation of ASA does not dictate our type of anesthetic. However, the continuation of plavix becomes an issue with regional anesthesia. It was also noted that the new 2016 guidelines take into account the Poise 2 study and actually advocate continuation of ASA.
Dr. Bennett-Guerrero suggested some additional articles on the subject.
Gilard et al 2015
,
Omar et al 2014
and
Feres et al 2013

Tazeen Beg, MD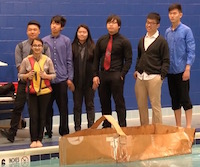 My daughter, Amber, is a junior at the Stony Brook School. Her Engineering Innovation and Design Class had a project to build a boat out of just cardboard and tape. The students then rowed these boats across the high school's pool. Her group came in second place; Amber is in front on the left in the photo. A video of the in-water test of the boats is posted on
YouTube
. Watch between 3:00 and 3:50 to see the splash she made!
Lindsay Fischer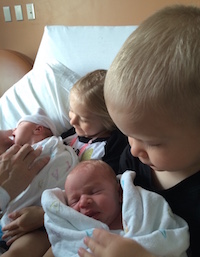 My fabulous news is that we finally got to welcome our newest little members of the anesthesia family.... baby girl "A" Campbell (Cami) Janie (6lbs 7oz) and baby boy "B" Jack Davies (6lbs)! Had an amazing nsvd at 329/337 on May 2 with the absolutely amazing Dr Meng Wang...who as we all know is just simply phenomenal!!! I want to thank everyone who went the extra Mile for me during this pregnancy ... I am truly so very grateful!!!!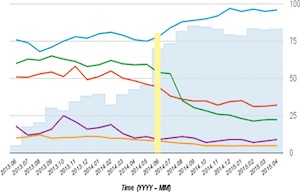 Gan TJ, Thacker JK, Miller TE, Scott MJ, Holubar SD. Enhanced Recovery for Major Abdominopelvic Surgery. 1st Edition. 2016. >Professional Communications, Inc., West Islip, NY.
Martin GG, Chung S, Landrock D, Landrock KK, Huang H, Dangott LJ, Peng X, Kaczocha M, Seeger DR, Murphy EJ, Golovko MY, Kier AB, Schroeder F. FABP-1 gene ablation impacts brain endocannabinoid system in male mice.

J Neurochem. 2016 May 11

Leng T, Gao X, Dilger JP, Lin J. Neuroprotective effect of lidocaine: is there clinical potential?

Int J Physiol Pathophysiol Pharmacol. 2016 Apr 25;8(1):9-13

Benveniste H, Makaryus R. Are We Moving Closer to Noninvasive Imaging and Monitoring of Neonatal Anesthesia-induced Neurotoxicity?

Anesthesiology. 2016 May 16.

Gan TJ, Singla N, Daniels SE, Lacouture PG, Min LH, Reyes CR, Carr DB. Cardiovascular safety of hydroxypropyl-β-cyclodextrin-diclofenac in the management of acute postsurgical pain: a pooled analysis of 2 randomized, double-blind, placebo- and active comparator-controlled phase III clinical trials.

J Clin Anesth. 2016 Jun;31:249-58.

Hu LQ, Flood P, Li Y, Tao W, Zhao P, Xia Y, Pian-Smith MC, Stellaccio FS, Ouanes JP, Hu F, Wong CA. No Pain Labor & Delivery: A Global Health Initiative's Impact on Clinical Outcomes in China.

Anesth Analg. 2016 Jun;122(6):1931-1938.

Lo EA, Law LS, Gan TJ. Paradox of the incidence of postoperative nausea and vomiting after xenon-based anaesthesia.

Br J Anaesth. 2016 Jun;116(6):881-3

Peng W, Achariyar TM, Li B, Liao Y, Mestre H, Hitomi E, Regan S, Kasper T, Peng S, Ding F, Benveniste H, Nedergaard M, Deane R. Suppression of glymphatic fluid transport in a mouse model of Alzheimer's disease.

Neurobiol Dis. 2016 May 24

Jim Dilger
This 2-meter diameter sculpture, assembled from 180 aluminum parts, is entitled "Spaghetti Code Sculpture".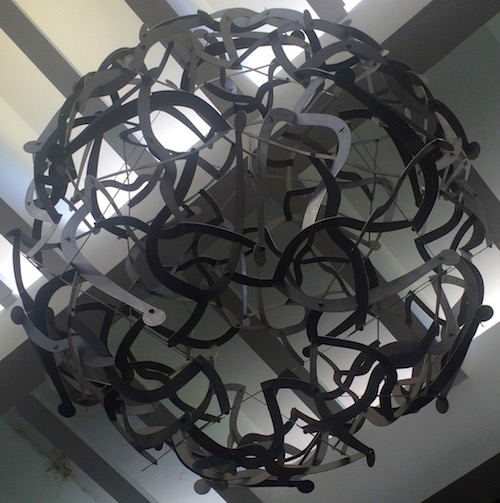 Shivam Shodhan, MD
With the beginning of summer, we are happy to introduce our new section focused on motivating, inspiring, appreciating, and laughing.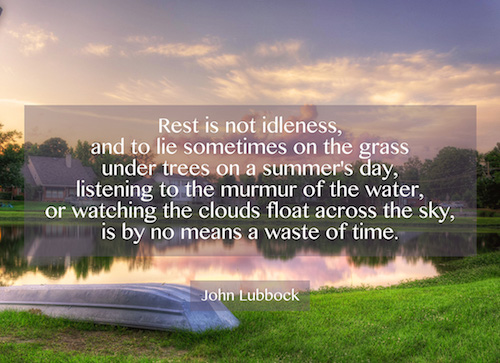 With all the hustle and bustle of our day-to-day lives, let us remember to take a day, a hour, or even just a moment to take in and enjoy the beautiful weather and serenity of the Long Island summer season!

SleepTalker, the Stony Brook Anesthesiology Newsletter is published by the Department of Anesthesiology
Stony Brook Medicine, Stony Brook, NY
Tong Joo Gan, M.D., Chairman
Editorial Board: James P. Dilger, Ph.D., Stephen A. Vitkun, M.D., M.B.A., Ph.D., Marisa Barone-Citrano, Shivam Shodhan, M.D.